Edinburgh is easily one of the most beautiful cities in the world, with endless bars, restaurants, and pubs. The stunning medieval city is a popular place to visit among travelers around the world. Castles, museums, gardens, you name it, Edinburgh is rich in both culture and architecture, and there's a high chance you'll find the best Italian restaurants Edinburgh. One can never get tired of Italian cuisine, so it's no surprise that plenty of them are around the city. It is famous for an Italian restaurant Edinburgh city centre to be full of travelers, however, let's not forget the rest outside the old and new town. Fine dining, casual dining, and room for events, you'll find a variety of Italian restaurants on this list.
10 Best Italian Restaurants in Edinburgh – Italian Restaurants Edinburgh City Centre
This list isn't from the best to the worst of the Edinburgh Italian restaurants. We simply chose 10 that are worth the visit based on location, type of Italian cuisine, prices, decor, and so on. You'll be the judge of the best Italian restaurant in Edinburgh based on your taste and desires. Once you have eaten enough, enjoy this stunning city that really stole my heart, and I would go back anytime to explore more of it.
1. Rico's Ristorante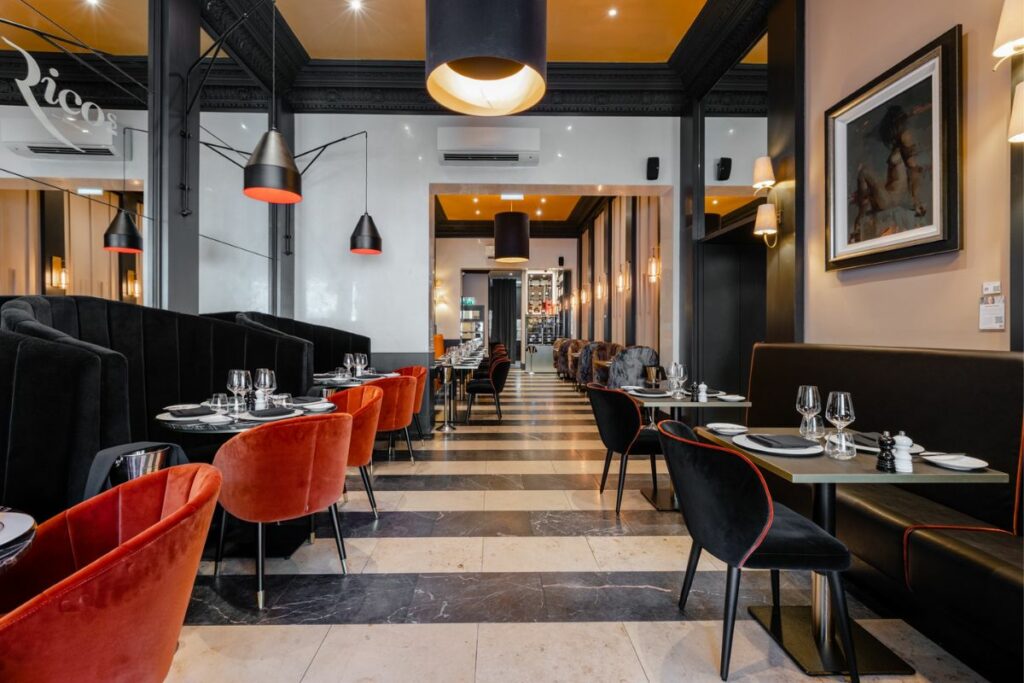 One of the first best Italian restaurants Edinburgh we have to mention is Rico's Ristorante which also appeared on the Michelin guide. It's a restaurant with contemporary Italian cooking, modern interior design, and an excellent atmosphere for any occasion. There are two generations behind Rico's restaurant, the first coming from a village in Tuscany called Castelvecchio di Barga. The family moved to Edinburgh and opened this restaurant to pass on the heritage to a foreign country.
Rico's restaurant pays a lot of attention to light and space. You can tell that the space is highly luxurious, and thanks to the high ceilings, the color palette, and the choice of light, the space is so unique and welcoming. Another essential feature of the restaurant is making fresh pasta. They are always made from scratch inside the restaurant.
There are a few menus to choose from, suitable for special occasions. The a la carte menu consists of delicious snacks, starters, main dishes as well as side courses. Firstly, the Risotto "La Riviera" comprises East Neuk crab and shellfish bisque with chili and coriander. Secondly, the pasta dishes contain Tortelloni, spaghetti, or Pappardelle. It's an experience you mustn't leave out.
Rico's Ristorante location: 58a N Castle St, Edinburgh EH2 3LU
2. Mamma Roma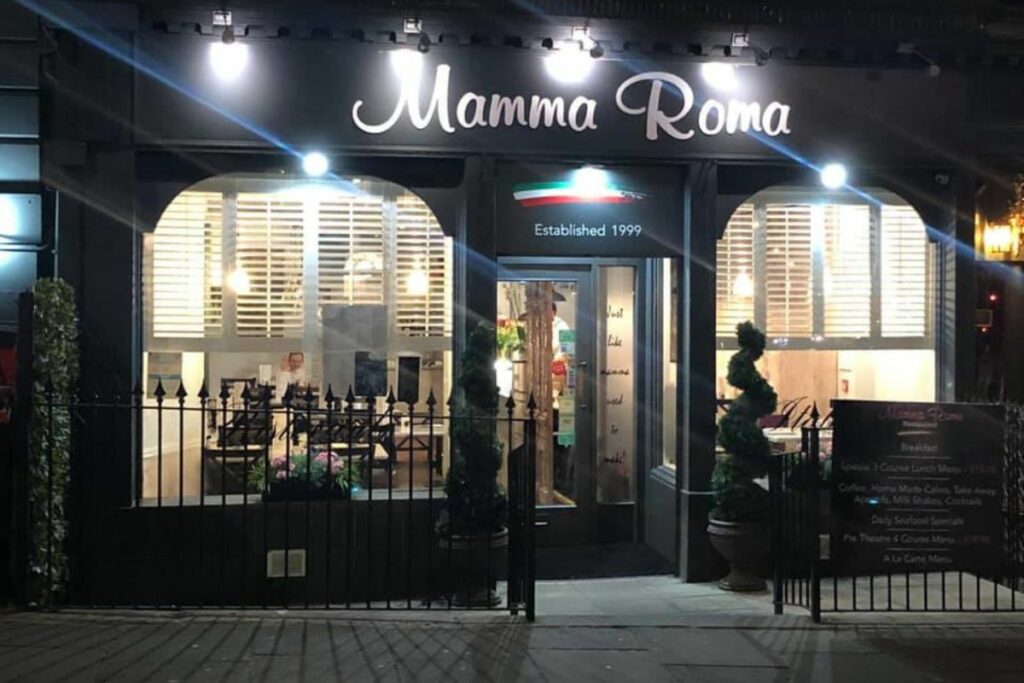 Mamma Roma is among the Italian restaurants Edinburgh city centre that is located in a two-story townhouse. The city center of Edinburgh is where most people walk around, and Mamma Roma is a few minutes away from the New Town. Many of the Italian restaurants are family owned, and so is Mamma Roma. It was founded in 1996 by Mennato Mastrocinque and his father, Giovanni. A fun fact is that Giovanni's restaurant is still standing in Edinburgh, called Bella Italian.
They love throwing birthday parties, special occasions, anniversaries, and even hen or stag parties. There are three types of menus one can browse. The A la carte, pre-theatre, and lunch menu. For instance, the Pre-Theathre menu is a special one offered before a performance at the Edinburgh Playhouse. The lunch menu is a 3-course menu, and it's only available during the week.
Lastly, the A la carte menu is extensive, with plenty of choices. The filled pasta dishes are delicious, with options to choose from, such as Ravioli Caprino e Peperoni, which is pasta stuffed with roast pepper and goat cheese. Then we have the "homemade oven-baked pasta stuffed with 100% steak mince meat," which sounds divine. Make sure to visit Mamma Roma for an unforgettable Italian experience in Edinburgh.
Mamma Roma location:  4-7 Antigua St, Edinburgh EH1 3NH
3. Amarone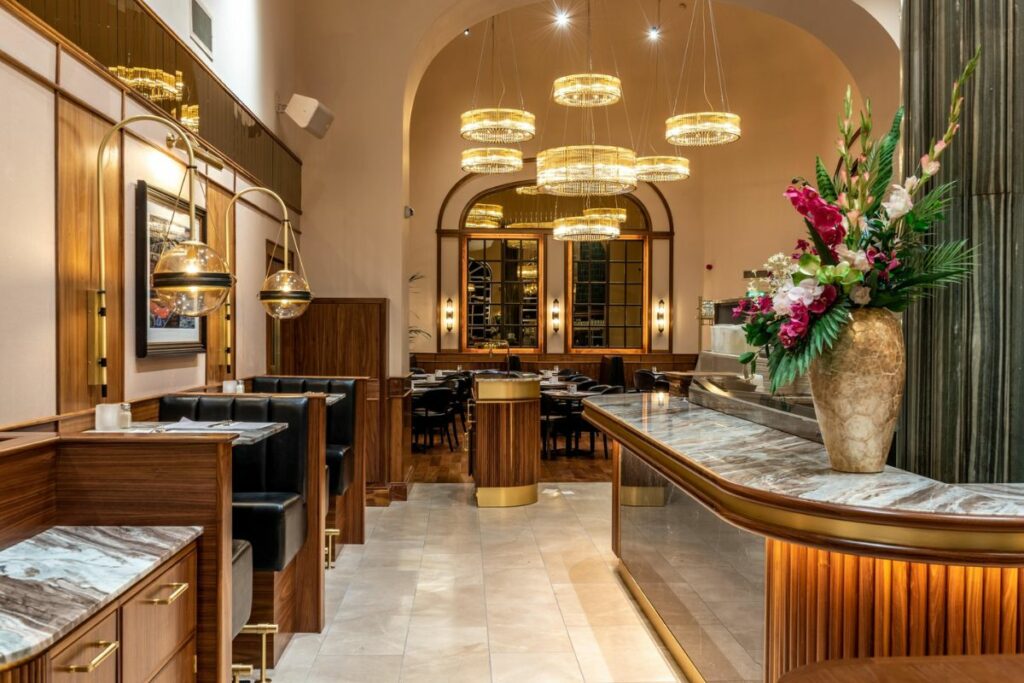 Amarone is a stunning Italian restaurant in Glasgow, Edinburgh, and Aberdeen. We will, of course, highlight the Edinburgh Italian restaurants in this article. Amarone looks fantastic on the streets of Edinburgh, situated in a building with a spectacular dome with jewel ceiling lights. It's just near St Andrew Square, a popular street in the city.
It is pretty interesting as the bar features an open pizza kitchen. They are ready to serve delicious coffee or a full Italian dinner. The menu is beautifully assembled and has a wide variety of dishes. Parfait di Pollo, Mozzarella Fritta or Burrata are all part of the starters menu. Let's not forget the delicious Bruschetta, an important starter to taste when visiting the best Italian restaurants Edinburgh.
You can never have enough pasta and pizza dishes. For this reason, one must try the "Ragù of pork and beef, slow cooked with red wine, root vegetables, and San Marzano tomatoes." The Lasagna Amarone is an in-house-made dish, which includes Italian sausage, chicken, spicy 'Nduja, ricotta, Grana Padano, and Fior di latte mozzarella. Simply delicious!
Amarone location: 12-13 St Andrew Square, Edinburgh EH2 2AF
4. La Locanda Edinburgh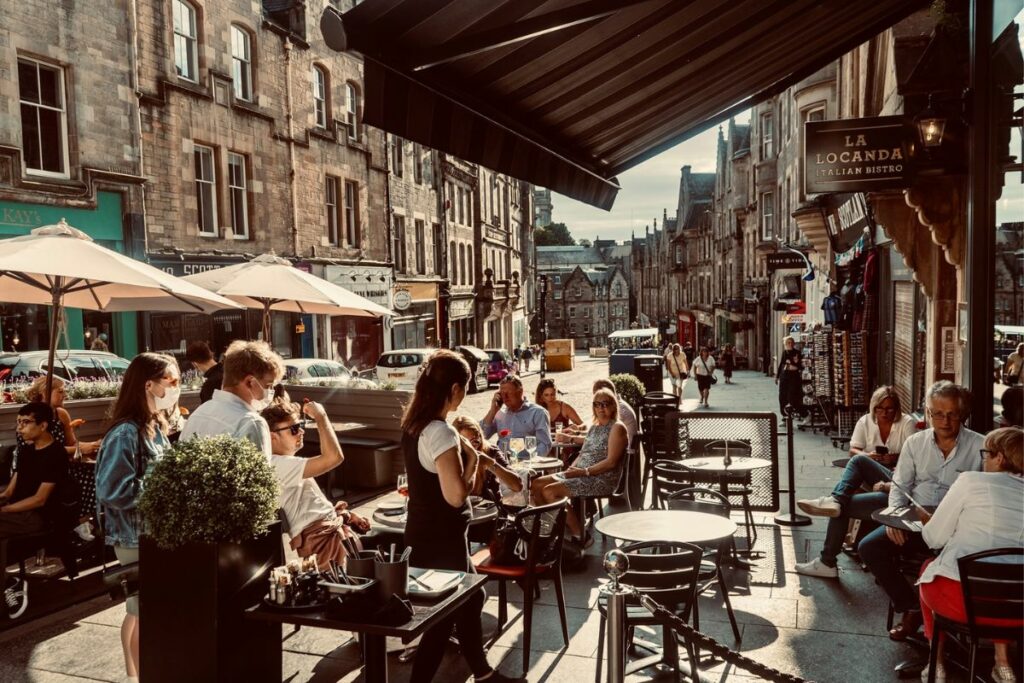 The location of La Locanda Edinburgh is an ideal place, situated nearby the old town and the St Giles' Cathedral. It features outdoor seating, and the inside gives an intimate setting. They have an extensive food and wine menu. The menu includes dishes such as Bufala Mozzarella, fresh Ravioli, Tortelloni Bolognese, or desserts like homemade cheesecake and brownies.
La Locanda Edinburgh is among the Italian restaurants Edinburgh city centre that is a must-visit to taste delicious Italian wines. One can taste wines from different regions. DOP Salento Puglia is a delicious silky soft red wine, or the Pinot Grigio wine from the Veneto area. Furthermore, the famous region of Emilia Romagna produces fresh, and crips rose wine!
La Locanda Edinburgh location: 61 Cockburn St, Edinburgh EH1 1BS
5. Contini George Street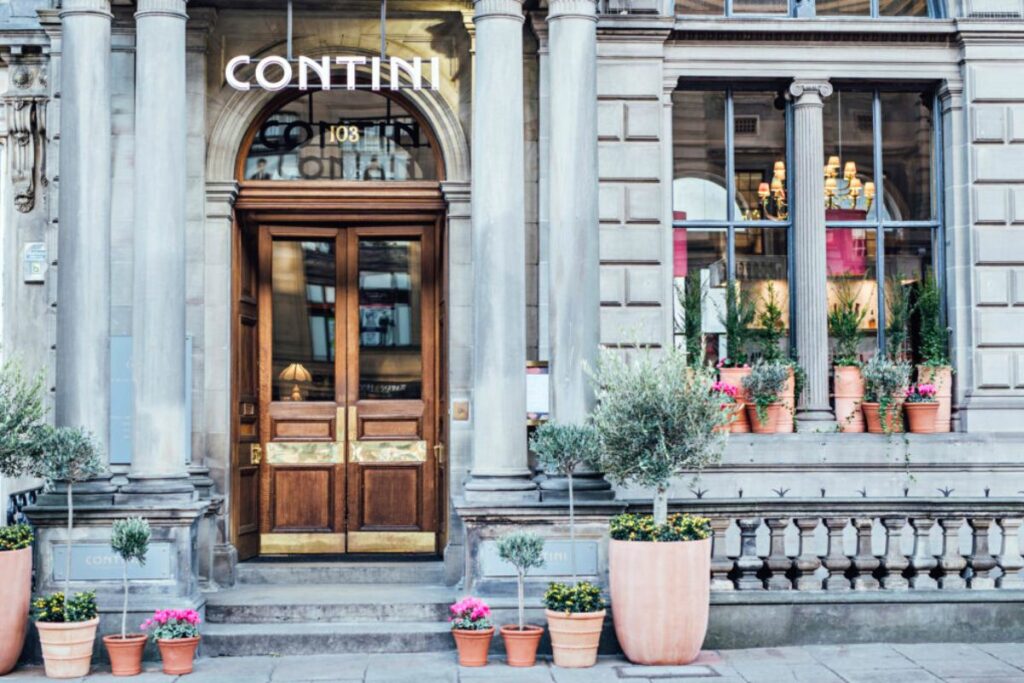 Next up on our list of best Italian restaurants in Edinburgh is the Contini George Street. As the name suggests, it is located in a stunning building on the famous George Street. What you must know about Contini is that it has been passed down to generations living in Scotland for over a decade. This Italian restaurant Edinburgh city centre opened in 2004 and has been flourishing ever since.
Contini serves homemade pasta, the most delicious Puglian focaccia you have ever tasted! There are 5 different menus to differentiate. The A la carte, breakfast, plant-based menu, children's, and a wine list. The main menu includes finger-licking meals such as 'speck di Prosciutto DOP,' gnocchi with Phantassie pumpkin, or tasty ravioli with ricotta.
And the wine selection is exquisite once again. Regions such as Lombardia have a great selection of Italian wines. Among the rose wines, one can taste the 2021 Poggio al Tesoro from Tuscany; it has notes of wild herbs and woodland berries. Lastly, a delicious option from Piemonte for red wine is the 2018 Barolo, with notes of redcurrant, macerated strawberries, and mint. Simply delicious!
Contini location: 103 George St, Edinburgh EH2 3ES
6. Ristorante Isola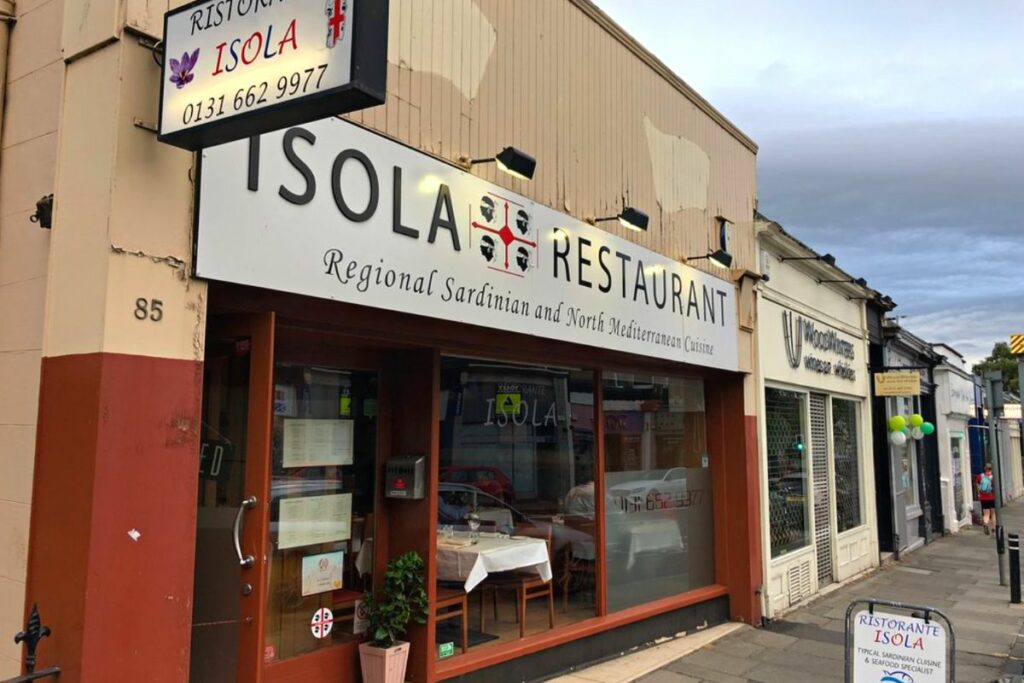 Isola is not one of the Edinburgh Italian restaurants close to the city centre, about 20 minutes walk. It is a cozy restaurant suitable for different types of celebrations. It offers a romantic and tranquil ambiance for all. Its origins take back to Sardinia, and they serve popular Italian dishes like pasta or pizza. The starters menu cannot miss dishes like Bruschetta, Mustela Sarda, or Sardinian artichokes.
Other delicious dishes include spaghetti carbonara, ravioli pear, taleggio, or Sardinian Fregula. Isola is considered the best Italian restaurant in Edinburgh due to the variety of typical Sardinian dishes. From the seafood pasta, the most popular dishes are spaghetti with clams, linguine with mussels, or black ink tagliolini cooked with scallops. The choices are all amazing!
Ristorante Isola location: 85-87 Newington Rd, Newington, Edinburgh EH9 1QW
7. Divino Enoteca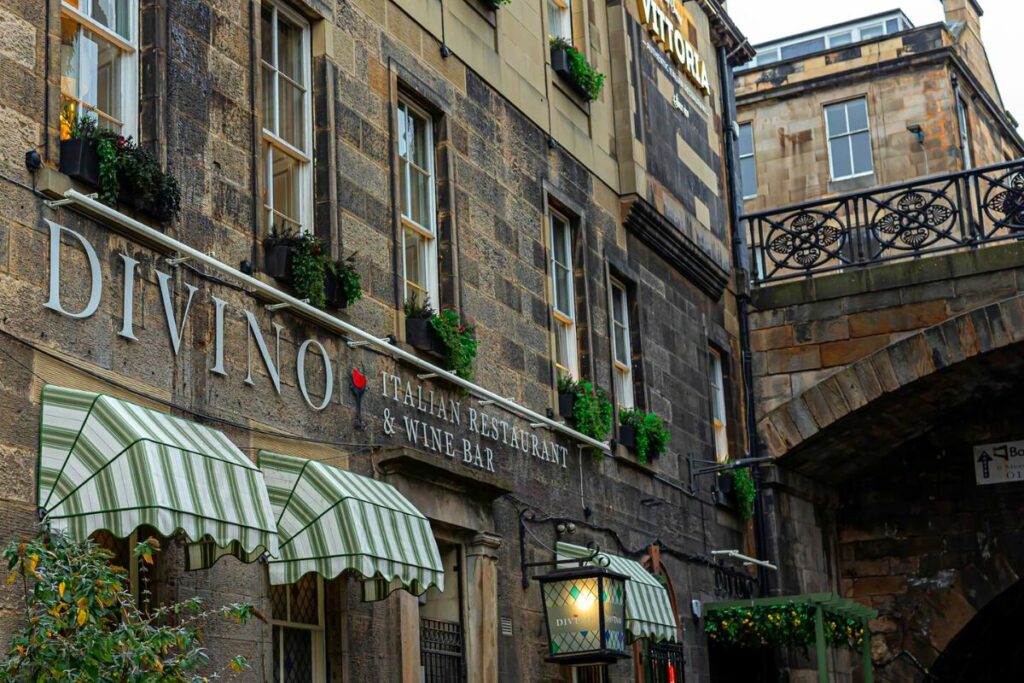 Next up on our list of Italian restaurants Edinburgh city centre is Divino Enoteca. It's a beautiful and elegant Italian restaurant situated in the Old Town, closest to all of the main attractions of the stunning city. Why would you want to visit? Well, they offer contemporary dining with an archetypal wine cellar. It's a fine-dining Italian restaurant serving delicacies.
Divino Enoteca hosts romantic dinners or small get-togethers, with the possibility of tasting wine or a sample menu. Furthermore, their private dining rooms are perfect for weddings and receptions. Their starters include Shetland mussels, baby octopus cooked in aromatic tomato sauce or crispy polenta cake, and roasted 'Nduja medallion with Parmesan fondue.
Among the pasta dishes, you can try the classic spaghetti alla carbonara, the ravioli dello chef, which is a special dish always different on each day. The bronze-drawn Rigatoni tossed with Tuscan sausage and Porcini mushroom cream sounds divine! The wine list is extensive, with the possibility of taking wine by the glass or buying the whole bottle. Sicily, Veneto, Friuli, and Umbria are all regions with wine coming from them.
Divino Enoteca location: 5 Merchant St, Edinburgh EH1 2QD
8. Paolozzi Restaurant & Bar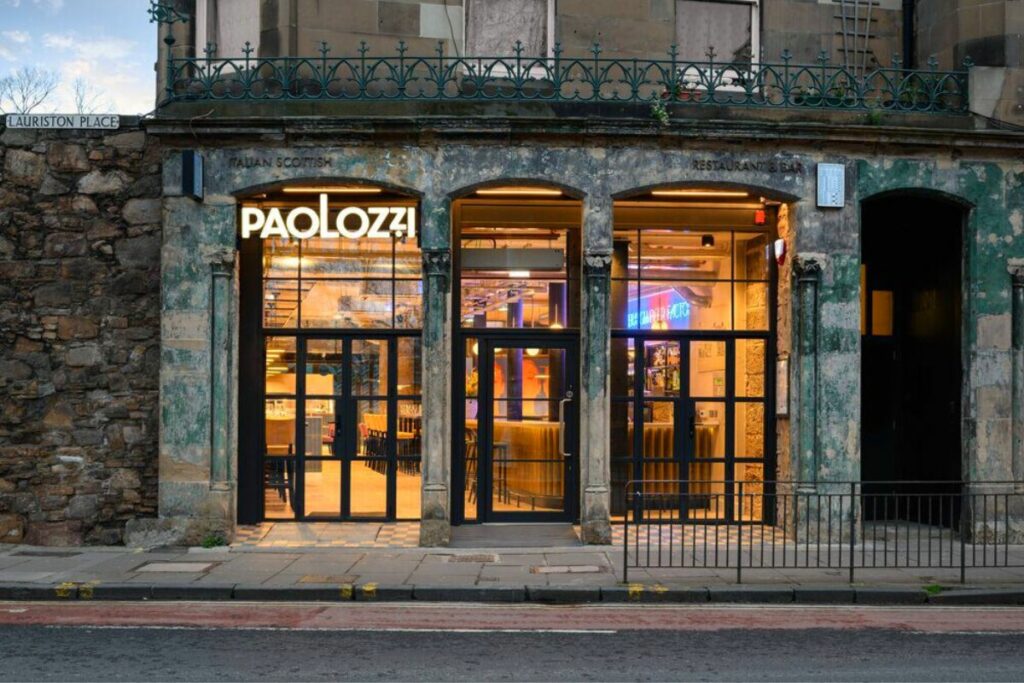 Paolozzi has an excellent history and more the reason to visit this fantastic Italian restaurant Edinburgh city centre. The name comes from Eduardo Paolozzi, an Italian born in Leith. In 2015 a flagship was opened with the Paolozzi lager, and since then, the series has expanded. The restaurant only came afterward, a collaboration and partnership between Edinburgh Beer Factory and Gino Stornaiuolo.
The menu options are favorable throughout the year. There are festive menus during Christmas and New Years' time that one can take advantage of. The A la carte menu comprises Italian dishes, pizza, pasta and meat dishes, and delicious desserts. Taste the focaccia or bruschetta as a starter.
Chicken breast Milanese, lamb shank, or roast monkfish are among the main dishes. Furthermore, the pasta risotto section holds dishes like spaghetti pesto Trapanese, linguine Frutti di Mare, or risotto Zucca. Moreover, desserts like tiramisu, gelato, or pannacotta are a must-try! The wine list is perfectly paired with the best cheese or cold cuts.
Paolozzi Restaurant & Bar location: 59, 61 Forrest Rd, Edinburgh EH1 2QP
9. Locanda de Gusti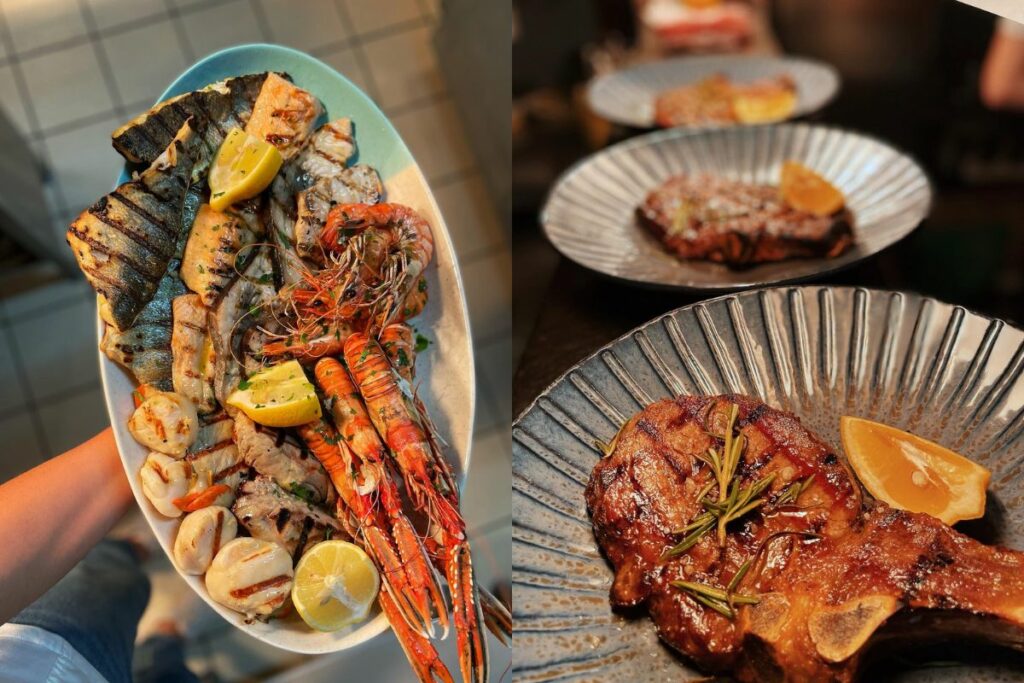 We are almost at the end of our list of Edinburgh Italian restaurants; the next is Locanda de Gusti. It's a stylish and contemporary restaurant featuring rustic accents and traditional Neapolitan dishes. Location-wise it is ideal, not too far away from the city center. The ingredients used in the kitchen are brought from Italy, and everything else is freshly brought from Scottish suppliers.
Italian food is filled with carbs, but Locanda de Gusti offers gluten-free versions of several dishes and desserts. It's the best Italian restaurant Edinburgh as everything is made from scratch daily. The menu can change daily, so if you see one menu online, that is only a sample of what might be in the restaurant. You'll find the best pasta dishes available served in some beautiful dinnerware.
Locanda de Gusti location: 102 Dalry Rd, Edinburgh EH11 2DW
10. Terra Marique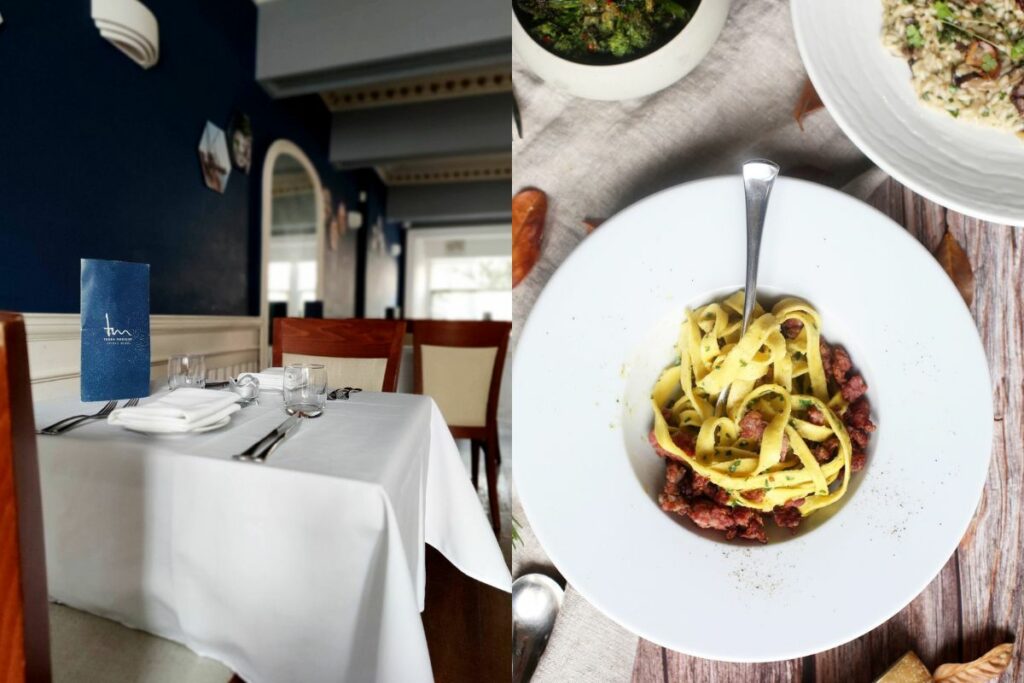 Terra Marique is a fantastic restaurant, with its owners from Puglia and Tuscany. The name of this Italian restaurant Edinburgh city centre means "by land and sea." It's exceptional as the ingredients are seasonal, and their menu changes four times a year. They serve typical Mediterranean cuisine and feature some of the best selections of dishes.
Check out their Christmas menu if you're visiting around the festive period. They will serve dishes such as Bruschetta of the day, fried ham and cheese croquettes, or calamari as starters. Then the pasta dishes are risotto funghi, homemade tagliatelle with beef ragu or gnocchi. Some mains include beef fillet or roasted pork belly and mouthwatering seafood like mussels, clams, prawns, and fish caught the same day.
The wine list is rich with the best wines out there. Sauvignon Blanc from the Friuli Venezia region, Vermentino from Sardinia, or a delicious red from Abruzzo. Some classic Italian wines are Barolo La Morra from Piemonte or the Amarone della Valpolicella from the Veneto region. They are all fantastic choices!
Terra Marique location: 36 Castle Terrace, Edinburgh EH1 2EL
Best Italian Restaurant Edinburgh – Conclusion
This concludes our list of all of the amazing Italian restaurants one can find in Edinburgh. By now, you must have found the best Italian restaurant in Edinburgh that piques your interest enough to visit and try out the dishes. The Italian restaurant Edinburgh city centre such as Amarone, is an excellent choice for a romantic dinner or celebration with family.
Pin it: Best Italian Restaurants in Edinburgh