10 Italian Restaurants in Colchester
There's no place like Italy to try out the national dishes. Thankfully, you don't always need to fly to Italy in order to have delicious pasta or pizza. One can find small family-owned restaurants that bring Italy to you through their way of mixing the ingredients and serving them in one tasty hot dish. It's easy to find such an Italian restaurant Colchester when you have us to write about them.
The best Italian restaurant in Colchester is easy to find if you know what to look for. Our list isn't a rating from the best to the worst, but rather a guide of what types of Italian restaurants Colchester you can find. Not all of them serve authentic Italian dishes, some are made to match the style and taste of the country, but it's still a good option if you cannot hop on a plane and go to Rome.
10 Italian Restaurants in Colchester
In this list, we have included big restaurant chains as well as small family-owned businesses. You can find the usual dishes on the menu, but each restaurant also has its own specific dishes which were made up by the chef. Surprisingly, there are many vegetarian and vegan options too and even though Italian dishes are dominated by carbs, some restaurants include gluten-free options so everyone can have a taste. Let's get into our list of Italian restaurants in Colchester.
1. ASK Italian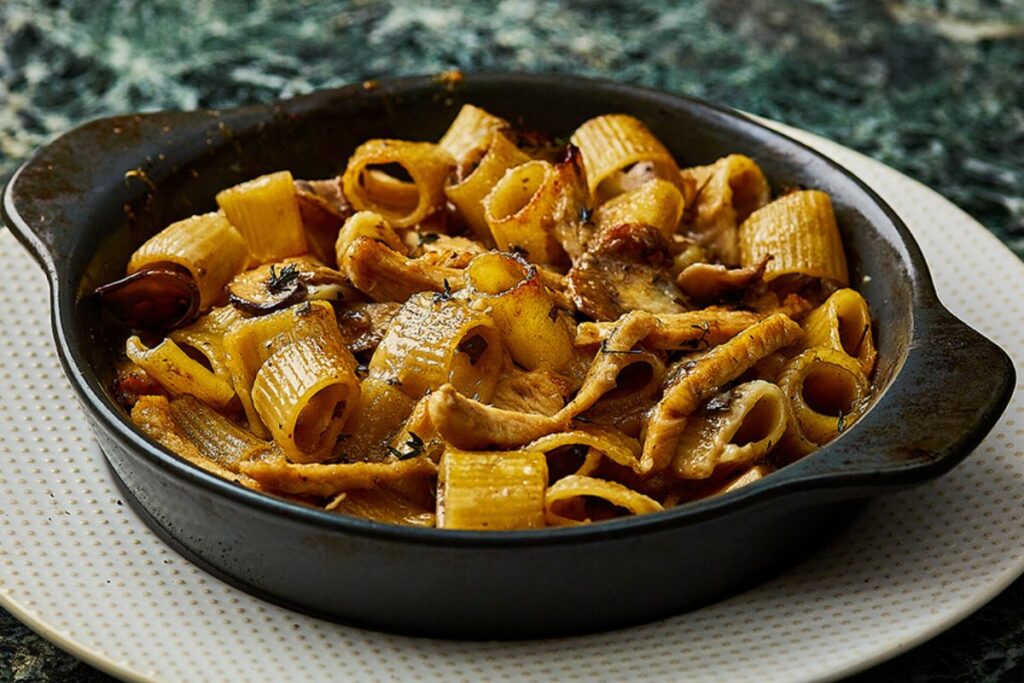 ASK Italian is a great Italian restaurant Colchester. It's a restaurant chain and they have many restaurants throughout the country. ASK Italian is trying to make you feel the same way you would at home and at any restaurant in Italy. The meals are hearty and delicious and the atmosphere of the restaurant is elegant.
ASK Italian is situated on North hill, close to Colchester high street. It's the perfect location, you'll feel welcomed by the staff and the interior design is beautiful. The decor is modern but made in a simplistic way. There are many delicious meals one can order. I love the rosemary & olive oil bread from the starters section.
I've also tried the Prima pizza, which is basically an oval-shaped pizza. They have different flavors like Caprina, or Salami Misti and also pizza with gluten base. From the classic pizza, Margherita cannot be missing. The Apollo e pancetta is also a delicious offer. ASK Italian serves pasta dishes and oven-baked dishes too. It's one of my favorite Italian restaurants in Colchester.
ASK Italian location: 16 North Hill, Colchester CO1 1DZ
2. Ristorante Favoloso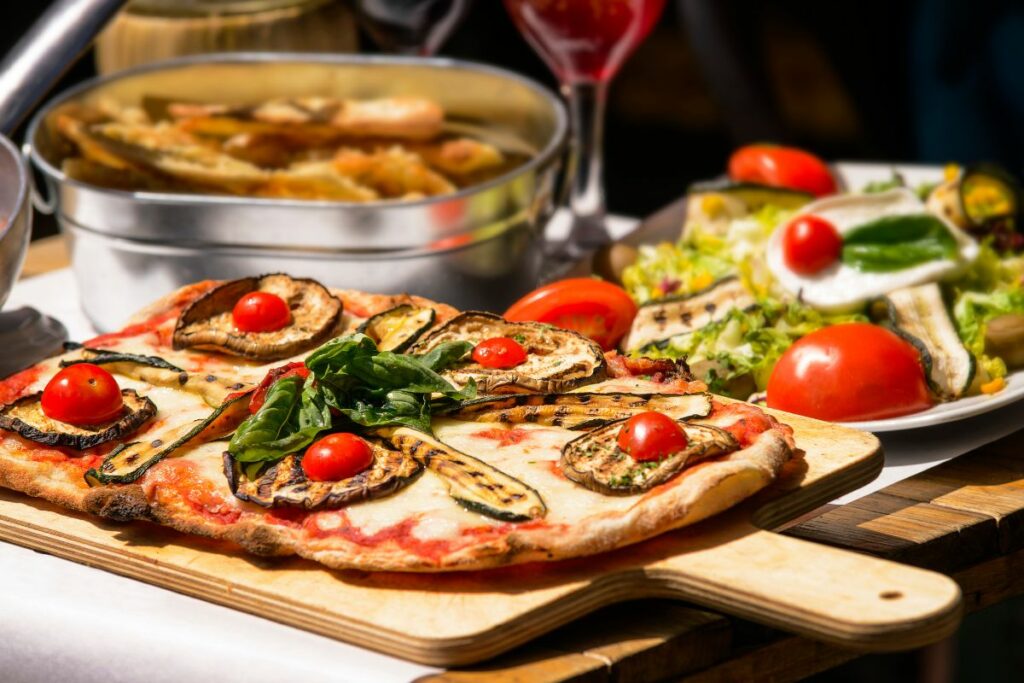 A taste of Italy can be found at Ristorante Favoloso as well. It's situated in the historic center of Colchester on a slightly hidden street. There's a Victorian water tower called 'Jumbo', so even if you're unsure where the restaurant is you can search for the tower. They are a family-run business, therefore we are positive that Favoloso will serve the best food.
The menu at this Italian restaurant in Colchester is very versatile. From the starters, one can choose from the grilled goats' cheese served in Portobello mushroom with a side Mediterranean salad. But why do we love Italian cuisine if not for pasta or pizza? Their famous Penne pollo alla Diavola is an all-time favorite. But so is the famous spaghetti carbonara.
But surprisingly, they do not serve pizza. So you'll have to choose from the rest of the delicious dishes like 'pan-fried duck breast served with rich plum and star anise sauce' or perhaps the Fillet Favoloso which is a 'fillet of beef cooked with garlic, tiger prawn, white wine, shallots' and other delicious ingredients. In case you're feeling hungry, head over to Ristorante Favoloso, one of the best restaurants Colchester.
Ristorante Favoloso location: 2-4 Balkerne Passage, Colchester CO1 1PA
3. Piccolo at 42 North Hill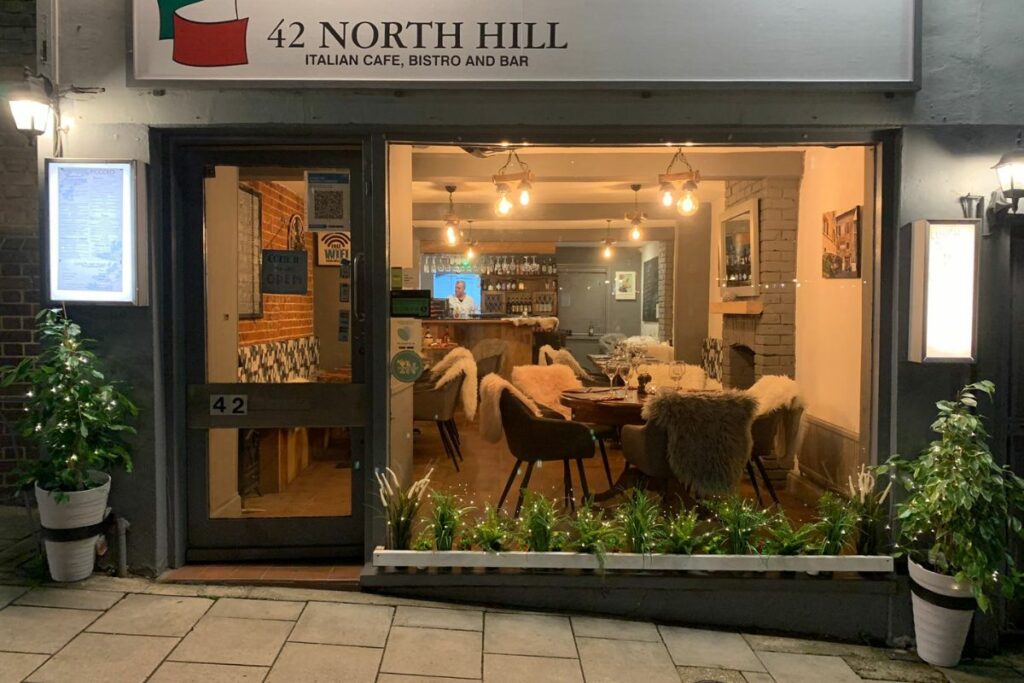 You really don't have to wonder where this restaurant is as the address is right in the title. Piccolo at 42 North Hill is an Italian restaurant Colchester situated on a famous street right next to the center. There are too many pubs and restaurants on this road to even start counting. But Piccolo is at a very good location and anyone walking by feels welcomed to dine inside.
They are only open in the evening and it's available for both dining in or takeaway. The owners mention that Piccolo is not a chain restaurant, you will not be finding another one like this in the rest of the cities. They are run independently by a family where the meals are homemade and the chef is there to make sure your tummy is happy at the end of the night. Piccolo also hosts private parties as well as holidays like Christmas, Mother's, or Father's day.
Their most famous dishes are Linguine Marinara, Tagliatelle Al Salmone, Funghi All'aglio, or Branzino Con le Cozze. It's safe to say that they love to indulge in some tasty seafood. And thankfully, Piccolo is among the Italian Colchester restaurants that do serve delicious pizza. You have your usuals like Margherita or Calzone, but you can also build your own pizza, with the toppings you love the most.
Piccolo at 42 North Hill location: 42 North Hill, Colchester CO1 1PY
4. Miseria e Nobilta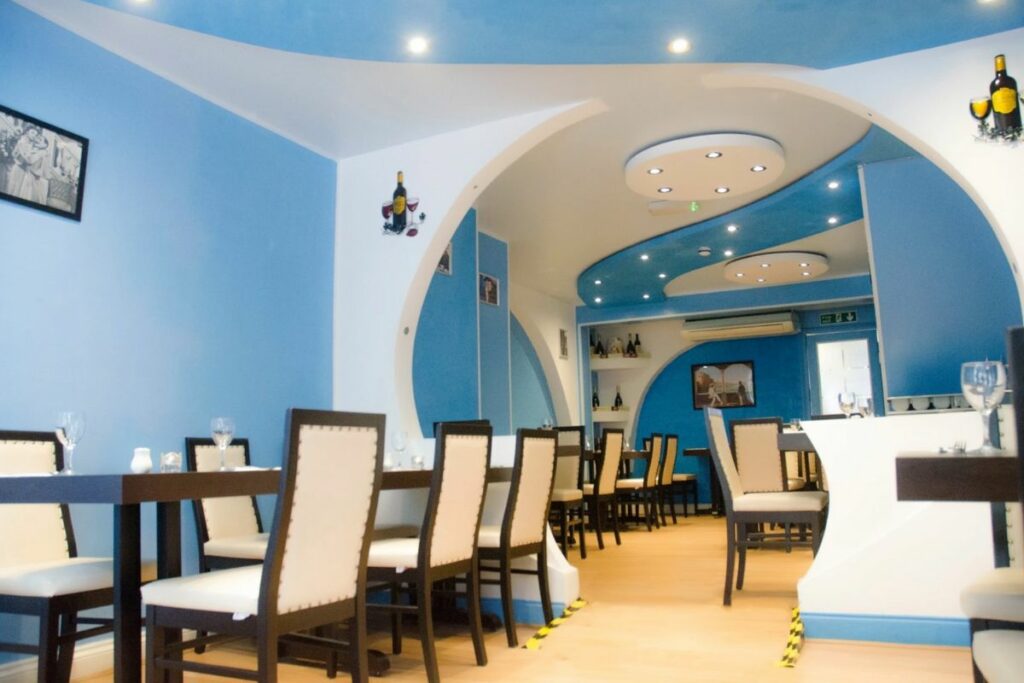 The next on our list of Italian restaurants Colchester is Miseria e Nobilta, which is a small restaurant just near Castle Park and the high street. Chef Giuseppe is there to ensure that guests have the most delicious Italian meals. They are known for their quality ingredients.
The menu designed by the restaurant is amazing. You can both dine inside or order online. You might be familiar with the name, as it's also a name of a movie in which Toto and Sophia Loren were playing. This movie came out in 1954! The menu consists of Stuzzichini, like bread with mozzarella or garlic bread. Then the starters can be dishes like oven-baked mushrooms, or Sicilian arancini rice filled with bolognese and mozzarella peas.
Their pizzas do look amazing. Miseria e Nobilta serves two types of pizzas as a base and then you can add further ingredients. One of them is the Margherita and the other the Napoletana. The latter is made up of tomato base, mozzarella, anchovies, and black olives. Due to its location and accessibility, it's one of the most popular Italian restaurants in Colchester that you should visit.
Miseria e Nobilta location: 11 Queen St, Colchester CO1 2PG
5. Carluccio's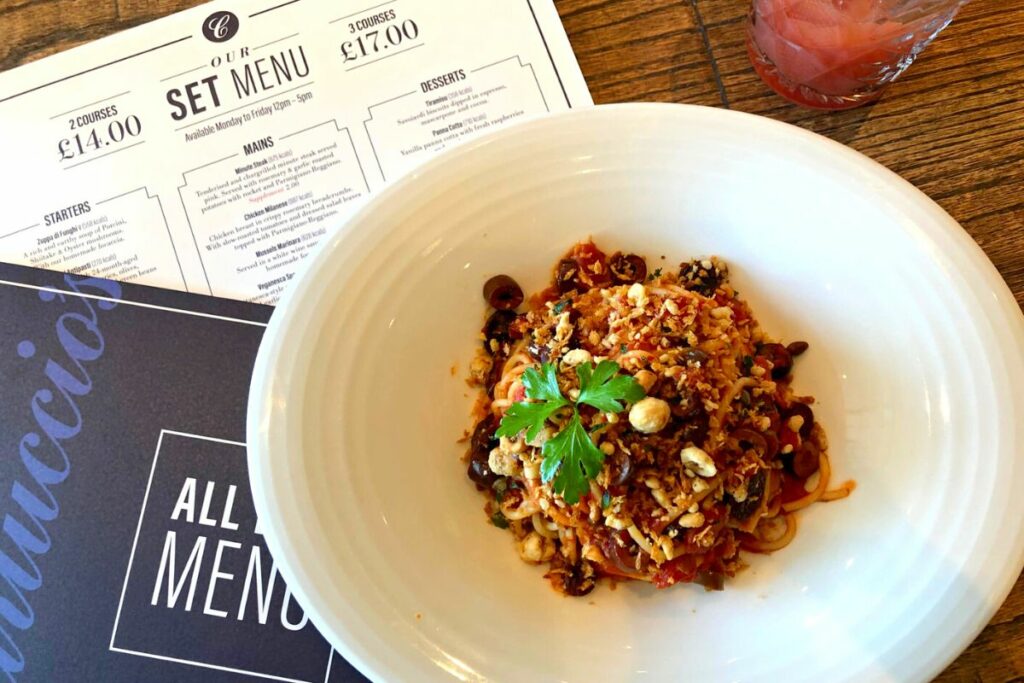 Carluccio's is a hidden Italian restaurant Colchester and unless you do your research, you probably wouldn't even hear of it. It's located inside Fenwick and there's no sign outside to indicate that there's a restaurant and a shop inside. The first Carluccio's food shop opened on Neal Street in London.
As they have evolved through the years, it made sense to open more restaurants, and today there are about 30 of them across the country. So you must visit this lovely Colchester Italian restaurant in Fenwick. As the store itself is only open until 5 pm, the restaurant as well is mostly used for breakfast or lunch.
You can order Panettone, garlic focaccia, or focaccia with mozzarella. The delicious starters have dishes like Zuppa di Funghi or the Antipasti Plate. This one has pane carasau, 24-month-aged Parma ham, some artichoke, olives, and many other delicious ingredients. Carluccio's serves pasta too, so make sure to check that out!
Carluccio's location: 152 High St, Colchester CO1 1PN
6. Prezzo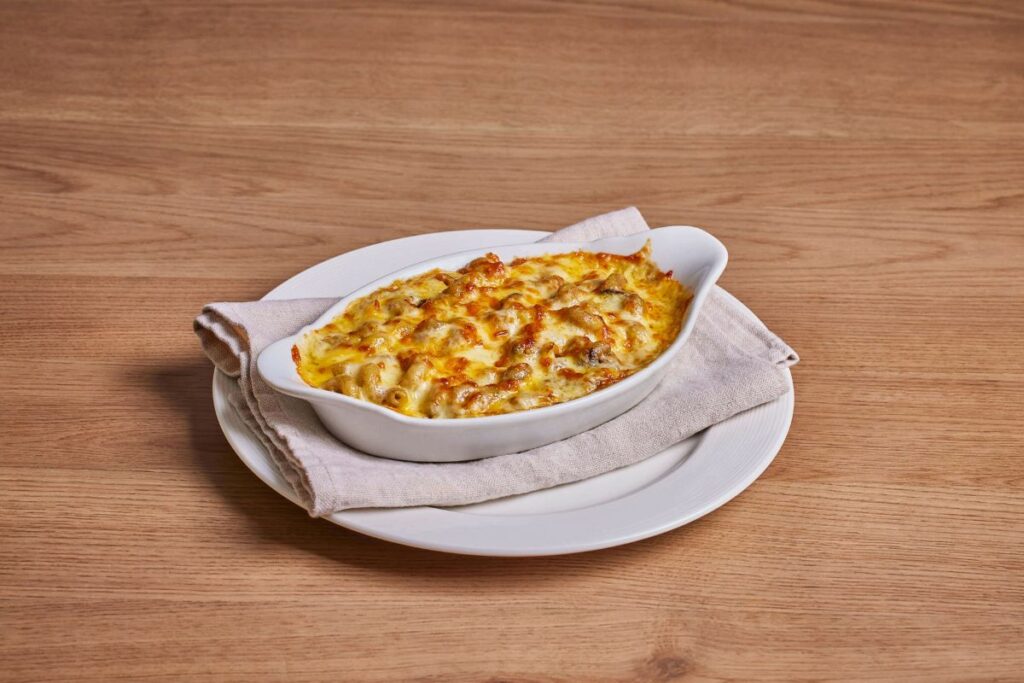 If you're looking for some high-quality Italian dishes, then check out Prezzo Italian restaurant in Colchester. It's also a restaurant chain, therefore you'll find this all over the country, however, the dishes are pretty good. Of course, nothing compares to a real Italian restaurant that you'll find in Italy, but we are lucky that international dishes are available in different countries and we get to taste them without even traveling.
Prezzo is considered to be a high-prestige restaurant. Although it's not like a fine dining restaurant, the decor is as elegant as the serving of the dishes. They have many different options available including vegan and vegetarian. For example, the Tuscan vegetable & pasta soup is delicious. In case you love pizza but don't want to commit to a large one, try out their smaller versions of both pizza and pasta which are perfect for lunch.
However, for anyone that wants a large portion of both pizza and pasta, there are plenty of options to choose from. The crab & lobster ravioli are simply delicious and so is the Chicken alfredo tagliatelle. Prezzo includes dishes that are oven-baked like the one in the photo. I really love the lasagne!
Prezzo location: 1 Culver St E, Colchester CO1 1LD
7. Al Pacino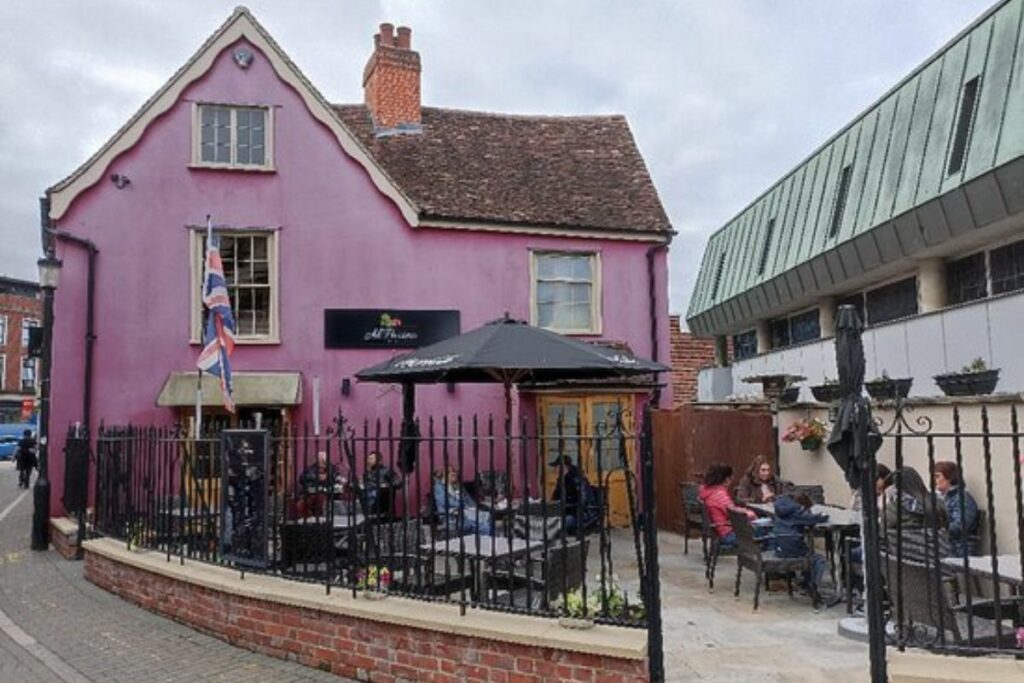 Al Pacino has one of the best locations in Colchester as it's right next the Colchester Castle Park and the museum. The Al Pacino isn't just one of the best Italian restaurants in Colchester because of the food and location but also due to the size of the place. Both the inside and outside have plenty of places and the outdoor terrace is the perfect location for a chilled evening.
This Italian restaurant Colchester serves typical Italian food and they are tasty. Some of their special dishes include Penne All Arrabbiata, Lasagna Alforno, or Tagliatelle Al Salmone. They really do sound delicious! Al Pacino Italian restaurant Colchester also includes a high number of fish dishes one must try!
And from the main dishes, Al Pacino offers Cottoleta Milanese which is basically chicken breast schnitzel served with homemade potatoes and salad. Another specialty is the Rib-Eye Formaggio, which includes a rib-eye stake with some creamy stilton sauce and served with potatoes. Al Pacino is a great option for whoever is coming out of the Castle Museum or the Park.
Al Pacino location: Museum St, Colchester CO1 1TN
8. Zizzi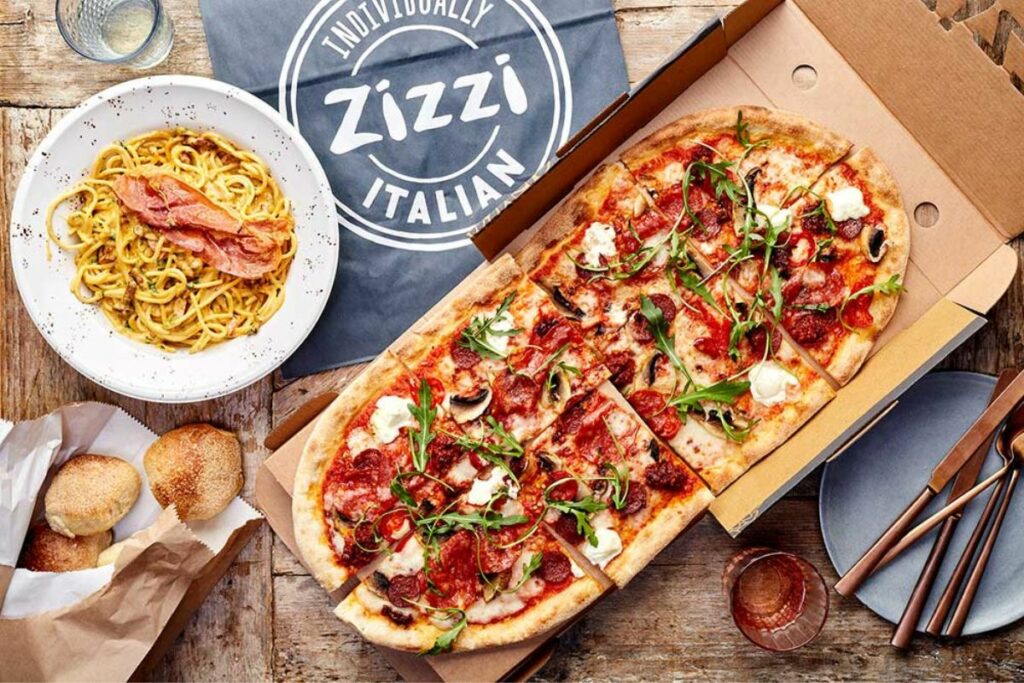 Zizzi a modernized Colchester Italian restaurant. It's not your usual family-owned space, but rather another chain that's popular within England. I do prefer the smaller restaurants that are family owned and the food is authentic, however, it's easier for restaurants like Zizzi to gain popularity. With that being said, it doesn't mean the food isn't good. It's just not always authentic.
The location for Zizzi is quite central, it's not on the high street, but, it's only a few minutes' walk from it. It is also nearby clothing stores and the cute, small streets of Colchester. Whether you wish to dine in or order takeaway, Zizzi is a safe option. From the full menu, you have some great starts on the menu. Calamari served with lemon and rosemary aioli or pork & garlic meatballs. Furthermore, the Fonduta Formaggi looks divine!
Zizzi serves rustic pizzas which are not just round, but oval. The shape doesn't matter that much when the ingredients on it are delicious. The Calzone is not missing from this menu either, however, they do not have vegetarian or vegan options in this. Of the pasta dishes, the most sought is the Casareccia Pollo Piccante or the Rigatoni Pomodoro. The classics like bolognese or carbonara are also found on the list.
Zizzi location: 12 Headgate, Colchester CO3 3BT
9. La Dolce Vita
La Dolce Vita is a modest and beautiful Italian restaurant Colchester located just a few minutes away from the main street. The chef has years and years of experience and the restaurant has a 4.7-star review on Google, although only 20 reviews. With that being said, they offer classic Italian dishes and the pizza is made with a wood-fired oven.
The menu comprises your usual starters, pizza, salads, and pasta dishes as well as a selection of main courses. La Dolce Vita serves Penne All'Arrabbiata, G'Nocchi Allo Sorrentina or Lasagna Al Forno. I also love the Tagliatelle Al Salmone or the Linguine Pescatore. The latter includes mussels, clams, calamari, squid, and prawns with vegetable ingredients. Whoever loves seafood will most definitely love this.
But the seafood doesn't stop here. There's a separate section of fish dishes on the menu. For example, the Polpo Allo chef has octopus served with Napoli sauce. Or the Sea Bass Fillet royal is made of sea bass and king prawn in saffron sauce. It's really not recommended to write about food when you're hungry. These all sound delicious. Visit the Colchester Italian restaurant La Dolce Vita for the best dishes!
La Dolce Vita location: 47-48 St Botolph's St, Colchester CO2 7EB
10. Cafe Bellissimo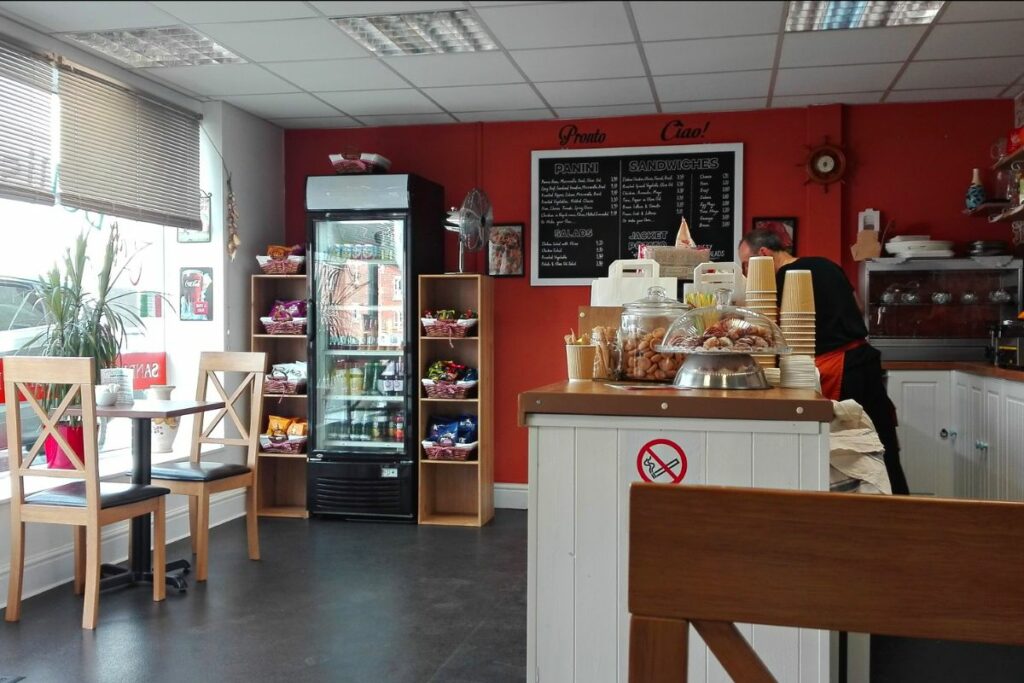 The last on our list of Italian Colchester restaurants is Cafe Bellissimo. Although it's not your usual restaurant, it's worth the visit. It is probably one of the most authentic Italian Colchester restaurants as it has the best Panini, Pasta, Salads, or Gelato. It's open for breakfast, brunch, and lunch. In case you always wanted to try an authentic Panini, Cafe Bellissimo is the place you have to be at.
There's a whole vegan menu which includes vegan salad, vegan treats, cupcakes, or jacket potato with fillings. The website has many amazing reviews from people who have visited the cafe. The Italian desserts are the ones you should be really trying out at Cafe Bellissimo. The famous Cannoli isn't missing from the menu, and neither is the gelato.
Cafe Bellissimo: 1b Wimpole Rd, Colchester CO1 2BX
Italian Restaurant Colchester – Conclusion
That concludes our list of the best Italian Colchester restaurants available in all parts of the city. While most of these places are centrally located, some are just a short minute's walk from the high street. Thankfully takeaway is still available, so you don't even have to leave the comfort of your house if you don't wish to. Indulge in these delicious dishes!
Pin it: Italian Colchester Restaurants