15 Best Places to Stay in Sorrento
Thinking of your next holiday destination and not quite sure where to go? We would suggest Sorrento for many reasons. The famous Italian lemon town is close to Naples, and it's one of the dreamiest summer destinations in Italy! A cliffside town to fall in love with, offering amazing food, beautiful views, and relaxing accommodations. Next to the Amalfi Coast, Sorrento is a perfect destination if you're looking for relaxing destinations with some summer vibes, some nightlife, and endless possibilities for day trips! Explore our list of hotels in Sorrento Italy to stay at.
15 Best Places to Stay in Sorrento
Sorrento is beautiful for many reasons, one being the beaches and the views over the Gulf of Naples and Mount Vesuvio. Besides that, it is also worth visiting the historical center of Sorrento with its old streets and noble houses. If you are unsure where to stay in Sorrento or where to stay in Sorrento on a budget we got you covered.
Visit the best hotels in Sorrento Italy for an unforgettable experience. Hotels like Grand Hotel Royal Sorrento or the Grand Hotel De La Ville Sorrento are all great options. With private beaches and palm trees around, you cannot go wrong with staying with any of them. Let's dive in!
1. Grand Hotel Ambasciatori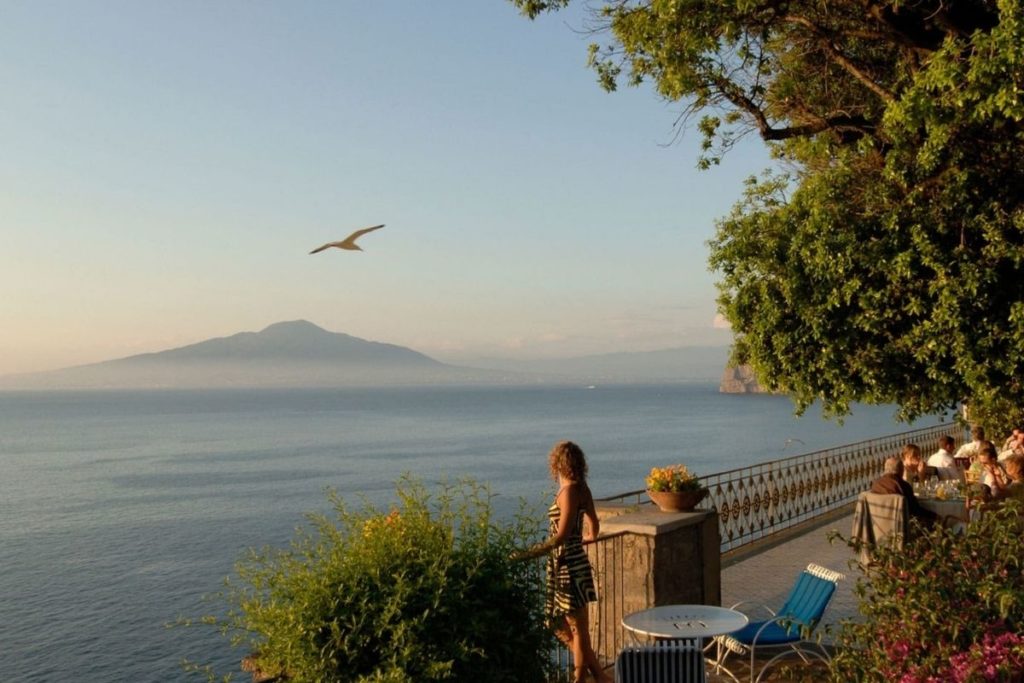 If you want to get the best views of Sorrento then Grand Hotel Ambasciatori is one of the best hotels in Sorrento Italy to visit. This hotel is a luxury one and it's placed on a cliff, overlooking the Tyrrhenian Sea. Their rooms are very elegant, simple yet stylish and a beautiful feature added are the antique chairs and armchairs. Grand Hotel Ambasciatori also has its very own private beach!
Their facilities include a spa and wellness center and a great bar for having a few drinks. The hotel has its own restaurant and serves traditional Italian and Neapolitan dishes. Being in the heart of the city, you can get anywhere on foot. So if you're wondering where to stay in Sorrento, Grand Hotel Ambasciatori is a great option!
2. Grand Hotel Capodimonte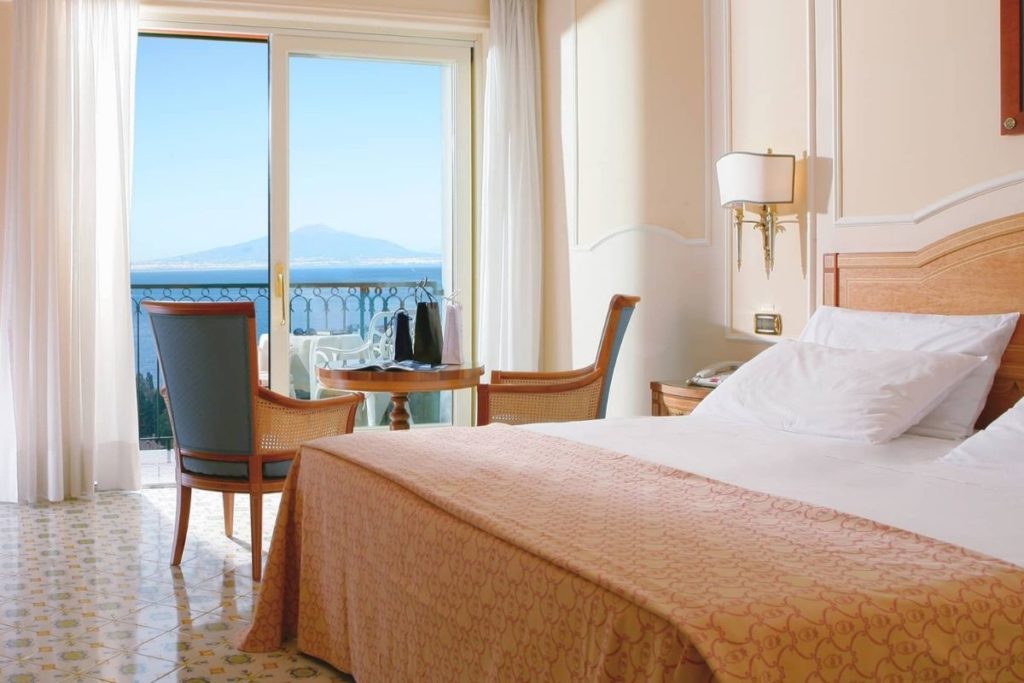 Are you new to Italy and not sure where to stay in Sorrento? You have found your perfect vacation spot. The Grand Hotel Capodimonte has a swimming pool and terrace overlooking the Gulf of Naples and Mount Vesuvius. The rooms have patterned tiled floors feature and wood furniture, giving it an elegant feeling. As it has all of the facilities included, you don't even have to leave the hotel!
The facilities at Grand Hotel Capodimonte include a spa and wellness center and a bar. They can also offer cooking classes, themed dinner nights, or bike tours for an extra charge. It's worth taking advantage of these. Let's see the rest of the best hotels in Sorrento Italy.
3. Grand Hotel de la Ville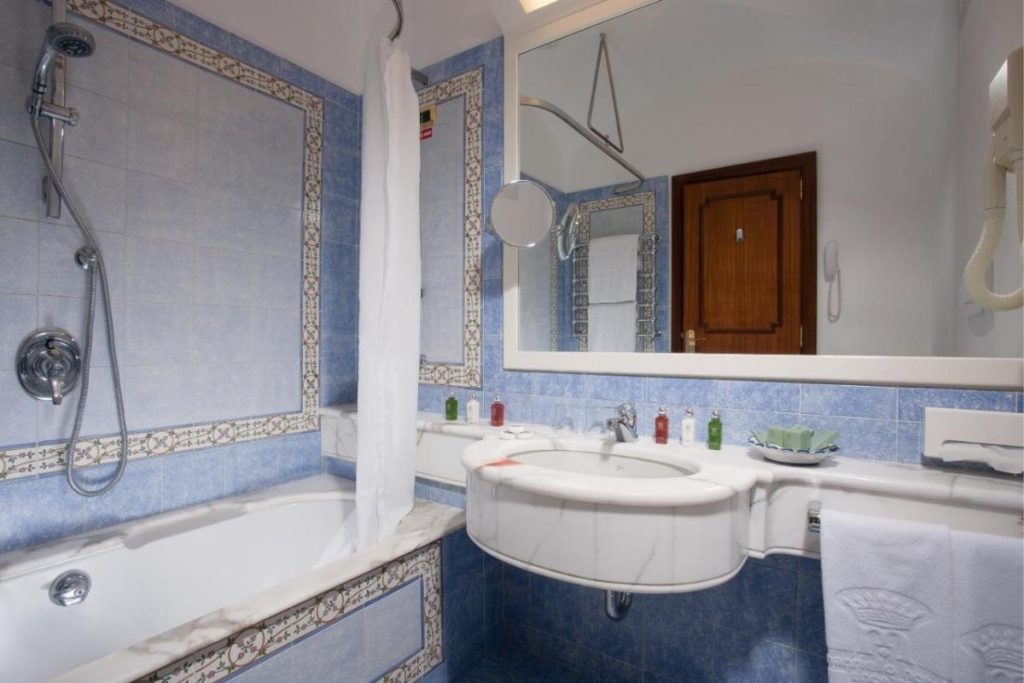 Where to stay in Sorrento on a budget? We're not saying that Grand Hotel de la Ville Sorrento is the most affordable hotel out there, but compared to the previous few and others on the list it has a pretty good price. The hotel has almost a minimalist style with a few accent colors. Once again breathtaking views, a rooftop terrace, and your own swimming pool overlooking the sea and mountains.
Sorrento's historical center is within walking distance. The Museo Correale is around the block and the beach is also nearby if you wish to have some sand under your feet. Let's talk about food. Besides the hotel's own restaurants, Pizzeria da Franco is a good alternative for a quick meal. This hotel is so beautiful that you will want to explore all of it and take in the views!
4. Grand Hotel La Favorita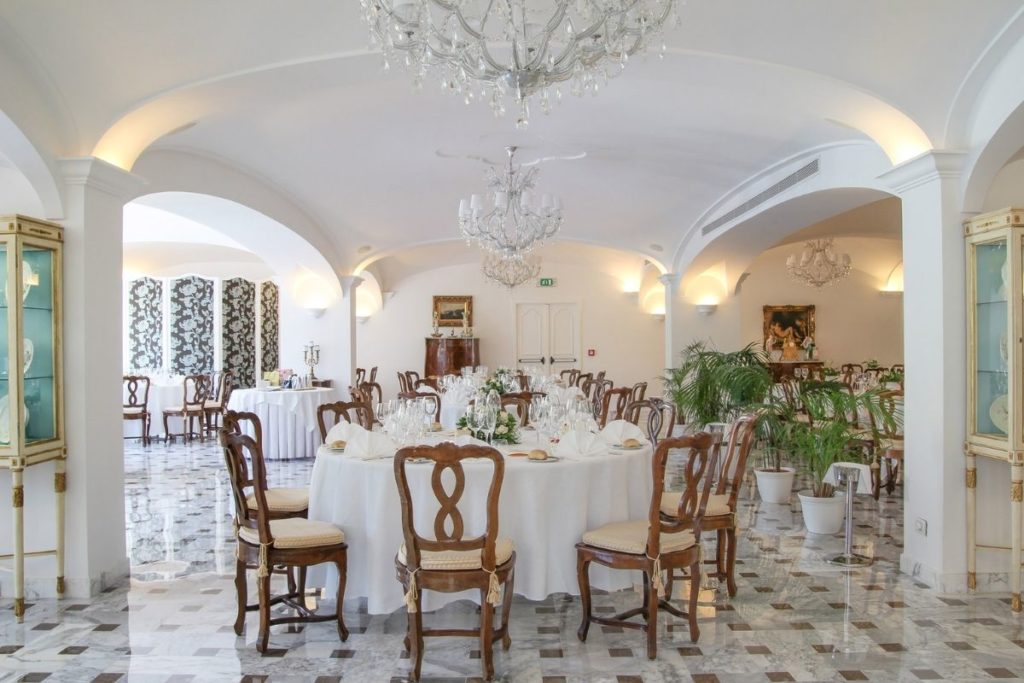 Grand Hotel La Favorita is a favorite of many of the hotels in Sorrento Italy and here's why. Mesmerizing views of Mount Vesuvius peaking from far away. The design of the hotel is unquestionably the highest quality of Italian craftsmanship. Every detail is well thought out. Their restaurant specializes in Mediterranean dishes.
As the hotel is in the heart of Sorrento, you have many attractions to look at. The Cattedrale dei Santi is a beautiful Baroque Roman Catholic church. If you wish to spend your honeymoon in Sorrento the Villa Zagara Sorrento is the perfect wedding venue. The hotel's restaurant is also perfect for any wedding venue!
5. Grand Hotel President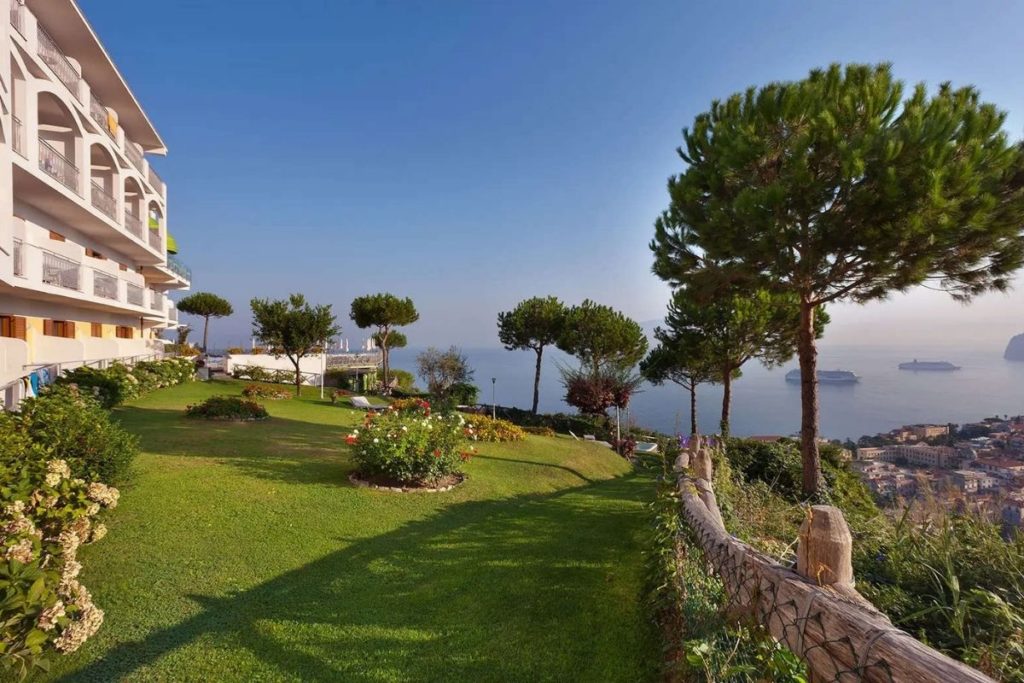 I hope after reading about a few of these beautiful hotels you are not still wondering where to stay in Sorrento. But if you are, then I will say Grand Hotel President. This stunning 4-star hotel can easily steal the spotlight with its patterned tiled floors, and blue and green colors all over the hotel that just feels like the best summer holiday. It is truly one of the best hotels in Sorrento Italy.
Besides having its own pool with views overlooking the Gulf and the Mountain from afar, the hotel also has its own restaurant with delicious food. Do you still want to eat out? No worries, head over to the Ristorante Di Leva Le 5 Sorelle. Grand Hotel President is a bit further away from the center, but still within walking distance from museums and churches.
6. Bellevue Syrene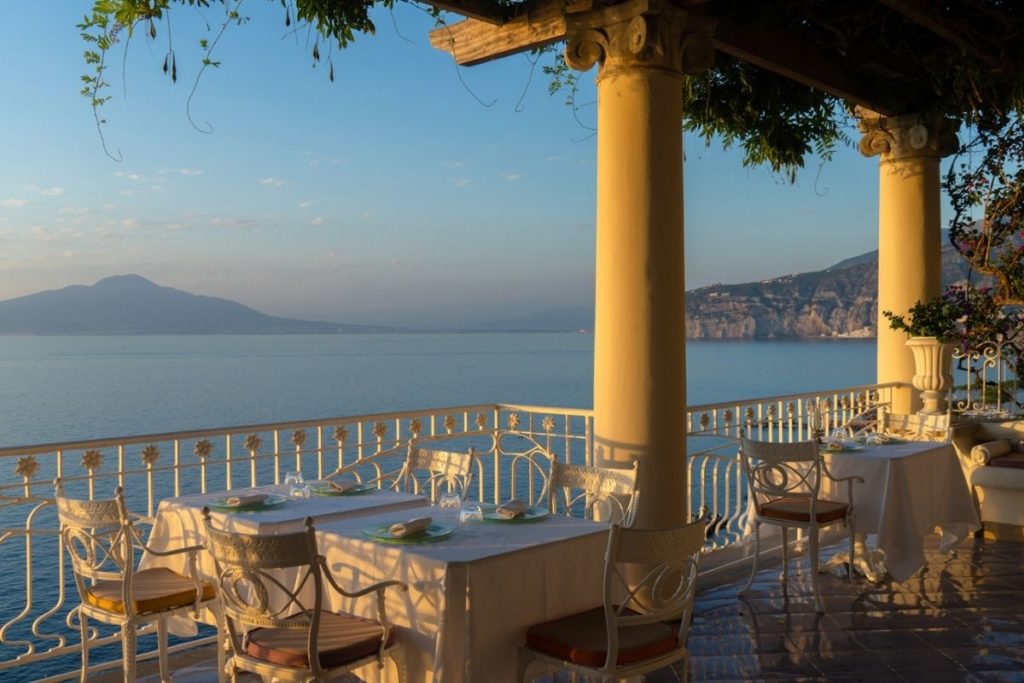 These hotels in Sorrento Italy just keep getting better. Bellevue Syrene offers a combination of classic architecture and a modern design. It is actually in an 18th-century villa refurbished to perfection. As it is right next to the Bay, the views will mesmerize you. Having the best of both worlds, the city center is just 5 minutes away as well as the beach.
Bellevue Syrene also has its own fitness center and spa and wellness center, the latter one for an extra charge. Their restaurant has delicious food and you get to spend your breakfast and dinner looking at the mountain. Or you can head over to the La Villa bar to have some drinks with friends.
7. Parco dei Principi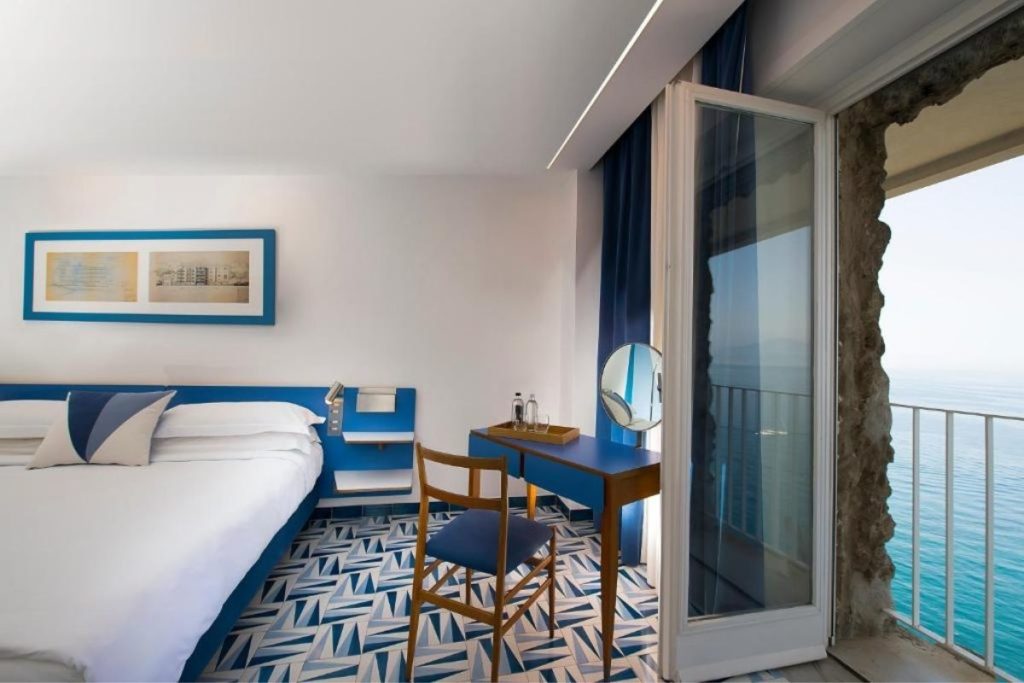 So far we have presented hotels with views over the Gulf and the mountain. Parco Dei Principi is no different, yet the beauty in these is that the views and location are always slightly different. Parco dei Principi is next to a beach while also having its own private beach. The design of the hotel is contemporary, with white and blue colors all over the hotel.
The hotel also has two restaurants on-site serving both international and Mediterranean dishes. Some of the facilities include a fitness center, canoeing for an additional charge, and pool/beach towels offered. Parco dei Principi even offers beauty treatments within the hotel! Is this enough reason for it to be one of the best hotels in Sorrento Italy?
8. Il Roseto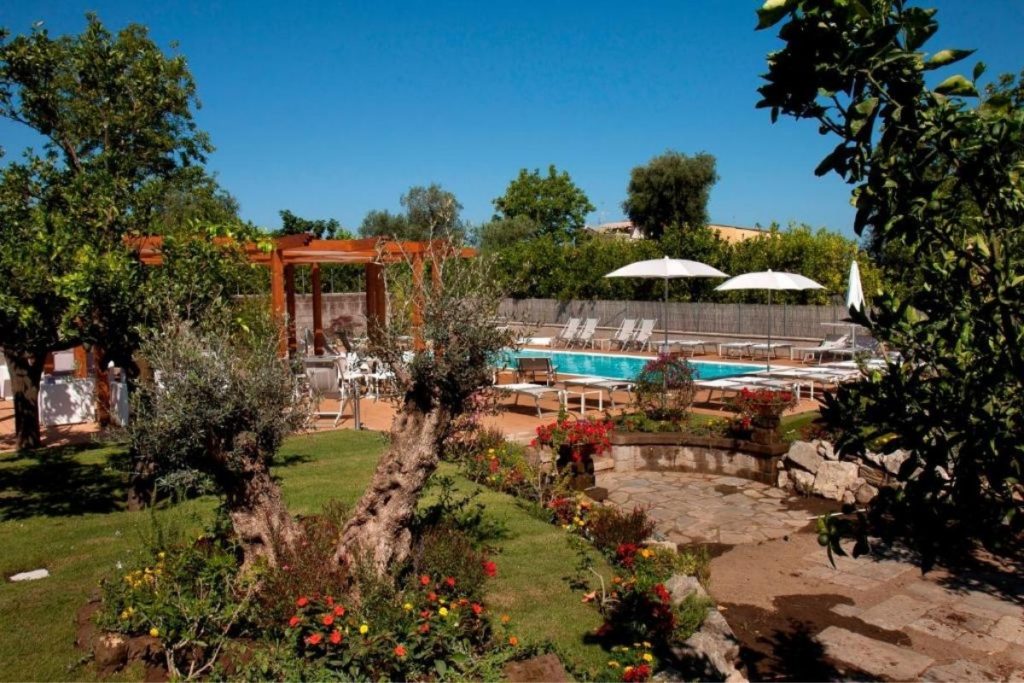 Where to stay in Sorrento on a budget while still living your best life? Sorrento is a little town where we recommend you check out Il Roseto one of the most affordable and beautiful hotels in Sorrento Italy. The hotel is a bit further from the center, not within walking distance, yet it is fairly close to the beach, at 650 yards. If you don't want to go to the beach, Il Roseto has its own private pool as well.
As far as eating and drinking, Il Roseto serves the best Caprese salad with the best Mozarella di Bufala, which you can enjoy in the garden next to orange and lemon trees. The rooms are simple looking yet going for a modern feel. Besides the usual activities offered, you can get massages at Il Roseto for an extra charge.
9. Hotel Cristina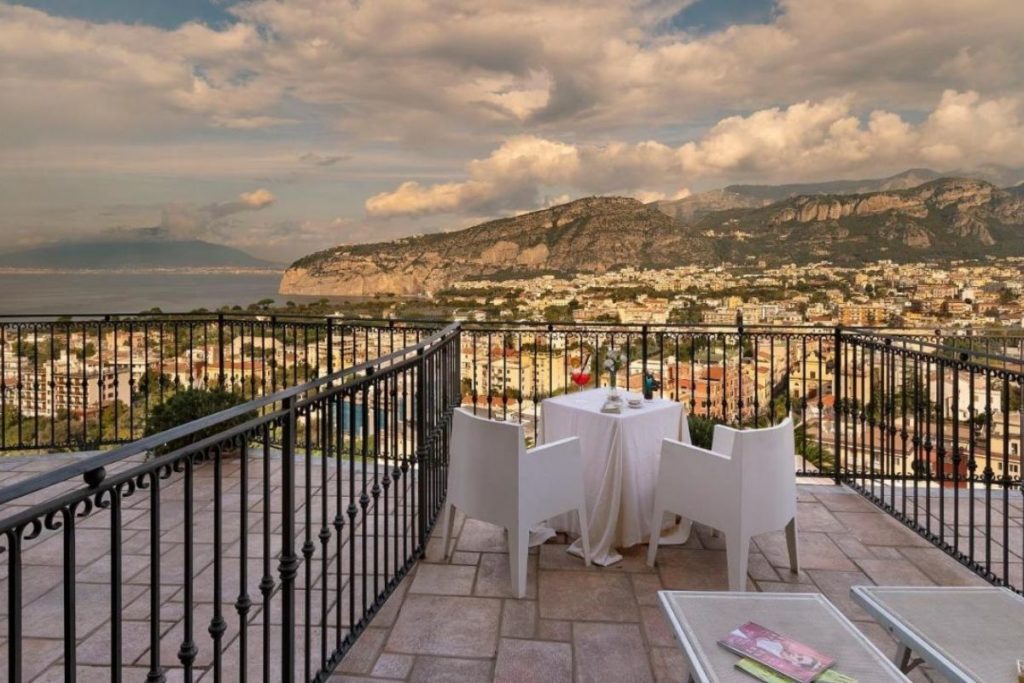 Hotel Cristina is up next on the list of best hotels in Sorrento Italy. Do we have to mention that the hotel overlooks the Bay of Naples? Surely not. This hotel is again a bit further away from the city center, however, the hotel offers a free shuttle bus to the city center. What an amazing service! The overall look of the hotel is charming.
Some of the rooms at Hotel Cristina come with sea views, and wood furniture is a big accent in all of them. The hotel has a restaurant on-site and other facilities include Bowling, Diving, and Hiking, all for extra charges. The beach is not too far away either, so if you still wish to have some sand in between your toes it's worth the short walk.
10. Romantic Relais Sorrento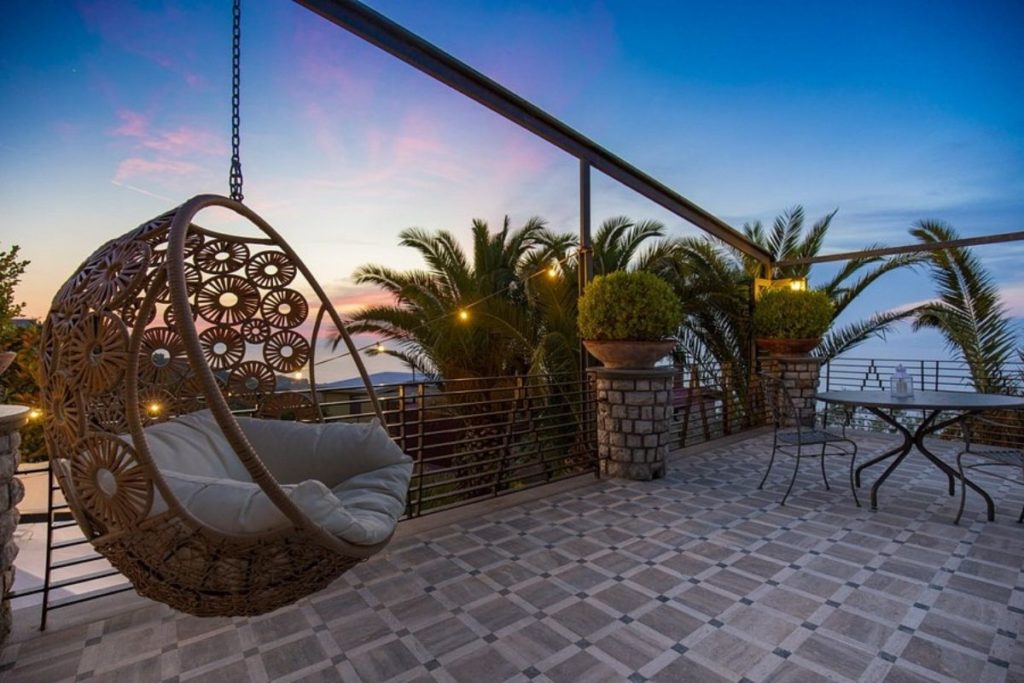 Are you still wondering where to stay in Sorrento on a budget? We have another one of the hotels in Sorrento Italy which are affordable. Romantic Relais Sorrento has an excellent location, quite close to the Grand Hotel Riviera within walking distance from the beach. If you are not too fussed about staying at luxury hotels this is a great alternative.
The rooms are very simple, the hotel has a high rating on booking.com and the cleanliness is rated high too. Romantic Relais Sorrento does not have its own restaurant, but there is the Pizzeria da Franco nearby and Satiri e Ninfe for cafes and drinks. A very good option among the best hotels in Sorrento.
11. Grand Hotel Royal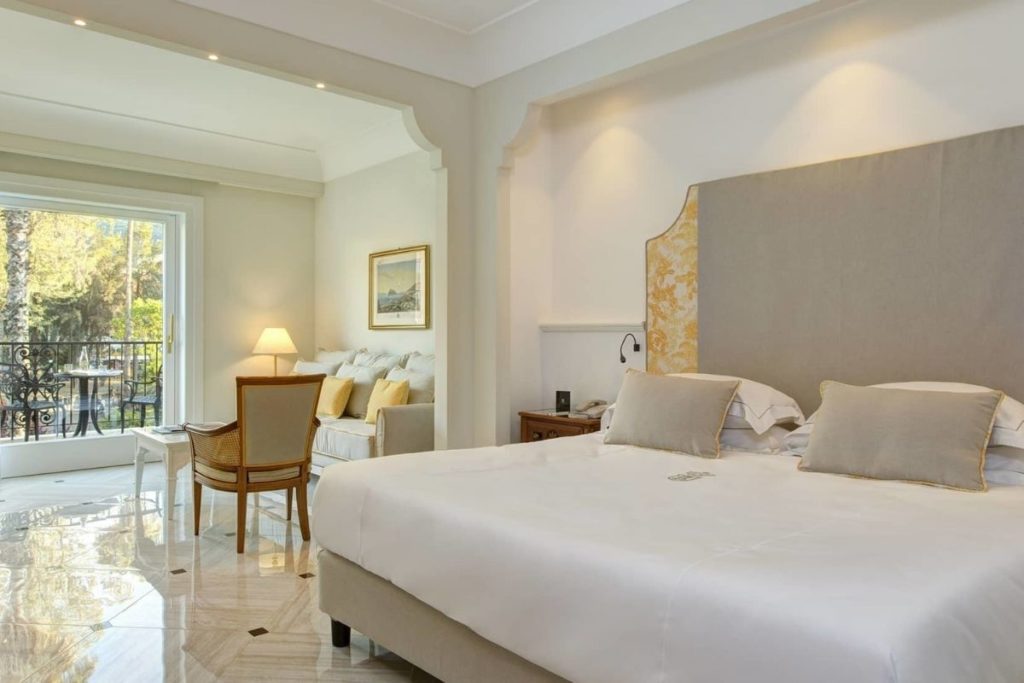 All these beautiful hotels in Sorrento Italy just make me want to travel right now. The Grand Hotel Royal Sorrento is a hotel nearby the beach but at the same time with its private beach, and a garden filled with palm trees. You get to experience panoramic views of Vesuvius and the Bay. Their rooms look exotic with antique furniture.
Grand Hotel Royal Sorrento restaurant is worth trying out, the food is delicious. other facilities include a nicely equipped fitness center, spa and wellness, massage, and table tennis. Piazza Lauro and Museo Correale are within walking distance. As it is in the heart of Sorrento you can just discover everything on foot.
12. Palazzo Marziale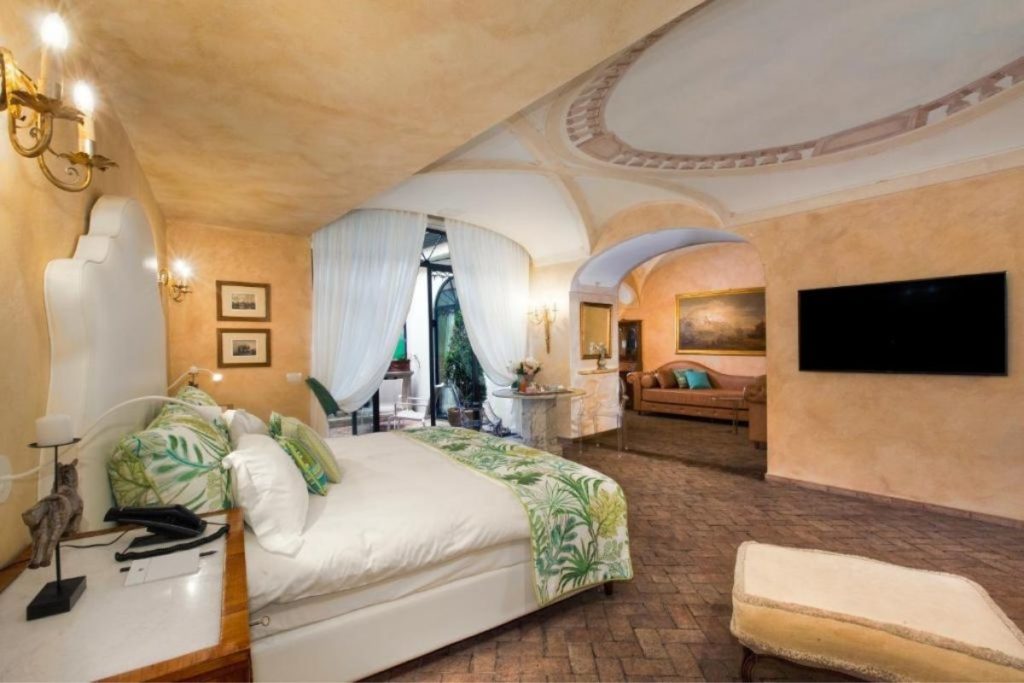 Palazzo Marziale is the second one of the restored hotels in Sorrento Italy on our list. This 15th-century building really looks like a palace and feels like one when you step in. The design is elegant and feels luxurious. Some of the rooms are colorful, while others are toned down. Palazzo Marziale offers room service and the restaurant serves delicious food.
As one of their facilities, they offer walking tours and even cooking classes. The hotel is also in the city center and closest to the beach and other attractions. Villa Comunale park is nearby and the closest beach is Marameo Beach. If you are fascinated by architecture then you will fall in love with the design of this hotel.
13. Grand Hotel Riviera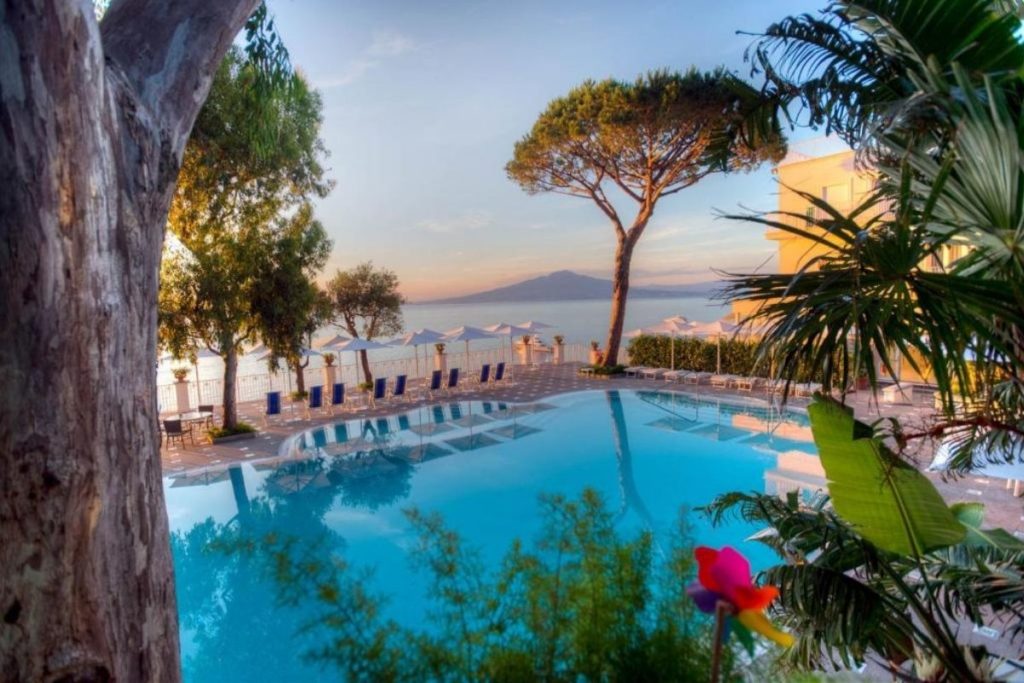 We are down to the last 3 hotels in Sorrento Italy and this 4-star hotel is just as beautiful as the rest. Grand Hotel Riviera is located not too far away from the center, but closer to the beach. The rooms have this gorgeous blue color and elegant tiles on the floor, giving it a harmonious look while watching the sea and sunset.
With its private pool and palm trees, you'll feel like you're on a tropical island. This would be the perfect wedding location, much more affordable than having a venue in Positano. The beautiful sunsets will make any event extra special.
Grand Hotel Riviera is extra special as its bar is American with a piano inside. The restaurant offers international cuisine and when you're sitting in the lounge, you get the best views over the sea. Grand Hotel Riviera also has its own private beach and they offer Hiking and Snorkelling activities.
14. Hotel Plaza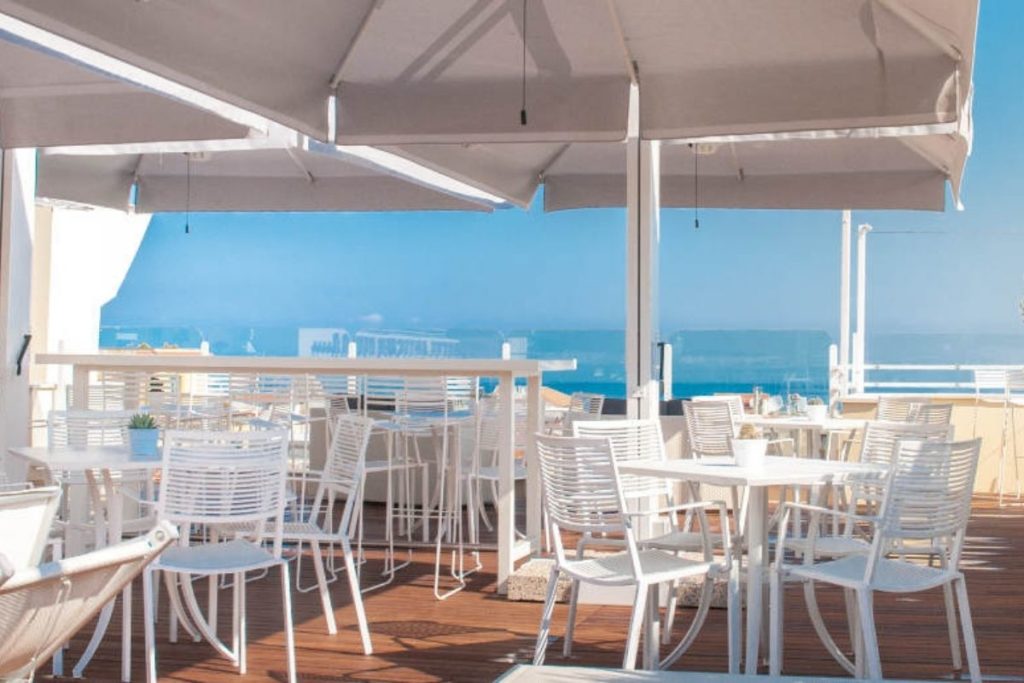 Hotel Plaza is perfect for events and gatherings as it's on a high heel and has a furnished deck and pool. The hotel and its rooms look quite modern and some even have a balcony with a sea view. You can have a full-course meal in the hotel's restaurant.
Hotel Plaza also has its own fitness center and even a tennis court off-site! The main things to see nearby are the Piazza Tasso and Il Vallone Dei Mulini, which is a park in Sorrento. In case you wish to discover more restaurants, just a few hundred yards away you'll discover Zi Ntonio and Ristorante Pizzeria Tasso.
15. Hotel Michelangelo
Did we leave the best for the last? All of the hotels in Sorrento Italy on this list are wonderful, but we are finishing it with a unique one. Hotel Michelangelo Sorrento is a few-story high hotel with 121 rooms in total. It has its own swimming pool and the terrace has a sea view. Hotel Michelangelo also has two restaurants.
The rest of the facilities include a solarium, hiking and even cooking classes if someone wishes to learn how to cook Italian pasta for example. Their rooms are tastefully decorated and each of them has a balcony where you can sit and enjoy the views. Note that not all of the rooms offer a sea view.
Best Hotels in Sorrento Italy
This concludes our list of best hotels in Sorrento including the great Hotel Michelangelo Sorrento and Grand Hotel de la Ville Sorrento. We had an absolute blast writing about these beautiful hotels and finding out what facilities and activities they have. You don't have to think about where to stay in Sorrento after this! Let us know if you've been in any of them.
Article in Italian: Migliori hotel a Sorrento
Pin It: 15 Best Places to Stay in Sorrento