10 Best Italian Yacht Brands
People tend to invest in all sorts of things these days. It can be properties, vintage goods, handbags, or watches, but what about investing in a yacht? You might be wondering why would someone do that, surely you don't get money from it. What you do get is new experiences and adventures. So we gathered a list of the 10 best Italian yacht brands for you.
Yes, Italians are great in everything, even in creating Italian luxury yacht brands. Rightly so, since you'll find the best beaches in Italy where having a boat or a yacht gives you a great advantage. Of course, owning a yacht is costly and not many can afford it, but you'll be sailing toward beautiful coasts and enjoying the sea or ocean during sunset and sunrise.
5 Best Italian Yacht brands – Italian luxury Yacht Brands
So how do you choose which Italian sailing yachts brands are the right ones for you? You can choose by model, specifications, length, interior design, and even whether the brand lets you add your personal touch to them, which is possible! Of course, it also matters how many people can fit on the yacht. And how fast can you get to your favorite Italian coasts? With these yachts, you can travel faster and better than by car.
For example, places like Cinque Terre, Amalfi, Portofino, or Sorrento are all coastal towns that you should visit and with your own personal yacht, it couldn't be easier. And the yacht itself can feel like a luxury apartment with the newest furniture. What better flagships to purchase than the ones from the best Italian yacht brands?
It can be a challenge to purchase a yacht without prior experience. You can use a yacht charter (for example Boataround) and choose from many boats on offer to know what awaits you.
1. Benetti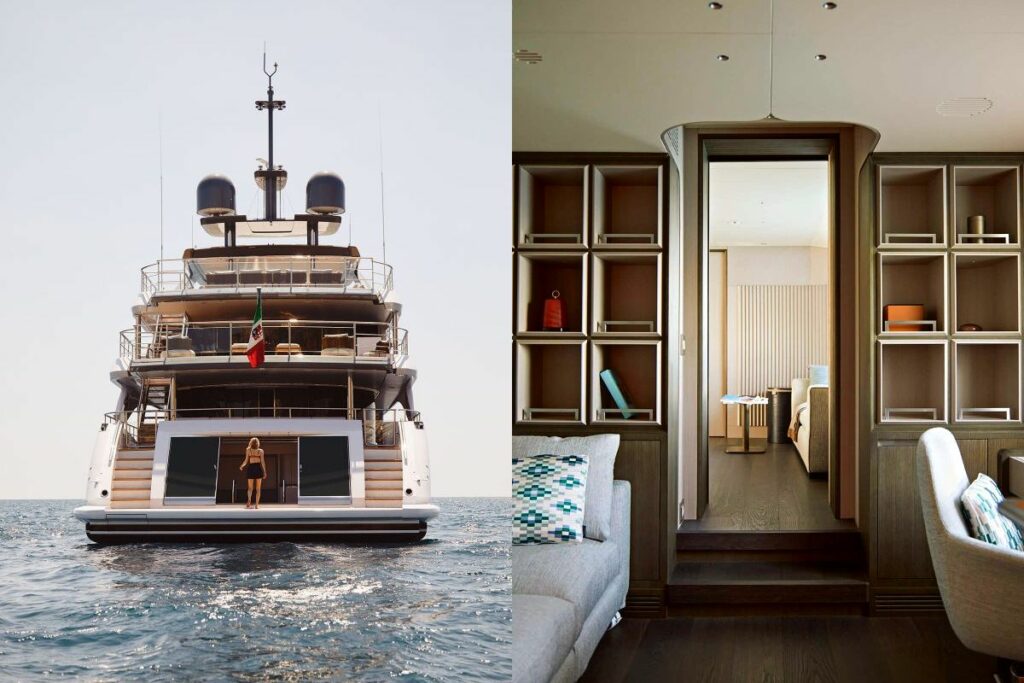 If you really want to stand out among your friends, Benetii should be on the top of your list of Italian yacht brands to buy. It is actually the oldest brand that started creating boats back in 1873. The founder is Lorenzo Benetti and they pride themselves on their Made in Italy yachts.
The first-ever shipyard launched by Benetti was in Viareggio in 1873. After nearly 100 years, in 1961 Benetti starts to produce steel boats, and the first yacht was launched under the name of Luxury Motor Yacht. Choose from a few different categories of yachts such as Class, B.Yong, Oasis, and B. Now or B. Century.
The Motopaniflo is the perfect yacht for travel. It is 37 meters long and it's beautiful. Wait until you see the inside of the yacht, it is absolutely stunning! It fits 10 guests in 5 cabins and another 7 people in 4 cabins that are part of the crew. In case you've been wondering which Italian sailing yachts brands to invest in, Benetti should be in your top 5.
2. Azimut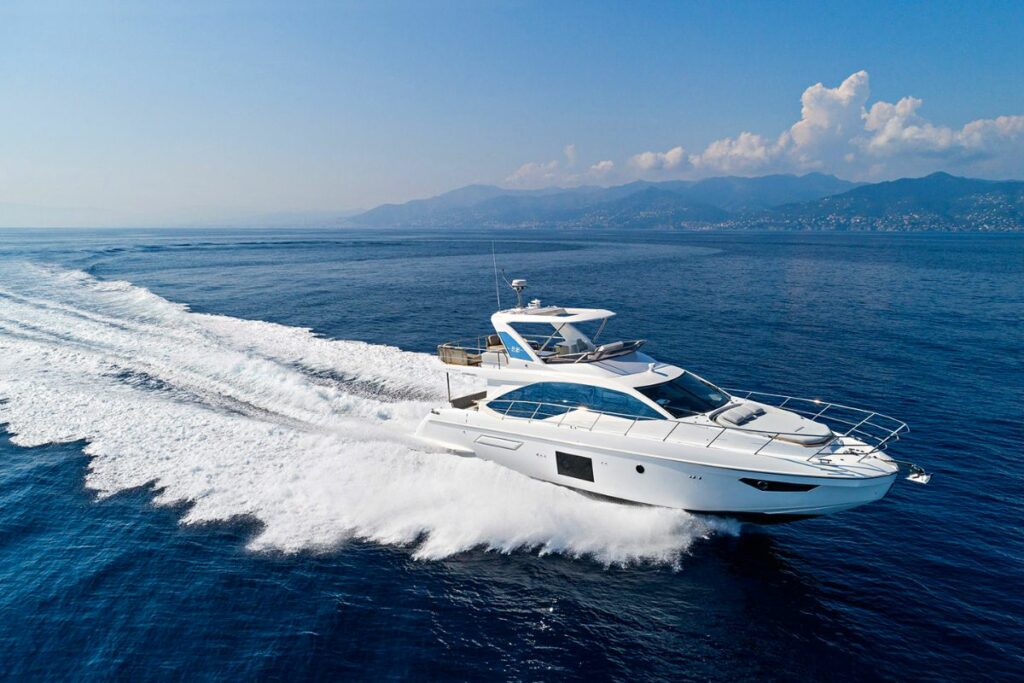 Among the best Italian yacht brands we have to count Azimut in our top 5 list. The business was founded by Paolo Vitelli in 1969. The first yacht that defined the history of the brand was the AZ 43' Bali one and it "was an immediate success". One of Azimut's sayings is "Italian as a way of life" meaning their attention to detail in the production of every single yacht is impeccable.
Azimut's products show elegance, luxury, and the best quality you could find. No wonder it's at the top of the Italian luxury yacht brands. There are about 6 collections on the website. Flybridge, S Collection, Magellano, Atlantis, Grande, and Verve. All of the collections have different sizes of yachts.
The Magellano for example was built for anyone "who wants to cruise further afield". It has gentle navigation and limited fuel consumption. The interior is specifically for those who wish to stay on the boat for a longer period. The Magellano 43 for instance had 2/3 cabins and it's perfect for a small family or group of friends.
3. Mangusta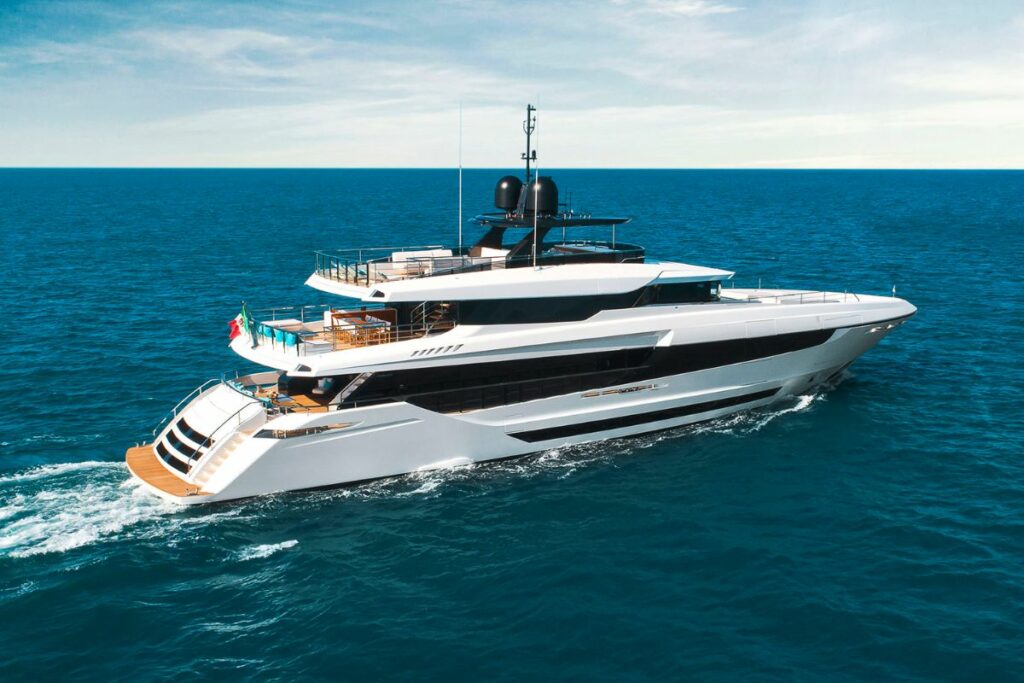 Mangusta is a bit newer than the previous brands. They have over 30 years of experience in being on the top of the Italian yacht brands list. The founders are the Balducci family who came up with the Mangusta name in 1985. The name comes from mongoose, which is "the only animal that can tackle and defeat cobras. At that time the best company for fast vessels used to be the Cobra by Tecnomarine.
So the Mangusta was a new challenge, to beat the existing company in the best Italian sailing yachts brands. Giuseppe Balducci's history also begins in Viareggio when he was working in a historic shipyard. The innovations that came after these years are truly amazing and it's still a well-respected company.
You'll find three types of yachts, Mangusta Oceano, Gransport, and Maxiopen. I found the Maxi Open the most interesting. It is a luxury sports yacht, it's designed to be spacious while still offering enough speed. The smallest model can still hold up to 14 people on board in total. While the 132E has 5 cabins for guests and the owner, plus another 3 for the crew. So in total, it can fit up to 17 people. You can bring a lot of your friends to this yacht.
4. Riva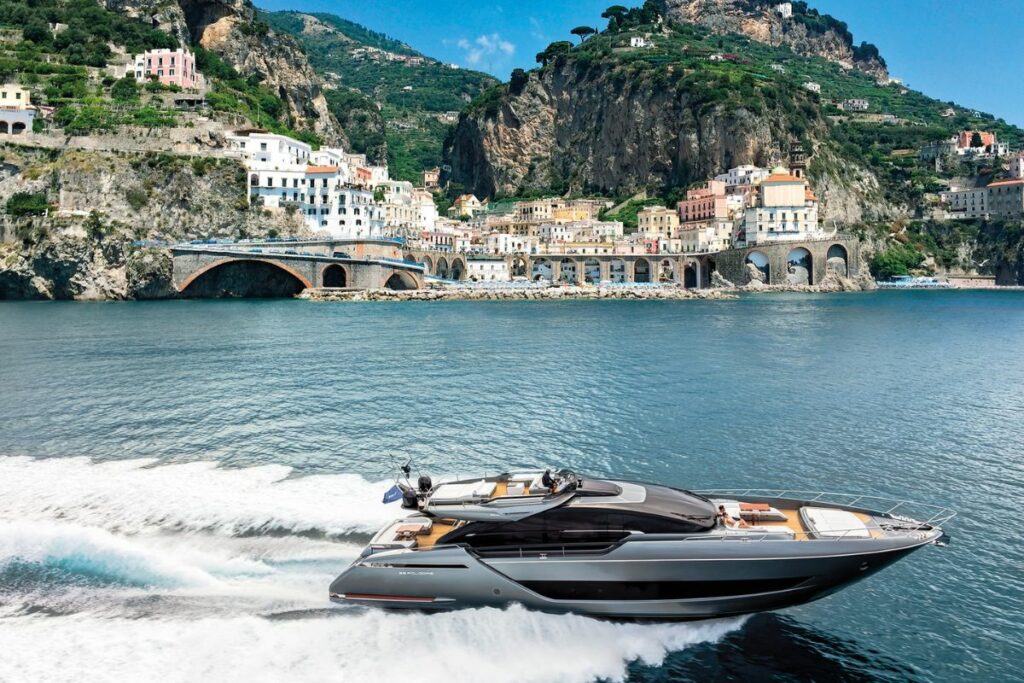 Using Riva's own words about its yachts "Devil is in the details" and I couldn't agree more. Out of the 10 Italian luxury yacht brands Riva is probably the most luxurious looking with so much detail. It was founded in 1842 by Pietro Riva. Today it is part of the Ferretti Group.
You'll find three different yachts at Riva, the Sportfly, Open, and Flybridge. Sportyfly's largest yacht is the 88' Folgore. It's an "irresistible thunderbolt", it's fast, beautiful and the design is just magnificent. It has 4 cabins and two standard crew cabins. The interior has everything you ever need for your vacation on the Italian coast.
From the Flybridge collection, I like the 110' Dolcevita the most. It's their new fiberglass flagship. And it is also a collaboration between Officina Italiana Design and the Ferretti Group Engineering Department. The yacht itself is stunning, and aesthetically pleasing with the highest technology. It has 5 cabins and 3 standard crew cabins, so it's quite spacious. Let's see the last of the Italian yacht brands.
5. Sanlorenzo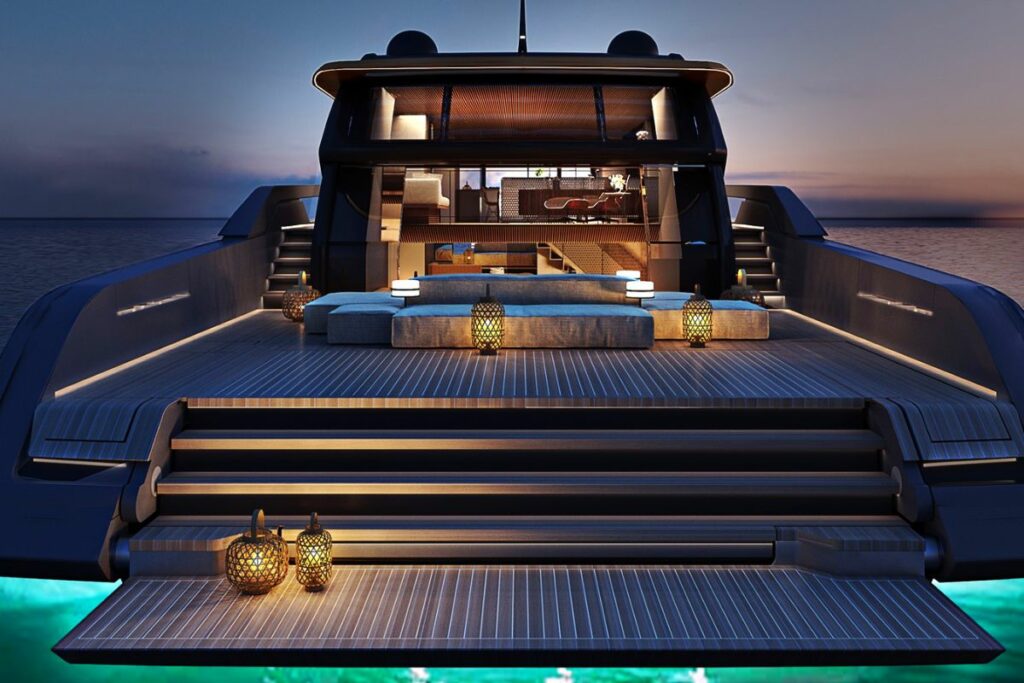 The last on our list of Italian sailing yachts brands is Sanlorenzo. They have over 60 years of experience in this field, founded by Gianfranco Cecchi and Giuliano Pecchia in 1958. They have been building high-quality motor yachts that can be ordered on request. And their motto is 'made to measure', meaning you can request them to be made in many ways.
There are 4 collections to note at Sanlorenzo. SL, SD, SX and SP Range. The SL yacht for example is elegant and well-balanced, available in 6 different models. All of them can be personalized based on the owner's taste and passions. Let's take the SL106 Asymmetric as an example. It is 32,38 meters long and can fit a total of 15 people on board.
The SP range is quite new, designed with sustainability and comfort in mind. There's only one model available, which is the SP110. It "offers the best performances at the lowest fuel consumption". Have you seen solar panels on a yacht? Yes, the SP110 has solar panels that supply the power to run the hotel load. It fits about 12-13 people and has a length of 33,04 meters. Even from an architectural point of view, this yacht is exquisite and worth investing in. Which of these Italian yacht brands is your favorite?
6. Baglietto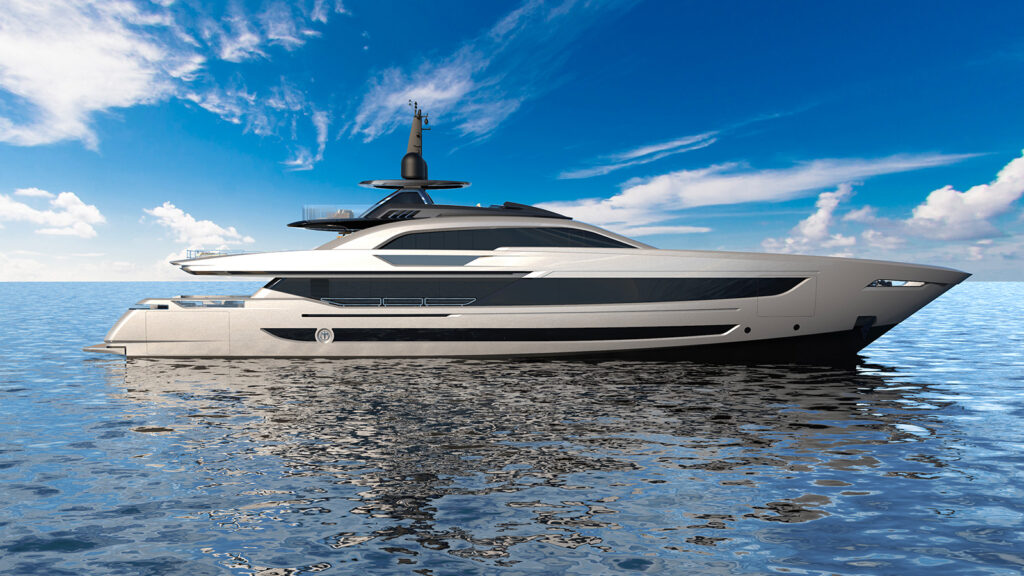 Continuing our list of Italian luxury yacht brands, next up is Baglietto. The brand was founded over 160 years ago, in 1854 with just the dream of having small fishing boats. Its founder is Pietro Baglietto whose vision was so clear that even today Baglietto is a well-respected yachts brand. He created racing boats, cruising yachts, and standard boats. Over the year the family business has been passed down to generations.
Today they stand proud as a 160 years old business that creates the most amazing yachts in Italy. There are 4 distinctive ranges to look at. The Dom Line, Tline, Fast Line, and Superfast Line. But besides these 4 ranges, Baglietto also offers the possibility to custom make your own yacht.
In the Fast Line, there are 3 different models designed by Francesco Paszkowski. The Fast43 is a 43.65 meters long yacht that can hold up to 17 people, out of which 7 are crew members. Another designer for Baglietto is Stefano Vafiadis, whose range is the Dom Line. The Dom 133 – Hybrid, has an overall length of 40.60 meters and can hold up to 18 people. The interior design is magnificent. You can literally live on this yacht!
7. Ferretti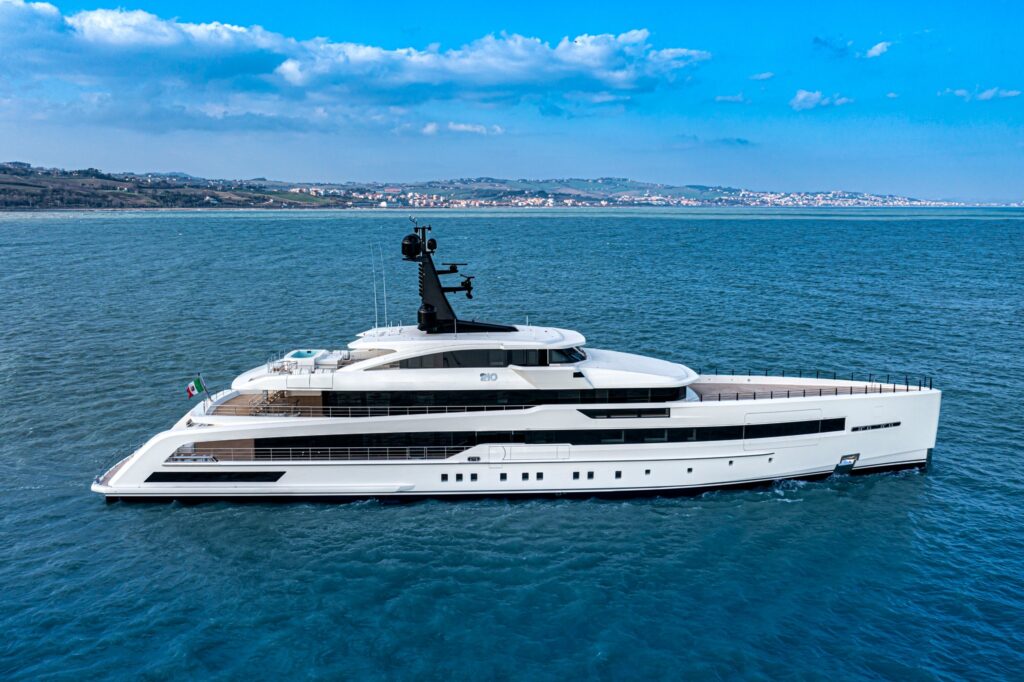 The Ferretti Group was founded by the Ferretti brothers in 1968. They were previously marketing motor boats for an American Firm but then decided to build their own ones. The first one was built in 1971 and was called a 'motor sailer'. After this, a series of other motor yachts were built by the Ferretti brothers, and soon they expanded into a bigger company.
The Ferretti Group also owns Riva, Custom Line, and CRN. So what type of "boats" can you buy from one of the best Italian yachts brands like Ferretti? According to the company, "the Ferretti Yachts fleet is a rich mix of comfort". Let's take the FERRETTI YACHTS 1000, which is a new concept of yachts. It looks and feels luxurious from the inside out.
The amount of time spent on designing and prototyping these yachts is over 15,000 hours. And to this day, it is their largest yacht built. The exterior looks premium with all of the details thought out carefully. The interiors look like the inside of an apartment. With sofas, tables, and chairs that make up a lounge and allow 20 people to be on board. The bedrooms and bathrooms are stunning too!
8. Rossinavi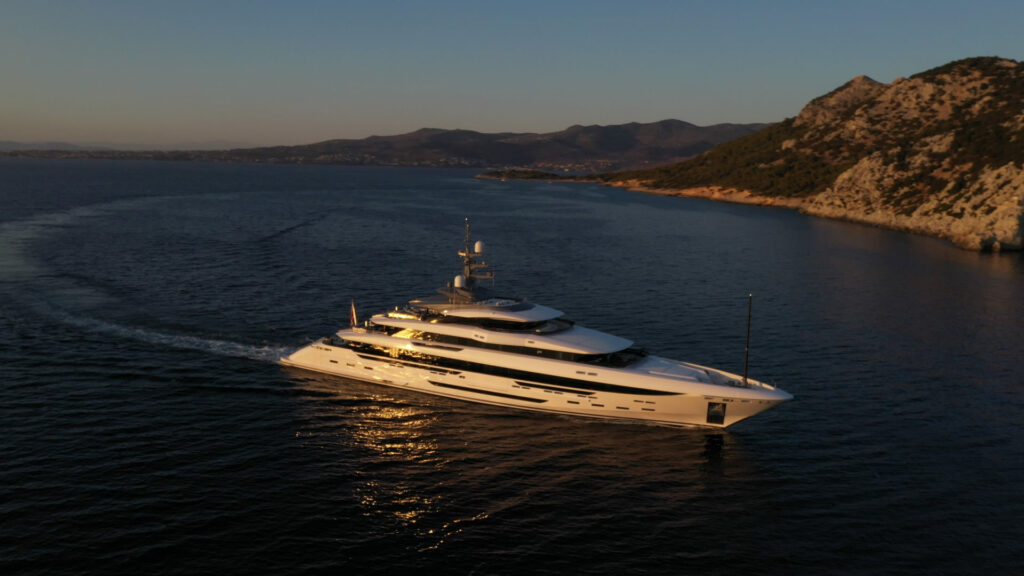 The brand Rossivani is fairly new compared to the other Italian sailing yachts brands. Rossivani was founded in 2007 by Cantiere Fratelli Rossi. So many brands in Italy have been created by families and passed down to generations, working with the same passion. They create stylish yet simple designs which are made to last for years to come.
On their website, you can check out the fleets as they were made in each year, all the way back to 2000. The "South" was the first-ever made yacht by the Rossivani company and it's 54 meters. The average speed is 15 knots with a maximum of 17, meanwhile smaller yachts go between 6-8. These yachts can accommodate up to 12 guests.
Looking at the newest model which is the "Piacere" one, was built for anyone in all types of sea conditions. It's made in a way that both the internal and external spaces are optimized. The overall length is almost 50 meters. Although it doesn't say how many people can fit into this yacht, however, you can choose to have a large garage on the bow. Simply said, it's a pretty big yacht!
9. CRN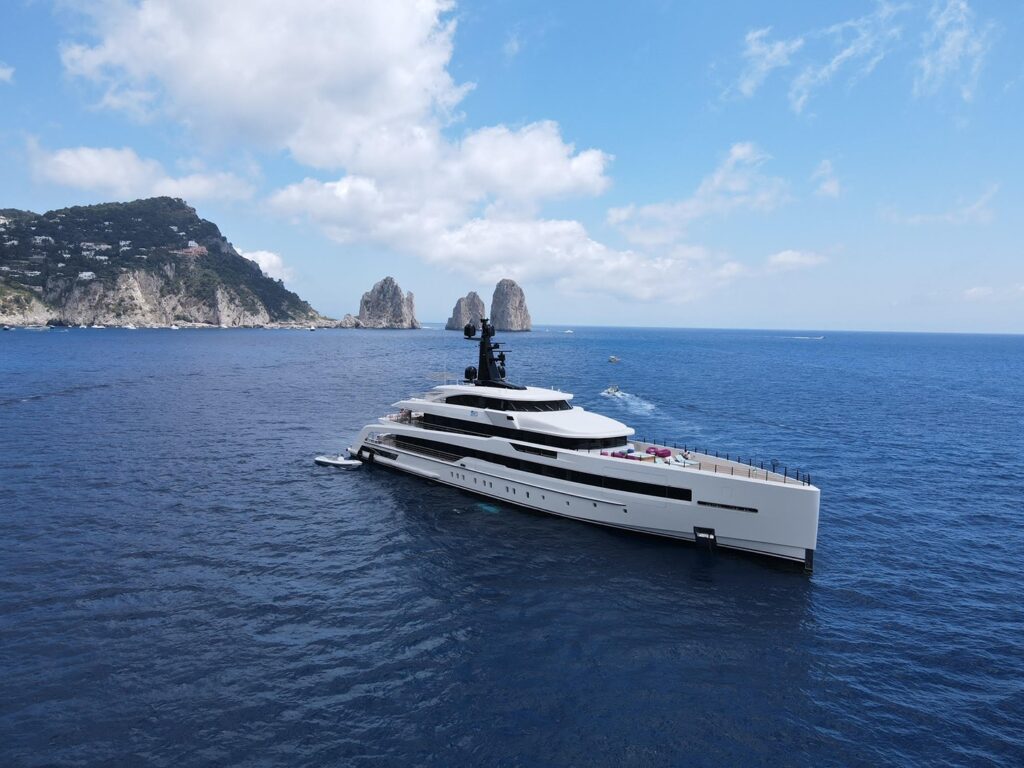 The story of CRN began in 1963 in Ancona which is in the Marche region of Italy. If you're familiar with this region, then you know the Le Marche beaches as beautiful, so it's only right that you need a yacht to discover all of them. CRN comes from "Costruzioni e Riparazioni Navali" which translates to "Shipbuilding and Ship Repairs". Ancona has been a "strategic maritime hub" for 2400 years.
CRN is passionate about steel and aluminum, to bring their ideas to life and listen to your visions of how you imagine the yacht to be. They say "if you can dream it, we can make it". Looking at the CRN Megayachts, they are definitely larger than the previous ones on our list. Mimtee for example is a beauty of 79 meters and it was designed for families.
Another beautiful 54,80-meter yacht is the Atlante. It's quite huge and it fits around 13 guests. Although the exterior is more similar to the exterior of a ship, the yacht is still beautiful and functional for pleasure use. Other fleets CRN designed are Ciao, Rio, Voice, or Cloud 9. The Cia and Rio are the newest addition to the 2022 year. It's a great choice if you're looking for premium yachts!
10. Custom Line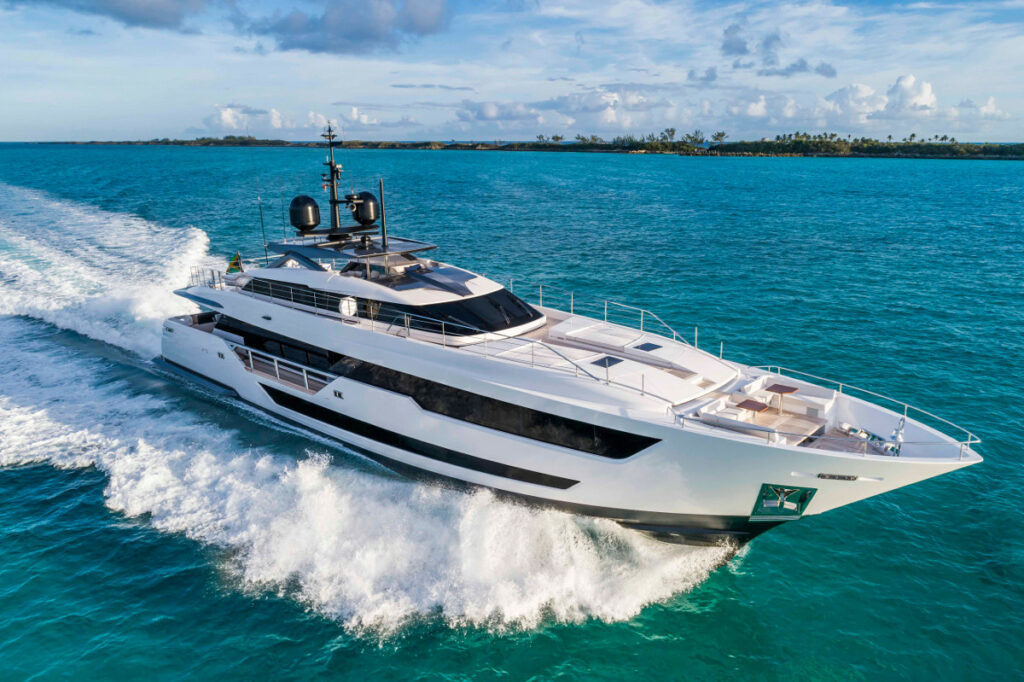 As we have mentioned before, Custom Line is owned by the Ferretti Group. If you have seen the yachts they produce then you know you'll only get the best quality. What does Custom Line promise to deliver then? Their fleets are "designed to fulfill every lifestyle and cruising need". They have two main fleet lines, the Planing, and Navetta. All of these yachts were made with excellence in mind, so your sailings can go as smoothly as you can expect them to.
From the Navetta line, the 42 is the company's largest displacement yacht. It is practical, it's stunning and it blends into the sea. What's even better is that this beauty is fully customizable. Whatever you wish to create inside this yacht, Custom Line will grant your wishes. It can fit up to 4 VIP sections, meaning that a maximum of 20 people can be on board. This will include 5 cabins for guests and another 4 for crew members. Which one was your favorite out of the 10 Italian yacht brands?
Best Italian Yacht Brands – Italian Sailing Yachts Brands – Wrap up
That concludes our list of Italian yacht brands. In case you wish to experience the luxury life and travel more on the sea, a yacht is a perfect investment. In this case, you'll gain more life experience, you'll travel and if you're lucky enough you get to do that with family and your loved ones. After all, what's the point of owning a yacht if you cannot take your family and friends on it? What we love about the Italian luxury yacht brands is their attention to detail. From the outside of the yacht to the inside furniture, everything is so well-thought-out.
For instance, if you purchase a bigger yacht, you'll get about 8 cabins easily. Of course, some need to be reserved for the crew members as it's important to have people help with sailing, however, you still have plenty of room for yourself. Other specifications may include fuel consumption. The majority are designed in a way that you use less fuel and get more travel time out of it. Whichever brand you choose, they will not disappoint you!
Pin it: 10 Italian Yacht Brands – Italian luxury Yacht Brands