10 Best Hotels in Perugia Italy
The capital of Umbria is famous for many things. Firstly, Perugia has many stunning buildings, and beautiful central piazzas, so from an architectural point of view, you must visit it. Besides the historic houses, Perugia is also known for its hilltops and magnificent views. Since Perugia is just starting to get popular among visitors, it's still one of those gems of Italy that are not overwhelmed with tourism! This brings us to our Perugia hotels, some of these have stunning views of the city.
10 Best Hotels in Perugia Italy – Hotels near Perugia
But Perugia is also famous for its chocolate. One of the best Italian chocolate brands is Baci, a popular brand in Italy. Its factory is located in San Sisto, to be more precise. Furthermore, Perugia is a picturesque Etruscan town, that has Italy's largest fortress in its center, the Rocca Paolina. All of these reasons are good enough for you to stay in Perugia. But are you wondering where to stay in Perugia? Well, these best hotels in Perugia should help you makeup up your mind!
1. Sina Brufani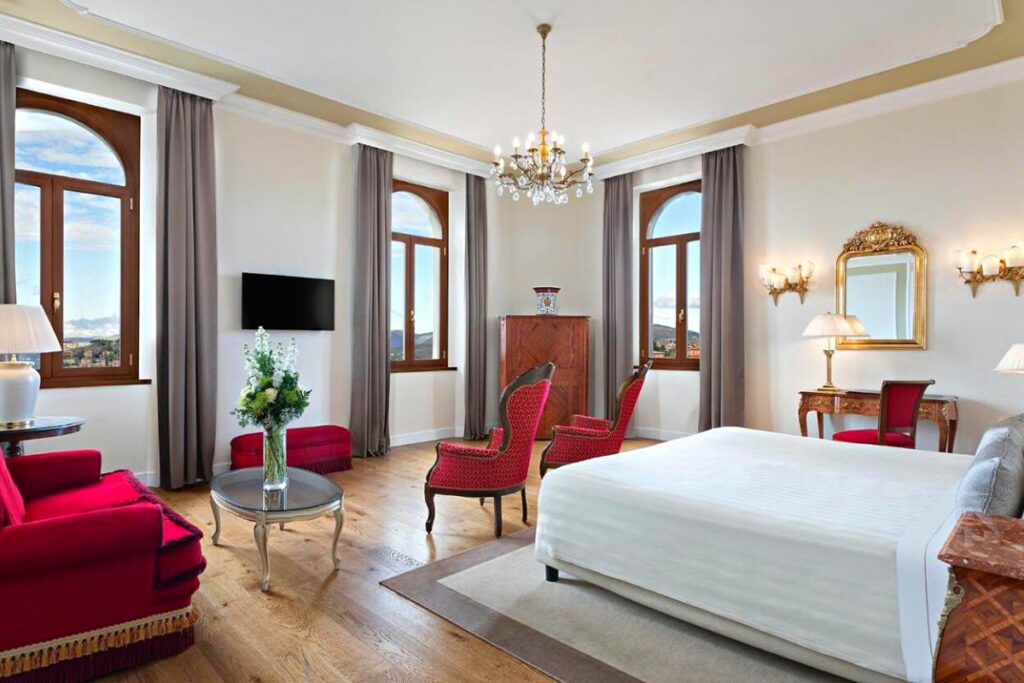 We're starting our list of Perugia hotels with the only 5-star hotel in Perugia, which is the Sina Brufani. The outside of the building is beautiful and from the hotel, you'll experience stunning views across the green hills of Umbria. In the rooms, guests can see frescoed ceilings and original wood floors. The bed is large, and some rooms feature a lounge with a sofa. Inside the room, the bathroom is made of Italian marble and some of them even feature a spa bath.
Hotel Brufani Palace is equipped with a gym, sauna, steam bath, or hot tub. It also has an indoor swimming pool with a glass floor. These are 3,000-year-old Etruscan ruins. It is a luxurious experience to swim in this pool.
In case you wish to have food or drinks, the hotel has its own restaurant called Collins. It is famous for its regional cuisine and you'll find the best wines here. During the summer the outside terrace is a beautiful location to dine in. Furthermore, Brufani Palace has banquet halls that can be booked for private parties.
Sina Brufani location:  Piazza Italia 12, 06100 Perugia
2. Locanda della Posta Boutique Hotel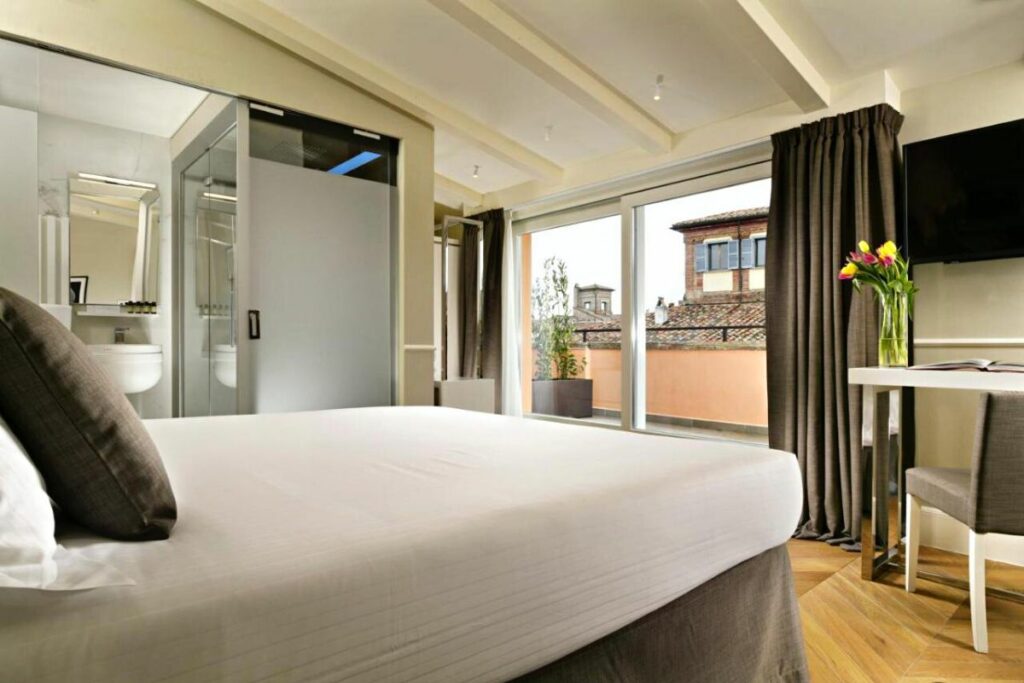 Wondering where to stay in Perugia which is near the center? Locanda della Posta Boutique Hotel is a great option. It is right in the heart of Perugia and the hotel is set in a historical building from the 18th century. You're close to shops, restaurants, museums, and monuments. For example, the Duomo and National Gallery of Umbria are about 5 minutes away.
The hotel's rooms are quite spacious and they feature elegant decor and furniture. The furniture is made of cherry wood to be more precise. You'll absolutely love the bathrooms, they are bright, modern, and spacious. Some of the rooms have beautiful views of the city's rooftops.
There is no restaurant at hotel Perugia, however, a buffet breakfast is served each morning. The nearest restaurants are La Taverna, Mercato Vianova, or Al Tartufo. You'll also be close to the Rocca Paolina or the Palazzo dei Priori. According to the hotel's management team, Johann Wolfgang von Goethe and Hans Christian Andersen also stayed at this hotel!
 Locanda della Posta Boutique Hotel location: C.So Vannucci 97, 06121 Perugia
3. Castello Di Monterone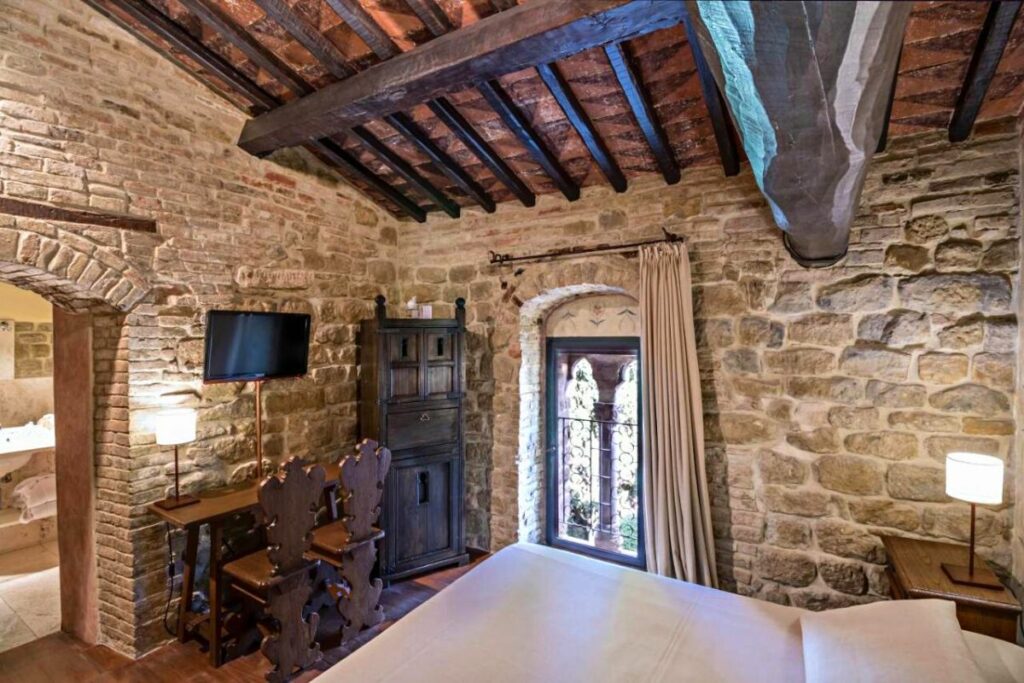 Have you ever dreamed of living like kings and queens but with a modern twist? You can do this at one of the most beautiful Perugia hotels, the Castello Di Monterone. The location itself is beautiful, it is further away from the city center, however, you have stunning views and quiet around you. It is between Assisi and Perugia.
Documents suggest that the first archives of this castle can be found from the 13th century. We do not know who built it, but turning it into a hotel was a great idea. You'll enjoy a relaxing environment and be mesmerized by the beautiful castle. The rooms were also left in the same way and the furniture added matches the style of the castle.
As far as facilities, you'll get to use the swimming pool outside as well as the sauna, Turkish bath and hydromassage. Castello Di Monterone has a restaurant on-site with delicious meals. It's good to rent out a car in Perugia in case you're staying at this hotel. It will be much easier to commute to the city and back.
 Castello Di Monterone location: Strada Montevile, 3, 06126 Perugia
4. Hotel La Meridiana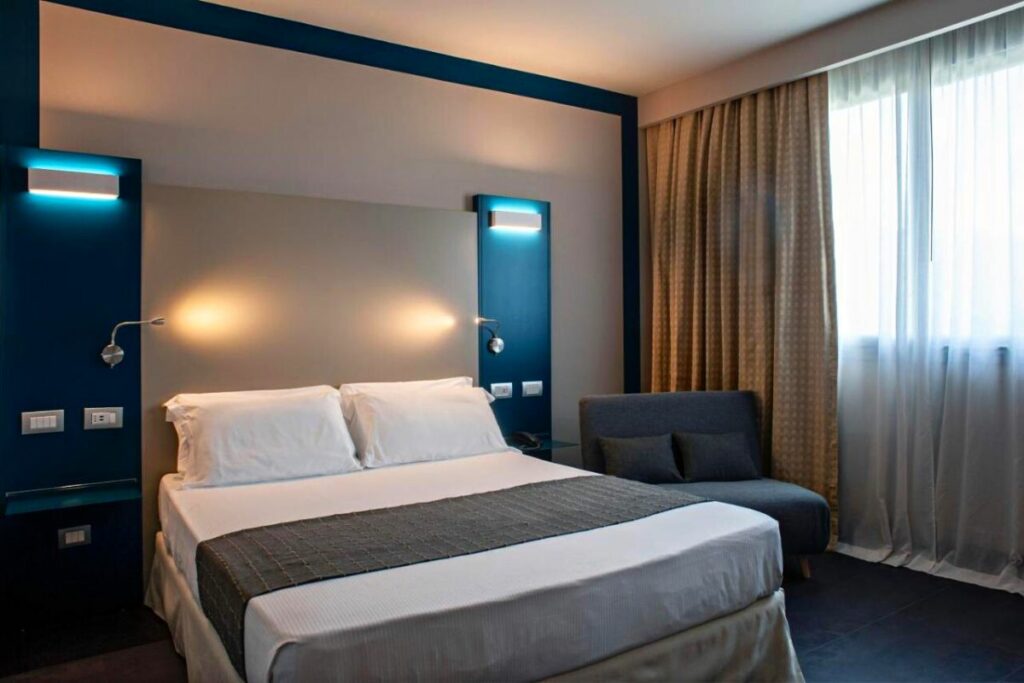 Hotel La Meridiana is a 4-star hotel located about 15 minutes away from the center of Perugia. In case you are traveling by car, they have free parking and it's easy to get around the town. The rooms are modern and elegant with air conditioning. They all feature large bathrooms and include tea/coffee makers as well as views of Perugia.
It's one of the best hotels in Perugia as it's set further away from the center and just like the castle, it offers a quiet and tranquil environment. There is a restaurant on-site, therefore, you do not need to go to the center for food. They serve Italian dishes and Umbrian specialties. The good thing is that you can enjoy your breakfast, lunch, and dinner on the covered patio.
Besides the beautiful views of the city, Hotel La Meridiana has a medium size swimming pool. It's great for relaxation. This hotel is great for families too as it has big rooms where a maximum of 4 people can fit in. Sit outside on the sun loungers and sip on wine to experience the Italian life!
 Hotel La Meridiana location: Via del Discobolo 42, 06074 Perugia
5. Relais dell'Olmo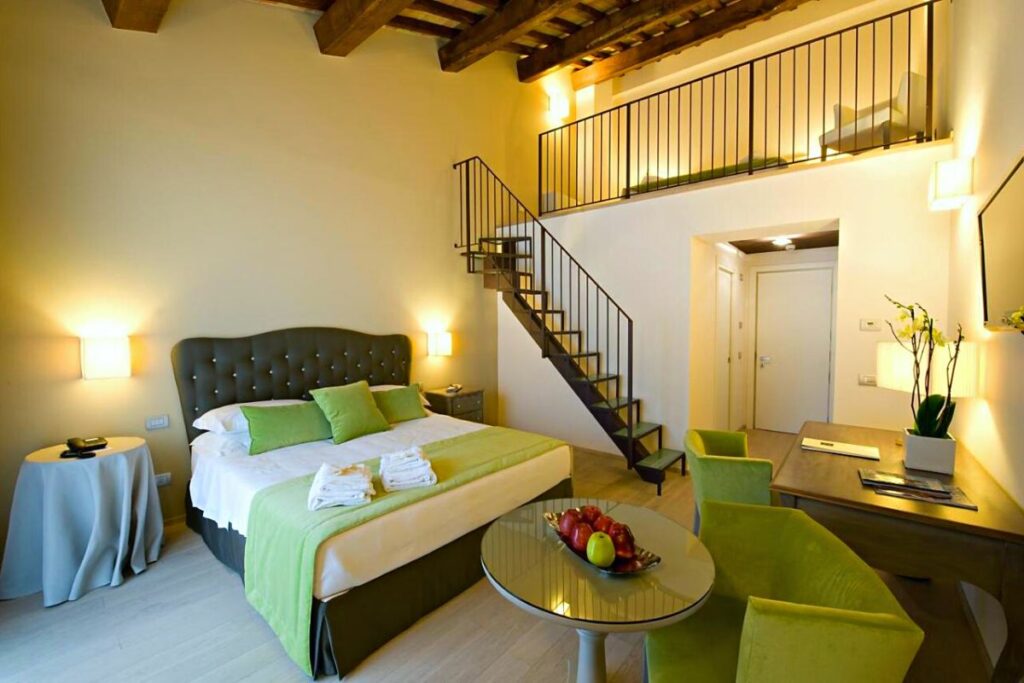 Relais dell'Olmo is one of the 4-star hotels near Perugia. It is right outside the city, but close enough by car or public transportation. The hotel is lovely, it is set in a 16th-century villa and you'll see green hills and private vineyards around. Inside the hotel, the rooms are very big and decorated beautifully.
They do have a modern decor, yet very simple. The bathrooms are also amazing, and clean and some of them even feature hydro massage. Relais dell'Olmo offers free breakfast to its guests. Once you have had enough food, you can get in a workout in their fitness room.
Other facilities include a swimming pool, spa, and wellness center. On-site there are beauty treatments available, but you have to book them in advance. Lastly, the hotel has its own restaurant serving local specialties. Dine outside among the olive trees while you enjoy a delicious meal.
 Relais dell'Olmo location:  Strada Olmo-Ellera 4, 06132 Perugia
6. Sangallo Palace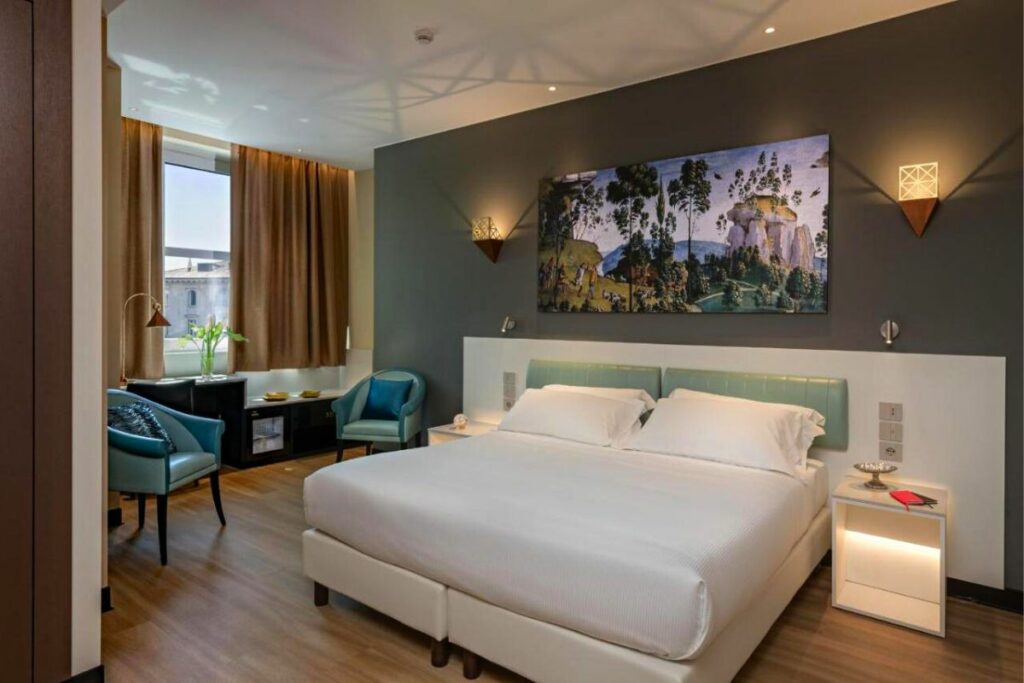 We are back in the city center and Sangallo Palace is a beautiful 4-star hotel among the Perugia hotels. Both the outside and inside of the hotel look luxurious, it has an 8.4 rating on Booking.com. Inside the rooms are elegant, yet with simple furnishing. You'll have a large bed with desks, a wardrobe and side tables.
The bathrooms are smaller, however, some feature hydromassage bathtubs. And you can request to be in a room that has amazing city views, but that is based on availability. In the morning, guests can enjoy a buffet breakfast with all sorts of drinks. As far as lunch and dinner, Sangallo Palace has a restaurant on-site serving traditional Umbrian and Mediterranean dishes.
Facilities include a large swimming pool that's also heated and a well-equipped gym. The indoor pool is open all year round, however, there isn't one outside. You are near attractions like the Palazzo della Penna Museum or the Rocca Paolina.
 Sangallo Palace location: Via Masi 9, 06121 Perugia
7. Hotel Giò Wine e Jazz Area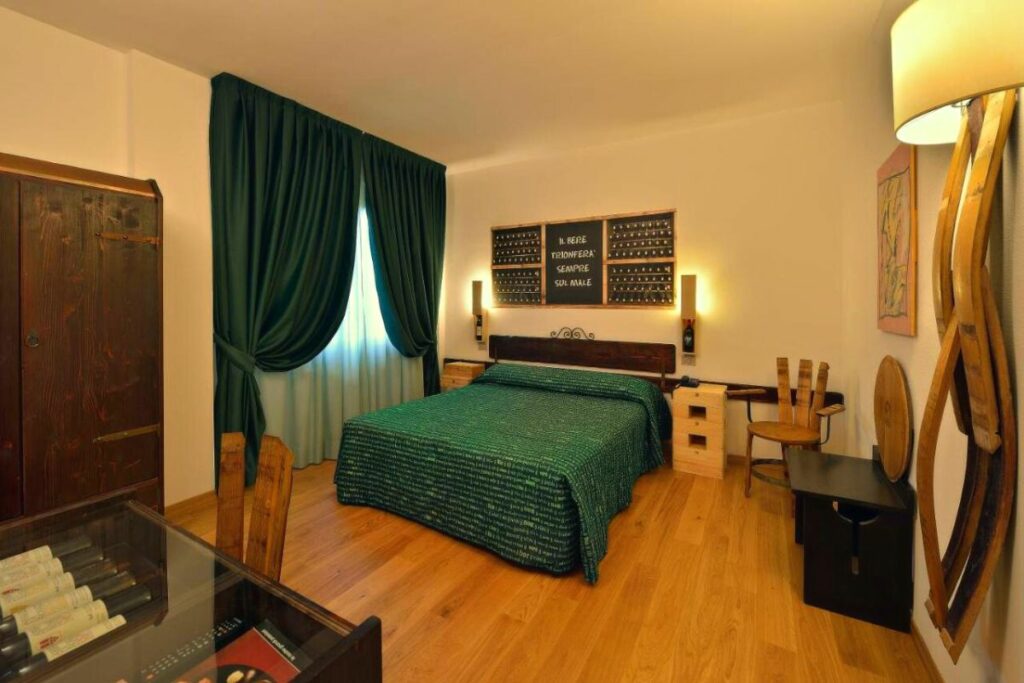 Are you still thinking of where to stay in Perugia? We have another amazing option for you and that is the Hotel Giò Wine e Jazz Area. This hotel is a few miles away from the city center and it's only a 5 minute ride with the Minimetro. The building is surrounded by gates and the theme is jazz all over!
Its rooms are quite spacious, which is typical for most Italian hotels. Some of the rooms even feature a spa bath, while others have massage chairs. But one thing they have in common is the jazz theme all over the hotel. It's not just the decor that is jazz-themed, but the hotel holds jazz concerts every now and then.
There's also an outdoor pool with sun loungers and a gym for anyone that wishes to stay active during their visit to Perugia. Enjoy a delicious meal at the Ristorante Enoteca which serves regional specialties. Breakfast is also available in buffet style. Let's check out the rest of the best hotels in Perugia!
 Hotel Giò Wine e Jazz Area location: Via R. D'Andreotto 19, 06124 Perugia
8. Perugia Park Hotel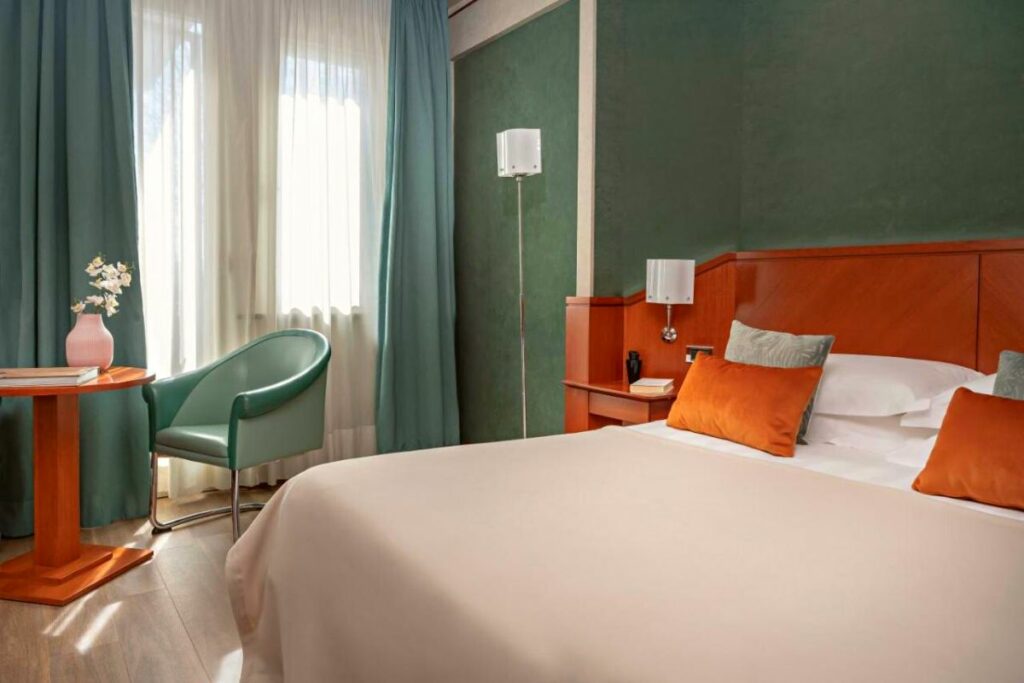 Perugia Park Hotel is one of the hotels near Perugia that are close to the airport. This hotel is a great option in case you don't want to be in the center of Perugia and wish to explore nearby towns. It is only a few minutes away from the center of Ponte San Giovanni.
The rooms feature simple furnishing. The bathrooms are spacious and you receive free toiletries. In the morning Perugia Park Hotel serves breakfast with fresh pastries. Thankfully there's a great restaurant on-site which serves traditional Umbrian cuisine.
Another reason why guests would choose this among the Perugia hotels is due to its conference rooms. Park hotels are usually known for their conference facilities. Hotel Park Perugia has a total of 12 modern conference rooms as well as a big lounge room. It also has an indoor swimming pool and wellness center.
 Perugia Park Hotel location: Via A. Volta 1, 06135 Perugia
9. Best Western Hotel Quattrotorri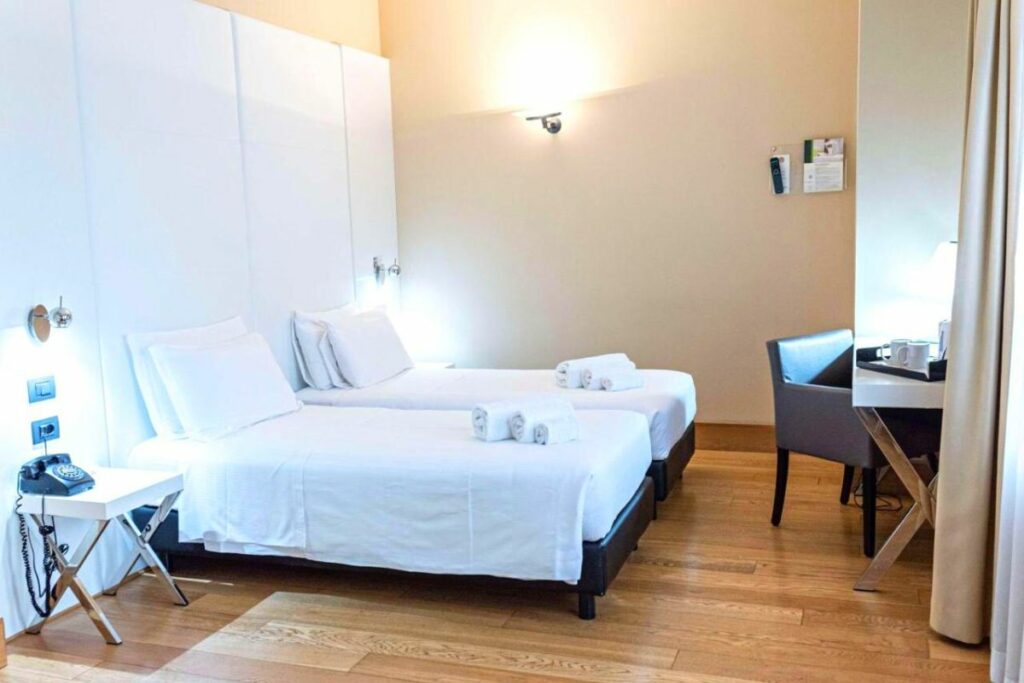 Best Western Hotel Quattrotorri is a 4-star hotel that is situated in the commercial area of the city. It is also one of the best hotels near Perugia with its modern furnishing and spacious rooms. Guests tend to book the hotel in case they are on business trips.
What other hotels don't have that Best Western Hotel Quattrotorri has is a golf club. It is very close to the Perugia Golf Club where you can enjoy a nice day with friends. The hotel has a restaurant on-site and serves delicious food. You can even bring your pets with you!
 Best Western Hotel Quattrotorri location: Via Corcianese, 06132 Perugia
10. Domus Volumnia Coutry House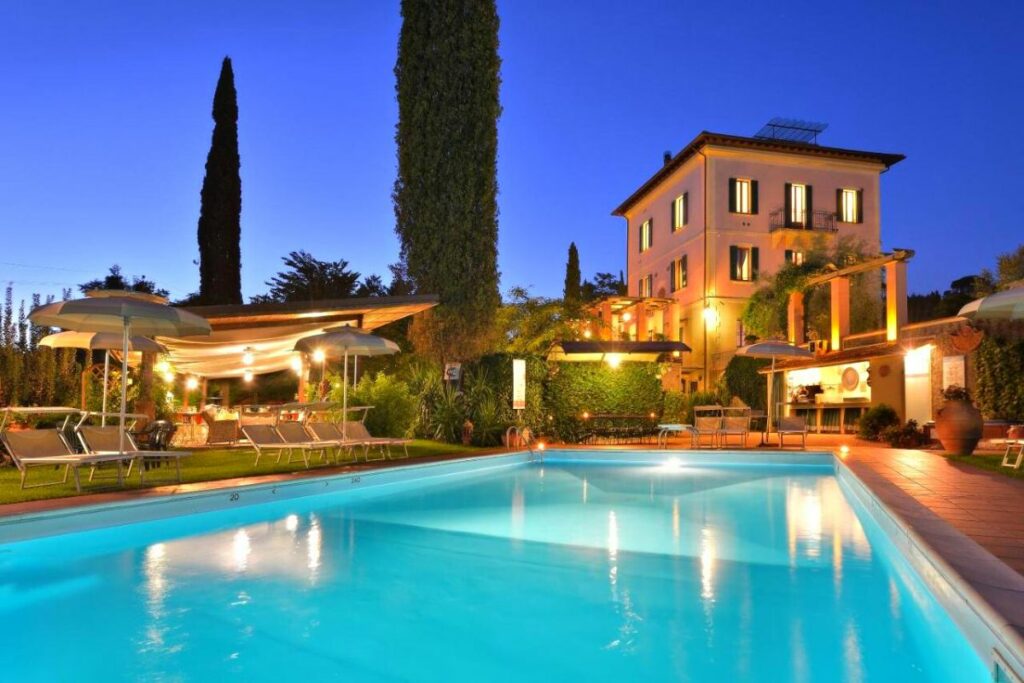 The last of the Perugia hotels on our list is the Domus Volumnia Coutry House which is set in a beautiful building. It is rated at 8.5 among the aparthotels. You'll really love staying here as it's right between Perugia and Ponte San Giovanni. The scenery is amazing, you'll have a nice quiet stay.
Take advantage of the outdoor swimming pool and jacuzzi. As far as the indoors, you'll find a gym and relaxation area with a sauna, hot tub, and steam bath. Staying on the sun terrace is a must when the weather is hot. Just dip yourself into the pool to cool down.
As these are aparthotels, you'll have a whole kitchen to yourself. There's also an outside kitchen with BBQ, which allows you to make your own food. The rooms are beautifully designed, with antique furniture, art, and air conditioning. With Domus Volumnia Country House your issue of where to stay in Perugia is solved.
 Domus Volumnia Coutry House location:  Via Assisana 49, 06135 Perugia
Conclusion – Perugia Hotels – Hotels Near Perugia
This concludes our list of the best Perugia hotels. If you want to experience staying in a castle, you can do that at Castello di Monterone. Or stay at one of the hotels near Perugia which are on the hillside and have some of the most insane views of the city. Alternatively, there are also one of the few hotels in Perugia that are in the center of the city, close to the best attractions. While you're there, try out the Baci chocolate!
Pin it: Perugia Hotels – Where to stay in Perugia