10 Best Beach Clubs in Sardinia
Visiting Sardinia at this point is a must for anyone that is obsessed with stunning beaches, crystal clear waters, and the best Italian coasts. You'll find the most variety of coasts on this breathtaking island. There are so many hotels to stay at in the whole of Sardinia as it has slowly become the top destination for travelers all over the world. What's better than seeing gorgeous sunsets and sunrises, dipping your feet into clear blue waters, and eating pasta or seafood? Well, you can do all of this and more at a beach club Sardinia. We're bringing you a list of the 10 Best Beach Clubs in Sardinia!
Why is it worth visiting beach clubs in Sardinia? Well, there are a number of reasons. For example, travelers can rent out loungers, umbrellas, and sun beds that are right in front of the sea. Not only do you have a safe spot for your bags, but you're also close to the shores. One Porto Cervo beach club literally has its sun loungers about 15 steps away from the sea. Besides that, other Costa Smeralda beach clubs feature DJ sets, host private events, and have restaurants that serve delicious food. Some of the beach clubs are near the best hotels in Sardinia Italy!
10 Best Beach Clubs in Sardinia – Porto Cervo Beach Club – Costa Smeralda Beach Clubs
How do you decide which beach club Costa Smeralda or beach club Olbia to go to? It really depends on which part of Sardinia you wish to visit. Of course, the beach club Olbia and the beach clubs in Porto Cervo are pretty close to each other, however, beach clubs in Cagliari are further down Sardinia. So if you're already visiting one part of the coast, then it's worth stopping by these. Do bear in mind that some of the beach clubs Porto Cervo only accept reservations for a minimum of 7 nights, but do check the terms and conditions. Enjoy the sun at the best of the clubs such s Phi beach club Sardinia or White Beach Club Sardinia. Let's check out what they offer exactly!
1. Phi Beach Club Sardinia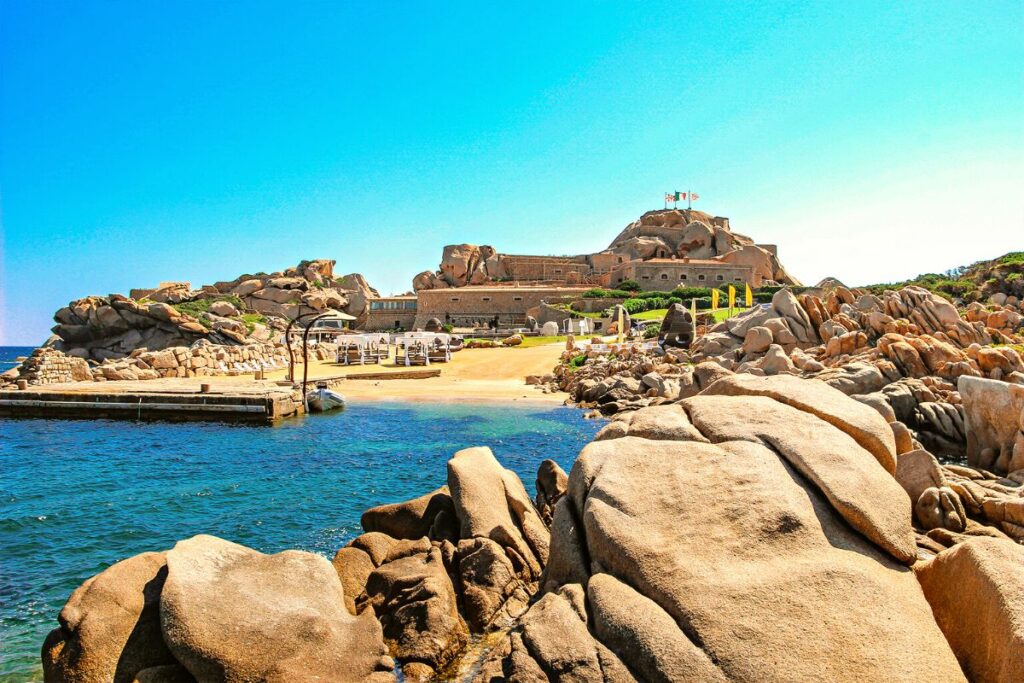 According to the NY Times, Phi Beach Club Sardinia has "the most stunning sunset". It is located in the Costa Smeralda region of Sardinia. It is a very popular area for beach clubs as you'll notice throughout this article. At this beach club Sardinia, you can enjoy a relaxing day at the beach, party at night, dine and book private events. First off, the club has a section for anyone who wishes to relax at the crystal clear sea.
There's an open grill and pizza area, as well as drinks like champagne. Lay down on the sun loungers and soak in the beauty of the sea! The sunsets are unreal, it is one of the most beautiful Costa Smeralda beach clubs one can visit. Secondly, the restaurant offers a fine dining experience. It's a "multi-sensory dining experience". Once you're happy with your meal, wait for the night at Phi Beach club. There are multiple different shows and international DJs lining up to entertain the crows.
The Rock Club is the exclusive private terrace of Phi Beach Club Sardinia. As the name suggests, it's implemented on a rock, it is an intimate and exclusive event. On the floor, you'll notice handmade decorations. This space is perfect for private events too. But for private events in a larger space, Phy Beach has a separate area that's perfect for anniversaries, celebrations, or private parties. This beach club Sardinia has it all!
Phi Beach Club Sardinia location: Via Forte Cappellini, 07021 Arzachena SS
2. White Beach Club Sardinia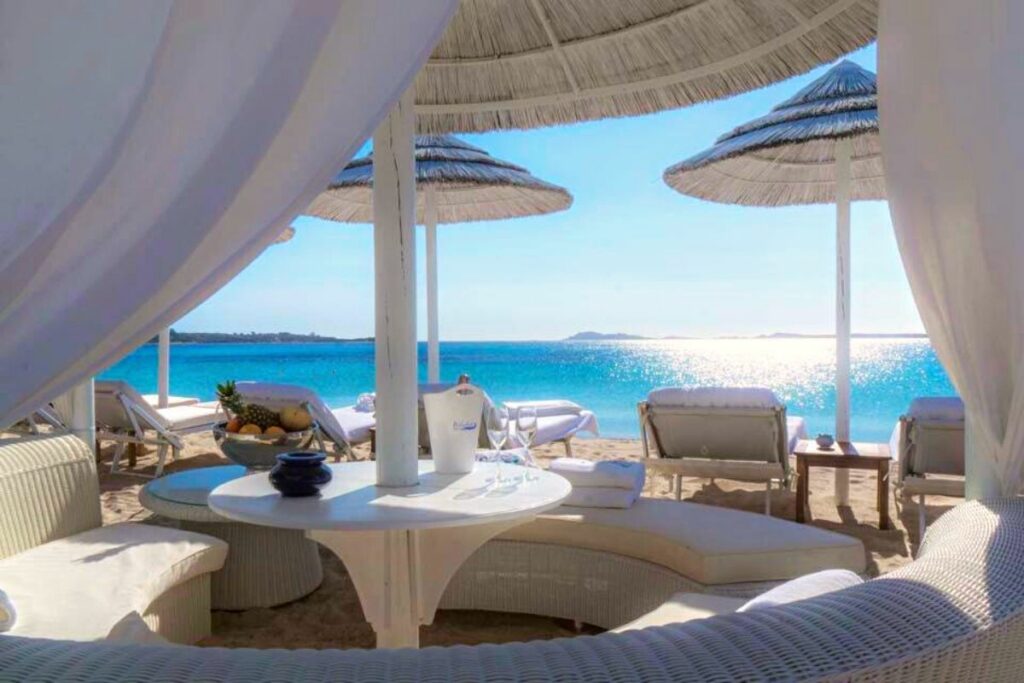 The second of the best beach clubs Sardinia one has to visit is the White Beach Club Sardinia. This is located in the Porto Cervo area and it has the most stunning loungers, sunbeds, and seaside. White Beach club's decor is white, just as the name suggests, but it's very elegant and simplistic. Guests can rent out beach umbrellas, sunbeds, and beach towels and have showers and changing rooms at their disposal.
You can book a taxi boat from and to the beach. As far as the beaches, there are two of them. These two Costa Smeralda beach clubs are similar, yet they are both worth visiting. Firstly we have Liscia Ruja which comes from the "red stripe" phrase and it's referred to the color of the shore as the sea hits the sand. Costa Smeralda is also called "Long Beach" as it has the longest beach on the whole coast of Sardinia.
Secondly, guests can book Romanizzo which is known for its crystal clear waters ranging from blue to emerald green. This beach is actually perfect for families and kids, the depth is low and the waves are not too bad either. It is located in the Municipality of Arzachena. Lastly, try out The Beach Bar Restaurant which serves breakfast, lunch aperitifs, and dinner. It's a perfect location to try out Mediterranean dishes.
White Beach Club Sardinia location:  Spiaggia Liscia Ruja, 07021 Porto Cervo
3. Nikki Beach Costa Smeralda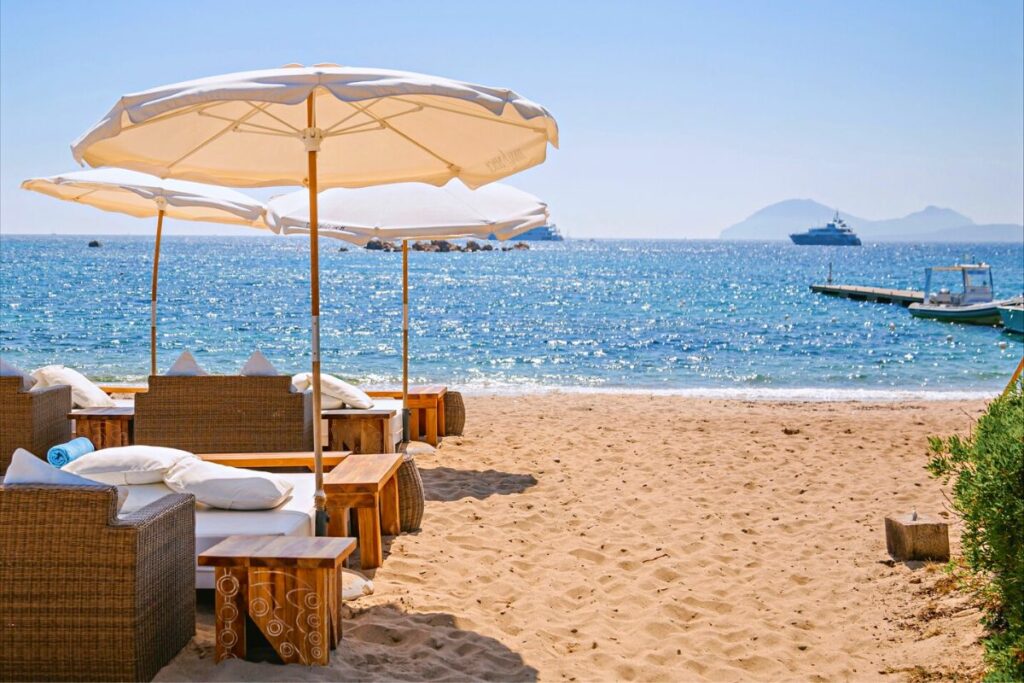 As we mentioned, Costa Smeralda beach clubs are popular and there are many of them thanks to the long coast. Nikki Beach is even more beautiful, it feels luxurious and you're guaranteed to have the best time. They are only open from June to September, the closest airport is the Airport of Olbia. Furthermore, at Nikki Beach, for anyone who comes with a boat or yacht the coordinates for the docking are on the website.
So what can you do here? Just about anything. It's rated as the best beach club Sardinia by many travelers. It's located on the stunning bay of Cala Petra Ruja. It has a spectacular beachfront and the whole aesthetic of the club will please anyone. You can enjoy your meals at the restaurant, which includes the best Mediterranean dishes. These include fish and seafood as well as homemade pasta and local wine selection.
Do you want to organize a private event? Book it at Nikki Beach Costa Smeralda. This is an exclusive space as it's only accessible by boat. There's a private shuttle service for the guests and up to 200 people can be booked. There's an all-white decor and a bohemian style that makes the place look luxurious but at the same time welcoming. It would be a great venue for a small wedding.
Nikki Beach Costa Smeralda location: Loc. Cala Petra Ruja, 07021 Arzachena
4. Blu Beach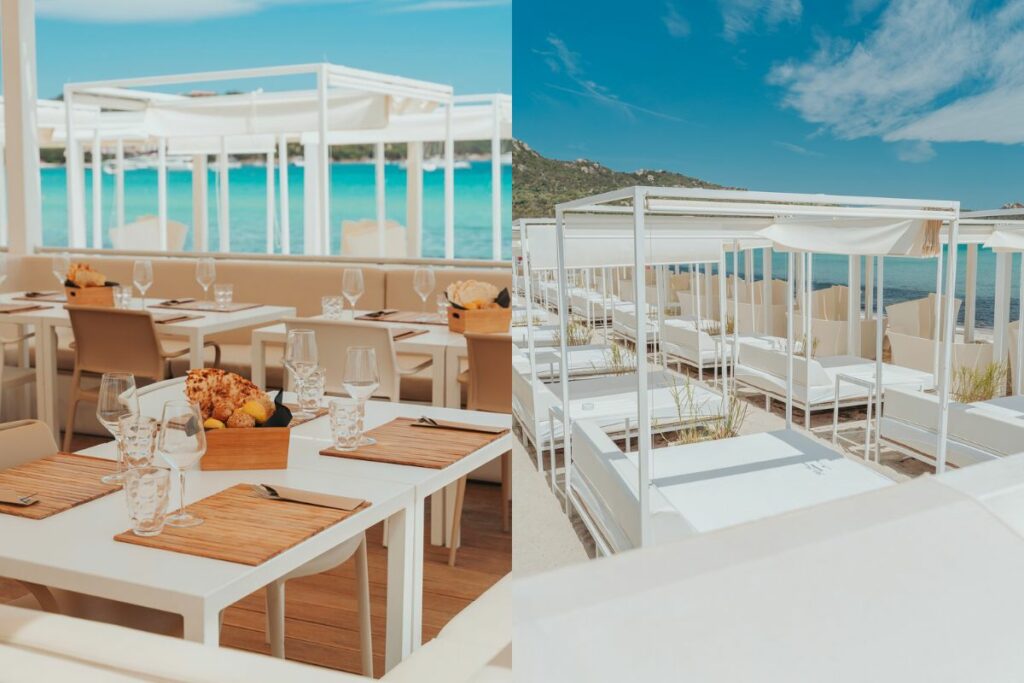 Although Costa Smeralda is a popular spot to go to, you should also check out this Beach Club Olbia. Blu Beach offers you breathtaking views of the turquoise sea and the beach of Marinella in Porto Rotondo. At the beach, guests can rent out different loungers and even a whole corner of the sofa. The most popular lounger is the Gazebo in the 1st row, where anyone who's lucky to get this will have a direct view of the sea.
Canopy bed and gazebos at the back are also available, however, these must be booked for 7 days continuously. The club has a restaurant on-site and it's located directly next to the sea. You can have breakfast and lunch here. There are two options, either Mediterranean cuisine or guests can even try out Sushi. Lastly, Blu Beach has some amazing parties, enjoy them during sunset with delicious cocktails. This is one of the best beach clubs Sardinia that are located in Olbia.
Blu Beach Olbia location: Golfo della Marinella, 07020 Olbia
5. Emerson Beach Club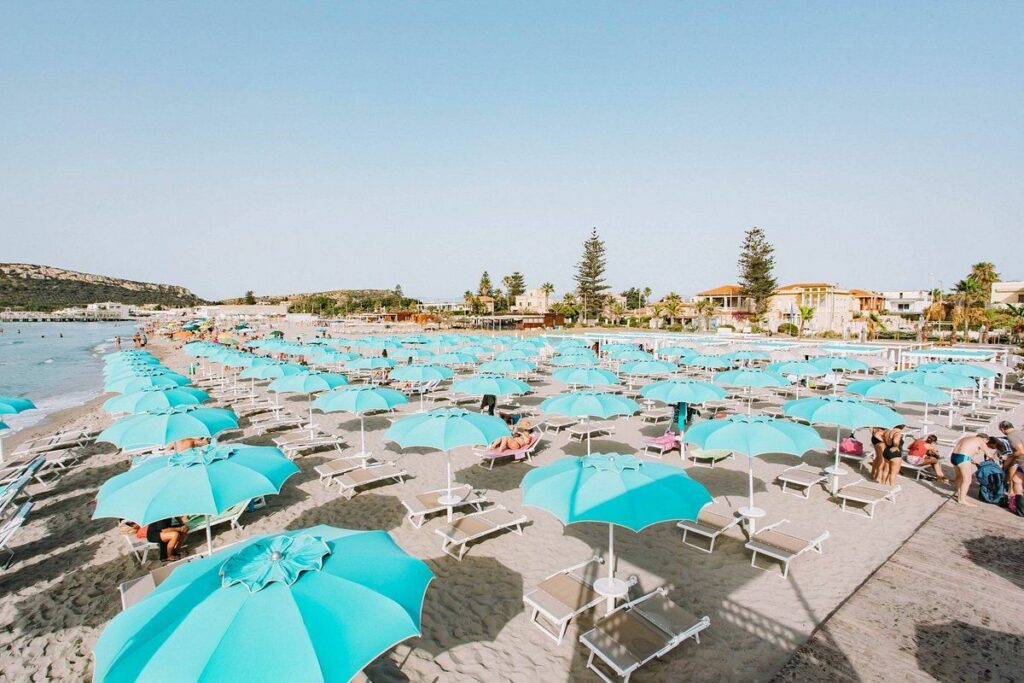 Next up we have the Emerson Beach Club Sardinia which is located in Cagliari. It is a very fun and colorful resort, it's elegant and it has everything you need in one place. For example, on-site Emerson has two bars, a restaurant, and even a children's area. The founders created this project to offer a new experience to guests. A full relaxation area.
If you know Cagliari then you are familiar with the beach and how stunning it is. On the beach section of the beach club Sardinia there are sunbeds and umbrellas ready to be reserved by families. At the same time, there's a safe children's area with a fence so they don't run out to the sea. Moreover, we mentioned the bar that operates from morning to evening. Here guests can savor a delicious breakfast and cold drinks.
Then you'll have the restaurant. Emerson Beach Club's kitchen serves traditional Italian cuisine. They use cream and sauces, making the food taste delicious and enhancing the flavors by mixing the right amount of ingredients. Last, but not least the lounge area is perfect for relaxation. It's between the beach and the restaurant and you'll be protected from the sun thanks to the umbrellas. For any private events, book the Emerson events area!
Emerson Beach Club location: Viale Lungo Mare Poetto, 4, 09126 Cagliari
6. La Palmette Beach Club Cagliari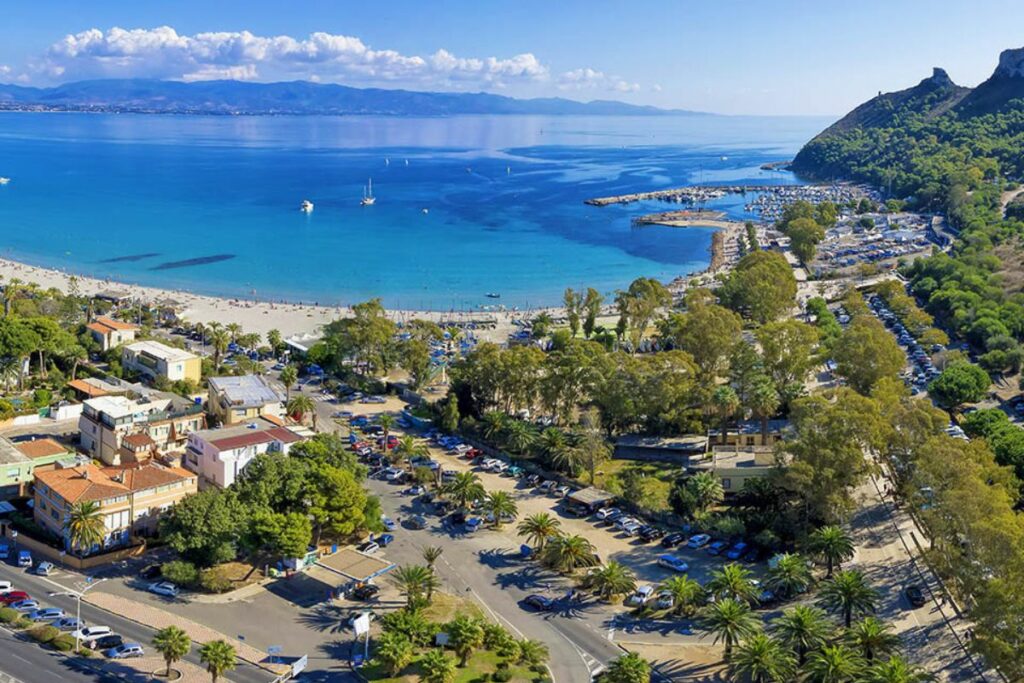 Another one of the best beach clubs Sardinia is the stunning La Palmette Beach Club Cagliari. It is located on the Poetto beach, only a few kilometers from the center of Cagliari. There are many things to do at this beach, including dining at the restaurant, relaxing at the beach, attending summer parties with DJs, or even a stand-up paddle excursion along the coast. It is however more suitable for adults as there are lots of parties going on.
Furthermore, La Palmette Beach Club Cagliari organizes events, such as weddings, private parties, engagement parties, and so on. This beach club is near the Marina Piccola, which is one of the most beautiful beaches in Italy. The beach is equipped with umbrellas, sunbeds, and towels. And the best part is that you can swim in the natural swimming pool the sea has to offer.
The beach club's restaurant is only a few meters away from the shoreline. It has about 100 seats and you can enjoy a delicious meal while looking at the sea. There's a panorama of the Golfo degli Angeli. Furthermore, guests can buy drinks from the bar which is also serving breakfast in the morning and aperitifs before lunch or dinner. During summers at the sushi bar, the DJs play music from 6.30 pm. If you're in Cagliari, definitely visit La Palmette Beach Club!
La Palmette Beach Club Cagliari location: Prima Fermata, Lungomare Poetto, 09126 Cagliari
7. Matsuhisa Beach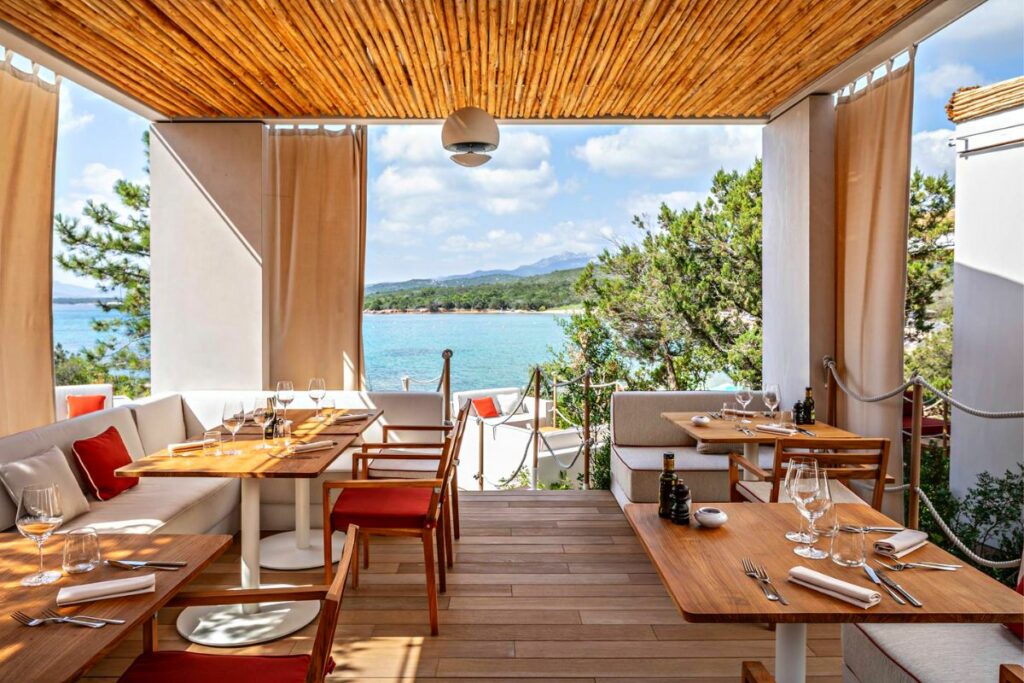 Matsuhisa Beach is another Porto Cervo beach club you must absolutely visit during summer. As they mention on the website, this beach club is more towards high-end clients and private VIP parties. It is a stunning beach club Costa Smeralda and it's nearby the Hotel Cala di Volpe. Therefore, in case you're staying here, you have a perfect vacation spot. It does look like a very luxurious beach club!
The views are postcard-worthy when you're on the beach. The coast of this beach club Sardinia is spectacular. A number of sun loungers are available for your friends and family. Moreover, the beach club also features an exclusive garden area. The restaurant is only a few minutes by boat from the Hotel Cala di Volpe. It has an elegant setting and stunning views.
You can enjoy the specialties the restaurant offers in nature while looking at the white sand and crystal clear waters. Their dishes are traditional and original but served in a modern way. It's almost like a fine dining setting, but the portions are bigger. Pair it with cocktails or wine to make the most out of your nights spent at Matsuhisa Beach club Sardinia.
Matsuhisa Beach location: Beach Li Itriceddi, 07021 Porto Cervo
8. Vesper Beach Club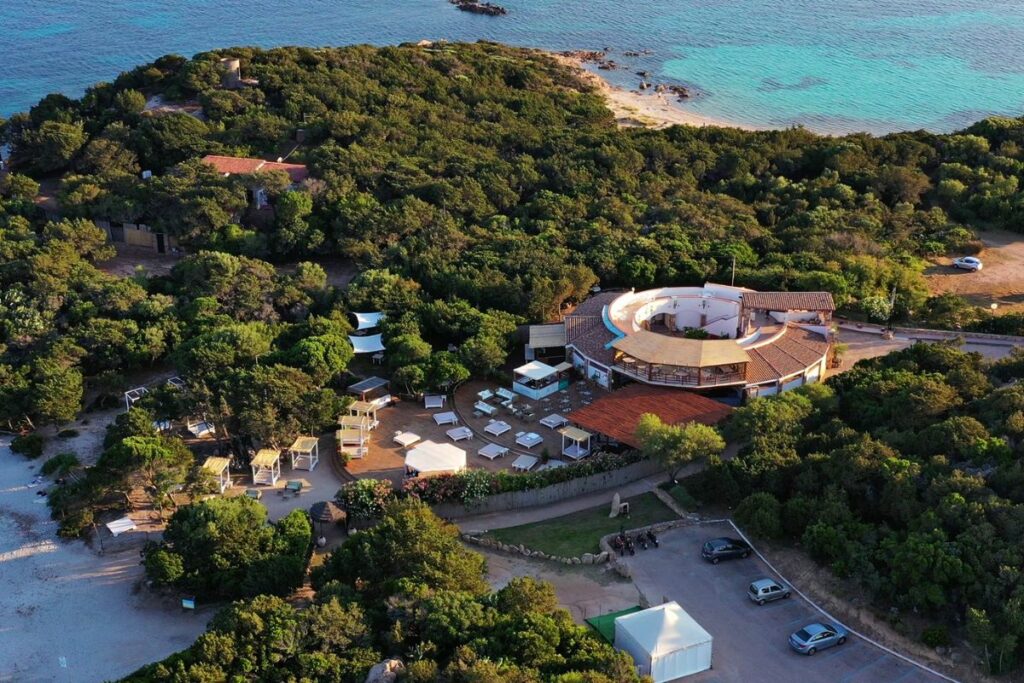 Vesper Beach club is not exactly a Porto Cervo beach club, but they are pretty close. It is nearby Cala di Volpe and Romazzino beaches. If you look at the aerial photos and videos, this beach club is stunning. It has a unique location, it's surrounded by treats and the beach is right there next to you. Besides relaxing by the sea, Vesper Beach Club also offers parties in the evening with DJs.
Furthermore, this beach club also has a restaurant serving seafood, fish, and local meats. They are prepared on the grill or BBQ and using the best vegetables and spices. It is a culinary experience! With your delicious meal, enjoy a Martini or any other cocktail. Guests also come to this beach club due to the amazing events. They are held at sunset and the DJs create the coolest atmosphere! What are your favorite beach clubs in Sardinia so far?
Vesper Beach Club location: 07021 Capriccioli Province of Sassari
9. Fino Beach Club
Fino Beach Club Sardinia is a dreamy place. There's a real aesthetic to this place. It's an oasis of relaxation located at the beach of Cala Sassari in Golfo Aranci. What you can do at Fino Beach Club is enjoy a delicious breakfast and then head over to the beach where the loungers and umbrellas are. At Fino, you can book beach umbrellas, maxi umbrellas suitable for 4 people, or comfort beds where 5 people can fit.
Whichever you choose you'll be looking at the clear water and beautiful shore. At the club, there's a possibility to have food at the Seaside Restaurant or the Yacht Club restaurant. The first one serves gourmet lunch by the sea as well as aperitif and dinner. Guests can also try out sushi. Furthermore, the Yacht restaurant is led by Chef Marco Maianardi and they create the best dishes for you to try out.
Last but not least, Fino Beach Club offers you the possibility to book events. You can organize weddings, private parties, corporate events, or even Yacht& and home catering. The weddings look beautiful here, for any couple that wants to get married by the seaside. Or if you're on a yacht, just book their catering service and the chef will create and bring you the desired meals! This is the best beach club Costa Smeralda!
Fino Beach Club location: spiaggia, Cala Sassari, 07020 Golfo Aranci SS
10. The Bay Beach Club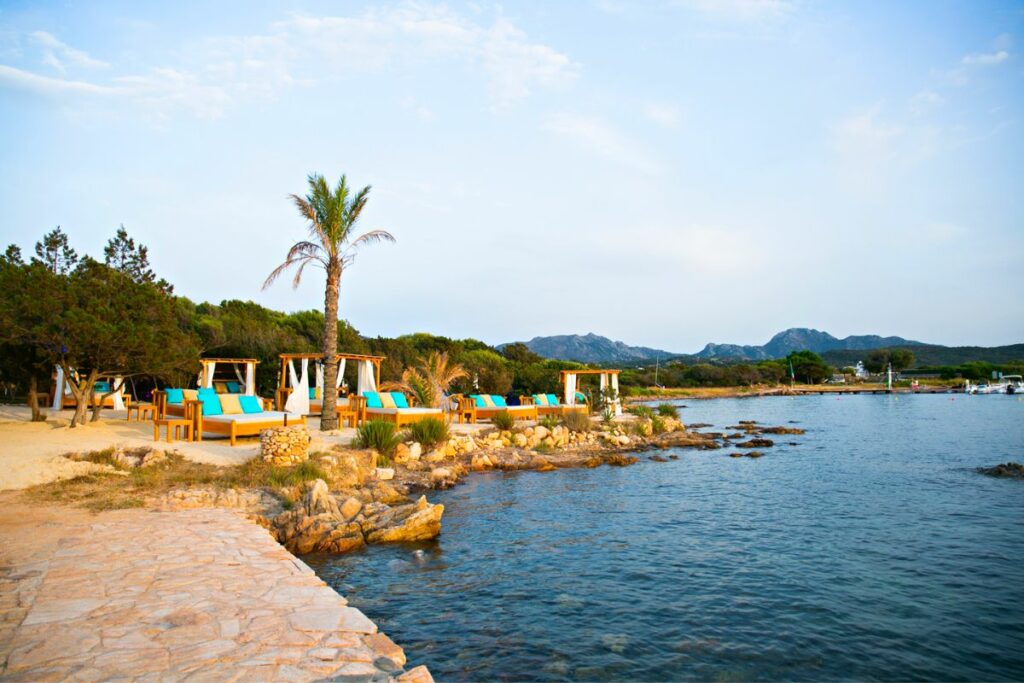 We reached the end of our list of beach clubs in Sardinia, and that is The Bay Beach Club Sardinia. It is located in Porto Rotondo and near the Marina di Asfodeli where you can rent out boats and yachts. But The Bay is more than just a beach club. It's the perfect site for events. You can require them to rent out the space for smaller groups.
Then there's a restaurant on site that serves fish dishes, seafood specialties, and even pizza. The menu is filled with delicious meals, such as buffalo Caprese, salmon tartare, spaghetti all'arrabbiata di mare, or even grilled octopus. In case you want something light, there's an option to try out salads or grilled food. But you should also taste the pizza they serve as well as the dessert. Really, you have a lot of options!
What the rest of the beach clubs in Sardinia were missing is a gym. You can work out on the beach at The Bay Targato Technogym. In case you are a gym enthusiast, then you know Technogym has amazing equipment. Well, how about a gym full of this equipment facing the seaside? You cannot miss out. The Bay beach club Olbia is a great spot overall to swim in the sea and then retreat on the sun loungers or to the restaurant with refreshing meals.
The Bay Beach Club location: Via Sos Teuleddas, 3, 07026 Olbia
Conclusion – Beach Clubs in Sardinia – Beach Club Costa Smeralda
This concludes our list of the best Costa Smeralda beach clubs as well as the beach clubs in Porto Cervo. Sardinia is stunning all in all and spending time there is a true pleasure. You might be visiting the island because of a private event, in which case it's useful to rent out one of the beach clubs Porto Cervo or a beach club Olbia. Whichever you choose, these clubs have stunning decor and outdoor furniture which make the whole aesthetic of the space. Let us know which one is your favorite!
Pin it: Costa Smeralda Beach Clubs – Porto Cervo Beach Club – Beach Club Olbia