Tropea is a beautiful small town on the east coast of Calabria, Southern Italy. It is mostly famous for its clifftop historic center. One wouldn't even think of towns like this, with houses on the cliff overlooking the sea and underneath the cliff, there's a beautiful beach. But it exists and you must visit Tropea if you wish to see another stunning place in Italy. We've gathered some of the Tropea Italy hotels for you to choose from on your trip to this magical town.
One of the reasons why Tropea is so interesting is thanks to its 12th-century cathedral which was actually built on a former Byzantine cemetery. The cathedral has marble sarcophagi and a painting of the Madonna of Romania, who is also known as the town's protector. Besides the cathedral, the houses and palaces on the cliff are dating back to the 1700s and 1800s. So, pack your bags and visit one of the most stunning beaches Italy has to offer!
10 Best Hotels in Tropea – Where to Stay in Tropea Italy
To make your life easier, we have selected the best Tropea hotels. You don't have to think of where to stay in Tropea Italy, just read our list and choose one of the hotels. There's something for everyone here. From 5-star and 4-star luxury hotels to more affordable ones. But one thing is for sure, all of them are modern and elegant and the staff offers great service. A few of the hotels in Tropea Italy are near the beach, while others are further into town and about 20 minutes away from the historic center.
Besides Tropea, Calabria as a region is a great choice to visit. It's also said that Calabria is one of the best places to live in Italy. It has a number of beaches along the Tyrrhenian Sea which is on the west coast, while on the east you have the Ionian Sea. Just like Tropea, it holds other beaches with cliffs, caves, and rock formations. Since the beaches are visited by travelers, it's safe to go and you'll find a variety of restaurants and bars. Let's see the best hotels in Tropea!
1. Villa Paola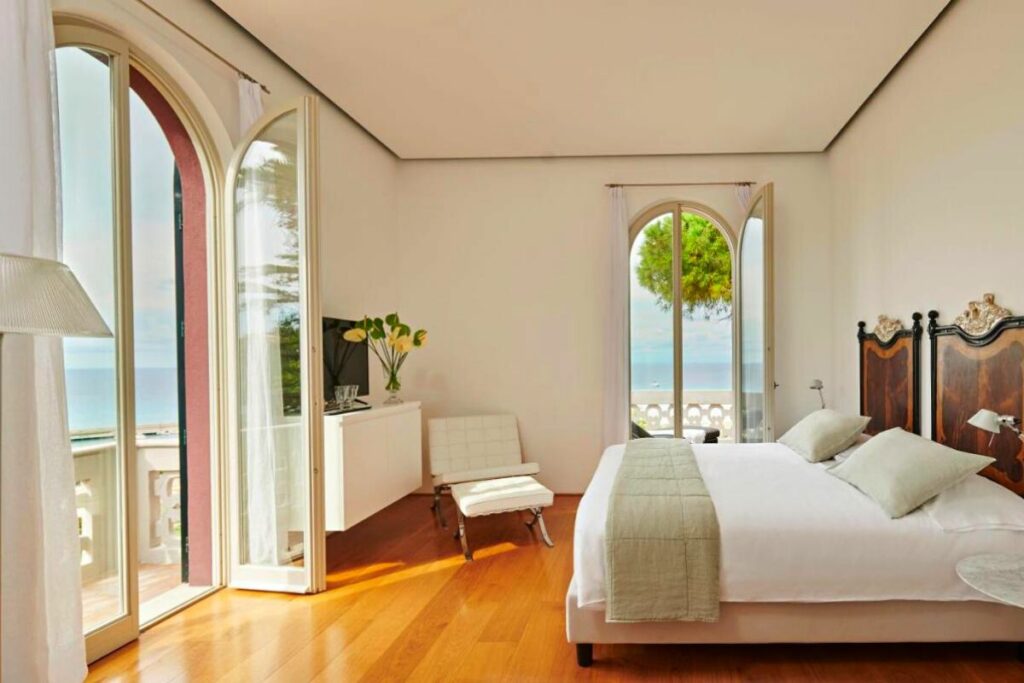 Villa Paola is located at a great spot among the Tropea Italy hotels, about 15 minutes away from the beach. And the building is stunning as it is in a 16th-century convent, they kept the original features of the property and turned it into a luxurious hotel. Villa Paola features an outdoor pool, sun terrace, and a gorgeous garden. Inside the rooms, you'll feel relaxed and refreshed each morning.
The furnishing is mixed with modern and antique furniture, in some of the rooms, the wooden accents dominate. The bathrooms are a joy to take showers in and you'll get a bathrobe and toiletries too. Besides the beautiful building and rooms, another breathtaking view you'll experience at Villa Paola is the panoramic view of the Tyrrhenian Sea. In the morning, the staff serves a buffet breakfast with homemade pastries, fruit juice, and delicious coffee.
Take advantage of the sea view terrace with a swimming pool and enjoy the views of Calabria. The infinity pool is surrounded by sun loungers and you can get refreshing drinks and snacks during your time there. Try out the hotel's restaurant called De 'Minimi Restaurant which serves local specialties. The chef makes sure that the ingredients are from Calabrian farmers and breeders and only uses the best of them in each meal. Villa Paola is one of the most beautiful Tropea hotels you need to visit!
Villa Paola Tropea location: Contrada Paola, 89861 Tropea VV
2. Hotel Colomba D'Oro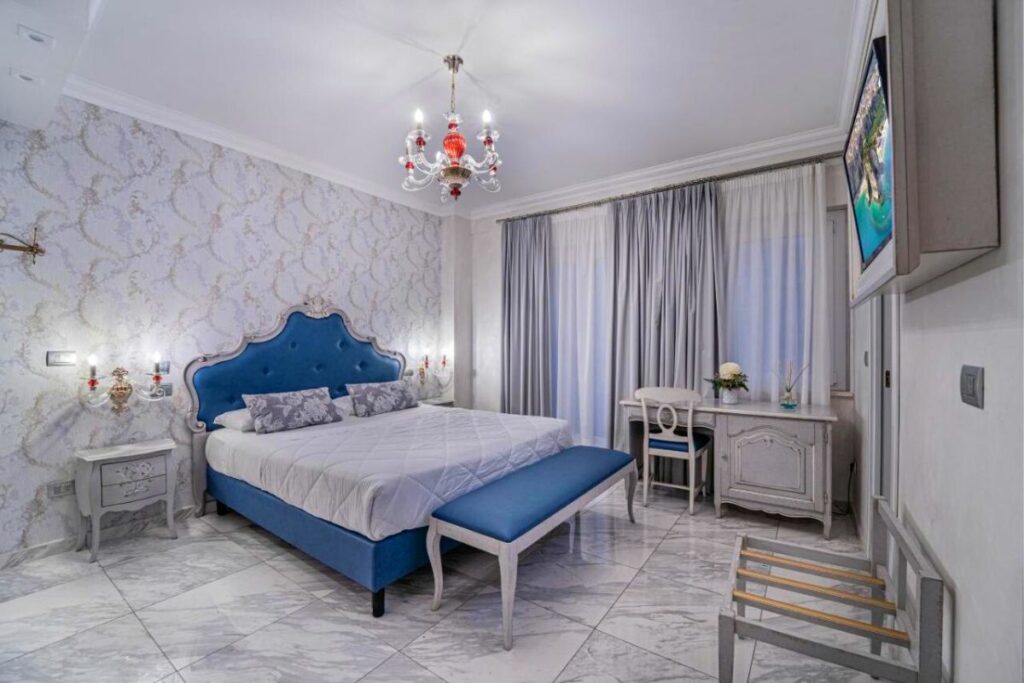 Are you wondering where to stay in Tropea Italy which is even closer to the beach? Well, Hotel Colomba D'oro is a great option to choose from the Tropea hotels. It is located in the center of Tropea but only a few minutes away from the closest beach which is Marina dell'Isola Beach. It is a 4-star property that is immaculate on the inside. What I mean by immaculate, I mean the interior design is very bright and looks clean. The floors are marble and the furniture has bright colors of blue and white.
A few of the rooms have a balcony with views and all of them feature a wardrobe where you can store your clothes. Hotel Colomba D'oro offers delicious breakfast in the morning, either buffet or Italian. You can also book lunch and dinner and the hotel has room service as well. In case you wish to go out instead, there are a few amazing restaurants in Tropea just a few minutes away. Lastly, don't forget to check out the beaches!
Hotel Colomba D'oro location: Via Vittorio Veneto, 50, 89861 Tropea
3. Hotel Rocca Della Sena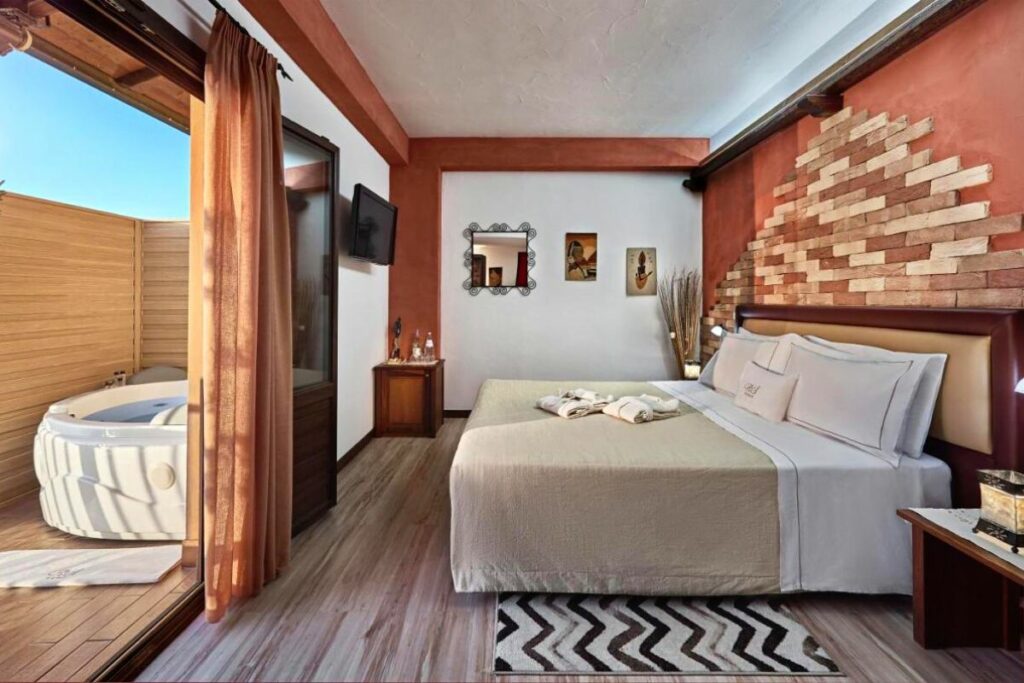 Hotel Rocca Della Sena is a Tropea boutique hotel located only 1 minute away from the beach. The Tropea beaches are one of the most beautiful ones in Italy. It is also a stunning 4-star hotel with a unique terrace, a smaller pool, and even a hot tub that overlooks the Aeolian Islands. The building itself is set in a renovated villa and it's one of the top-rated Tropea Italy hotels. Furthermore, Hotel Rocca Della Sena rooms look luxurious with elegant decor. The rooms are very spacious, and some of them even have their own hot tub.
For example, if you book the superior double with a sea view, you'll have a big room with a large double bed, a balcony overlooking the sea, a stunning private bathroom, a TV, and an outdoor living area. On the other hand, the deluxe rooms with sea views also feature a spa bath just for your room. This is probably the most beautiful room out of all of them. The spa is hidden so other guests wouldn't see you and then you can enjoy the sun on the lounger.
Another facility worth mentioning at this hotel is the gym overlooking the sea. You can have a great workout at the gym while looking at the crystal clear waters. Breakfast is served in the morning that includes local cold cuts, cheese, scrambled eggs, and a selection of cakes. You have the possibility to order room service, however, there is no restaurant on site. Nearby places to dine at are Ristorante Pizzeria da Nico e Lilly or a little bit further the Marina dell'Isola.
Hotel Rocca Della Sena location: Via Paolo Orsi, 89861 Tropea VV
4. Sentido Michelizia Tropea Resort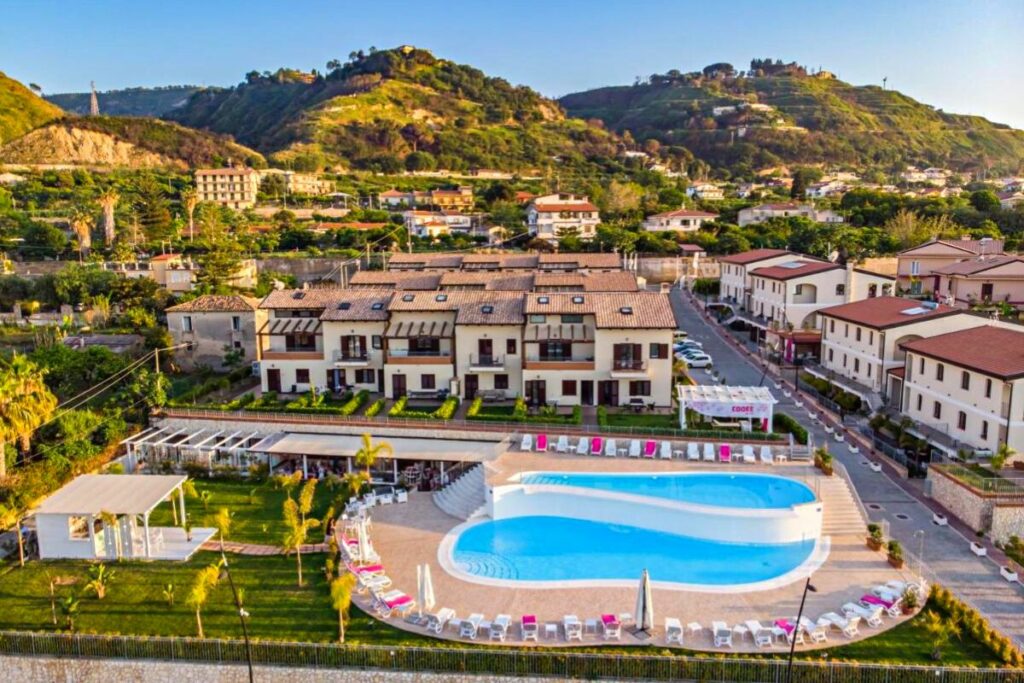 The next hotel on our list of hotels in Tropea Italy is another 4-star property that you must consider visiting when you're in Tropea. After all, hotels shouldn't only be visited for the purpose of accommodation, some of them are a real experience and you'll go back to your home feeling motivated, energized, and refreshed. At least that's what we hope for. Sentido Michelizia Tropea Resort is also not right on the beach, it's about a 12-minute walk. You can rent out a car if you don't wish to keep walking down to the beach.
It offers a contemporary style throughout its rooms and apartments. I especially love the views of the hotel. The green hills at the back of the property, the street next to the swimming pool, and great views of the sea. It is 10 minutes from the historical center of Tropea. The hotel also features a huge outdoor pool and a private beach area. Inside the rooms, guests can enjoy the TV and beautiful bathrooms. In case you wish to book the apartments, you'll have a fully equipped kitchen.
Furthermore, the apartments can have either view of the sea or a shared garden. Breakfast is included in the price of your room. They also have a restaurant serving local foods, a bar, and a mini bar. for anyone who wants to discover the city, can rent out bicycles from the property. Enjoy the outdoor furniture and loungers on the sun terrace or swim in the pool to get refreshed at this amazing hotel!
Sentido Michelizia Tropea Resort location: Via Carmine, 71, 89861 Tropea VV
5. Labranda Rocca Nettuno Tropea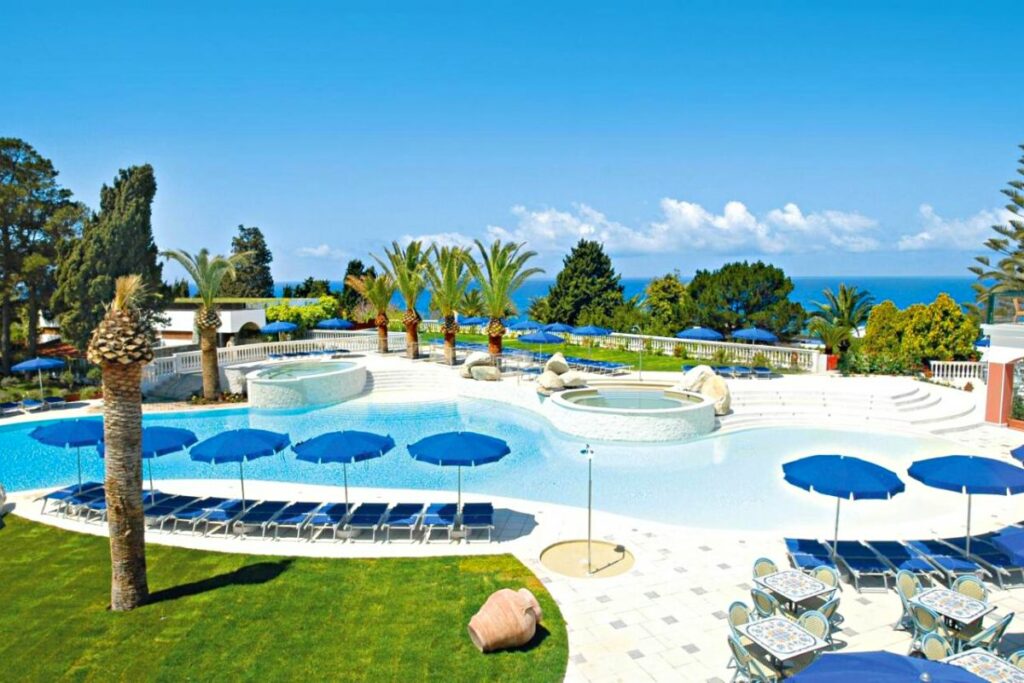 The 4-star Labranda Rocca Nettuno is a real oasis of relaxation among the hotels in Tropea Italy. It's situated only about 3 minutes from the beach and a 5-minute drive from Tropea. But that's not all, Labranda Rocca Nettuno also has its own private beach, as well as a large outdoor pool and plenty of sun loungers for guests to relax. The rooms are bright and they come with a balcony. The property itself is on a large field therefore guests have enough privacy.
Among the facilities, it is worth mentioning that the property has tennis and beach volley courts. Furthermore, guests can also find an aqua gym and aerobics facilities. And if you feel like partying, from 10 pm until midnight the hotel has a disco and bar for the guests. It is really one of the best Tropea hotels as far as facilities. There are plenty of things to do here besides relaxing at the pool.
Let's talk food. Labranda Rocca Nettuno serves breakfast in the morning and you can book either half-board or all-inclusive facilities when booking the room. There's also an on-site pizzeria where they serve a variety of different types of Italian pizza throughout the day. And lastly, the hotel's restaurant serves traditional Calabrian cuisine.
Labranda Rocca Nettuno Tropea location: Piazza S.S Annunziata, 89861 Tropea VV
6. Solmaris Tropea Rooms & Suites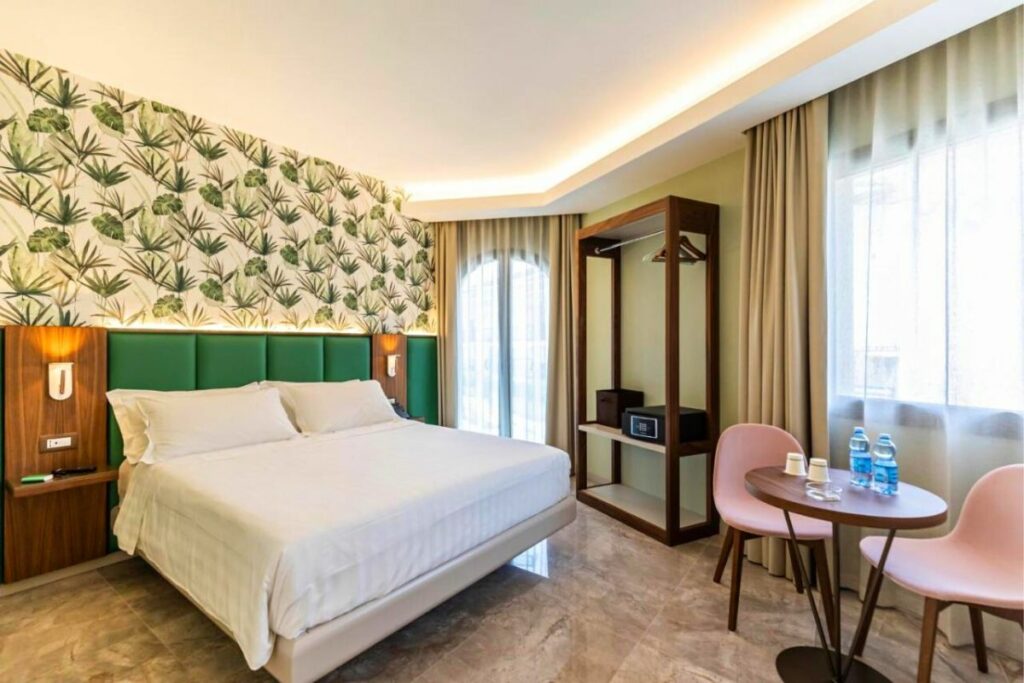 Solmaris Tropea Rooms & Suites is a great hotel near the center of Tropea and not far away from the beach, to be exact, it is only 6 minutes away from the beach. However, the Spiaggia A Linguata is only a few minutes away from the property. The hotel features beautiful and modern rooms with balconies. They all have an inside desk, kettle, minibar, safety deposit box, and great private bathrooms. Furthermore, a few of the rooms even have a sea view.
Breakfast is available at the property in the morning for an extra charge. They serve a buffet breakfast, with eggs, cakes, and fruits. In case you're thinking about what to do near the hotel, you can visit Costa Degli Dei Beach, Aquamarina Beach, and also the Sanctuary of Santa Maria dell'Isola. Guests can book airport shuttle services from the airport to the property if they are flying on the island for the first time. Solmaris Tropea is rated 9.5 on booking.com by guests!
Solmaris Tropea Rooms & Suites: Via Piave, 89861 Tropea VV
7. Tropea Boutique Hotel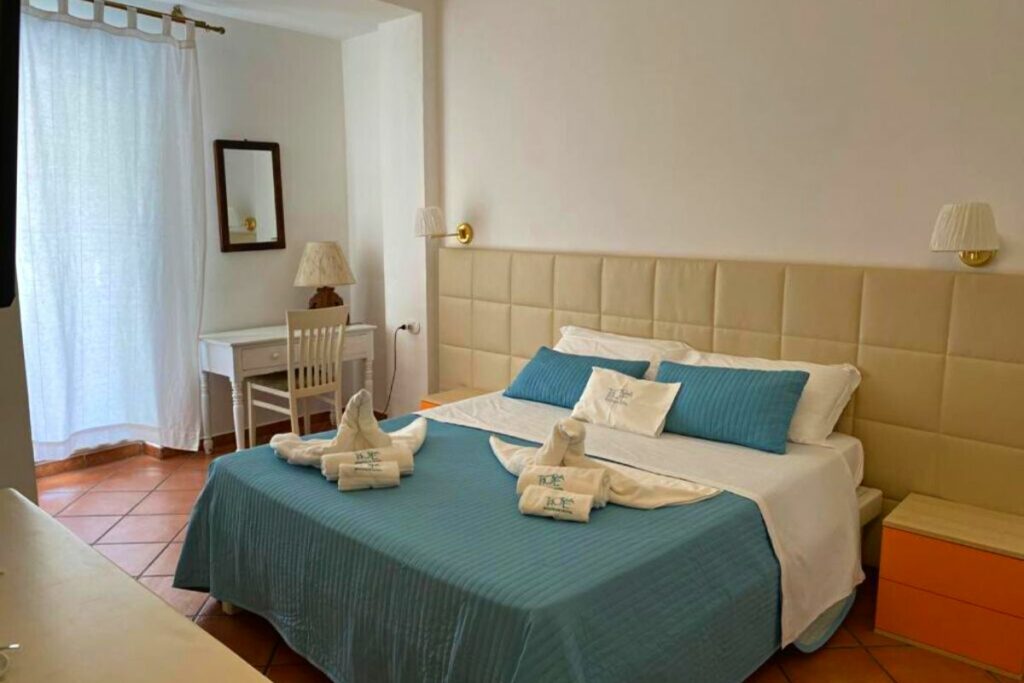 The next on our list of Tropea Italy hotels is the Tropea Boutique hotel which is a 3-star property. It is about 150 yards from Marina dell'Isola Beach, therefore it's perfect to just take your swimsuit and walk down to the beach in the morning or whenever you want to. No need for a swimming pool here. Besides the beachfront, the property also features a sun terrace with spectacular views of the sea. The sunsets are truly magical here.
Tropea Boutique hotel rooms are very simply decorated but they are elegant. Some of them even have a private balcony with sea views. Although there's no restaurant, guests can order room service and there are restaurants in the area to dine at. In case you wish to stroll the beaches by bike, you can hire them from the hotel's staff. You don't have to worry about where to stay in Tropea Italy, we have the best hotels for you!
Tropea Boutique Hotel location: Via Libertà, 52, 89861 Tropea VV
8. La Porta del mare SPA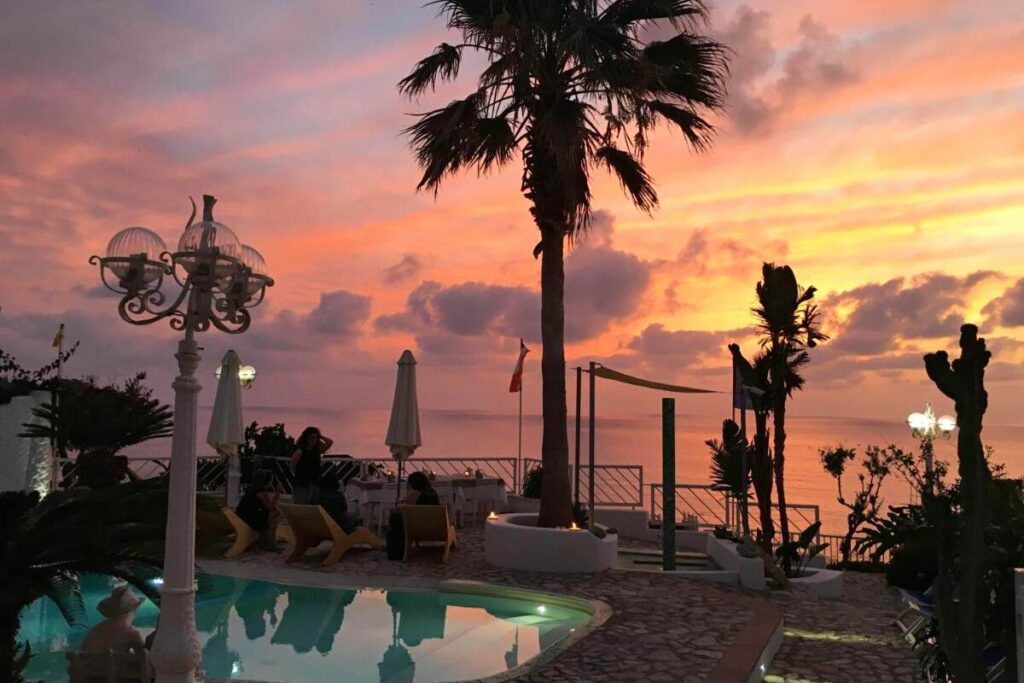 La Porta del mare Spa is translated to 'the door of the sea' but it probably means the door to the sea, as it is just a few minutes away from the famous Aquamarina Beach. It's one of those Tropea hotels where you can fully relax at. As the name suggests, the hotel does have spa facilities such as a seasonal outdoor pool, and some rooms have a jacuzzi. Besides that, there's a lovely garden and terrace where you have stunning views over the sea.
La Porta del Mare Spa hotel has simple rooms, although the decor is modern and the beds are large and comfortable. In case you wish to have a room with a jacuzzi, you need to book the suite. The private swimming pool will only be used by you, it also has sea views from the room. Continental breakfast is served in the morning, however, there is no restaurant on site. It is a great option for travelers in pairs or even big families!
La Porta del mare Spa location: Via Paolo Orsi 15 snc, 89861 Tropea
9. Hotel Tropis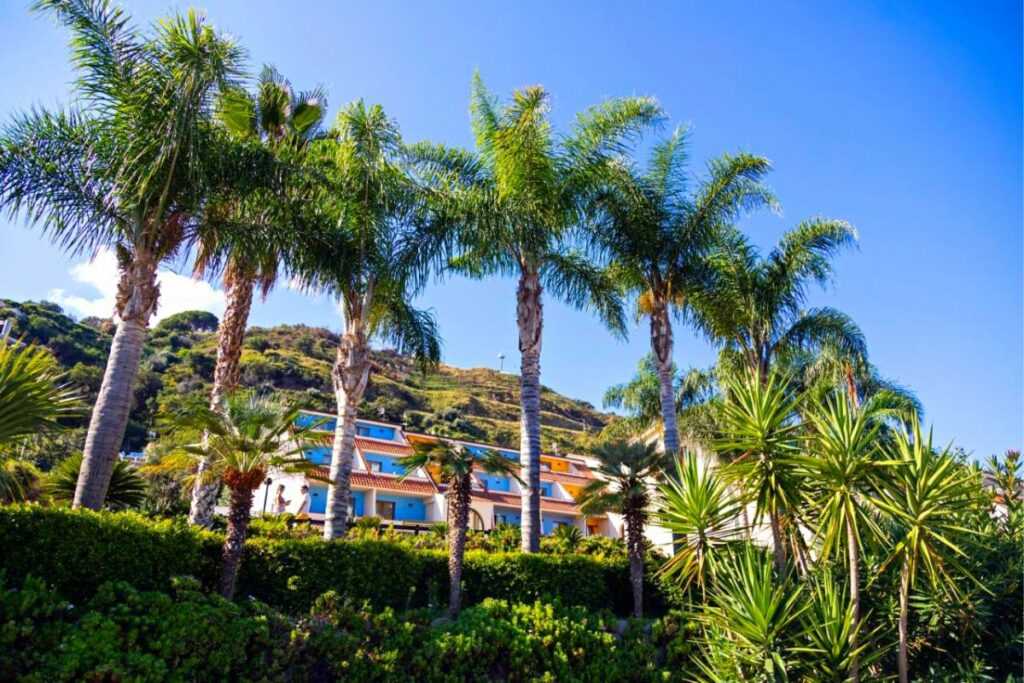 Hotel Tropis is another one of the 4-star hotels in Tropea Italy that offer great facilities and rooms for its guest. If you don't mind being further away from the beach, this is a great property. It is about an 18-minute walk from the nearest beach, it's also not close to the center of Tropea. But the reason why it's a great option is due to its private location and building. There are 2 outdoor pools for guests to enjoy.
Furthermore, it also features a spa and wellness center. The wellness center has a sauna, and fitness area and guests can even book beauty treatments. For example, you can book massages, body wraps, manicures, pedicures, facial treatments, and more. The hotel provides guests with sun loungers, beach chairs, and towels. Moreover, guests can use the hammam or hot tub/jacuzzi for an additional charge.
In the morning Hotel Tropis serves a traditional continental breakfast. Thankfully they do have two restaurants on-site, so you don't have to go anywhere for your meals. These restaurants offer traditional Italian cuisine made with local products. You can also enjoy drinks at the bar with your friends while chilling in the pool. We can recommend this property from the Tropea Italy hotels.
Hotel Tropis location: CONTRADA FONTANA, Via Nuova, 89861 Tropea VV
10. Hotel Terrazzo Sul Mare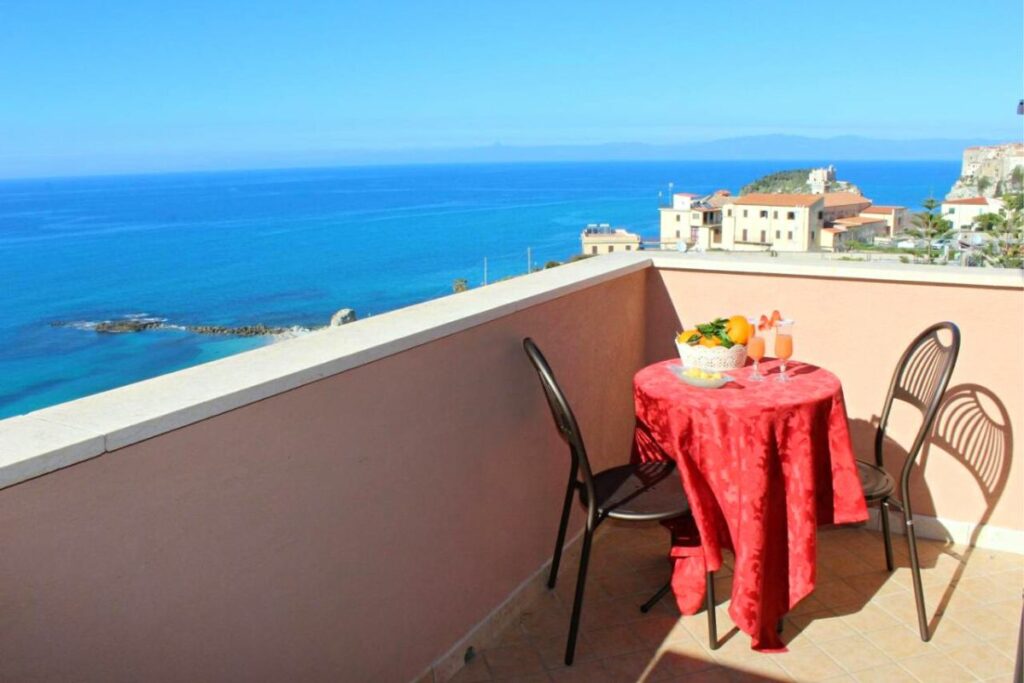 Finally, we reached the end of our list of Tropea Italy hotels. Hotel Terrazzo Sul Mare is a hotel just one minute away from the beach. It is a very modest 3-star property, however, it is budget friendly and will serve you right if you don't want to spend a lot of money on hotels. It does boast panoramic views overlooking the sea and also Tropea's historical center. You'll receive breakfast in the morning and during autumn, guests are welcomed with fresh fruit baskets.
You should take advantage of the terrace at the Hotel Terrazzo Sul Mare, the sunsets and sunrises are magical. Furthermore, the property has a restaurant on-site serving traditional Calabrian cuisine. The beaches nearby are Costa Degli Dei Beach, Aquamarina Beach, and the Spiaggia a Linguata. the closest airport is the Lamezia Terme International Aiport.
Hotel Terrazzo Sul Mare location: Via Paolo Orsi, 89861 Tropea VV,
Wrap-up – Tropea Italy Hotels
This concludes our list of hotels in Tropea Italy. For anyone that wants to be mesmerized and visit one of the most mesmerizing towns and beaches in Italy, then Tropea is the one for you. Whether you drive there or fly to the nearest airport, you're in for a treat. Choose to stay at one of these hotels or even two of them during one trip. After all, some offer wellness and spa facilities, while others have the best views of the sea!
Pin it: 10 Best Hotels in Tropea – Where to stay in Tropea Italy