10 Best Secret Restaurants in Rome
Who doesn't love an authentic Italian dish whilst exploring Rome with its stunning architecture? Italian cuisine is one of the top choices for tourists as it is hard to replicate the simple, yet daring dishes. It has quality, color, and the freshness of the ingredients and herbs offer you an unforgettable experience. If you are looking for the best secret restaurant Rome has, to try out a traditional pasta or seafood meal, perhaps risotto, Rome is the perfect destination for you!
10 Best secret restaurants in Rome Italy
There are thousands of restaurants in the City of Seven Hills. Quite a long list of options to choose from if you ask me. Let's drift away from the well-known and discover hidden gem restaurants in Rome. Time to dive into a list full of cozy, small local restaurants, which will show you the true Italian colors of the capital. Don't miss the best Roman dishes, nightlife places, and spas while you're discovering the Eternal City! Time to explore some of the unique secret restaurants in Rome! Oh, and if you're already in Rome, make sure you book a pizza-making class for the best food experience!
1. Pietro al Pantheon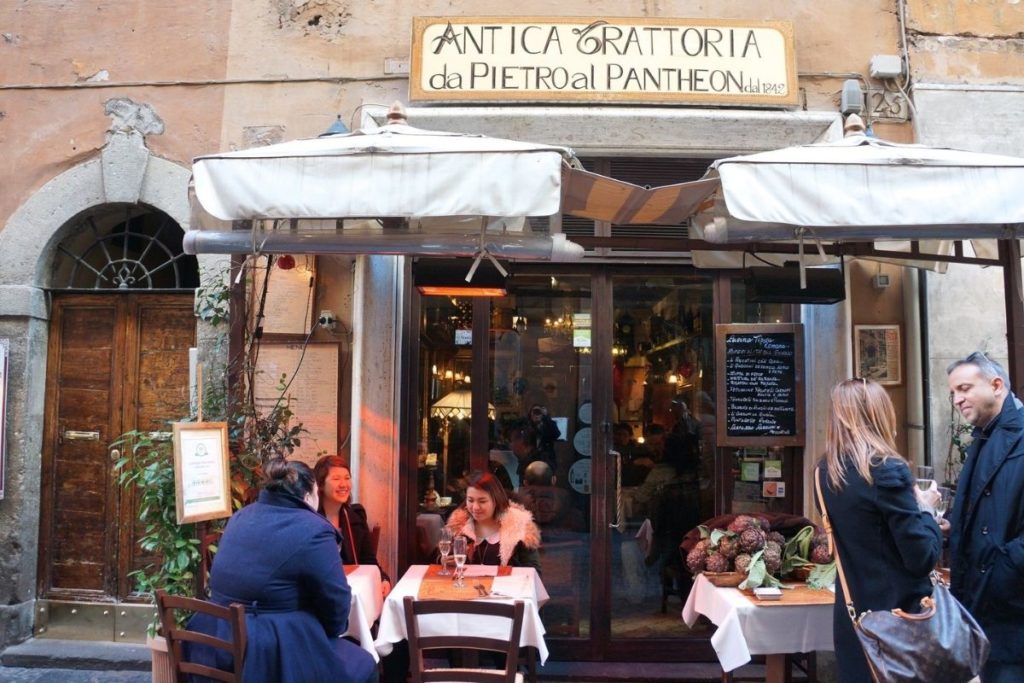 Pietro al Pantheon is a fabulous secret restaurants Rome close to the Pantheon (probably you guessed this by its name). This place offers you an older style, the quiet and romantic experience of the Jodaeo-Roman cuisine. You can also find a variety of dishes from the Italian, Mediterranean, Romana, Lazio, and Central-Italian regions. Once seated at the table, you will experience excellent hospitality: you will be served a flute of prosecco. Waiting for your dish will never be this amazing!
This Roman restaurant has options for everyone including vegetarian, vegan, and gluten-free too. Amongst the tourist-trapped restaurants, this stands out with its breathtaking flavors and authentic meals. Few steps from the Pantheon you will have an exciting and unforgettable experience in this friendly ambiance. It is also well-priced and the portion sizes are generous. How about visiting the Pantheon followed by a prosecco on the house and a tasty traditional Italian dish at one of the best-hidden gem restaurants in Rome? Sounds like a dream to us.
2. Mimì e Coco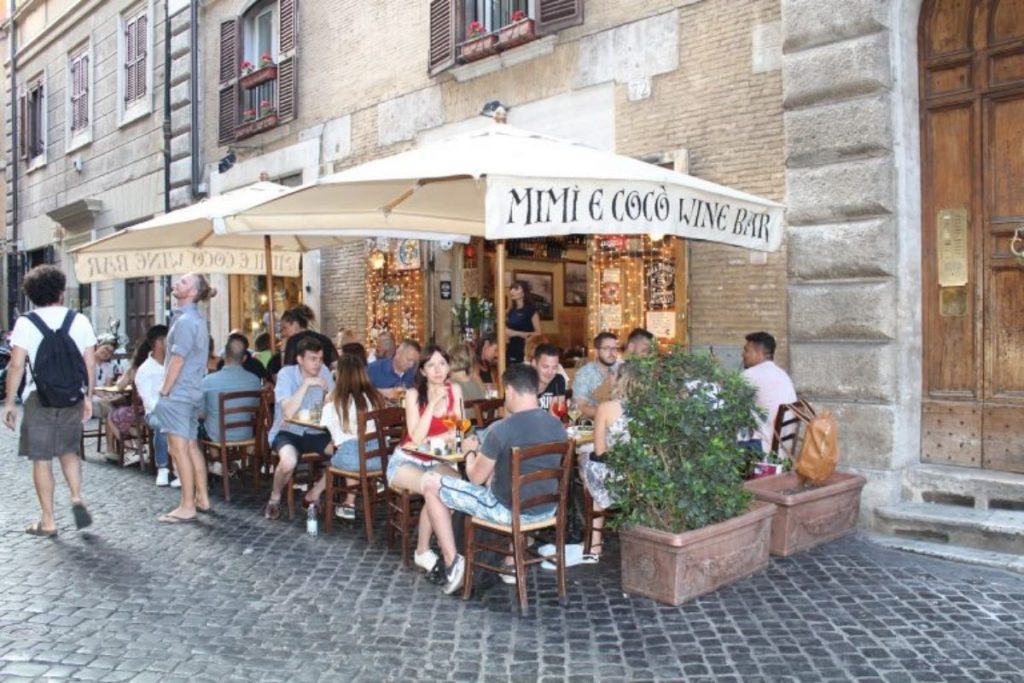 If you are looking to dine in an intimate and cute setting, Mimi e Coco is going to be the best choice. This hidden gem restaurant in Rome is situated close to the Piazza Navona, this restaurant offers a great selection of recipes representing central Italian and Roman cuisine in vegan, vegetarian and gluten-free options as well. This lovely restaurant in Rome has generous food portions with an average price of 30 euros.
Their lasagna is out of this world, although we would recommend trying their cacao e Pepe and tiramisu too. Hospitality is a strong point for Mimi e Coco, the staff is friendly and service is quick and efficient. The ambiance of it is very rustic, and simple, yet inviting. Not to mention the terrace, which might not be spacious, but is perfect for an intimate, far away from the crowded dinner. Time to explore one of the most hidden restaurants Rome!
3. Pasta e Vino Osteria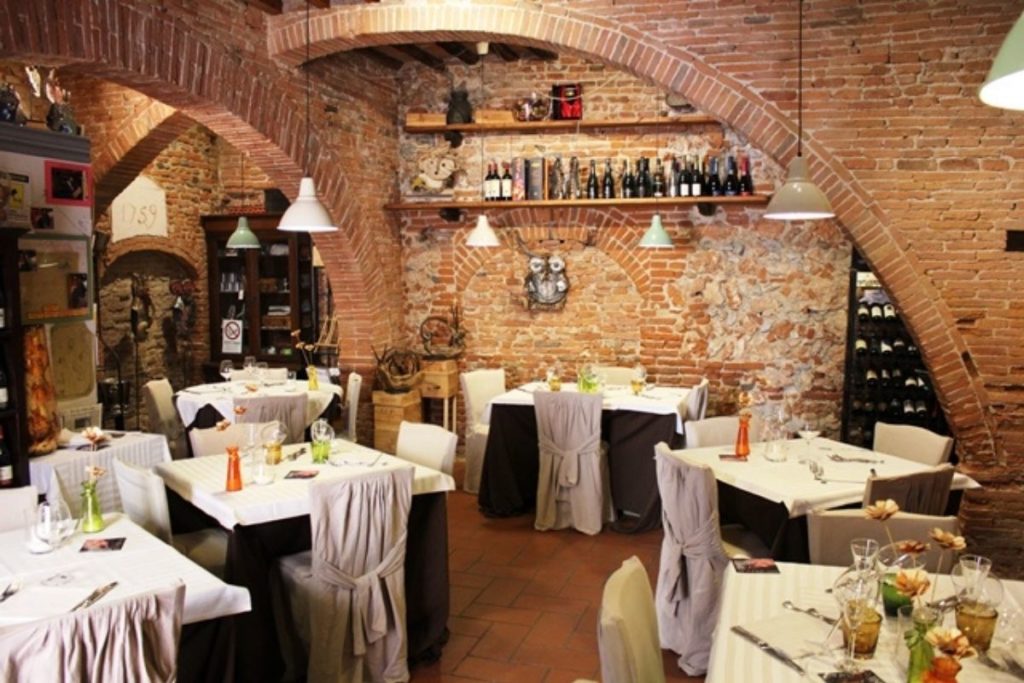 Pasta e Vino Osteria is one of the secret restaurant Rome, close to the Basilica di Santa Maria in Trastevere. Trastevere translates literally to "across the river," signifying where you have to go to avoid the crowds that flood Rome's center. Its menu has recipes, which go back to the 18th century of the Romans. The cuisine lays on Italian, Mediterranean, European, Romana, Lazio, and Central-Italian influences.
Their pasta is homemade right in front of your eyes. A great feature of it is that in case you don't find a pasta dish to your taste, you can let your imagination wild and customize the dish of your dreams. While the restaurant specializes in pasta with homemade sauces, you can also opt for a rich eggplant parmesan with fresh basil. The heart of this secret restaurant is the organic ingredients, which they use, such as eggs and flour.
Not to mention that they grow their vegetables. Fresh, organic ingredients to honor the ancient recipes. Hospitality is key too at Pasta e Vino Osteria. Everyone who goes there associates the place with 'warmth' and 'welcoming'. The live piano in the evenings adds to this pleasant atmosphere. Dinner or lunch, an unforgettable experience is guaranteed at one of the best hidden restaurants in Rome.
4. Osteria Barberini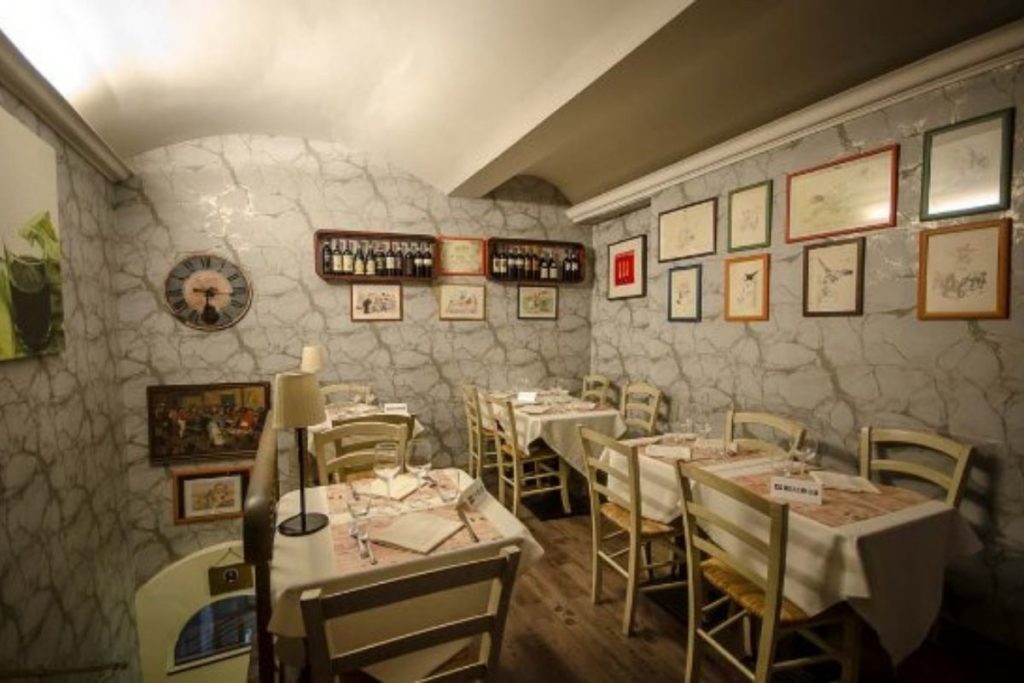 Osteria Barberini is in one of the most beautiful neighborhoods in Rome close to the Piazza Barberini. The restaurant's specialty is dishes with truffles, but you can choose from a big variety of traditional dishes too. For people with special requirements, vegan, vegetarian, and gluten-free options are available, made out of fresh and quality ingredients.
They pride themselves on excellent food and quick service. Not to mention that the hospitality at one of the best restaurants in Rome is excellent too: the staff is polite, friendly, and efficient. The menu is divided into two main sections: traditional Roman cuisine and the dishes with truffle, the chef's specialty. Reservation must be made before arriving, so make sure you do that. The ambiance is intimate with lovely jazz music in the background. Piazza Barberini followed by the Chef's specialty at one of the hidden gem restaurants in Rome? Count us in!
5. Da Gino al Parlamento
Da Gino al Parlamento, close to the  Column of Marcus Aurelius, is hidden in the ancient alley, with a charming veranda outdoor. Another secret restaurant Rome has strong roots in traditional Roman cuisine. It first opened in 1963, and ever since the goal is to pass on the recipes of the founding owner. Its menu is continuously changing, so it can always implement fresh and seasonal ingredients.
This 45-seater hidden restaurants Rome prides itself in engaging courtesy, which makes the atmosphere familiar and non-formal. The interior design of the restaurant is characterized by frescoed ceilings with a fake pergola. This will send your imagination towards a starry sky over the rooftops of Rome. Its opening times are from 13.00 to 15.00 and from 20.00 to 22.30. It is closed on Sundays and holidays and reservations are highly recommended.
6. Sapori D'Ischia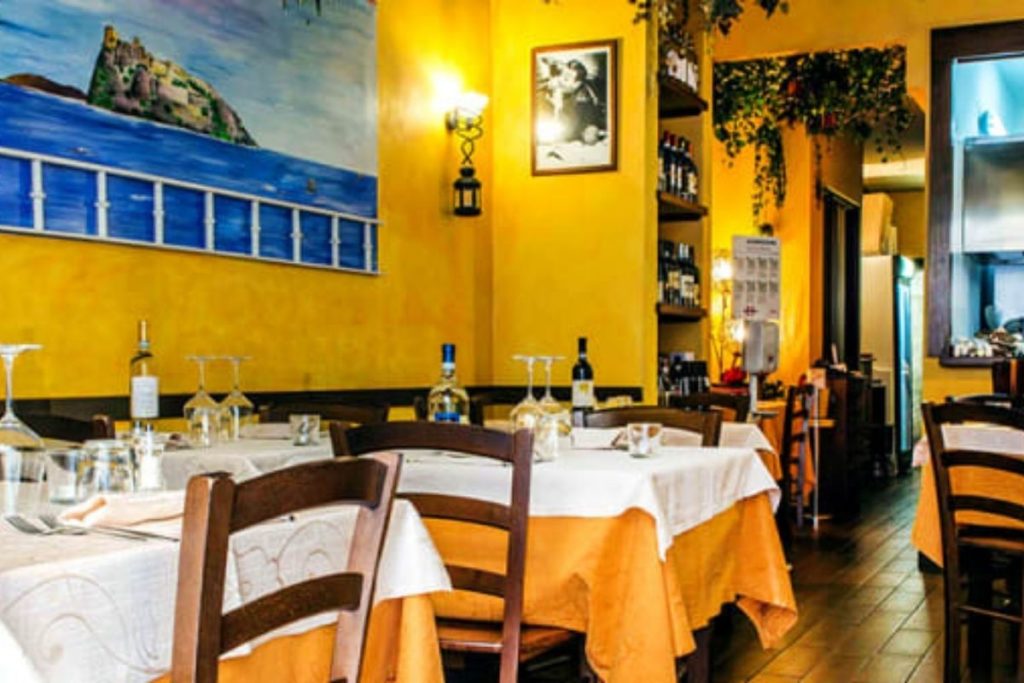 If you fancy a romantic restaurant with live piano music, Sapori D'lschia is the one for you. The cuisine of this family-owned hidden gem restaurants in Rome is Mediterranean, Ischitan, and Neapolitan. Their seafood dishes are excellent, thanks to the high-quality fresh products. If you opt for dessert, Fragoline di bosco con panna and tiramisu is a must. In case you are not sure what to order, do ask for the specials.
It wouldn't be a complete Italian experience without pairing your dish with a glass of the House-wine. Perfect match! The prices are more than the fair for the quantity of the presented dish. hidden away around the corner is complimented for its quick and effective service, and friendly staff. What a nice way to end the day of exploring the capital: tasty Italian food, wine, and live piano. Nowhere else, but at one of the best restaurants in Rome!
7. Trattoria Re di Roma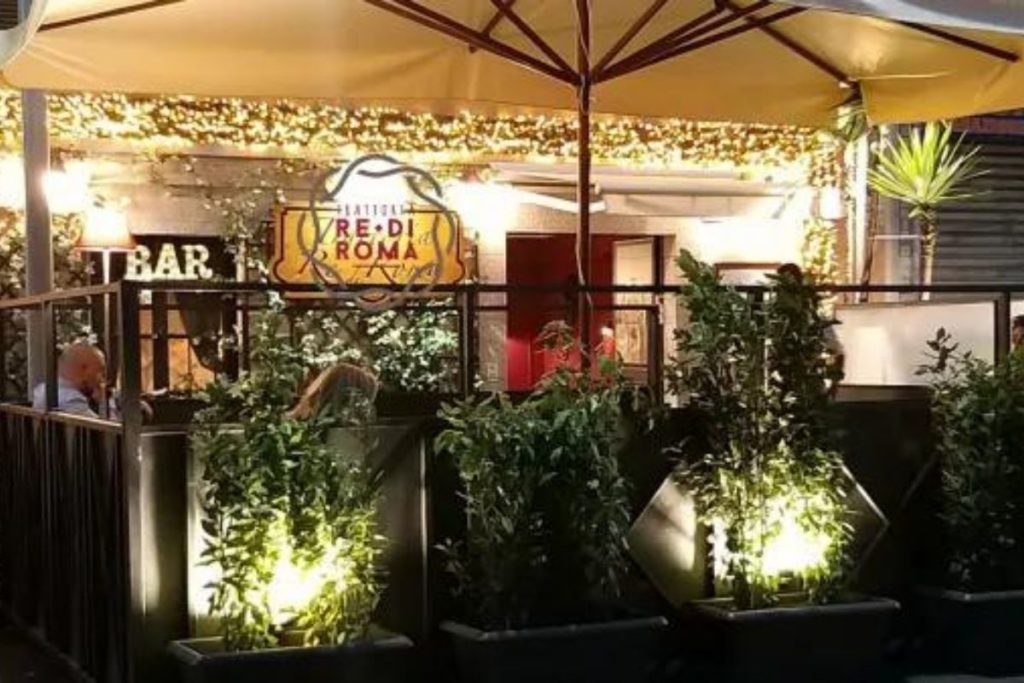 Trattoria Re di Roma is situated close to the Arcibasilica di San Giovanni in Laterano. This secret restaurant Rome with its refined and authentic flavors has one big mission. To convey the smell and emotions we all have/had while having dinner with the family. It won't come as a surprise to say that this tradition lover Italian place has its bases on Central Italian cuisine.
Their saltimbocca and beef strips are delicious (generous portion) paired with the fruity house wine. For dessert, we swear on cheesecake and tiramisu. Their prices are a bit higher than average, although compared to the quality of the food and serving plus portion, it makes sense. If you are vegan, gluten-free, or vegetarian, your place is at one of the best hidden restaurants in Rome: Trattoria Re di Roma.
8. Enoteca Trastevere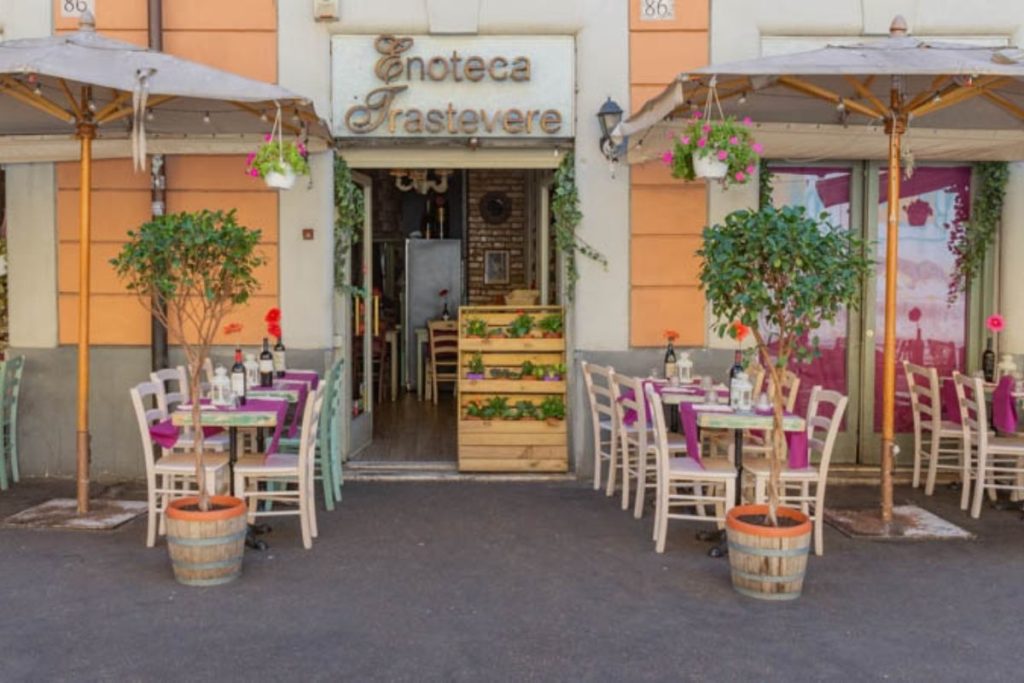 Enoteca Trastavere is one of the hidden gem restaurants Rome right at the feet of Basilica di Santa Maria. The place itself started as a resale shop of limited groceries during the war in 1936. Then outgrew itself into a traditional family-owned restaurant. This local represents well the typical Roman cuisine while taking credit for a variety of vegan dishes. Their ingredients are fresh, for example, fresh mozzarella is delivered daily.
Amongst the Italian dishes on the menu, we recommend you try out their pizza. It is delicious and their price ranges between €8-12. And whilst we are at prices, the selection on the menu is well-priced. Enoteca Trastavere is a bit more elegant when it comes to ambiance. The terrace is no different from the typical Italian one, however, the interior is more sophisticated and stylish with unique wine bottles as decoration. Live music adds to the relaxing and enjoyable atmosphere at this secret restaurant Rome. Check also our list for the best pizza places in Rome!
9. Trattoria Monti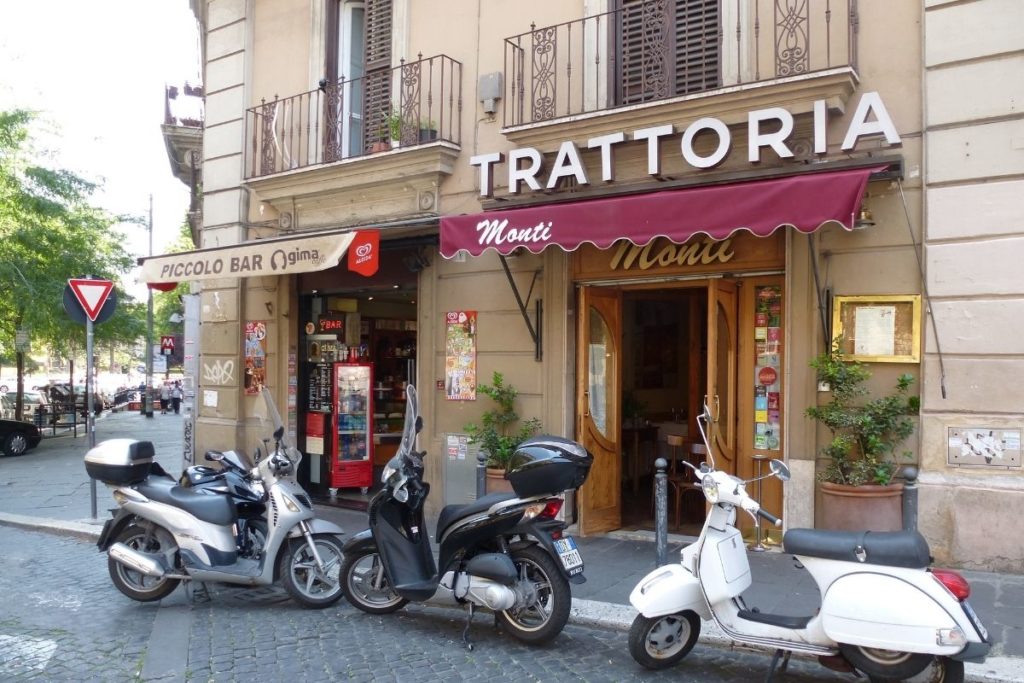 Trattoria Monti is situated less than half a mile from Basilica di Santa Maria Maggiore. The cuisine at this secret restaurant Rome has roots in the Le Marche region with vegetarian-friendly and gluten-free options. Their dishes perfectly convey the tradition with the contemporary. The portion sizes are generous and if you manage to save enough room, you need to taste their wonderful dessert options. We recommend the pear tart.
To pair your food with a glass of wine, do try their house wine. In case you don't find that on your taste, you can find a selection on the menu. At one of the best hidden restaurants Rome there are a total of 12 tables: perfect for a private dinner. (I repeat 12 tables only, so book ahead to guarantee your Roman experience). A quick note that this isn't one of those restaurants you just casually pop into. It is only open between 1pm-2:45pm and 8pm-10:45pm. Plan accordingly to avoid disappointment!
10. Sora Lella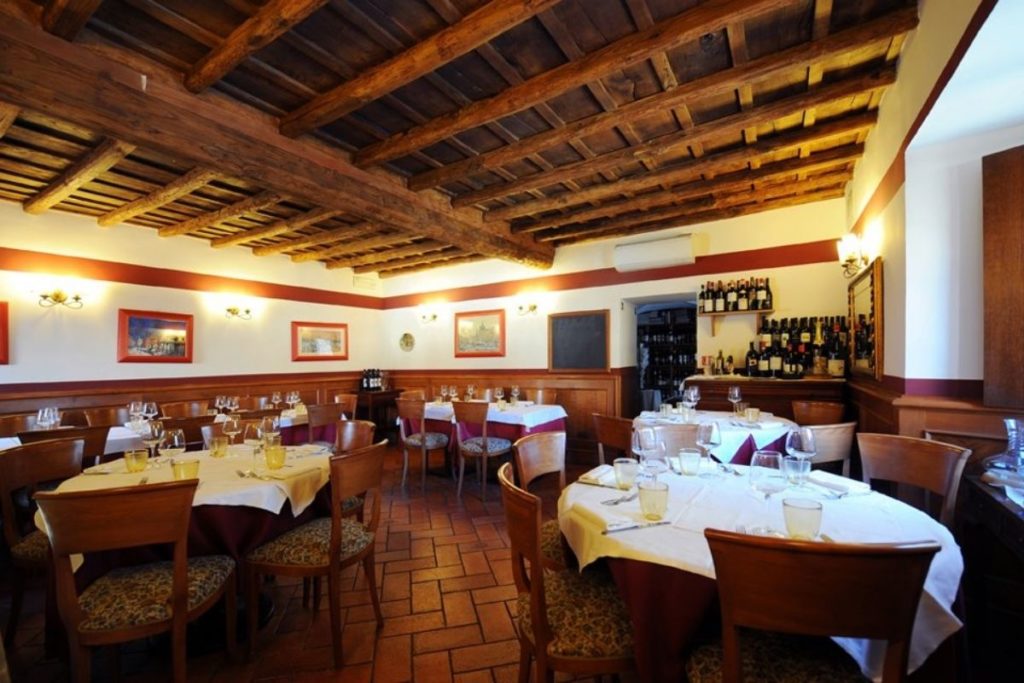 Sora Lella is one of those hidden gem restaurants in Rome loved by the Italians. Not that well-known amongst tourists, but that is the point: for you to discover the hidden side of the Eternal City. As for location, this secret restaurant is close to Ghetto Ebraico where you are going to be treated like family. The staff and management take pride in their hospitality and traditional recipes, which were carried over generations going back to 1940.
As they say, their cooking is a "sincere one, that recovers dishes, forgotten because of the fashions, that a lot of young people ignore without even knowing". The appetizers are delicious, suppli' and Fiore di Zucca is highly recommended, but Cacio e Pepe is a popular choice too. If you are a pasta lover, you can have their selection gluten-free, but they have vegan dishes available too.
The interior of this hidden restaurant in Rome is very simple, homely, and welcoming. It sends your thoughts to the feeling you have/had whilst having dinner with all the family altogether. Some may say that a few of the dishes are overpriced, but in our opinion, it serves well of the tastiness and quality of their recipes of Lella. Make sure to try the food at Sora Lella, one of the best restaurants in Rome.
10 best secret restaurants: Rome edition
This concludes the list of 10 secret restaurants Rome. We know how hard is to narrow your choices down to a few of these from thousands. You need to look at the location, menu, and prices, and let's not forget the traffic. There are so many locals which became tourist-trapped over time. The list of hidden gem restaurants in Rome is exactly what you need to discover real Italian cuisine. As the owner of Sora Lella said, it is easy to forget the delicious, yet simple dishes because of fashion.
Get lost in the Eternal City, and discover its authentic taste of it. Whether you opt for a generously sized dish or just a delicious dessert, explore those flavors! Hospitality is like no other in Italy: you go as a guest and leave as part of a big Italian family. The staff is friendly and non-familiar. If you are not sure what to order, ask for the specials, they are happy to help. Cozy and intimate settings filled with live music, great food, and House-wine for an unforgettable experience in Rome. Are you ready to explore a few of these hidden gem restaurants in Rome?
We've got more places to eat in Rome you should try, as well as restaurants in specific places like those restaurants near the Trevi Fountain, and in Trastevere, as well as Gelaterias in Rome. We also cover vegan restaurants. If you want to learn more about food, visit our articles on Neopolitan dishes, but also Puglia food, and Italian pastries.
Pin it: 10 best secret restaurants in Rome