10 Best Ski Resorts in Northern Italy
Italy has become famous in many aspects until now and it's certainly of how much it has to offer. From ancient ruins, and history museums, to spectacular cities. All the contributions to the artistic world, marvelous architecture including design, and rich cuisine, are well known. Let's not forget the fashion industry, and of course, the little villages, the sea, and the beaches. What should be known most of all after reading this article, is how to choose the best ski resorts in Northern Italy. This article will be focused on how Italy becomes famous and very searched by tourists each year. Italy is a country of discovery. Besides all the great beaches, some of the well-known attractions in Italy are the soaring mountains and the beautiful winter scenery of the northern part of Italy.
10 Best ski resorts in Northern Italy
Besides the unique culinary traditions that make Northern Italy so famous among travelers, there are some breathtaking destinations that nobody should miss. One of the most amazing things that Italy has to offer is the extraordinary ski resorts. They are placed around all its northern side. Then, they are known as being some of Europe's most famous destinations for winter attractions.
1. Val Gardena, Groden – Known as the best ski resort in Northern Italy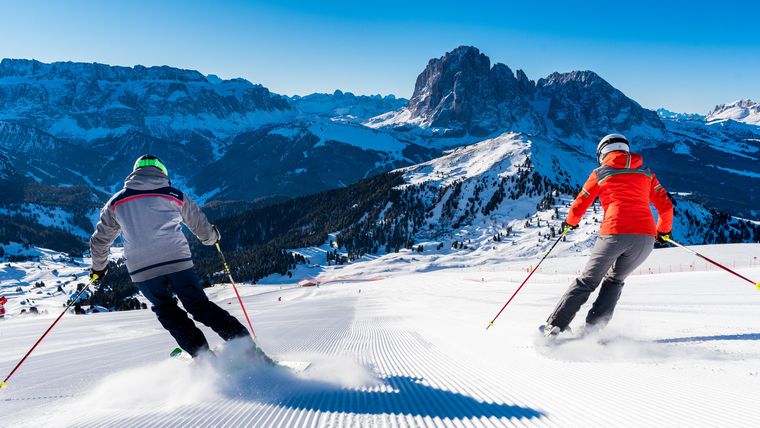 We would like to start our selection with the destination that is often called as being a paradise. It is called so for both beginners and also the world cup experienced stars. Val Gardena is a holiday destination for everyone, from skiers who want to try something new and challenging, to families who want to spend their holidays learning a new sport.
It offers 12 ski areas in the Dolomites, the most loved starting point for every ski fan. You can access those famous skis are using one ski pass. Val Gardena is the winter sports opportunities setting where you can experience the longest ski slope in South Tyrol. It is called La Loggia and is longer than 10 km.
The panoramic view that welcomes you to the top of the ski slope is one of the reasons why this destination is the first choice of mountain lovers, featuring passages, and frozen waterfalls that enchant every skier. The accommodation possibilities and the early holiday offers are unbeatable.
2. Madonna di Campiglio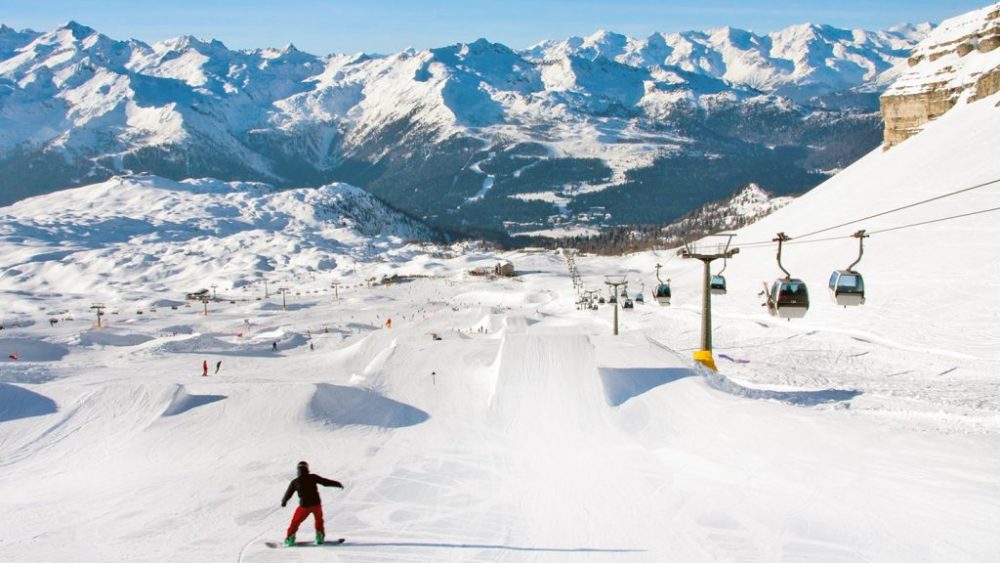 Our second choice, Madonna di Campiglio was chosen as one of the best ski resorts in Northern Italy for its holiday well-being vibe, the love of sport, and the hospitality it showed. A wonderful location, starring excellent quality ski traditions is often called the heaven of winter lovers. The whole ski area is made of 57 ski lifts and the amazing 150 km of slopes, all connected.
For those who enjoy skiing at night, it is the best destination for its safeness and lightning system. Also, there are ski instructors for everyone. You'll find some individual and group lessons based on levels, and mini trips for the explorers such as mountain peaks, snowshoeing, dog sledding, and skating. Finally, it is one of the most famous tracks, where and are held several races of the World Cup. Regarding the accommodations, be ready for Italian service excellence!
3. Kronplatz, Plan de Corones – The best ski resort in Northern Italy for family experiences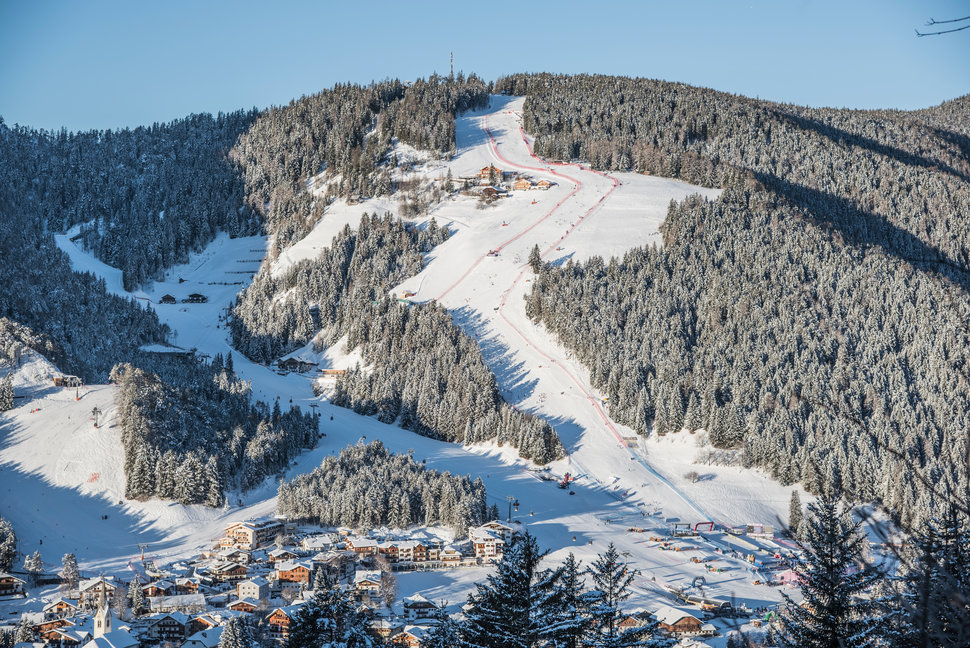 We know very loved ski destination in Northern Italy for families, winter sports enthusiasts but also loved by hikers, culture lovers, and relaxation seekers. Kornplatz is known as the best winter sports resort in South Tyrol. This resort can offer every traveler a true holiday experience. It has 119 km of pistes for every ability: beginners, cruises, and experts. 
Wide runs, as well as the Black five experienced pistes, are professionally groomed to ensure that everyone can practice their beloved sport in the best conditions. One of the coolest features of the resort is the Kronplatz app, which will accompany every traveler during the stay, by guiding them, giving details about the situation on the slopes and the availability of the lifts as well.
Another synonym for describing Kronplatz is adrenaline. The resort offers the enthusiasts plenty of different tracks and experiences, making it be the best choice for those who enjoy risks! Once you are there, you will see the combination of the beautiful ski destination and the Italian tag of quality service, from the accommodation, food, and even party locations.
4. Zernatt – Breuil – Cervinia – Valtournenche, Matterhorn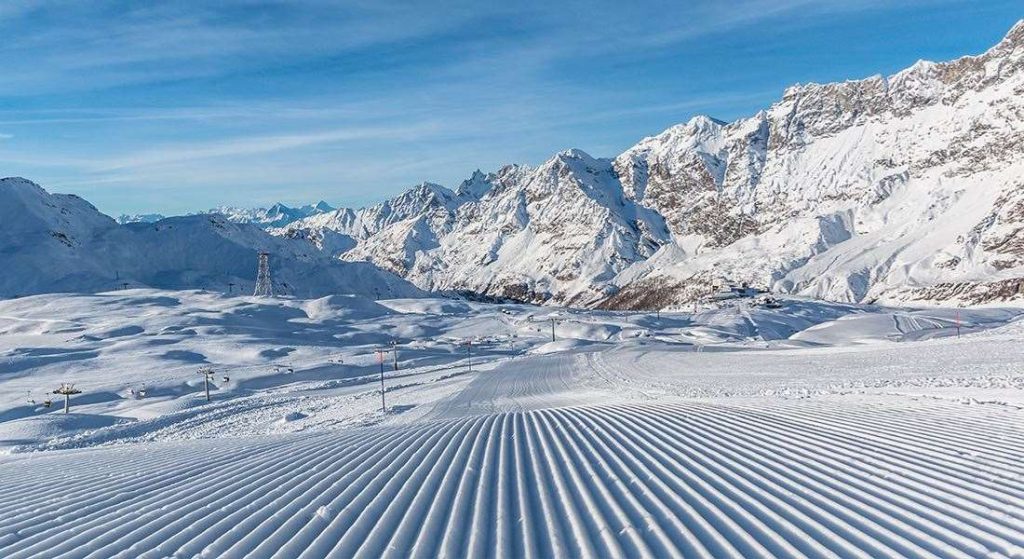 Here we are with our fourth choice and one of the largest, best ski resorts in the world. This is Zermatt/Breuil-Cervinia/Valtournenche. Ski and snowboard practices have never been so easy and unstoppable, thanks to the 322 km of slopes and 38 ski slopes available to every passion, having as well 52 ski lifts.
Once here, every traveler mountain nature lover, and of course, ski practitioner will be amazed by the quality of this establishment for holidays. From the evaluation criteria of most tourists, we can say that this is one of the safest ski resorts.
Also, big-sized resorts, have all the best lifts and cable features to keep a safeguard, snow quality, and maintenance. The access is easy, as the accommodation is offering directly hop on the slopes. It gives also an elevator, directly from the front door.
5. Alpe di Siusi, Seiser Alm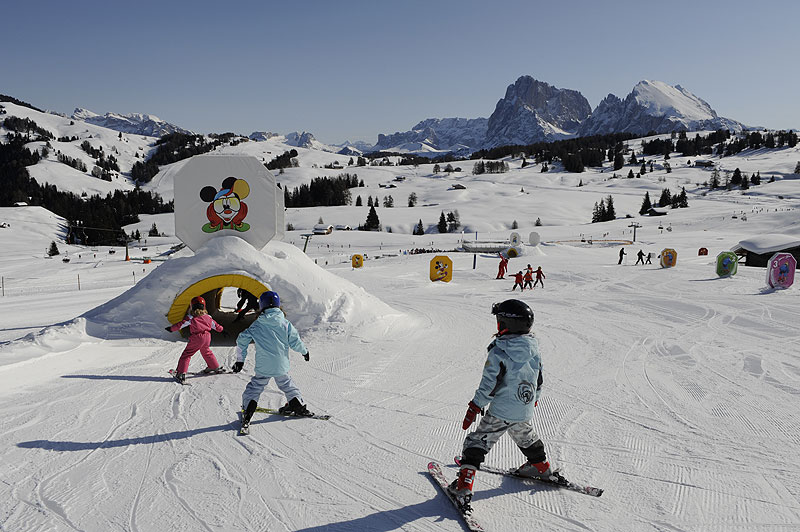 Another best ski resort in Northern Italy that won the best reviews for its safety and the pleasing atmosphere is Alpe di Siusi in Seiser Alm. Having 23 modern ski lifts adapted for the whole family setting, and not forgetting the kindergarten, fun parks, and courses, Alpe di Siusi has become the best family winter sports destination.
Other activities that can be enjoyed there are cross-country skiing, cozy rides with carriages, and the ability to see beautiful views of the Dolomites. It is very accessible, as cable cars permit you access to the resort and guarantee the best winter weather for ski.
6. Latemar, Obereggen – Pampeago – Predazzo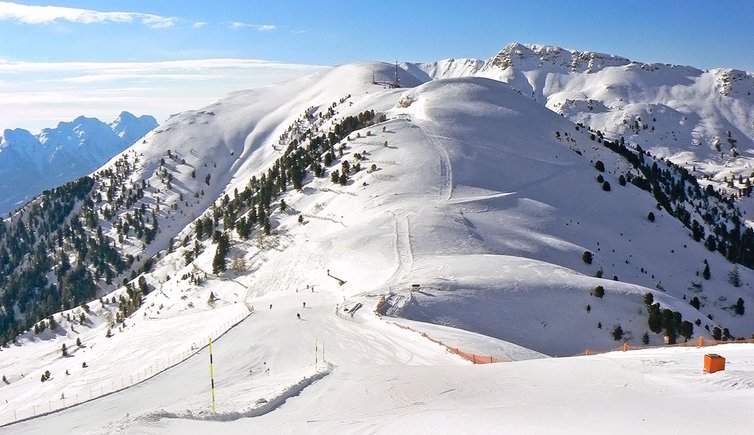 A  very attractive ski resort in the North of Italy is the Latemar. Latemar is a resort with three access points: Predazzo, Pampeago, and Obereggen. Once you start your journey there from any of those destinations, you will arrive at several beautiful and accessible ski slopes, longer than 49 km, suitable for every type of practice.
Children are the luckiest on this matter, having lots of easy runs at their disposal. As for the ones who want to enjoy the snow and test their skills and limits, there are spectacular gradient tracks to help you explore your possibilities.
The breathtaking views and amazing sky spectacles are making this winter scenery something extraordinary. All along with the sunrises, sunsets blending together with snow-covered slopes, a magic view.
7. Livigno, Valtellina Valley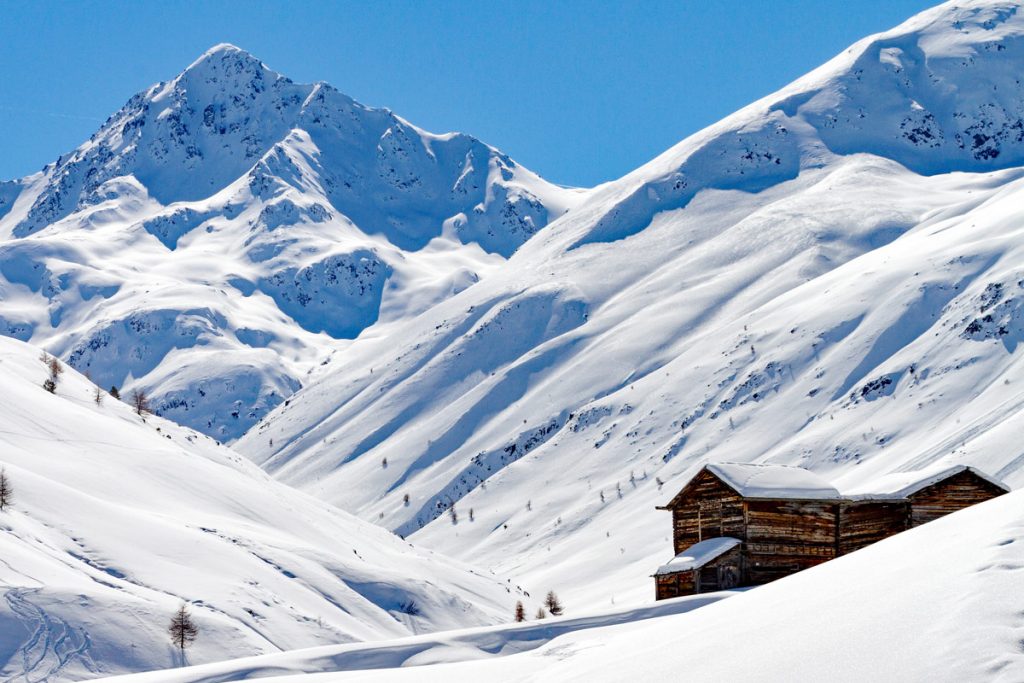 A paradise of skis for those who want to experience every level possible. Livigno ski resort in northern Italy has the amazing downhill called Giorgio Roca, and 37 red runs and 29 blue ones. There are also 6 gondolas, 13 chair lifts, and the other eleven ski lifts. They are spread around the mountain which makes it easier to get on track from anywhere you are. The slopes are also open from the end of November to the start of May.
Moreover, one cool thing about Livigno is that it is virtually snow guaranteed, it was the winner of the 2021 World Snow awards, and also thanks to the 250 shops that are set in the resort. Accommodations are pretty accessible to each budget, exactly like the ski opportunities and the other activities that can be practiced.
8. Alta Badia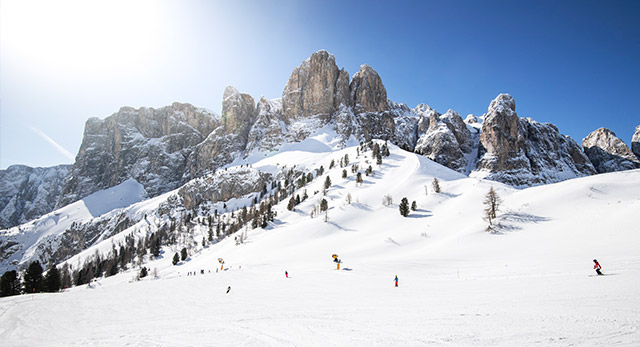 If you want a holiday in the heart of the Dolomites, the Alta Badia ski resort is the answer. Having not less than 130 km of ski slopes, cable cars, and ski lifts, as well as breathtaking mountain views and characterizing freshness, this destination will completely amaze you. Whether you come for a family holiday or your beloved adrenaline pump, this resort is ideal for both. It has 70 km of blue category slopes and 50 km of red slopes,
The biggest attraction is the 8 black slopes, best for every condition and limit. Alta Badia ski resort has become the key destination for Europe's ski world cup competitions. It also has annual classic races as well. It Is very convenient to find accommodation there. Every hotel, hostel, and pension is welcoming tourists with lots of winter packages including all-inclusive services.
9. Ponte Di Legno, Tonale – Presena Glacier – Temu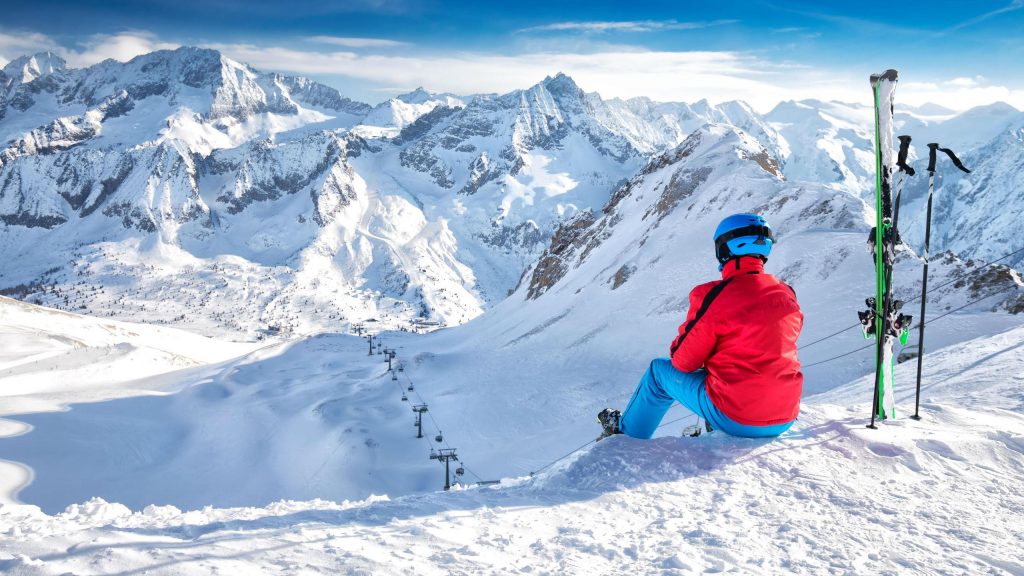 Previously called Adamello ski, Ponte di Legno, Tonale is something that matches every desire of ski resorts in Italy. It has 100 km of slopes, 41 ski slopes, and 28 lifts to get to them. It is snowboarders who must love the resort, as well as those who want mountain activities. Tourists can do cross country skiing, winter hikes, snowshoe hikes, and dog sledding trips around the Dolomites and enjoy the magic. Therefore, the resort is searched by travelers also because of the fun activities that it provides.
Also, you can Apres-ski to music, try traditional cuisine or relax after a good day at ski in one of the fantastic spas they have. Let's not forget about the ski areas, Ponte di Legno, Passo Tonale, Presena Glacier, and Temu which all make this winter experience magnificent for everyone in search of diversity.
10. Passo San Pellegrino, Falcade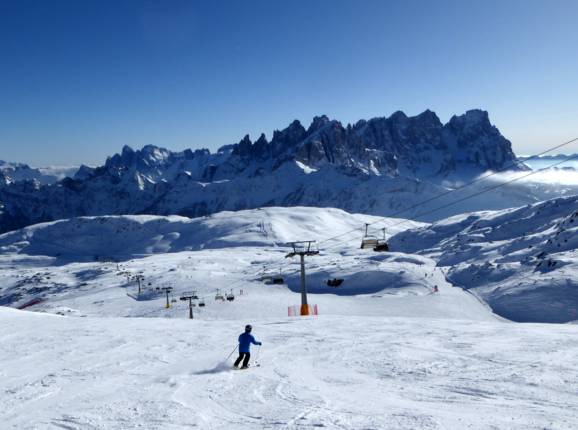 We end our selection of the ten best ski resorts in Northern Italy with Passo San Pellegrino in Falcade. We choose it because it is often described as the real paradise of Dolomites. It is a modern winter sports resort with slopes that are situated around the village, leading down to Falcade as well.
It is very professional, as the modern lifts are continuously adapted. Also, the ski slopes and carefully groomed. The accommodation features tend to beat other destinations with excellent and affordably priced packages. All of these make the ski resort a perfect choice. Also, of course, the 15 access lifts, more than 67 km of ski slopes, and 1.5 km of ski routes. 
Moreover, we believe this is a place for everyone. It is thanks to the various settings and appliances for families, groups, couples, or singles. It's a place for those who want to have the best ski, snowboard, or any other winter season experience in Northern Italy.
Conclusion about the 10 best ski resorts in Northern Italy
Now you have seen what the best ski resorts in Northern Italy can offer you. From modern panoramic pistes, and charming resorts, to the beautiful winter nature. Also, we are pretty sure you have all the reasons to choose Italy as your ski vacation destination.
You have a long season for your winter escape, as the period begins in late November and it ends in April.  See you there, together with all the big mountain season lovers! Ski resorts in Italy definitely offer a winter season experience, taken to another level!
PIN IT: The 10 Best Sky Resorts in Northern Italy