Are you looking for the best jazz clubs in Rome Italy? It might be surprising but Italians are really much into Jazz, and when it comes to a jazz bar Rome hosts, your options will be infinite, especially if you want to find a place with live jazz Rome has. However, we all know it's important that if you're looking for great places for jazz in Rome Italy, you can truly get an unforgettable experience, and a positive one if you pick the best of the best, right? With that said, we are here to talk about the best jazz bars in Rome, and more specifically the most outstanding hot spot, Jazz Cafè Roma Piazza Navona. The perfect spot for morning coffee, lunch, cooking classes, art exhibitions, and live jazz music during the evening. Let's see what are the highlights you should know about Jazz Cafe Rome!
Jazz Cafe Roma Review – a great jazz bar Rome is hosting
When it comes to a jazz bar Rome offers, it's important to pick a place that's popular, has great food, great drinks, great vibes, and is set in a very convenient location as well! This is how we found and fall in love with Jazz Cafe Rome Italy. I remember years ago, when the current owners bought this place, it was a very quiet, very simple place, with no real vibes. This, however, during the past year changed thanks to the owner, and to the event manager, Manuel Bosco.
If you're looking for live jazz Rome Italy, just head to Piazza Navona, and Jazz Cafe Rome Italy is right around the corner. Lately, Jazz Cafe has become one of the best jazz bars in Rome, hosting local musicians and events each weekend evening, and there are some really outstanding artists there! Below, you're going to get an overview of the restaurant, the events, live music nights, art exhibitions, the Jazz Cafe Rome menu, and the cooking classes of Eatalian Cooks which are held here during the day!
Jazz Cafe Roma Piazza Navona – Overview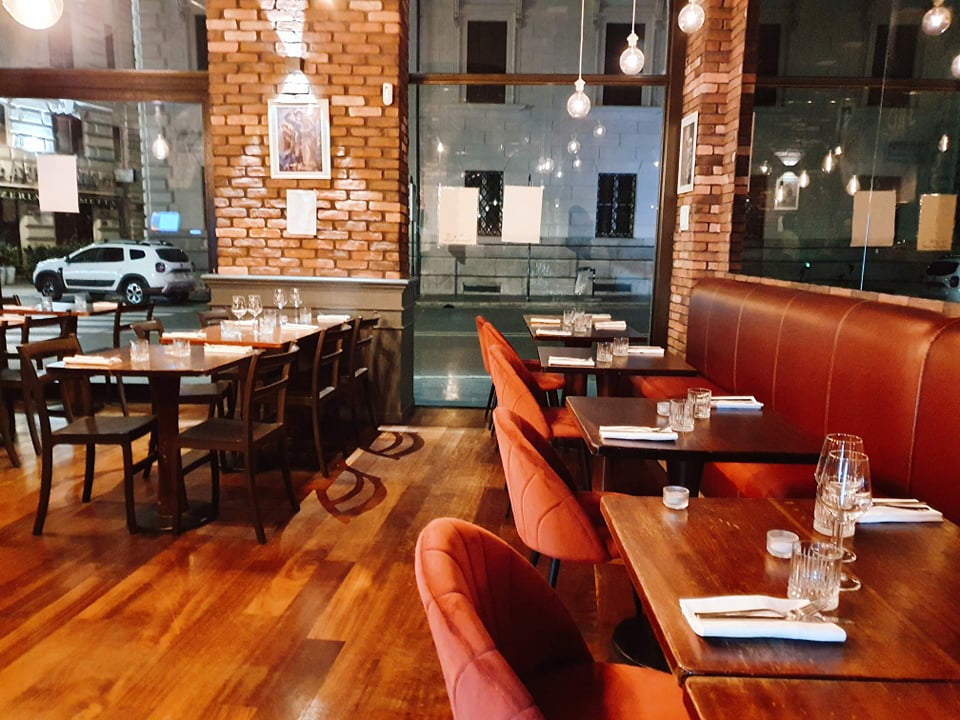 So, imagine going into a Rome jazz bar on a Saturday night, and you find yourself at one of the best jazz bars in Rome, you sit down, order a dinner, and enjoy the evening without knowing what's actually waiting for you there. At Jazz Cafe Roma it's not all about elegance cafe jazz club Rome offers, it's about the food, the art, and the vibes too.
This restaurant/bar is not a made-for-tourist place, which gives you the possibility to enjoy jazz in Rome Italy as locals do, eating the most delicious Pasta alla Carbonara as Romans like, and getting some great wine while preparing for the rest of the evening. When I was there first after the pandemic, in March 2022, I was invited over for Saturday night's show, and I honestly didn't expect at all what later made me fall in love with this place.
There's an African-American singer who has the most amazing voice I ever heard, Fatimah, and she lives in Rome, while she and her crew are participating in events and bars, giving the people the best night of their lives. When you hear a great old Etta James with a voice that's actually almost like Etta James's voice, goosebumps appear, and they will stick with you until the end of the night. An experience that makes me count the days to finally go back! An extraordinary place, staff, and the event program are getting better month after month!
Jazz Cafe Rome Menu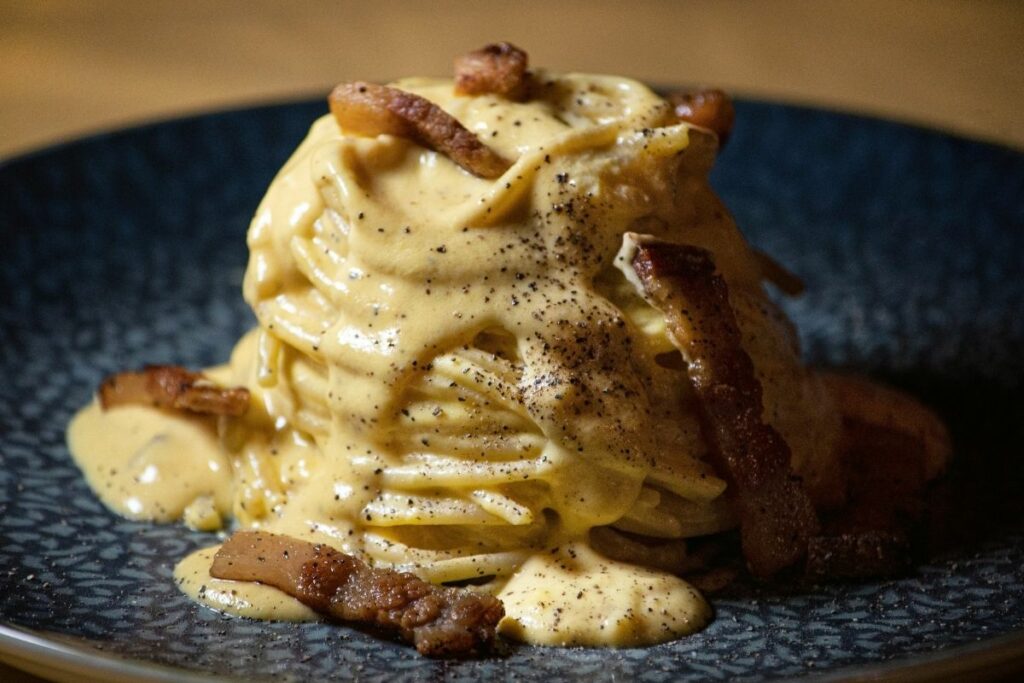 Jazz Cafe is not only a Jazz bar Rome hosts, and it's not only one of the best jazz bars in Rome, but it's much more! It's a restaurant as well, which is also a cafe during the morning, so it's basically all in one. If the mornings, if you're looking for cafes in Rome and you stay around Piazza Navona, you can pop in here for some delicious coffee and cornettos.
For lunch and dinner, you should stop by this amazing restaurant for some excellent Roman dishes that include fish, meat, vegetarian and gluten-free plates as well. If you're interested in the Jazz Cafe Rome Menu, we've linked that in for you, but we will share some highlights too! Jazz Cafe is more of a mid-budget place, and you can get some incredibly delicious pizza here, as well as Calzoni with different fillings.
As for the Primi Piatti (first course) you can pick from all the traditional Italian, and Roman dishes, from the Bucatini all'Amatriciana, Tonnarelli Cacio e Pepe, and Spaghetti Carbonara. I personally tried these I just mentioned at Jazz Cafe, and they were delicious. You can also find the Chef's signature dishes, and Secondi Piatti (second course), which includes a list of dishes with ground meat, and fish as well.
We obviously can't forget about the Aperitifo time, and when it comes to that, the Jazz Cafe Rome menu includes plenty of options. Some of my personal favorites, that I can highly recommend trying the Suppli, Crostini with different toppings, Carciofo alla Giudia (fried artichoke – a Jewish recipe), and the Salmon Tartare. Beyond everything from the ground, you can also pick aperitifs with seafood!
Special events: Live Jazz, Soul, R&B, and more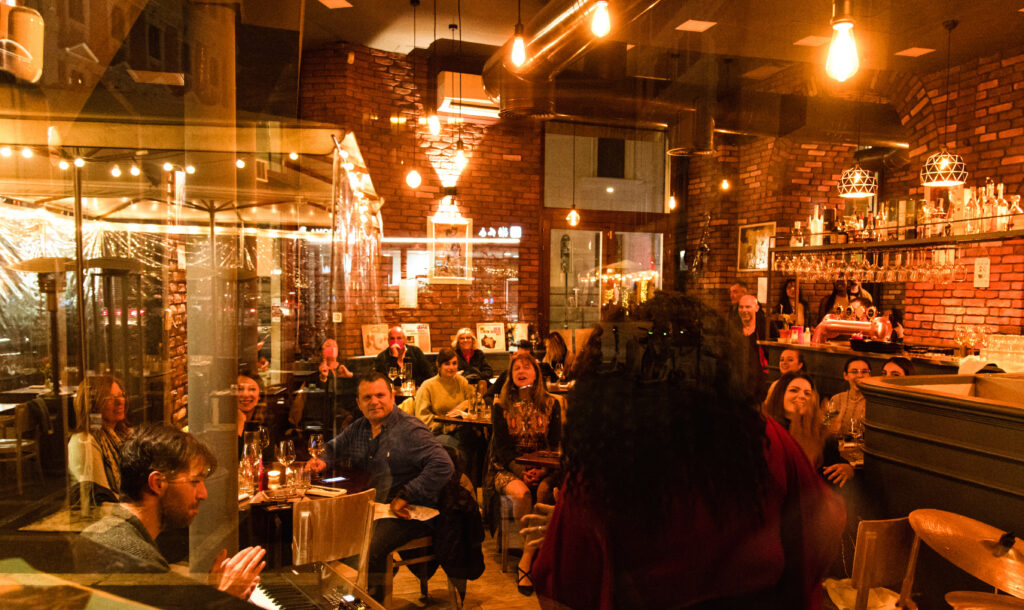 As we've already mentioned what our experience was on the first evening at Jazz Cafe Roma with Fatima, above you could see the part of the night while people were still seated. This went into an amazing party led by an amazing voice, and everyone left their seats to dance between the tables. It was absolutely amazing, and a perfect first experience, I must say! You can see a reel from that night right below!
On the official website of Jazz Cafe Roma, as well as on their Instagram and Facebook pages, you can stay always up to date with the events coming. You can see which night who's going to make the show at Jazz Cafe, and you can plan in advance to make sure you're going to be there when there's a live jazz Rome event since it's smart to also book in advance!
When people would think that the Eternal City can't surprise them anymore, a bar and restaurant with jazz in Rome Italy shows up (bar jazz Roma). There's no more perfect way to spend an evening of your visit to Rome than heading to this place, enjoying the delicious Roman food, and listening to some amazing live music. Head to one of the best jazz clubs in Rome Italy, it will be worth it, I promise!
Art Exhibitions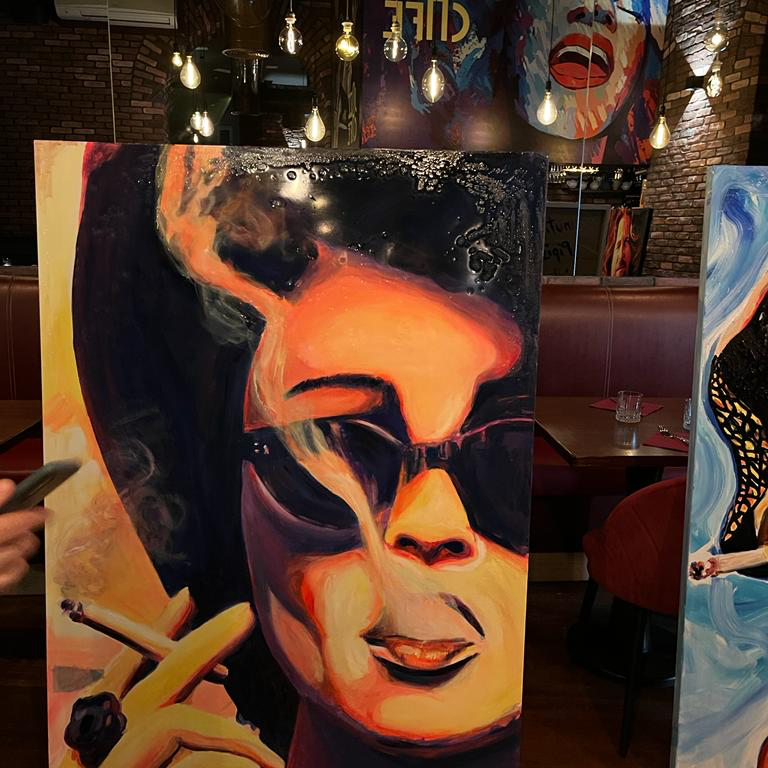 Jazz Cafe is also an art gallery. As I have mentioned above, there are exhibitions continuously on the premises. You can see each month a new exhibition that can be seen for free of course. The concept is for Jazz Cafe to be a place for art, artists, music, and painting, on side of the amazing food and drinks.
Also, there's a possibility to shop each and any of the pieces that are exhibited at Jazz Cafe. I know this might be tricky for those who are coming from overseas, but if you have the possibility for it, you can return home with an amazing piece of art from some of the most talented Roman painters today. There's a separate spot on the website of Jazz Cafe dedicated to the art exhibitions, so you can always check out what is currently in the restaurant.
Jazz Cafe Roma Piazza Navona: Location & Opening Hours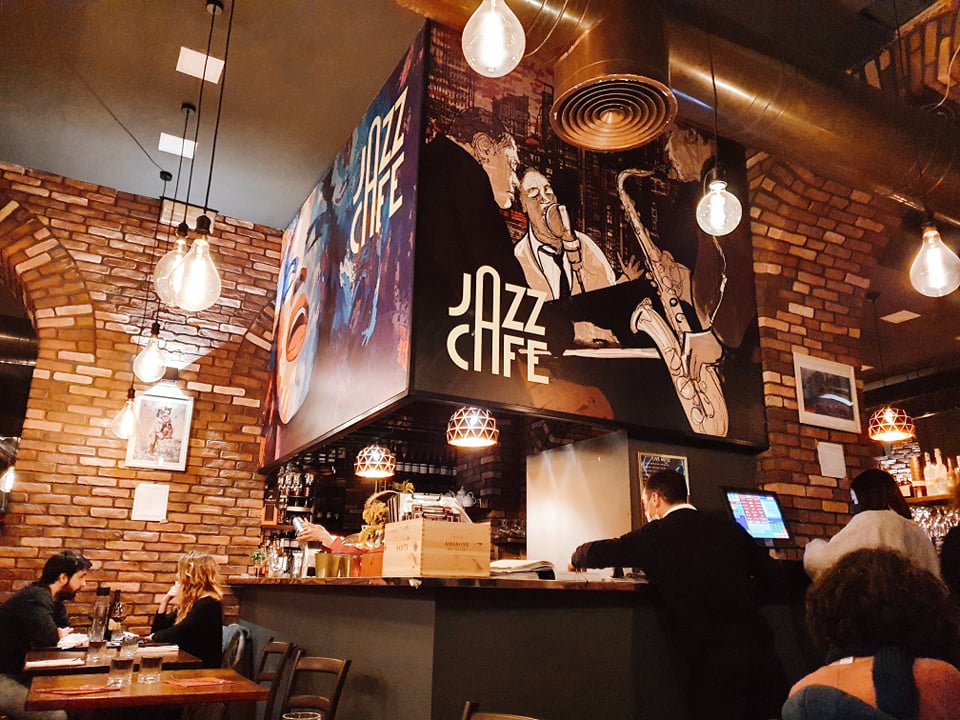 Now, let's talk about the location of this jazz bar Rome offers, opening hours, and event times. When it comes to one of the best jazz bars in Rome, Jazz Cafe has a pretty busy schedule. We're going to share everything that's on the schedule a day, and parts of the week.
Jazz Cafe Roma Italy – Location:  Via Giuseppe Zanardelli, 12, 00186 Roma
Opening Hours: 9 AM to 1 AM every day of the week. They don't close between lunch and dinner, they are open all day!
Live Music Events at Jazz Cafe: From Thursday to Sunday starting at 9 PM.
Cooking Classes in Rome: 11 am, 2 pm, 4 pm, and they are holding cooking classes 7 days a week!
Other activities organized at Jazz Cafe Roma: Cooking Classes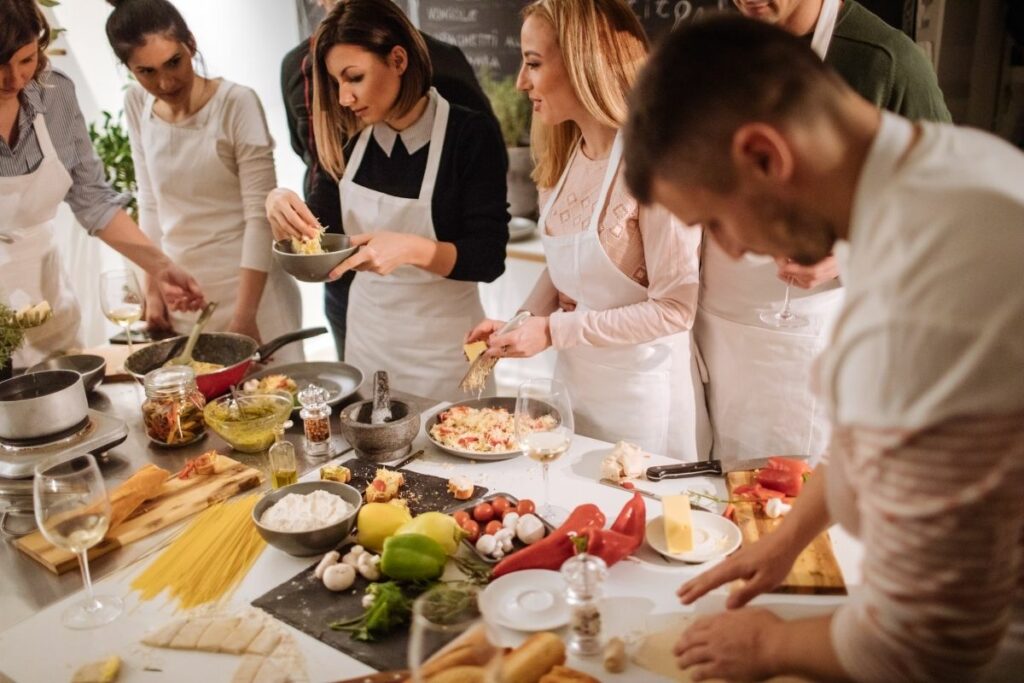 Jazz Cafe Rome Italy is not only a jazz bar Rome is hosting. Not only live music, not only one of the best jazz clubs in Rome Italy, and it's definitely not only an art exhibition, or a restaurant with great food. Beyond arts and music, there's another experience you can join at Jazz Cafè Roma Piazza Navona, and these are the cooking classes!
For those who are looking for the best Italian cooking class Rome offers, make sure you check out and book a class with Eatalian Cooks! For the pizza cooking class Rome has, you'll find yourself at one of the best restaurants near Piazza Navona. Eatalian Cooks cooking classes are held at Jazz Cafe, which is one of the best bars for nightlife in Rome, and it's also the best place for live music *mostly jazz, blues, and soul) during the weekend evenings.
While the evenings are all about jazz, during the day a friendly and fun team, which includes the chefs of the restaurant, will teach you how to make your own pasta, your own very Italian pizza, and also your own Tiramisu! Imagine learning how to make these delicious dishes, and having them on-site on the large and sunny terrace of the restaurant which is literally 1 minute away from Piazza Navona. Great vibes, delicious food, cool staff, and you and your very own Italian dishes. Book a cooking class in Rome at this great restaurant!
Wrapping up why you should stop by Jazz Cafe Roma Piazza Navona
So, if you've been looking for live jazz Rome, and the best Rome jazz bar, we really hope that you already saved the address, and you're about to check out the event calendar for the time you're visiting the Eternal City! Don't forget that you can step into this restaurant in the morning for breakfast and coffee, lunch, dinner, cooking classes, jazz in Rome Italy, and art exhibitions. Check again the Jazz Cafe Rome menu, and try local, traditional Roman dishes, as well as some specialties. And, in the evenings, just enjoy one of the best jazz bars in Rome!
Pin It: The Best Rome Jazz Bar: Jazz Cafe Roma Review