10 Best Wedding Dress Shops in Italy
Bridal stores in Milan Italy are famous for their otherworldly, dreamy designs. When you're looking for the perfect wedding dress for your big day, though, Milan is not the protagonist. There are other Italian cities where you can shop for painstakingly beautiful dresses. In other spots like Rome and Florence, highly skilled artists craft bridalwear from fabric whiter than the clouds. Plus, bridal shops in Rome Italy can sometimes also be more affordable, leaving more budget for the reception and the party.
One thing is for certain, bridal shops in Italy all compete in the making of the most perfect dresses. From the sketch to on-point adjustments, you can trust them. That's how you'll dress in the wake of a dream on your wedding day – no hassle. If you'd like to know about the smoothest silk and the most intricate lace, follow the guide!
10 Best Wedding Dress Shops in Italy
I'm not saying that choosing the best bridal couture Italia will be easy. After all, this is a country famed for its fashion and fine Italian jewelry brands. Between tradition and edge, we've seen a few weeks back that Italy has given birth to some of the highest-skilled artisans. How could it go any differently with Italian wedding dresses online shopping? Everything from the designs to the shopping experience is refined in such a way as to make the moment as pleasurable as possible.
In jewelry, you would have luxurious brands like Bulgari or Buccellati. In terms of Italian designer bags, you would have Prada or Fendi. And when it comes to wedding dress shops in Milan Italy, we are blessed with brands like Le Spose di Milano or Pronovias. Be not mistaken, though. Wedding dress shops in Florence Italy or Rome also carry the most beautiful cocktail dresses and outfits for weddings. Keep your eyes peeled, and let your heart speak!
1. Bridal Stores in Milan Italy: Pronovias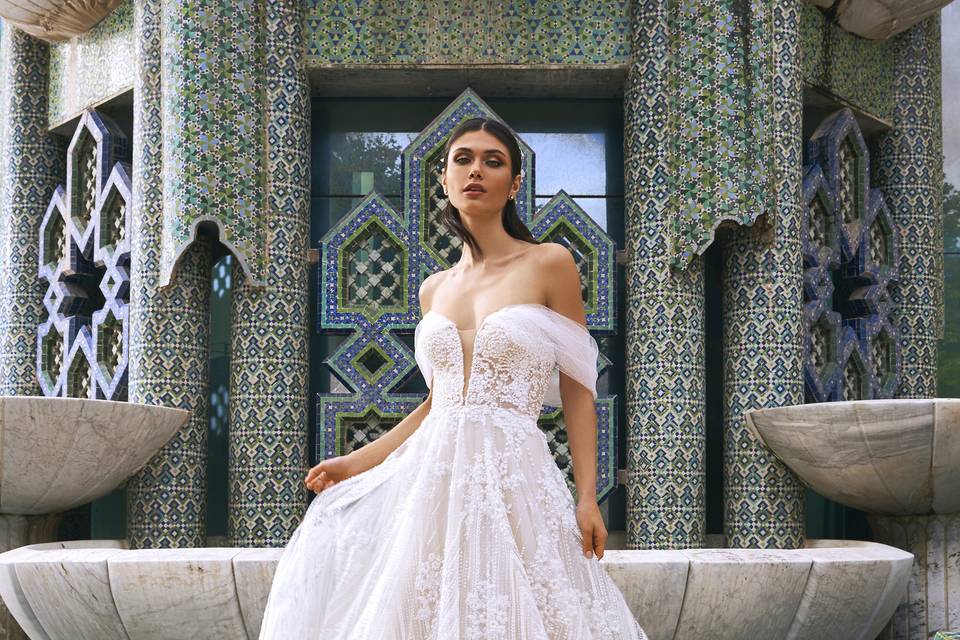 Let's kickstart this list with one of the best bridal stores in Milan Italy: Pronovias. If you have the opportunity to purchase your dress from the center of Milano, this is the most glamorous and fairy-like shop you'll come across. Pronovias plays the elegant princess card all along, making lace and transparency its eternal muse.
Not only can you shop your wedding dress at Pronovias, but you can accessorize with shoes and jewelry signed by the Milanese brand. Are you more of a princess kind of girl, or do you rely on boho vibes to build your everyday wardrobe? No matter the theme of your wedding – classic or modern, you'll find a dress seemingly made especially for you. Of course, if you'd like to customize your dress, Pronovias has got you covered.
Pronovias Milano Address: Via S. Pietro All'Orto, 6/8, 20121 Milano
2. Bridal Shops in Italy: The Woman in White Rome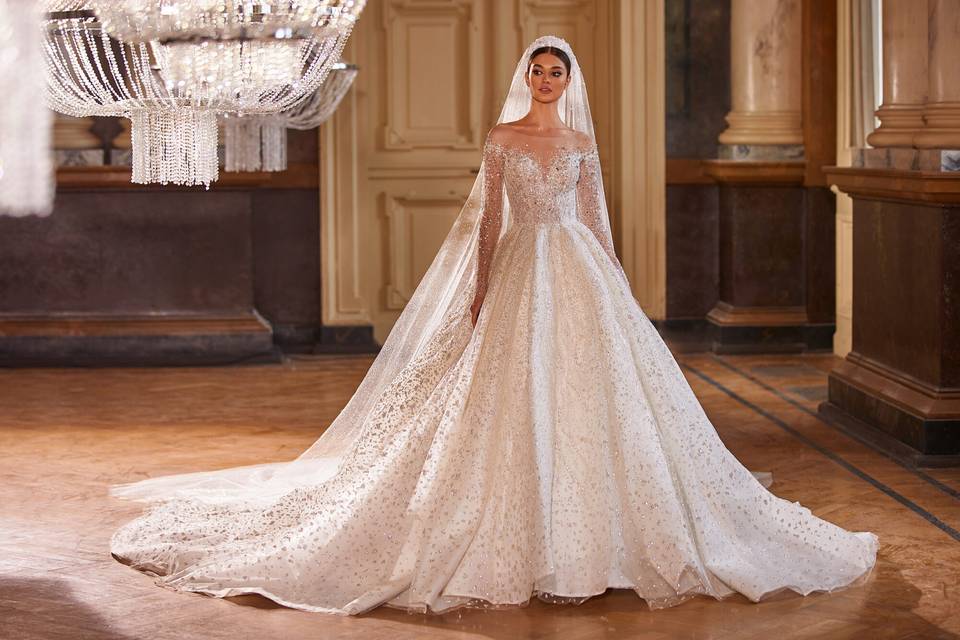 Among the most famous bridal shops in Rome Italy, visitors and locals should do well to check out The Woman in White. The Roman atelier infuses every design with quality and elegance, and you can also choose your wedding dress from a selection of different brands.
For instance, the famous Atelier Pronovias I've mentioned above is one of the bestselling The Woman in White brands. To Pronovias, we can add Vera Wang, Berta, Millanova, Nicole Milano, and Valentini among a dozen of other brand names.
The atelier is led by Paola Fabi and has been thriving for more than 20 years. Brides-to-be can choose a ready-to-wear wedding dress with an array of luxurious fabrics. Silk, chiffon, or taffetas blend in romantic models that range roughly from €2.000 to €9.000 a piece.
Whether you choose a classic or modern wedding dress, you'll definitely find your perfect dress at The Woman in White Rome. In addition, if you need to accessorize your outfit, the atelier offers a selection of gloves, shoes, jewelry, and veils.
The Woman in White Address: Via Tagliamento, 14, 00198 Roma
3. Bridal Stores in Milan Italy: Le Spose di Milano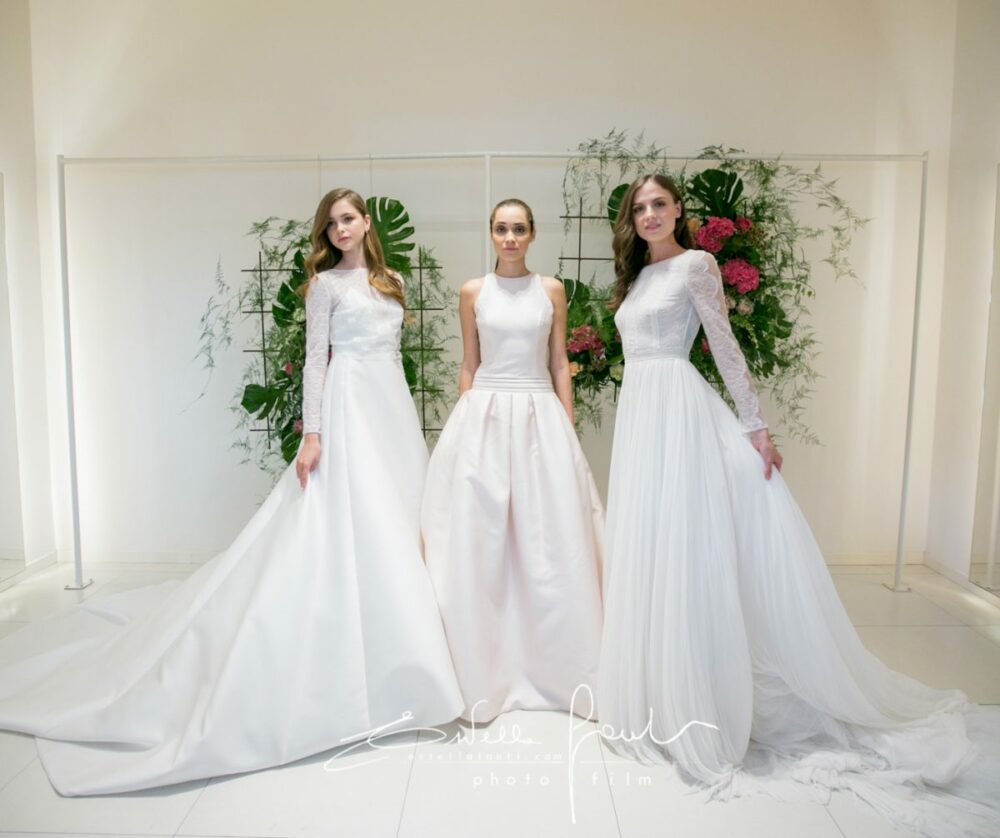 One of the most important bridal stores in Milan Italy, Le Spose di Milano offers a huge array of luxury and couture dresses. And who says that you absolutely need to have a wedding planner to treat yourself to one of their gorgeous dresses? Of all the wedding dress shops in Milan Italy, I can confidently say that Le Spose di Milano is the most luxurious.
Have you ever watched Gossip Girl and wondered which designer was behind Blair and Serena's wonderful wedding dresses? On the Le Spose di Milano website, you'll find similarly high-end wedding dresses from the likes of Reem Acra, Zuhair Murad, or Roberto Cavalli.
All style and chic since 1993, with none of the hassle of running from shop to shop. Plus, if you have specific needs regarding wedding organization, photography, or travel, Le Spose di Milano has bonded with a few partners that you can also book.
Le Spose di Milano Address: Piazzale Principessa Clotilde, 8, 20121 Milano
4. Carnevali Spose Rome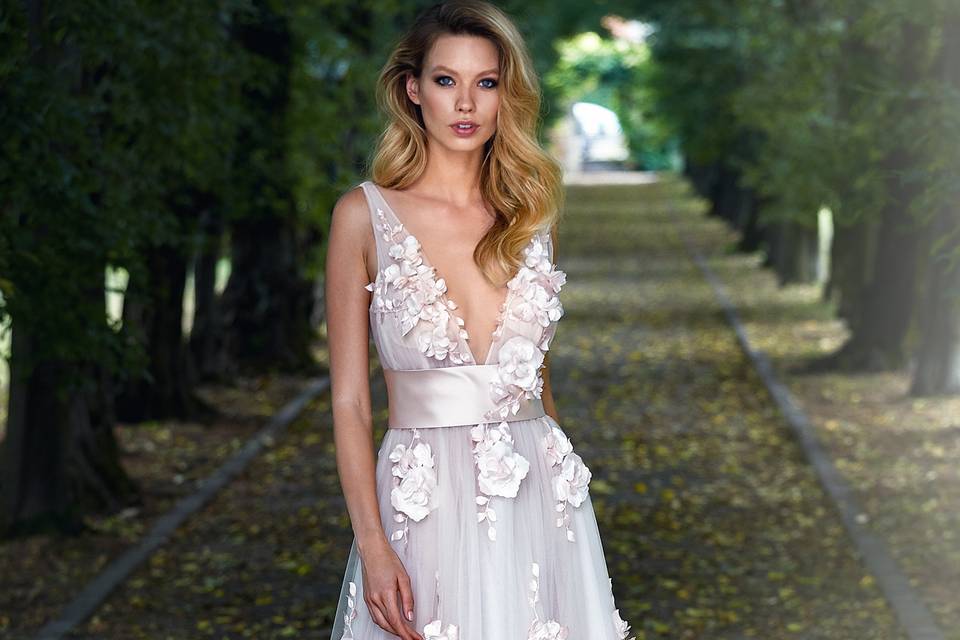 Carnevali Spose must be one of the oldest bridal shops in Rome Italy. Founded in 1939, it allies with each thread's emotion and sophistication. Rosa Carnevali started her own little shop in the Esquilino area at the beginning of the war in which she used to sell fabrics for famous designers of the era. When her niece Maria took over, Carnevali became Carnevali Spose, with the same goal of crafting fine quality wedding wear.
If you're the bride-to-be, you're sure to find a fairy-like design to match your femininity on your big day. However, if you're the groom or a guest, Carnevali Spose also offers a wide selection of tuxedos and ceremony dresses. Of all the bridal shops in Italy, it's one of those with the widest range of brands. Luisa Sposa, Pronovias, Aire or Cymbeline are all gathered in the Roman shop.
If you need to shop for bridal lingerie, a veil, or gloves to match your dress, Carnevali Spose offers beautifully-crafted models. It's best to order your dress three to nine months before your wedding so all the potential adjustments are made in time.
Carnevali Spose Address: Via Venti Settembre, 122, 00187 Roma
5. Wedding Dress Shops in Florence Italy: Stella Sposa Firenze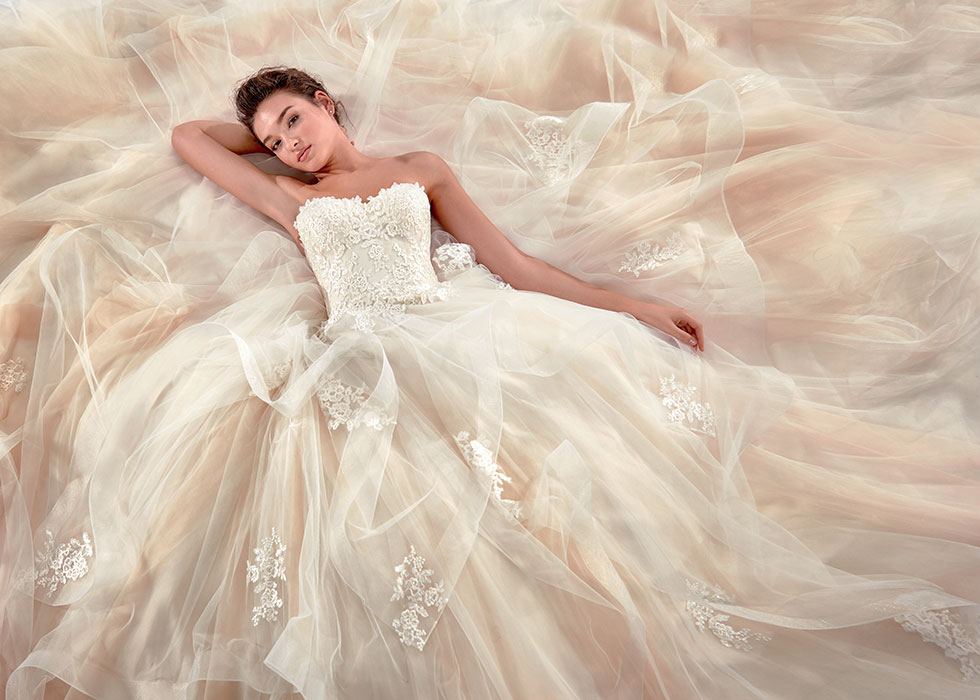 There are not many offers for Italian wedding dresses online shopping, let's be fair. However, when you witness the quality of the fabric and the service you can get from a wedding store, you'll thank yourself for taking the step. After all, choosing your wedding dress is supposedly a once-in-a-lifetime opportunity, one you should cherish and make physical memories of.
That's where Stella Sposa, a Florence-based atelier, comes into play. With wedding dresses and elegant cocktail dresses, Stella Sposa Atelier certainly colors the Italian bridal scene with preciousness. If you're keen on detail, this is a workshop that offers the finest craftsmanship. Budget between €1.000 and €3.000 for a beautiful Stella Sposa dress. The fact that it's located in Florence, one of the most romantic cities in Italy, is just a bonus.
Stella Sposa Florence Address: Via Reginaldo Giuliani, 139, 50141 Firenze
6. Bridal Stores in Milan Italy: Atelier Eme Milan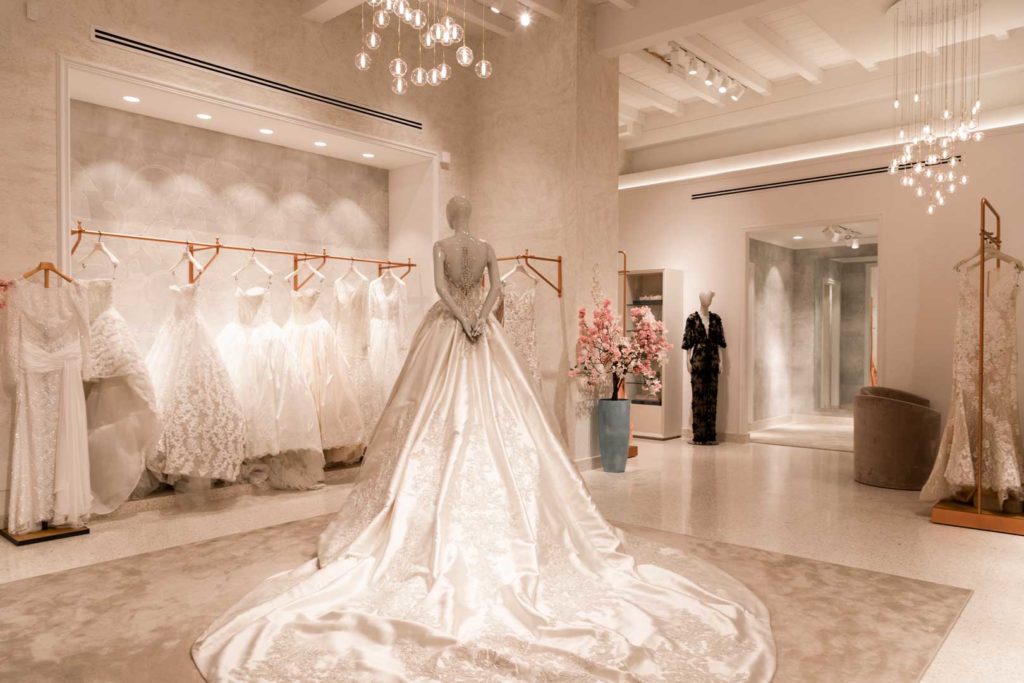 I'd be lying if I didn't say Atelier Emé is one of the best bridal stores in Milan Italy. Located in the heart of the city, the shop is everything you've been dreaming of since you were a little girl. Bridal couture Italia really has this classic yet free-flowing vibe, perfectly translated at Atelier Emé. The racks are laden with some of the shiniest dresses – crafted for brides and guests. That's also one of the wedding dress shops in Milan Italy where you can shop for matching bridesmaids' dresses.
The atelier was founded in 1961 and has grown in such a way that the amazing designs are retailed in over 41 shops in the whole of Italy. Fun fact: Atelier Emé has been part of the Calzedonia group since 2015, maintaining the luxurious feel of its every dress.
If you've been looking for bridal shops in Milan Italy where you can make it happen even on a tighter budget, Atelier Emé proposes the excellence of wedding dresses from €1.200. Oh, and if you're looking to get a dress custom-made, the Milanese experts are second to none in that matter.
Atelier Emé Address: Vicolo Giardino, 1, Milano 20121
7. Glen Couture Rome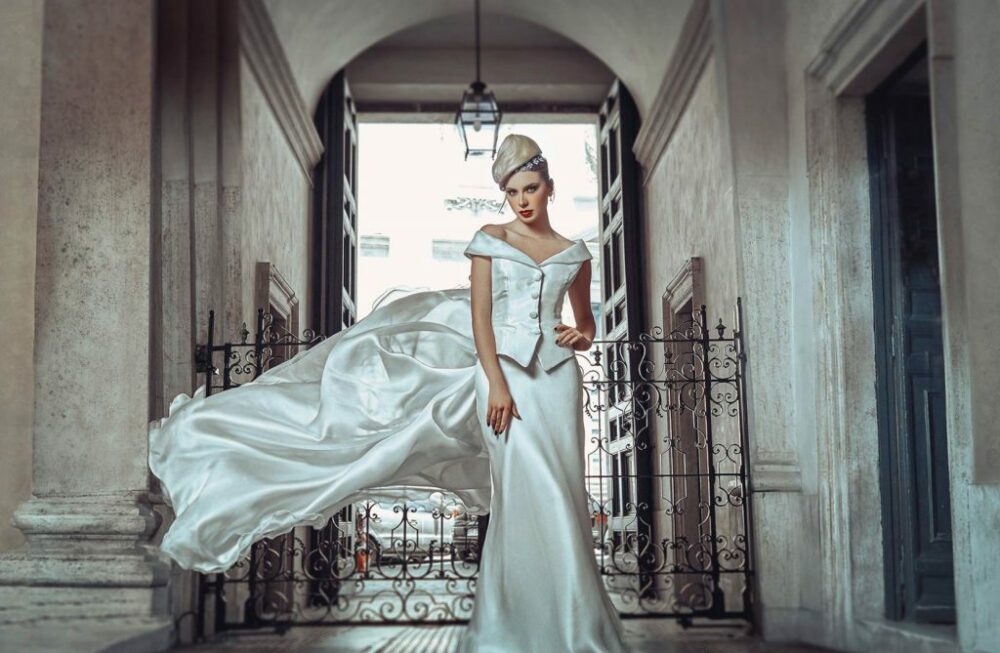 Of all the bridal shops in Italy, Glen Couture Atelier might very well be the most glamorous. All the shops listed in this post offer glam outfits to some extent. Some focus on pure, classic elegance, while others play on an out-there atmosphere. Glen Couture Atelier blends both and crafts extravagant wedding dresses that can still dress the shyest among us.
That's one of the bridal shops in Rome Italy that is rooted deep in the 20th Century. It was indeed founded in the middle of the 30s, an era where dresses and femininity were all the rage. Located a stone's throw away from Campo de' Fiori, Glen Couture Atelier will provide exclusive dresses made in collaboration with you. Fully customized to suit your shapes and personality, the Glen dresses are the dream of a lifetime for most of us. If you want to go the extra mile, create your own accessories with the Glen Couture designers!
Glen Couture Atelier Address: Piazza Benedetto Cairoli, 4, 00186 Roma
8. Bridal Stores in Milan Italy: Nicole Spose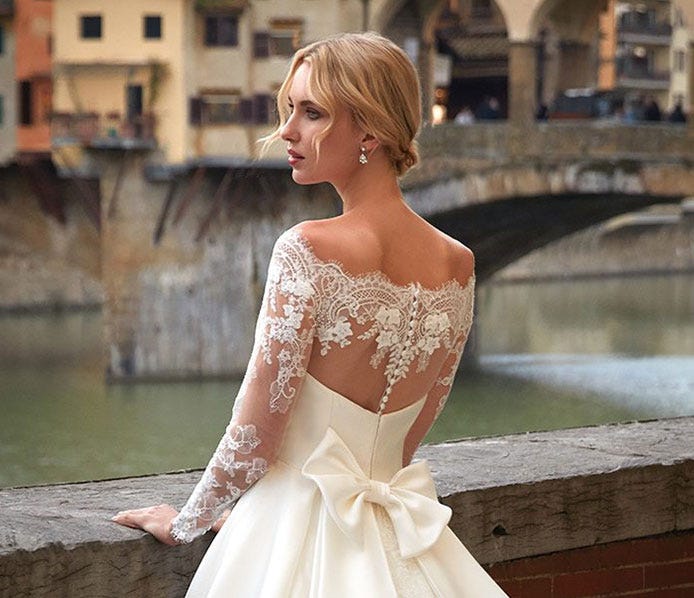 Nicole Milano is definitely a company that redefines bridal couture Italia. Founders Alessandra Rinaudo and Carlo Cavallo established Nicole in 1996, at a time where classic and edgy married effortlessly. The Italian style of the brand has elevated the bridal outfits of many around the world. More than just one of the simple wedding dress shops in Milan Italy, Nicole Milano has since long expanded to conquer the world.
Indeed, you can find Nicole wedding dresses in about 4.000 shops around the world. Cocktail dresses and bridal accessories are also available in the Nicole Milano range, the sister brand of fashion companies like Vera Wang, Pronovias, and St Patrick. I definitely suggest you check out the hair accessories and jewelry signed by Nicole Milano – they're the epitome of elegance.
Nicole Milano Address: Viale Beatrice d'Este, 7, 20122 Milano 
9. La Sposa di Firenze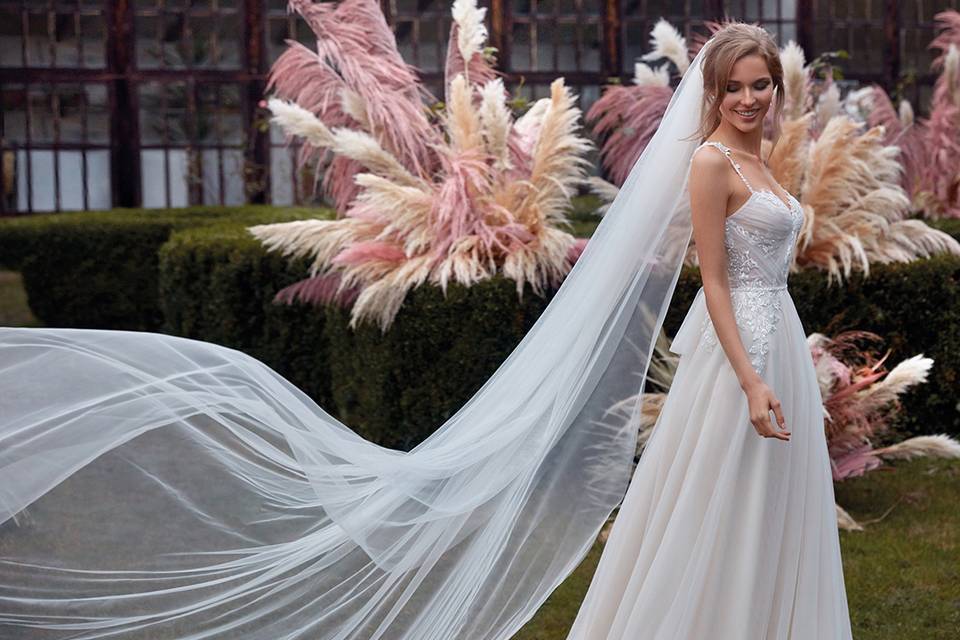 It's better not to go Italian wedding dresses online shopping. Once again, I'll prove that Italian dresses are to be touched and seen before you can shop for them. Make the moment as special as possible in one of the best wedding dress shops in Florence Italy: La Sposa di Firenze. The prestigious shop plays on classic, traditional, and modern designs to suit any personality.
If one piece of garment deserves all the detail and attention, it is the wedding dress. That's why the atelier also carries high-end brands such as Pronovias, Almanovias, and Rosa Clarà. It's all about formal sophistication and a deep understanding of the magic a wedding dress is supposed to translate. Only with that mindset has La Sposa di Firenze slowly become a one-stop-shop for your bridal needs.
La Sposa di Firenze Address: Via del Ponte alle Mosse, 136, 50144 Firenze
10. Bridal Couture Italia: Peter Langner Showroom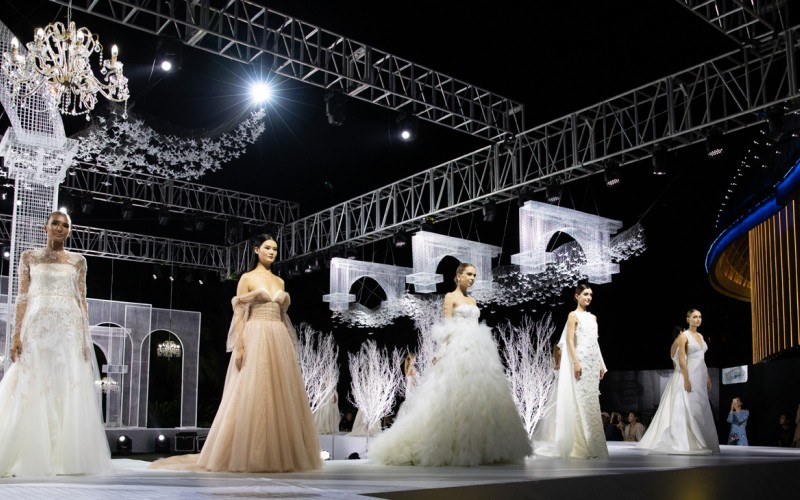 If I were to choose one of the most avant-garde wedding dress shops in Milan Italy, I'd pick Peter Langner Showroom. For over 30 years, the designer has worked his way to the top of the wedding Italian scene. Check out his wedding dresses – there is not one design I do not personally love. Naturally, bridal stores in Milan Italy benefit from the ultra-creative fashion scene. If you've never been to Milan, mesmerized is what you'll be when you witness the whirl of uber-fashioned outfits.
Much like Milano, Peter Langner is a synonym of style, edginess, and sophistication. Since 1991, the designer trained in prestigious Maisons like Christian Dior and Emanuel Ungaro has given Italian excellence a run for its money. You'd almost want to get married over and over again just to be able to wear these princess-like dresses a few more times.
Peter Langner Showroom Address: Via Bigli, 19, 20121 Milano
10 Best Bridal Shops in Italy
As we've seen, Italian wedding dresses online shopping is not that much of a thing in Italy. In any case, it's always preferable to go directly to the best bridal shops in Milan Italy, Rome, or the romantic Florence. Only that way can you really figure out what type of dress would suit you better. So, will you be a puffy dress kind of lady, or will a long silky mermaid-like dress set itself as your perfect dress? One thing is for sure: Italian wedding dress designers know their craft, and they know it well.
Our guess is that Pronovias might be one of your go-to bridal stores in Milan Italy if you want a full range of classic to avant-garde shapes. Still, you shouldn't miss out on some of the artisan wedding shops in Florence Italy for some dreamy designs. It is your perfect day after all, and wherever you choose to go, you'll be well-surrounded at one of those ten shops. I'd even tempt you to one of the most iconic Italian lipstick shades to match your outfit all day long!
Pin It: 10 Best Bridal Shops in Italy