Let's admit, men in Italian suits are always the most handsome! I mean, even when we weren't even interested in designer brands, if we've seen a man in an Armani suit we could have told it was an Armani. Tailored, high-quality suits speak for themselves, and the better the pick, the louder it speaks! So, are you in need of a suit for a special event? Or your business requires you to present yourself in suits to meet important clients? Whatever the reason is for you to be looking at these statement pieces, browse through these 10 best Italian suit brands to find the perfect match for you. We guarantee that you will find at least one brand to meet your needs between these mens Italian suits.
10 Best Italian Suit Brands – Italian Suits
How can you decide which brand of suits to buy out of the 10? It shouldn't be too difficult as each brand has its own unique style and suits made for different purposes. Most of them are easy to wear for casual meetings or business purposes, while others are suitable for important events such as weddings. Whatever the reason, these top Italian suit brands will not disappoint you. Let's see those mens Italian suits now!
1. Giorgio Armani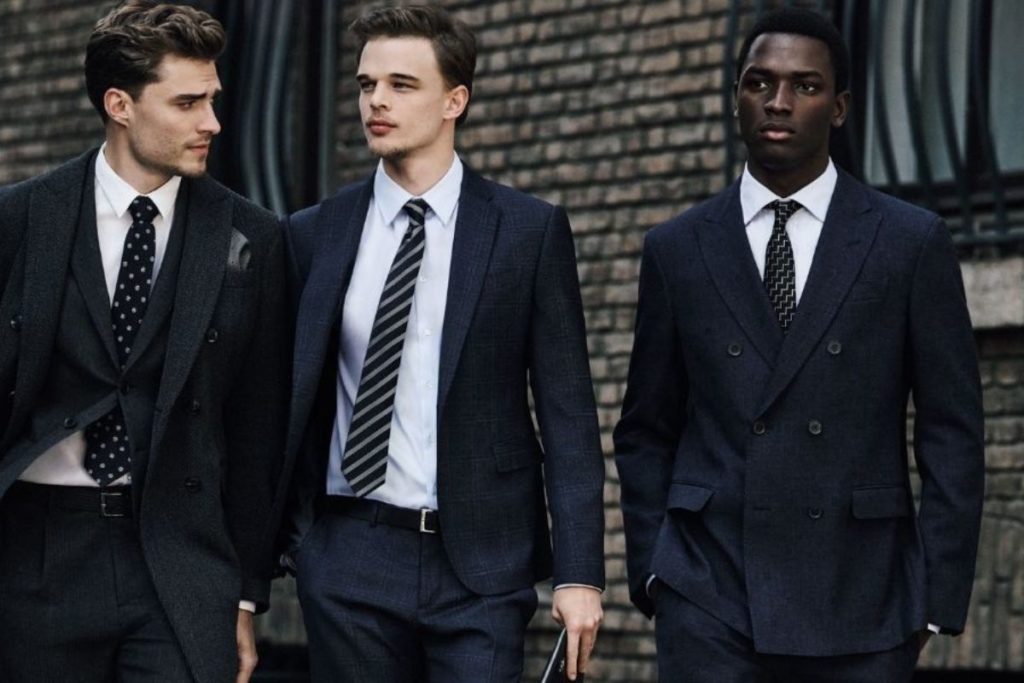 For the Italian suits men category, one of the biggest names is Giorgio Armani, one of the most important Italian fashion brands, wherever we can. Their first-ever collection of men's clothing was in October 1975 and founded by Giorgio Armani. Today Armani is without a question one of the top Italian suit brands and they were also called the "King of the Blazer". Armani's style is elegant, effortless, and very high quality.
The main website is armani.com where you'll find all of their clothing. You can also use the store locator, enter your country and find the nearest Armani stores around you. Armani also ships internationally for certain fees and if you have a store near you, they can ship to the store free of charge.
But let's talk about the suits now. Italian suits brands are all exquisite thanks to the craftsmanship that goes into each suit. On their website, you'll get to choose from slim-fit suits made of either light wool or stretch wool but even stretch canvas. There are a number of different colors, from black to gray and shades of blue. Use the size guide if you are unsure which size to go for.
2. Boglioli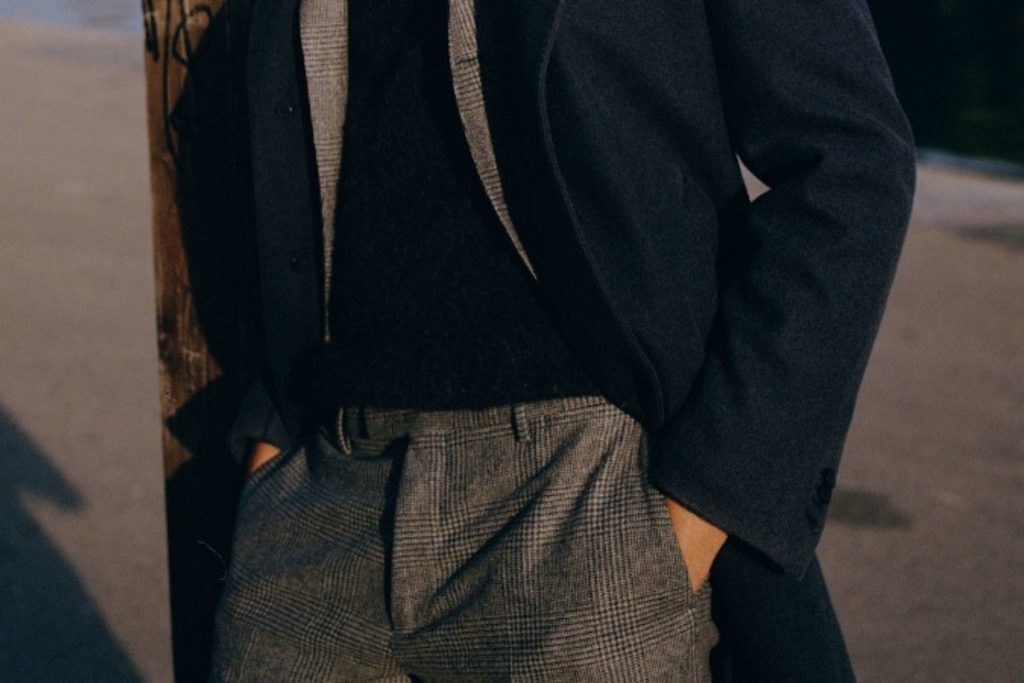 Here's another great pick for Italian suits for men! Among the best Italian suit brands Boglioli has to be mentioned. Founded in 1974 in Italy by an Italian family. First got famous for their garment-dyed jackets as their way of dying the garment was a true innovation at that time. What about today? Their suits are worldwide famous and a statement piece in gentleman's lives.
Where to find Boglioli suits? Well, besides their website bogliolimilano.com and retailers like Mr Porter, they also have boutique stores in New York as well as Milano. If you are in either one of these cities, have a look into the store to feel the materials and even get help from the store assistant in choosing the best suit for you.
What caught our eye when it comes to Boglioli suits is that they are the best Italian suit fabric brands, using unique colors and fabric. My favorite one is the beige double-breasted wool herringbone K-Jacket suit. Every detail is gorgeous with this suit. Boglioli also has sales going on so better check their website if you have an important event coming up.
3. Dolce & Gabbana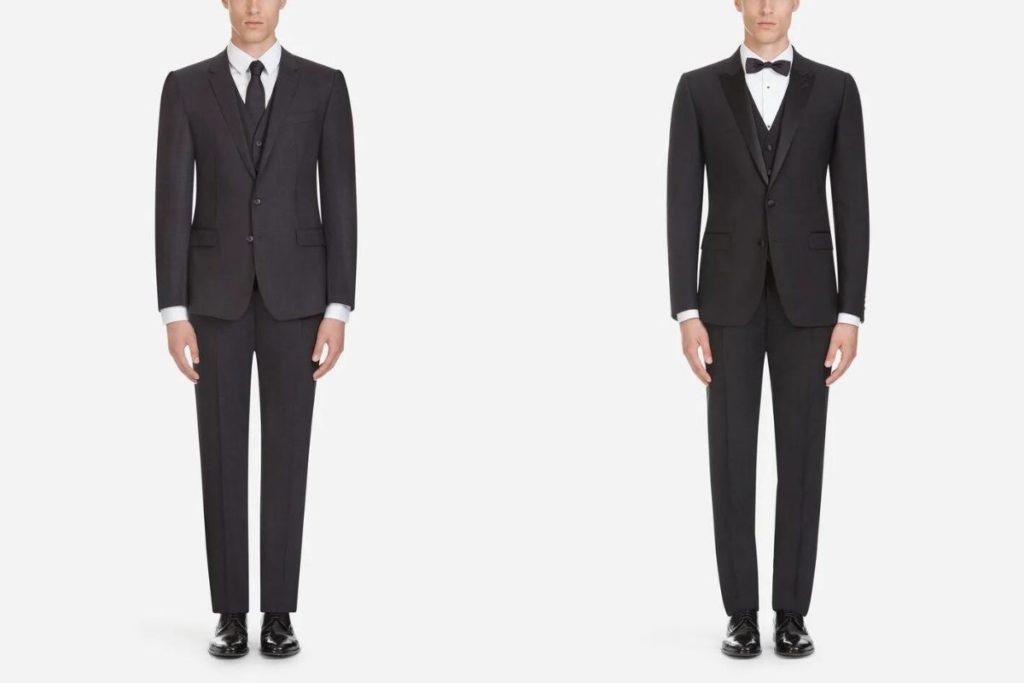 Yet another famous fashion designer brand everyone is familiar with, Dolce & Gabbana is also one of the top Italian suits brands. Founders Stefano Gabbana and Domenico Dolce came up with the idea of this luxury fashion house in 1085. This is their legacy and people will remember the brand for a lifetime.
Clothing is available on their website dolcegabbana.com and a few other retailers like Harrods. They also have multiple boutiques throughout countries, you just have to enter your location on their website under 'Find a Boutique' and you'll see the closest ones to you. D&G also ships internationally, delivering in 101 around the world.
Compared to the other two brands, Dolce & Gabbana are a bit more playful when it comes to suits. You'll find checked suits, pinstripe, casino fit, and even leopard-print suits. The three-piece Sicilia-fit suit in stretch jacquard is a real beauty. They are the definition of 'dress to impress' so you will not be disappointed with this style of the famous Italian suit brands.
4. Corneliani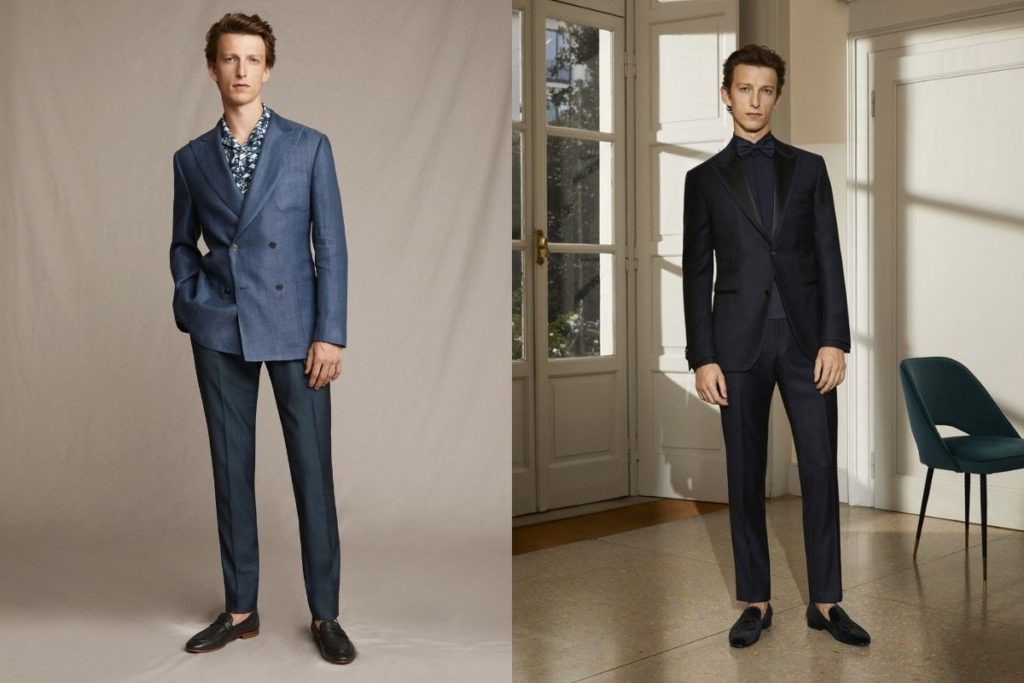 Here's another highlight in the Italian suits men category. Alfredo Corneliani started out by making raincoats and overcoats back in 1930. Thanks to his sons Claudio and Carlaberto the Corneliani brand was set up in 1959. Today it is one of the best Italian suit brands and is counted as a luxury brand for menswear. At the same time, they sell accessories too which go perfectly with the clothing.
Where can you find the best Italian suit fabric brands? Corneliani suits can be found on their website corneliani.com and also through other retailers. Milano is full of luxury fashion brands so it is understandable that the service 'Made to measure' is offered in their Milano store. You can book it via the website and Corneliani will help create an exclusive suit perfect for your needs.
If you are happy to browse their products online, you get a wide variety of gorgeous-looking suits. This style is more elegant and professional looking. Perfect for the office or even for events such as weddings, engagements, and birthday parties. The materials used are wool, silk, and linen and they are crafted to perfection.
5. Lardini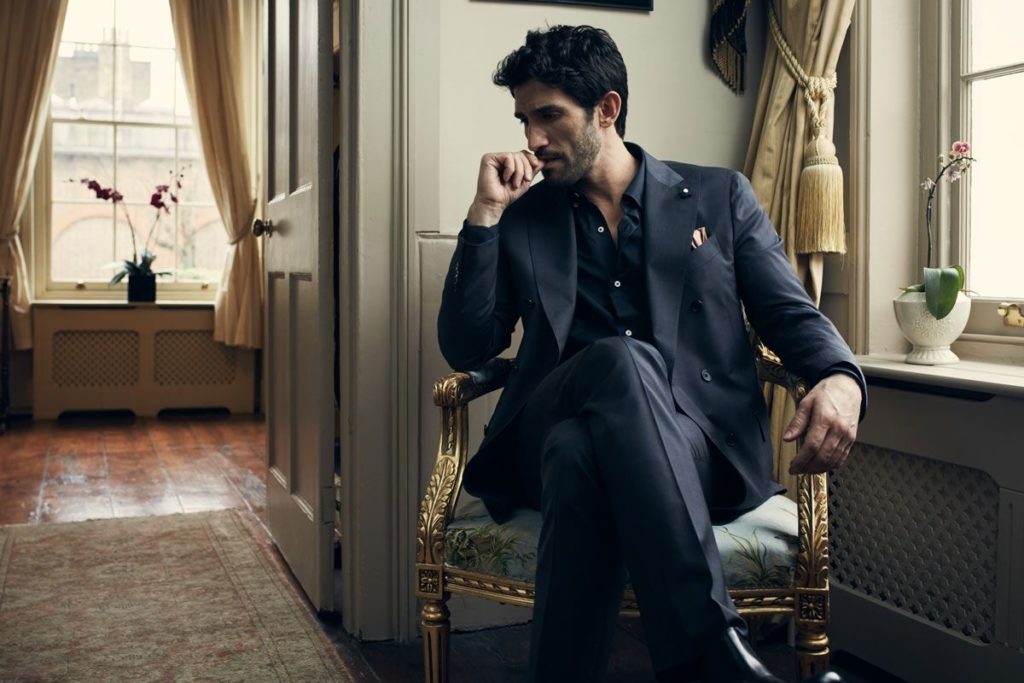 Let's see another brand of Italian suits for men! The brand Lardini was born in Filottrano, Italy in 1978 with the help of brothers and sisters Luigi, Andrea, and Lorena Lardini. It started out as a family business, founded by 18, 19, and 21-year-olds, and today, after 44 years it produces luxury items. These products contain ready-to-wear suits and they are crafted for men. Lardini is now among the top Italian suits brands next to Dolce & Gabbana and Versace.
On their website, lardini.com you'll find a store locator which tells you what are the closest stores, if any, around you. The Lardini Factory Store is still in Filottrano. Their latest collection of men's and women's for autumn-winter 2021-22 is inspired by '70s-style garments, with vibrant colors and different fabrics.
Lardini, the Italian suit brands offers more of a casual look. Their suits are formal, yet they look comfortable and effortless. These suits are easy to wear, and made out of wool. The suit with a grey stripe is from a special line. This Lardini suit is intended for a sophisticated look yet it is timeless.
6. Brioni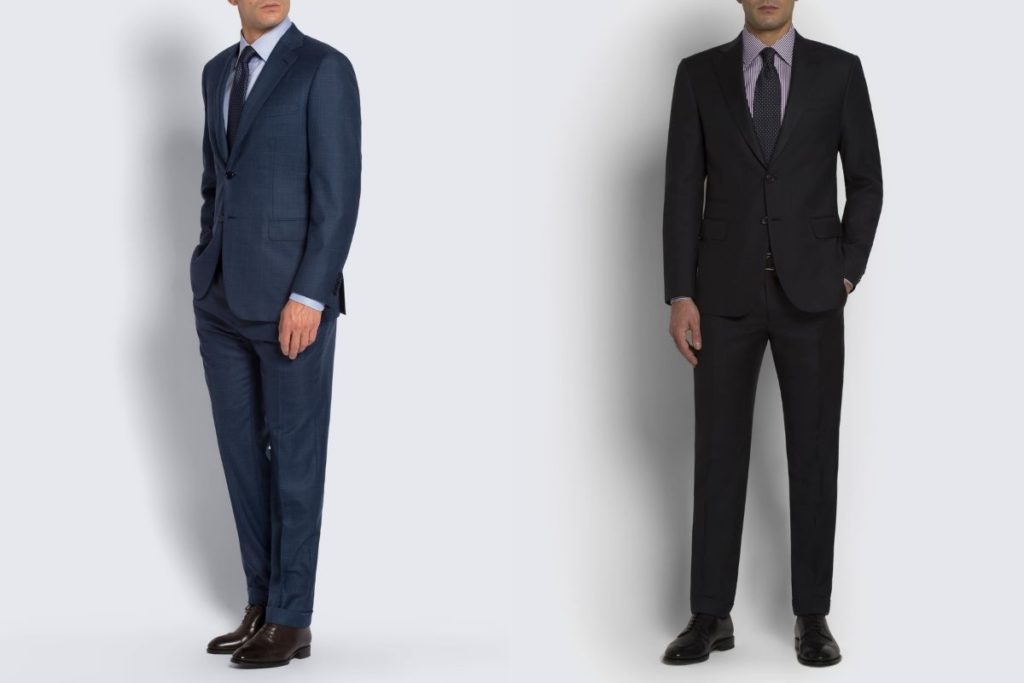 When we speak about Italian suits, we can't skip one of the most amazing of all! This fashion brand called Brioni which is one of the famous and best Italian suit fabric brands was founded in 1945. The founder was Nazareno Fonticoli and his business partner Gaetano Savini. Nazareno was already a tailor in those years and they invented the trunk show and Prêt Couture. The brand is now a part of Kering and it is a prestigious luxury brand for menswear.
Brioni suits can be found on the brioni.com website but also retailers such as Harrods. They ship worldwide and their stores can be found in different locations. Some of these locations include Italy, England, Germany, Las Vegas, New York, and many more. If you want to get the perfect suit, you can have a look in one of their stores at the best Italian suit brands.
So what do these suits look like? Well, the tailored suits are elegant and refined, and every piece is perfect thanks to the amazing Italian craftsman working in their factories. The attention to detail seems to be impeccable. These are timeless pieces and the materials are wool, silk, and linen. Colors range from bright sky blue to darker colors.
7. Canali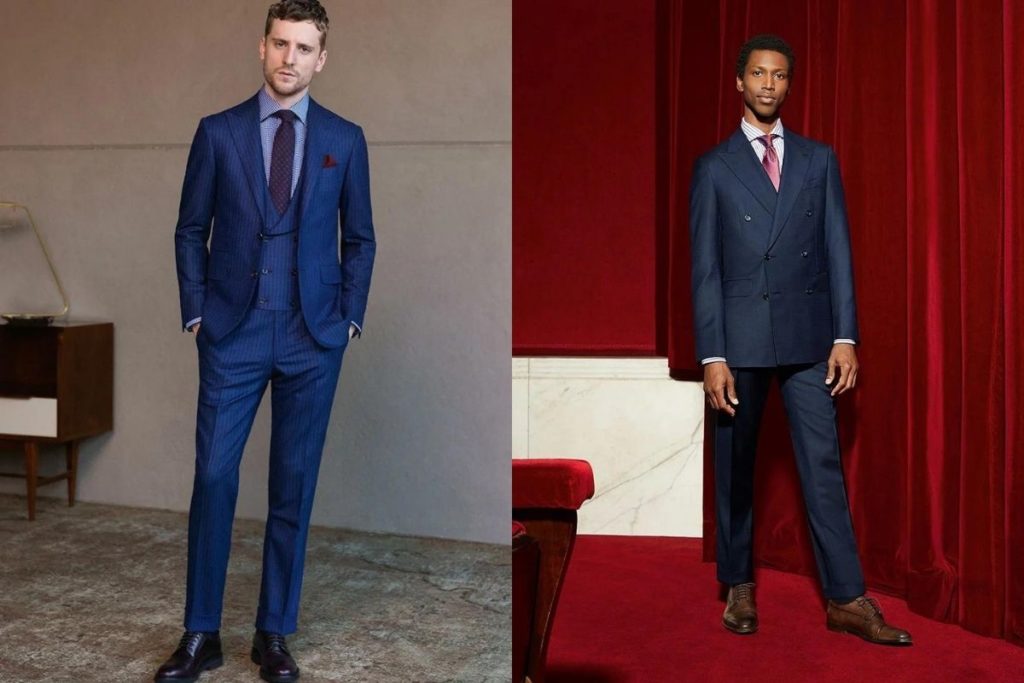 Here's more about the Italian suits men category! Onto the next of the best Italian suit brands called Canali. The founder of this brand is Giovanni Canali and his tailor brother, Giacomo. Firstly, the brand started its course in 1934 so which means it is now 86 years old and is considered a luxury fashion brand. Secondly, this small family business is now in its third generation and they are forever growing.
Where can you buy Canali? The main website is canali.com, furthermore, it can also be found in high-end retail stores. Canali boutiques are present in the biggest cities, but pretty much all over the world. Just simply go to their store locator tab and you'll see all of the different stores. They also ship worldwide!
This Italian suit brands is yet again elegant, and stylish, offering the best fit, both suitable for business looks and also for very special occasions. Compared to the other brands, Canali also uses fabrics like cashmere and we have to say, these suits are top quality. The burgundy wool and silk suit has a rich color and will definitely turn some heads.
8. Massimo Piombo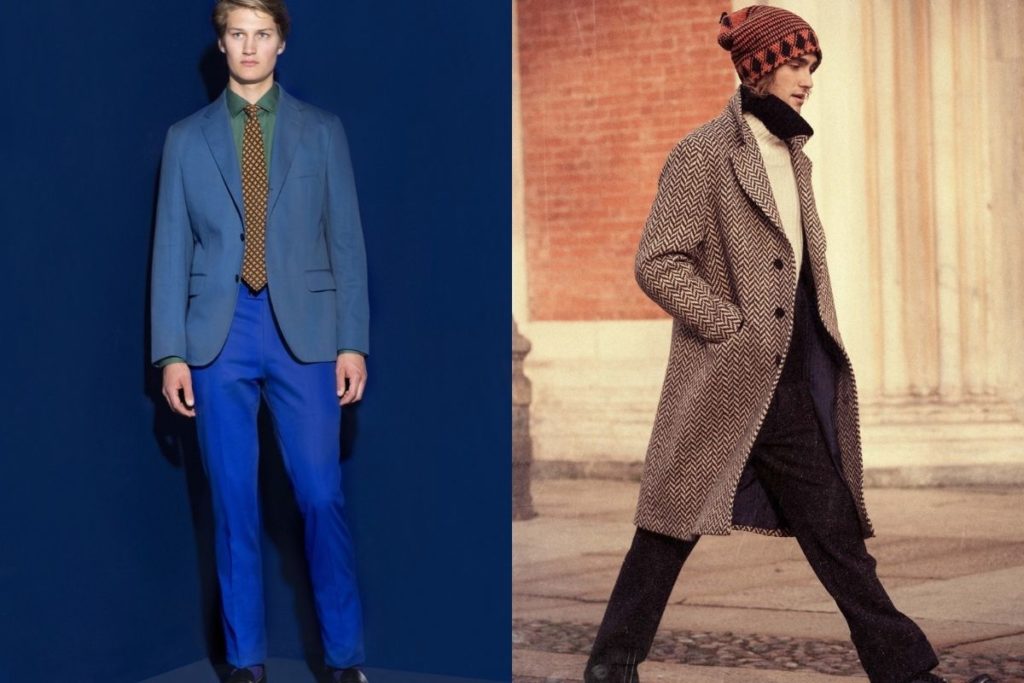 If you're still looking for Italian suits for men, check out this! Massimo Piombo is not a very old brand when we speak about Italian suits, however, it is one of the famous Italian suit brands. The founder is none other than Mr. Massimo Piombo and this brand has been around only since 1980. Why is Massimo Piombo special? Their fabrics are selected from all over the world and they offer elegant and timeless pieces for their customers.
While browsing the internet we did not find a website for Massimo Piombo. They are present on Mr. Porter which ships internationally so you can get it easily on their website. We also have to mention that Massimo Piombo does not only make quality and elegant suits, but they are also more affordable than the rest of the brands.
Massimo Piombo's style is quite simple, effortless, and timeless. As you saw pretty much all of these brands created timeless pieces, so you could wear your favorite suit multiple times. Some of the suits are suitable for more casual office wear, others are better for important events where you want to make an impression. The materials used are also mostly wool, linen, and silk.
9. Ermenegildo Zegna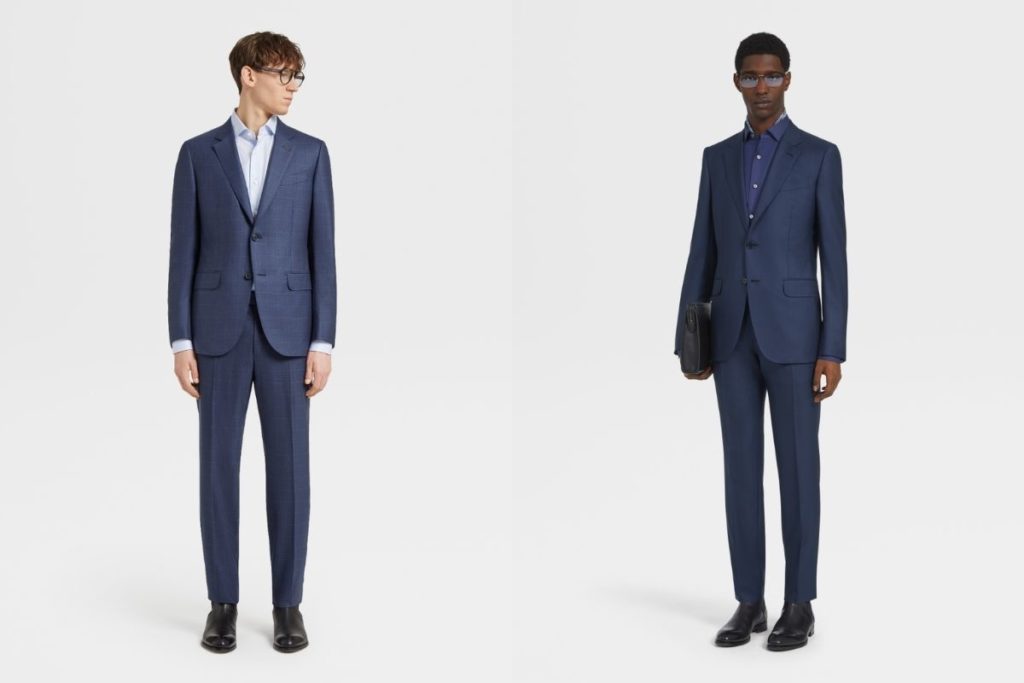 This brand was founded even sooner than the rest of the famous Italian suit brands before. Ermenegildo Zegna founded the brand in 1910 in Trivero. Thanks to his father who owned a wool mill and looms he started this brand with his brothers. Back then the company was named Fratelli Zegna di Angelo after his father's name. They had more name variations before it settled to Ermenegildo Zelda.
The suits can be found on zegna.com and through various other luxury retailers online. They also have a store locator and as soon as you type in a country, various stores will come up. With a purchase like this, it is always best to see and feel the suit in real life before ordering online.
According to their website, the suits and tuxedos are made from premium wool and the best quality materials for everything else. Suits such as the 'easy light suit' collection are a smart business look and they are so casual everyone can dress them up or down.
10. Brunello Cucinelli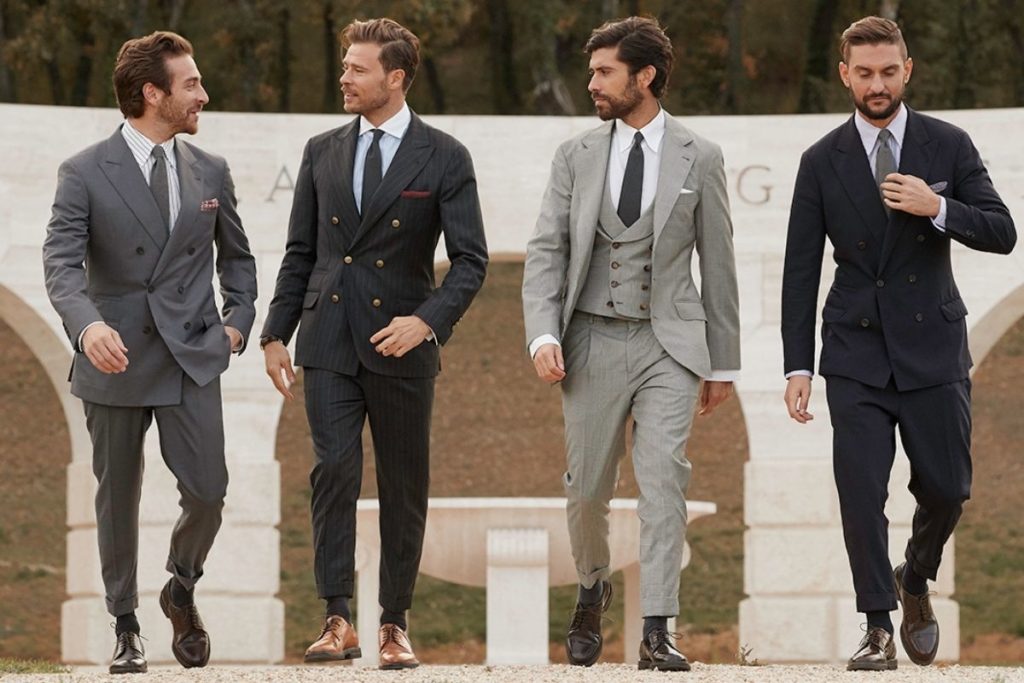 The last of the Italian suit brands we want to mention is Brunello Cucinelli, founded in 1978. Brunello started out with cashmere garments for women and later on it expanded to both menswear and women's wear and jewelry. Today it is considered an Italian luxury fashion brand.
The suits can be found on the brunellocucinello.com website, but also on Mr. Porter. Their boutiques are available throughout Italy and also the rest of the world. I have to say these suits are beautifully designed and the whole website is aesthetically pleasing.
Brunello Cucinelli suits are charming, and elegant and will make any men look like they are having the best day of their life. Most of the suits are made out of linen, wool, and silk. The attention to detail is quite impressive, tailored to perfection with each fit.
Best Italian suit brands – Conclusion
And that's a wrap for mens Italian suits. We hope you found a brand for your perfect matching Italian suits from these famous Italian suit brands and one you can wear on multiple occasions and be complimented on. When they say that nothing can beat Italian fashion, especially in suits, that is absolutely true! The famous Italian suit brands did an amazing job in creating timeless pieces and making men feel comfortable, really elegant, and also confident while wearing them. We hope you found your perfect match of Italian suits for men!
Pin it: 10 Best Italian Suit Brands