10 Best places to visit in Umbria Italy
Umbria is one of Italy's most famous regions, especially for its very natural landscapes. For the most part, it is still untouched by man, and it's only fair to wonder about the best places to visit in Umbria Italy on your next trip. The region is indeed large and provides the finest medieval towns, green mountains, and lakes. I am a big nature lover, as you might already know. Losing myself on a visit to the most famous volcanos in Italy or relaxing at the most beautiful Italian beaches is an end goal for me. That's why I felt like sharing with you the best places to visit in Umbria, Italy.
Umbria is one of the finest Italian cities, along with, say, Florence, Rome, or Verona. The charismatic Italian region is bordered by the rolling greenery of Tuscany, Le Marche, and Lazio. Also known as 'The Green Heart of Italy', Umbria in Italy appeals through the sheer natural beauty of its landscape.
10 Best Places to visit in Umbria Italy
It all looks like a lush green paradise in Umbria. Stunning hill towns, gorgeous lakes, fascinating Roman ruins, and lip-smacking local cuisine. Traveling to Umbria in Italy is surely the epitome of holiday heaven, and yet, many of us don't even know the Umbria Italy map. We're about to switch that up, so you can discover all the dreamy places to see in the region.
It's true that a few years ago, Umbria in Italy, was known, if at all, as Tuscany's less alluring sister. Not any more: these days, Italy's "green heart" is every bit as celebrated as its more famous neighbor. The reasons are simple: the region has all Tuscany's attributes – and even a few more.
True, it doesn't have the big set of pieces of Florence and Siena. Yet, it does have a coronet of far more intimate and easily visited hill towns – Gubbio, Assisi, or the famous Perugia. So, let's dive into the list of all the cool top attractions and things to do in Umbria!
1. Best Places to Visit in Umbria Italy: Orvieto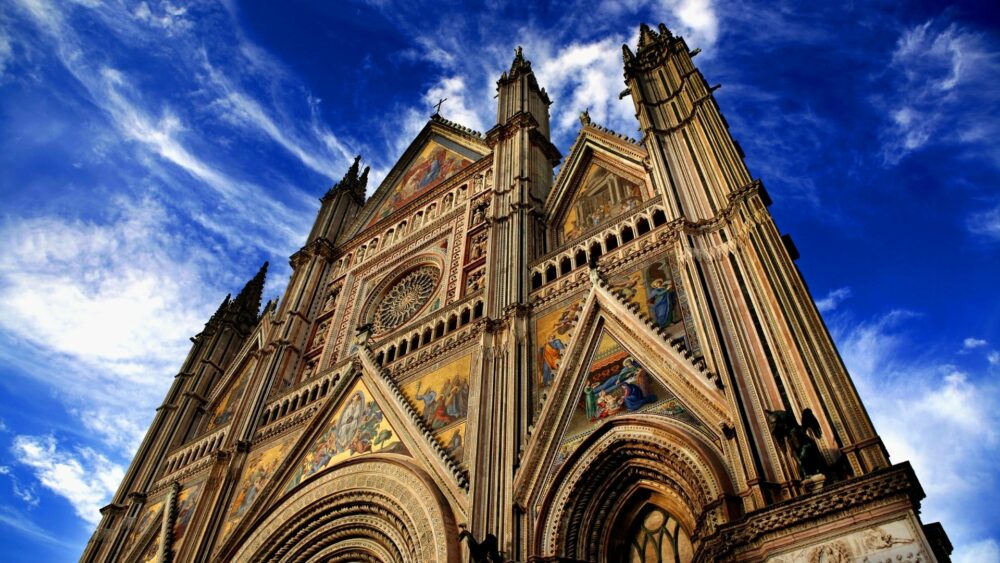 Orvieto is a small city perched on a rock cliff in Umbria, Italy. It is a town in southwestern Umbria (Italy) located 100 km north of Rome, on a fairly flat top of a large hill. Orvieto's art and cultural heritage are one of the richest in Italy. Orvieto tops the list of 10 best places to visit in Umbria, Italy due to its rich cultural heritage. Some of the best sights in Orvieto include the Duomo di Orvieto (Cathedral), and the Pozzo di San Patrizio (St. Patrick's Well).
The city's top tourist destination is definitely the Cathedral, a striking church with an unusual façade. Unlike most Italian churches with mosaics decorating their facades, this one is clearly and unmistakably Gothic in design. The Pozzo di San Patrizio is a well, 61 meters deep with two separate spiral staircases winding around the shaft to avoid a collision. One was built for the descent. The other one, for the ascent of the donkeys that brought up water from the well.
To be fair, there's much more to see in Orvieto, and that could definitely make for an entire article. One of the coolest sights is from the Torre del Moro. The quadrangular 13th-century tower overlooks the heart of the old city, offering 360-degree views from the observation deck. An elevator can take you about halfway, but you'll have to climb the rest of the stairs to the top. An inscription on the base of the Torre del Moro quotes Dante's Divine Comedy, referring to fights between the rival families of the Monaldeschi and Filippeschi in medieval Orvieto.
2. Best place to stay in Umbria Italy: Spello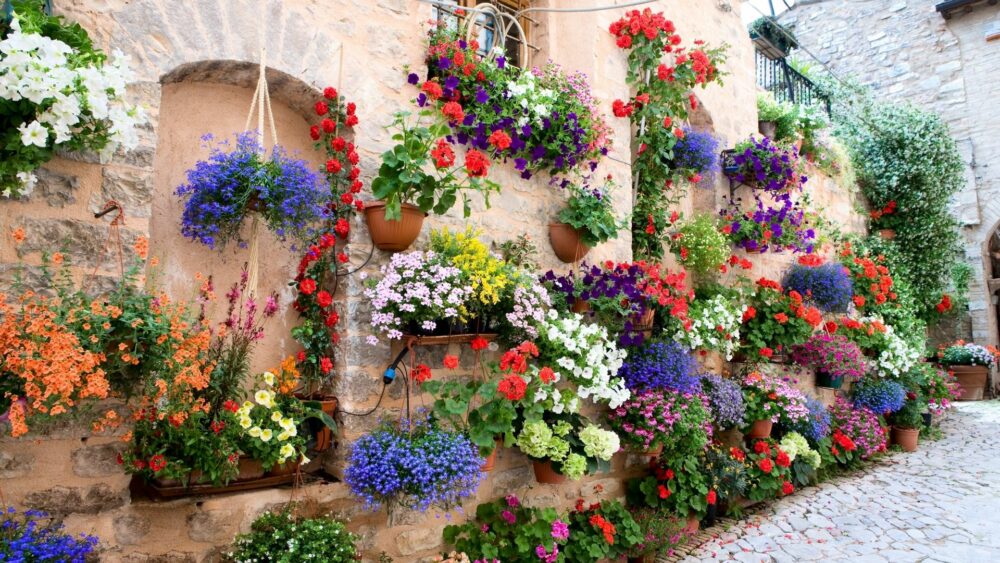 Spello is a picturesque Umbrian town near the more famous Assisi in the province of Perugia. Spello is a quaint, charming town with honey-colored houses cascading down the slopes of Saint Francis's mountain, Monte Subasio. This medieval town is surrounded by walls and today, is probably most famous for its famous flower festival, the Infiorata. Though a small town of 61 square km area, Spello is one of the best places to see in Umbria Italy. All you need to explore this fascinating town is a few hours. It is as charming as the images suggest! 
As such, whatever you do, don't miss the Infiorata (Flower Festival) held in May and June. The streets transform into a colorful wonderland, dubbing Spello the 'Capital of Flowers'. Admire all the Flowery Windows, Balconies, and Alleys of this village making it more beautiful, thanks to the competition where citizens participate and adorn their doorways and houses facades with plants and flowers.
Still, there are other beautiful panoramic points in Spello. One is just behind Sant'Andrea church. Another one (with a view the opposite side of the valley) is next to the Roman Arch, on top of the village Plan a one-day trip to this beautiful Umbria destination and enjoy the beauty of one of the very best places to see in Umbria Italy.
3. Umbria, Italy Destinations: Marmore Waterfalls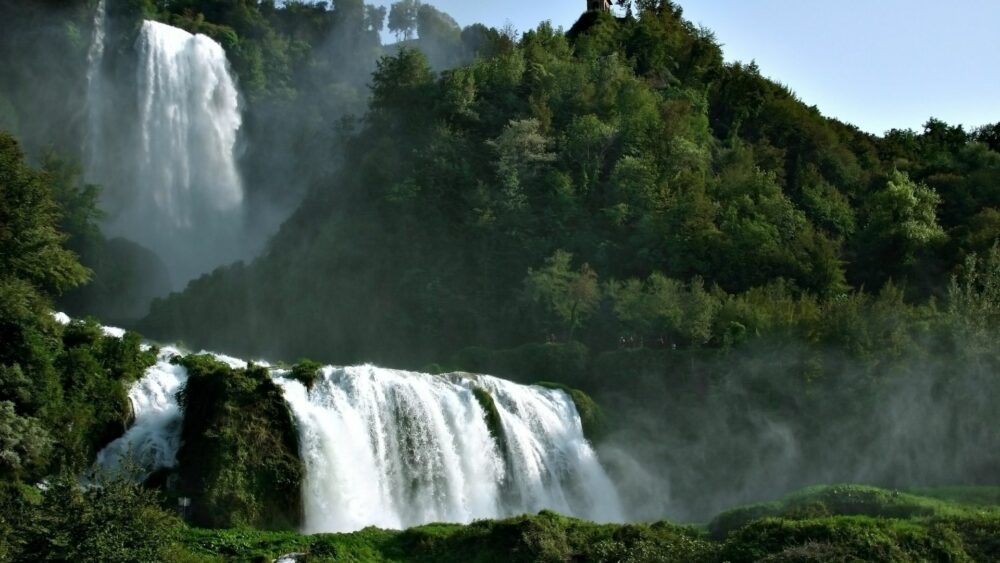 Regarded as one of the best falls in view, Marmore falls offer panoramic, spectacular scenery. The cascade is in full verve during the monsoon season and is quite a sight to behold. Marmore Falls is one of the tallest human-made waterfalls in the world, and the riveting brilliance of God's creation is depicted in the startling marvel of Marmore waterfalls.
This is, to me, the best place to see in Umbria Italy. The best time to visit Marmore waterfalls depends on what you want to encounter at these magical streams. October to June will give you pleasant weather and gushing, tamed water in the waterfall. Monsoon months from July to September see furious, yet exquisite water flow. Finally, from April to the end of September, there is also a paid shuttle bus service. Whether you prefer fact or fiction, the falls are a sight to behold. 
4. Best Umbria, Italy Cities: Spoleto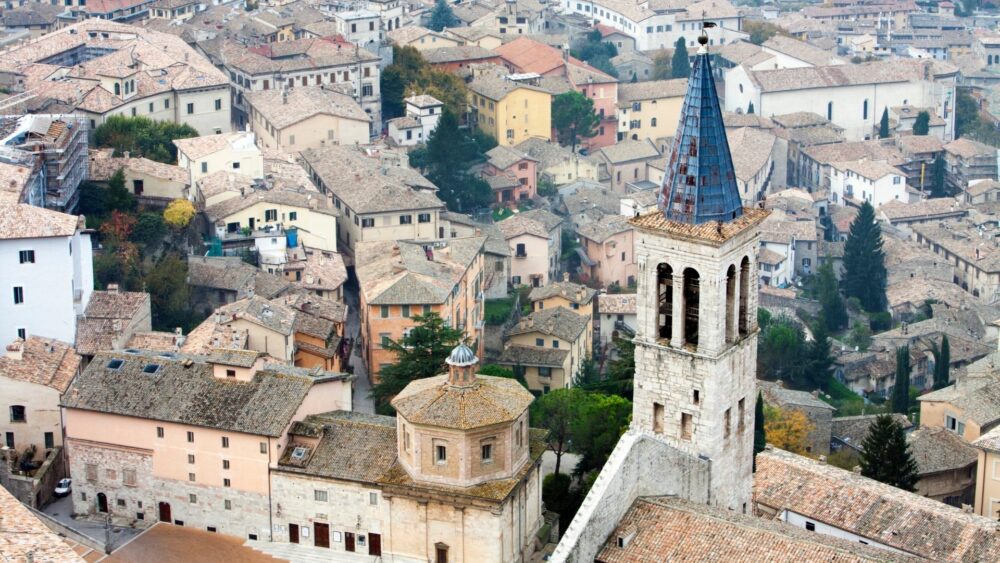 Off the main tourist track in Italy's green heart, you could say that Spoleto is "a hidden gem", to coin an overused term in travel writing. This is one of the Italian cities with rich offerings of music, theater, dance, and famous attendees in the summer months. Without a doubt, Spoleto is an Umbria destination to pass by for its rich and hearty cuisine, traditional handicrafts, and long-standing viniculture.
I'd say a dream holiday here starts with enjoying mornings drinking coffee in the square. One of the best things to do in Umbria is tasting fine wines in the surrounding countryside; the ideal town and country Italian hideaway. Vineyards of Montefalco and Bevagna are surrounded by sun-capped mountains, which makes this one of the best places to see in Umbria, Italy. 
Spoleto is most known for its historical Festival Dei Due Mondi (Festival of two worlds) which takes place the last week in June and the first two weeks in July since 1958, a tribute to various art forms. It features artists from all over the world including famous names such as Pavarotti and Andy Warhol. Additional festivals include the Festival of Colors (Spoleto in Colors) at the end of April, a wine lover's festival at the end of Spring, and during harvest season, the Frantoi Aperti (open olive mills).
Spoleto definitely sets itself as one of the best places to stay in Umbria. It's not all about art, olives, and vineyards. One of the best places to stay in Umbria Italy is the charming mom-and-pop place Osteria del Trivio in Spoleto. This osteria is home to a cheerful bright atmosphere with checkered tablecloths and freshly made Italian pastries.
5. Best Place to Stay in Umbria Italy: Norcia, The Trekker's Paradise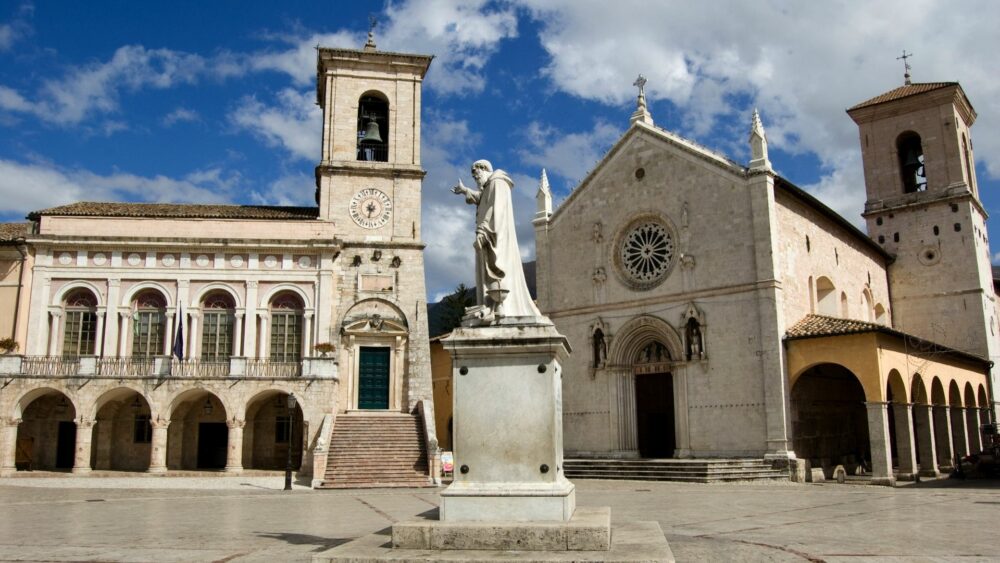 Rich in a large historical and artistic heritage that places it among the best places to visit in Umbria Italy, Norcia is located in the lovely Valnerina Valley. Nestled in the heart of the Sibillini Mountains National Park, the town is surrounded by mountains of more than 2000 mt, a day-trippers and skiers paradise. Norcia housed goldsmith and painting workshops and used to be a town populated by artists and experts in medicine, law, and literature.
The medical care from here was well noted in ancient times and the town's Roman name of Nursia was bestowed upon caregivers – "nursino". It still has artisan shops and is considered one of the most interesting places in the whole Valnerina. Shopping in Norcia is also one of the best things to do in Umbria.
Norcia also makes a place in the list of one of the best places to stay in Umbria Italy for religious people. Norcia is most famous for being the birthplace of St Benedict, the founder of modern monasticism. The statue dedicated to him is located on the main square. Start with some sightseeing, and then, shopping for local produce should be your next step. You will find a lot of gift shops and norcinerie around (norcineria is a store with salumi, prosciutti and other products from wild boar and pork, that also sells cheese like pecorino, black truffle products, lentils and other things the area is famous for).
6. Best Things to See in Umbria: Wildlife at Monti Sibillini National Park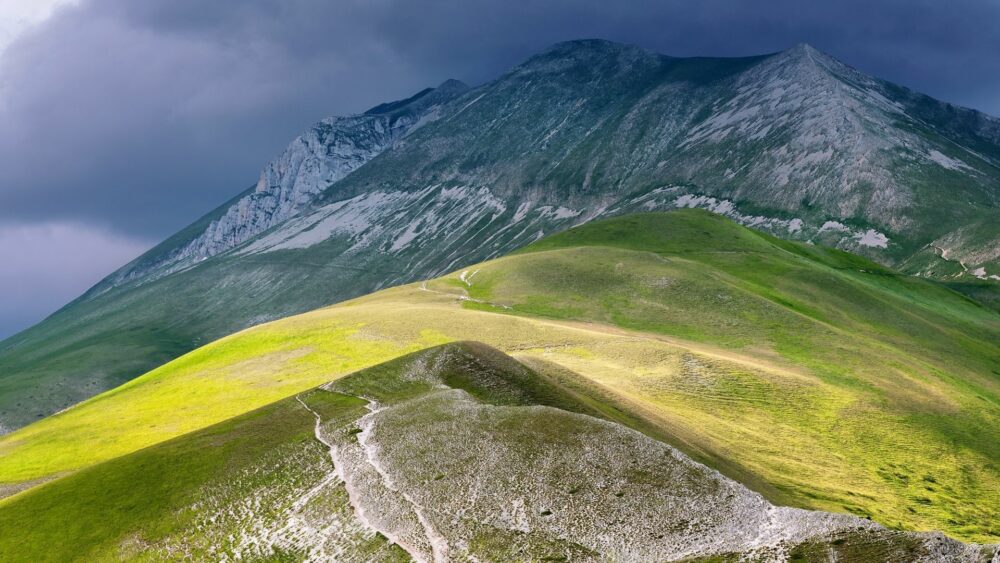 The Monti Sibillini National Park (Italian: Parco Nazionale dei Monti Sibillini) is a national park located across the regions of Marche and Umbria, encompassing the provinces of Macerata, Fermo, Ascoli Piceno and Perugia. Explore the realms of wildlife in Monti Sibillini National Park – one of the rising tourist Umbria destinations. A travel experience in these parts might very well be the most realistic thing you do in your life. Nature living is rough, but here, it's one marked by culture, that leaves the visitor with unforgettable emotions.
Some of the best things to see in Umbria had to be the natural landscapes. The Parco Nazionale dei Monti Sibillini's Visso is one of the best places to see in Umbria Italy. Not far away, cars and individuals alike can take a tour of the Gole della Valnerina, gullies that were dug by erosion from the River Nera. You can also hike on the massif Monte Bove (resembling more a Dolomite summit than an Apennine one). 
Wondering where are the best things to do in Umbria Italy in the National Park? For one, the Park of the Cascade offers the unique opportunity to practice sports disciplines. Trekking, caving, canyoning, rafting, climbing all perfectly belong to the list of best things to do in Umbria. Inside the park, you can practice all these extreme sports under the guidance of qualified instructors and guides. Without a doubt, rafting is one of the most adventurous and best things to do in Umbria in this national park.
7. Things to see in Umbria: Todi in Umbria, Italy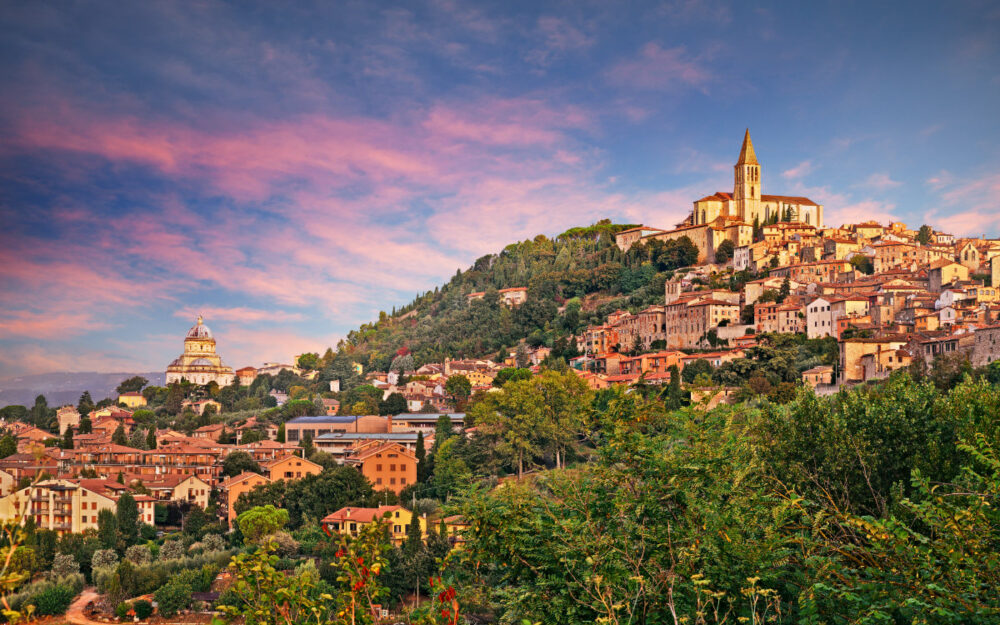 The hilltop town of Todi overlooks the picturesque Tevere Valley. Surrounded by three sets of walls, the town conceals many hidden treasures. Each wall was built in a different historical era. For instance, the innermost is Etruscan, the middle one Roman, and the medieval wall from the Middle Ages.
Todi reached its apex during the Medieval period, which you can see from the splendid municipal palaces and enchanting religious buildings. You can admire the Santa Maria della Consolazione Church, the Piazza del Popolo, and the ancient arches built in between the houses. The tradition and culture are also reflected in the walls built around, and in what is left of the amphitheater. 
In the Museo Civico, you'll see the famous Eugubine Tablets, Umbria's most important archeological find. It's also worth paying a visit to the Duomo, the Palazzo Ducale, and the Basilica of Sant'Ubaldo. Other highlights include visiting the 16th-century Consolazione Temple with its gorgeous dome. You might know how much I love visiting the underground, like the Sotterranea Napoli. In Todi, you can explore the Roman-built underground cisterns, and stroll down the narrow streets in search of handicrafts.
8. Best Places to see in Umbria Italy: Lake Trasimeno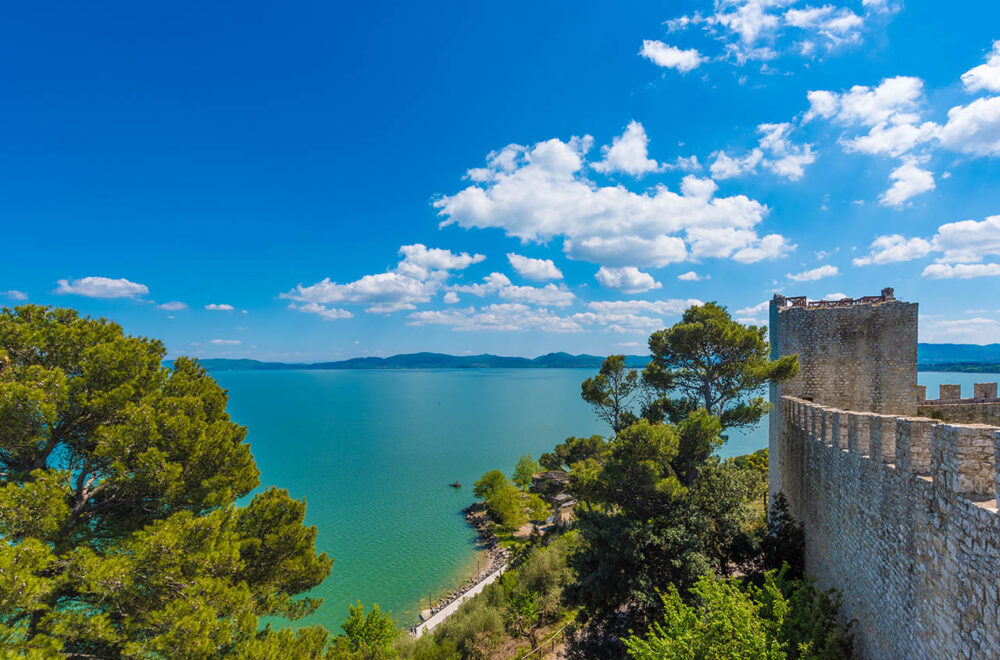 If activities like boating, bird watching, and jogging tantalize your senses, then Umbria in Italy welcomes you. Lake Trasimeno, with its hillside olive groves, undulating vineyards, and quaint stone villages, is one of the most enchanting destinations in Umbria. The fourth-largest of Italy's lakes, Trasimeno surrounds itself with ancient towers, fortresses, and Renaissance-style churches. On the lake itself, you'll find pastel-colored wooden fishing boats. Around you, three scenic lake islands, and some of the most dramatic sunsets in Umbria, Italy cities. 
Do take your time to explore the lake's islands, and towns, and enjoy the decadent cuisine. There is so much to taste, from wine to olive oil, fish, and legumes. They all flourish deliciously in Trasimeno's microclimate. Hike and bird watch in Isola Polvese's nature park and browse the famous Irish lacework in Isola Maggiore.
I'd also suggest a visit to Castiglione del Lago. That's the most popular town, perched on a small promontory. Take a drive along the scenic Percorso Storico Archeologico della Battaglia and soak up the gloriously slow pace of Monte del Lago. A dream.
9. Best Places To Visit in Umbria Ita

ly: Gubbio, The City of Fools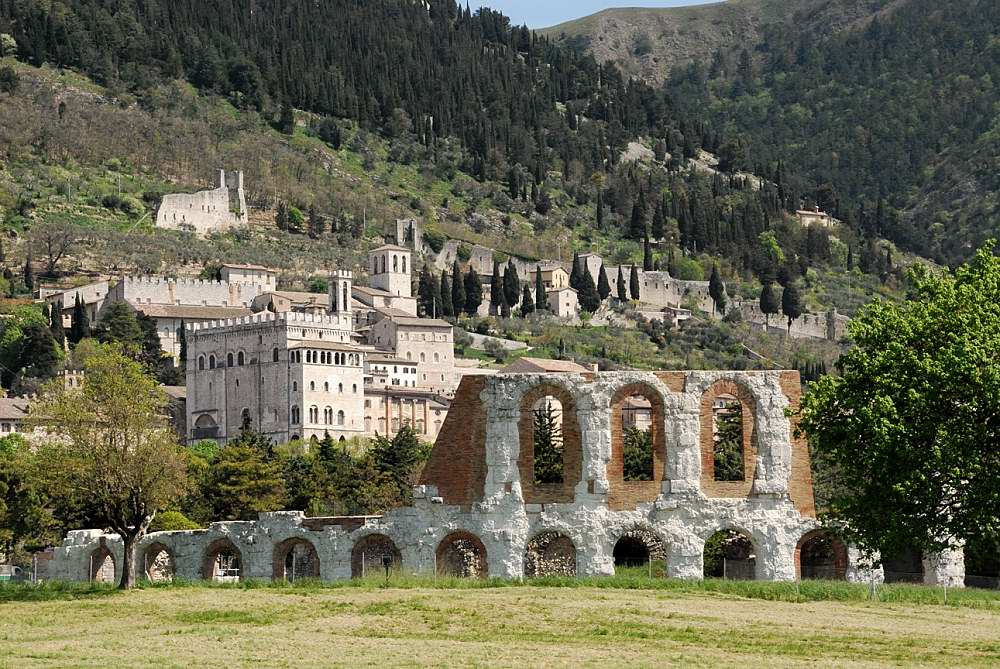 Gubbio is also one of the best places to visit in Umbria Italy. It lies at the foot of Mount Ingino, just northeast of Perugia. Despite being so close to Assisi, it's surprisingly off the main tourist track. Surrounded by avocado countryside and connected to Mount Ingino via a scenic cableway, this hillside Italian town is undeniably magical. If you like losing yourself in nature, that's one of the best places to stay in Umbria Italy. When it comes to authenticity, architecture, and atmosphere, Gubbio has it all.
Dating back to pre-Roman times, Gubbio is one of Umbria's oldest towns. The town center is a pleasing mix of medieval, gothic, and Renaissance architecture built from grey limestone. It also bears the name "City of Fools" because you can obtain a "madman's license" (and Eugubina citizenship!) in Gubbio. All you need to do is merely circle the small fountain in Largo Bargello three times.
Gubbio retains much of its medieval appearance. For instance, principal monuments include the Palazzo dei Consoli, housing a museum containing the famous Iguvine Tables and an art gallery; the 15th-century Palazzo Ducale; the 13th-century cathedral; and other old churches. Gubbio has two traditional medieval festivals in May. Cereals, wine, olive oil, tobacco products, cement, and brick are all local produce there. There, the craft of ceramics is highly developed, as are the crafts of embroidery, lace making, and wrought iron.
10. The Capital of Umbria in Italy: Perugia
With a pristine medieval center and an international student population, Perugia is Umbria's largest and most cosmopolitan city. Nestled within central Umbria, Perugia is the region's thriving capital. This picturesque Etruscan town is charmingly medieval, with a backdrop dominated by Italy's largest fortress, the Rocca Paolina. Believed to be older than Rome, Perugia definitely lives up to its steadfast reputation.
Reminders of its lively and often bloody past are everywhere, from ancient arches and medieval basilicas to Renaissance frescoes by the likes of Perugino and Raphael. As if all that wasn't enough to tempt you to Umbria, Perugia is also the 'Chocolate Capital of Italy.' It's home to world-famous chocolatier, Perugina, creators of the legendary Baci chocolate kisses.
Visit in October and immerse yourself in the Euro Chocolate Festival with its theater and music performances, cooking demonstrations, and chocolate art exhibitions! Perugia is undoubtedly one of the best places to stay in Umbria Italy, and to be fair, I personally think it is. If you'd consider staying in the town, make sure you check our list of the best hotels in Perugia!
Wrapping up 10 Best Places to visit in Umbria Italy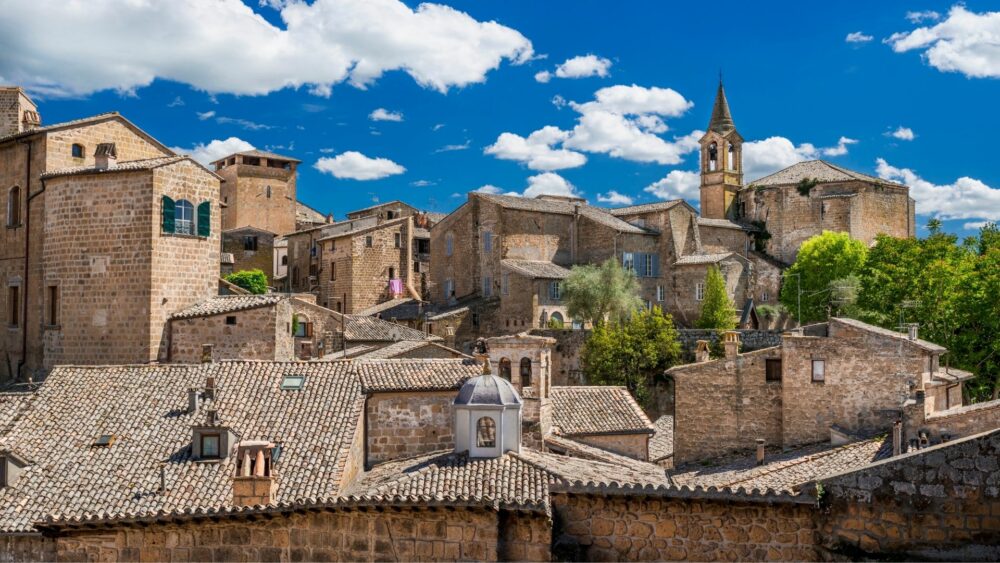 Travel while you're still young. Lose yourself to find your own self. Live like there's no tomorrow. And whatever you'll explore today will last a lifetime with you. No matter how many places are on your bucket list, this list will get you dreaming of places near and far. These are not just Umbria destinations but fun places that will offer you some crazy experiences of a lifetime.
What are you waiting for? You have now got the answers to what the best things to do in Umbria are, and maybe most importantly, the best places to stay in Umbria. Now it's time to pack your bags and set on a journey to scratch off a few destinations from your bucket list. It's time to visit these bright cities to explore yourself on a journey and determine your favorite pick from these best places to visit in Umbria Italy! If you'd like to discover another brilliant destination to include on your bucket list, take a look at the best castles in the Lazio region, just nearby!
Pin It: 10 Best Places to Visit in Umbria Italy