10 Best Places to Stay in Capri
Are you wondering where to stay in Capri? You already booked your tickets to Italy and you're just researching the area, finding the best hotels in Capri and restaurants to eat at. Well, look no further. We made a list of the best hotels in Capri Italy. Some of these are 5-star luxury hotels, while others are on a budget. One thing is for sure, they offer excellent services and beautiful views.
If you are just thinking of going to Capri on a vacation, then let us convince you why it's a good idea. Capri is in one of the regions called Campania which is considered one of the most visited and most beautiful locations in southern Italy. Capri is just naturally jaw-dropping and you get to do so many activities.
10 Best Places to Stay in Capri Italy
On the island of Capri, Marina Grande is a famous port where celebrities anchor their yachts. Besides having a fabulous vacation, you might also bump into a celebrity. But if you're unsure where to stay in Capri on a budget, we got you covered. On this list, you'll find amazing apartments to stay at. Let's start with the list!
1. Hotel Punta Tragara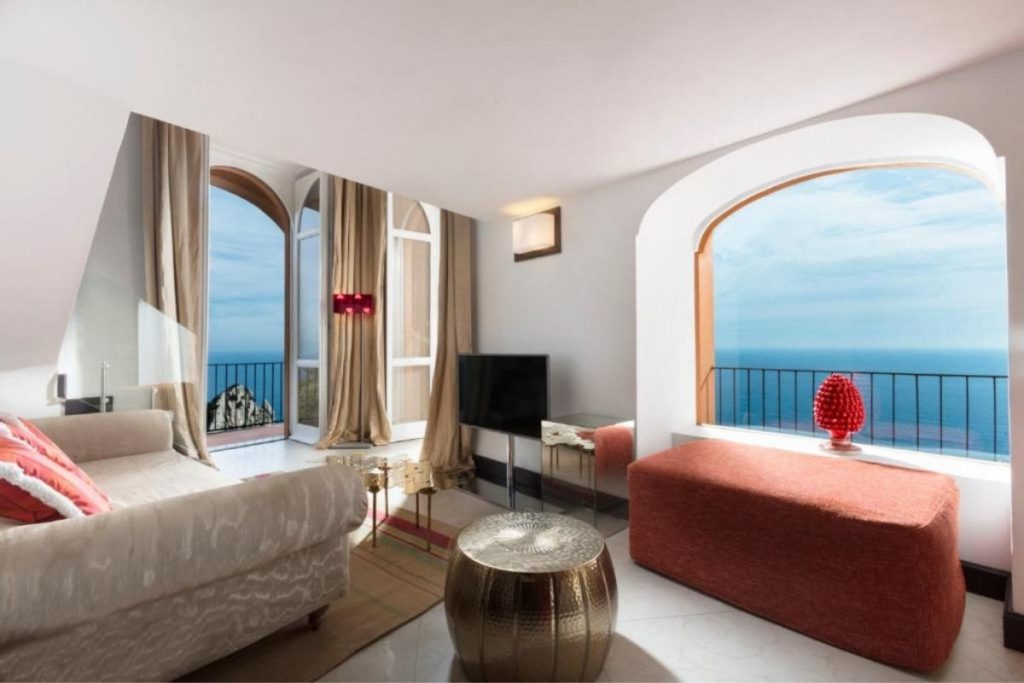 Starting our list with an exquisite hotel, the Hotel Punta Tragara. This is one of the best hotels in Capri for many reasons, but the most important reason is probably the views. It overlooks Marina Piccola Bay as it lays on a cliff. There are 2 outdoor swimming pools which again have fantastic views. One of them is heated and has jets for thalasso treatments.
This 5-star luxury hotel offers elegance, and modern decor and ensures you have a great time in Capri. The rooms are spacious and some of them offer sea views, while other garden views. Besides the swimming pool, there's also a wellness center which includes a hairdresser salon.
Hotel Punta Tragara offers buffet breakfast. They also have a restaurant that serves Mediterranean food and homemade pasta. Let's not forget about the poolside bar which serves delicious drinks. The good thing about this hotel is that it's only a 10-minute walk from Capri's Piazzetta square. Rated at 8.9 on Booking.com, we definitely recommend visiting it for an unforgettable experience.
Hotel Punta Tragara location: Via Tragara 57, 80073 Capri, Italy
2. Capri Tiberio Palace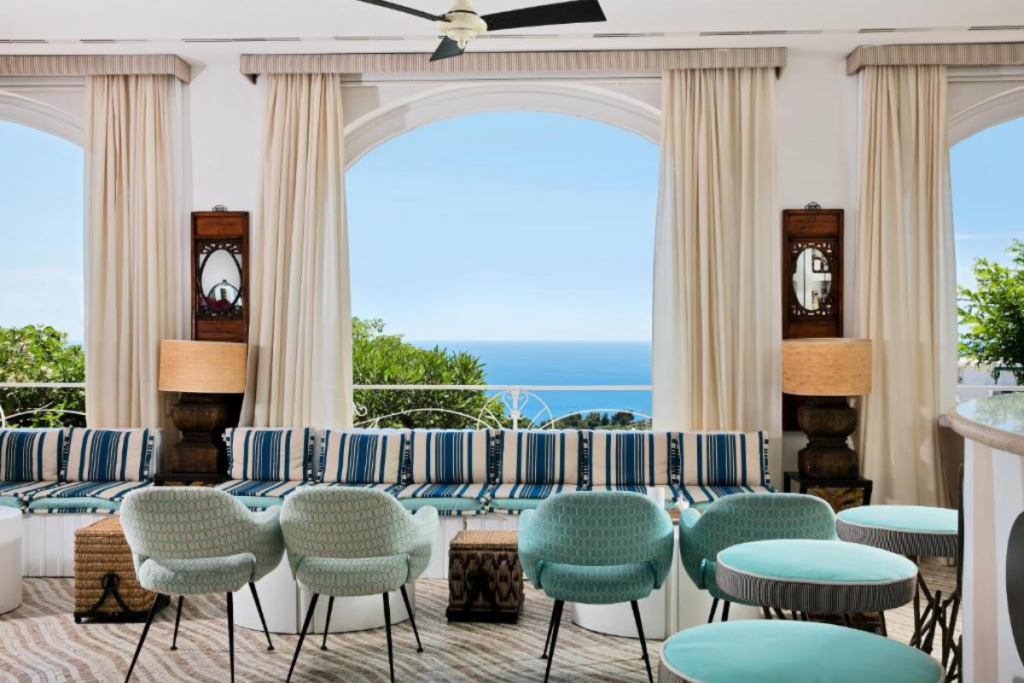 The second best luxury hotel in Capri Italy is the Capri Tiberio Palace. What you need to know about this hotel is that it's set in a 19th-century building. The design is elegant, modern, and very colorful with a lot of decorative elements in both the rooms and corridors.
The rooms usually include a balcony or terrace and almost all of them are facing the sea. Capri Tiberio Palace serves breakfast which is already included in the price. They also have a restaurant serving Mediterranean dishes and the terrace has a sea view. Jacky Bar has a contemporary style and chic decor.
As you can expect from a 5-star hotel it includes a wellness center with a hammam, sauna, and hot bat. You can book massages and beauty treatments. The hotel is only a few minutes walk away from Capri's central Piazzetta. So if you're wondering where to stay in Capri, the 9.2-rated Capri Tiberio Palace is a perfect choice!
Capri Tiberio Palace location: Via Croce, 11-15, 80073, Capri
3. Hotel Quisisana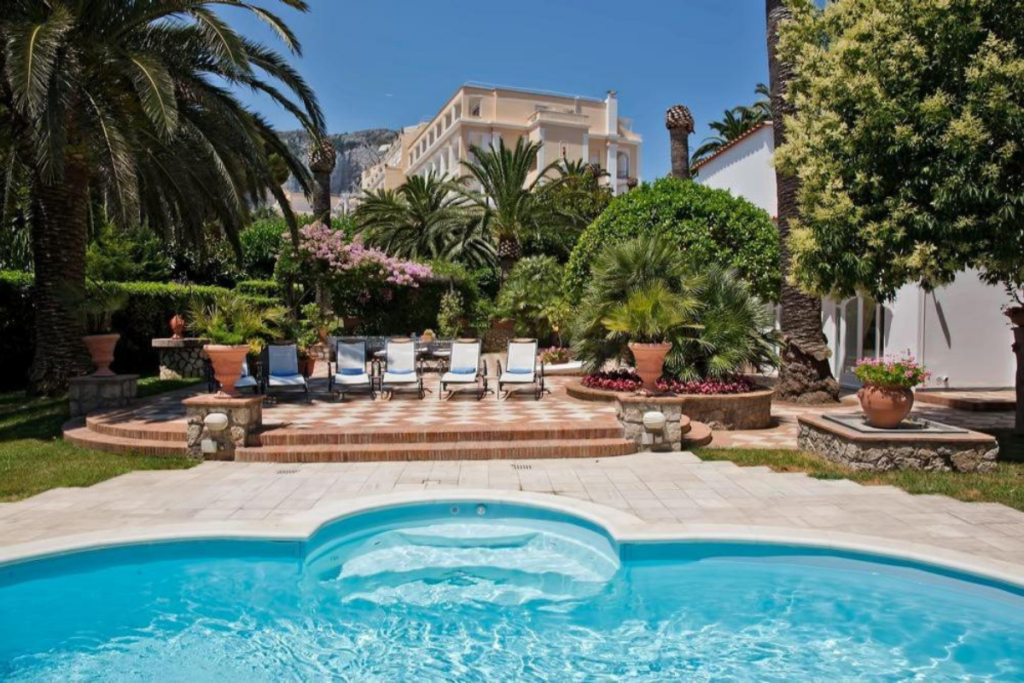 The next on the list of best hotels in Capri Italy is Hotel Quisisana. Since the opening of the hotel in 1860, many famous people passed through the unique building, such as Ernest Hemingway Paul Satre. The place has a wonderful historical past with even more interesting architecture.
Its design and furnishing reflect the blue ocean views and elegance of the island. The hotel is surrounded by great places to visit, such as the Piazzetta or the local's favorite: an ancient fortress, a cave called Blue Grotto. In case you want to try out the best of Italian cuisine, then the hotel's two on-site restaurants are going to be perfect for you.
At Rendez-Vous and Colombaia you will get high-quality service and dishes made out of organic and fresh ingredients. Some of the other fantastic highlights of this place are 2 swimming pools and a well-equipped gym. Not to mention their spa, which is rated one of the top five spas in Europe. Hotel Quisisana is rated at 9.2 on Booking.com
Hotel Quisisana location: Via Camarelle, 2, Capri
4. Luxury Villa Excelsior Parco
Moving on with the next best luxury hotel in Capri Italy, the Luxury Villa Excelsior Parco. This hotel can offer you an unforgettable experience in Capri while staying in stylish and elegant rooms. The themes of the rooms are usually white and blue colors or green and white, but some golden accents can also be seen.
One of the best features is the 2 hot tubs and a panoramic view of the sea, with a rooftop garden. Almost all of the rooms come with a sea-view terrace or have their own hot tub. Excelsior Parco serves a buffet breakfast every morning and the restaurant serves local dishes.
The hotel also includes a tennis court and offers massages or a snorkeling experience, for an extra charge. Its location is excellent, with free shuttles running to and from the Piazzetta. In case you wish to walk, the center of Capri is only 15 minutes away. You can also visit Naples by ferry.
Luxury Villa Excelsior Parco location: Via Provinciale Marina Grande 179, Capri
5. J.K. PLACE Capri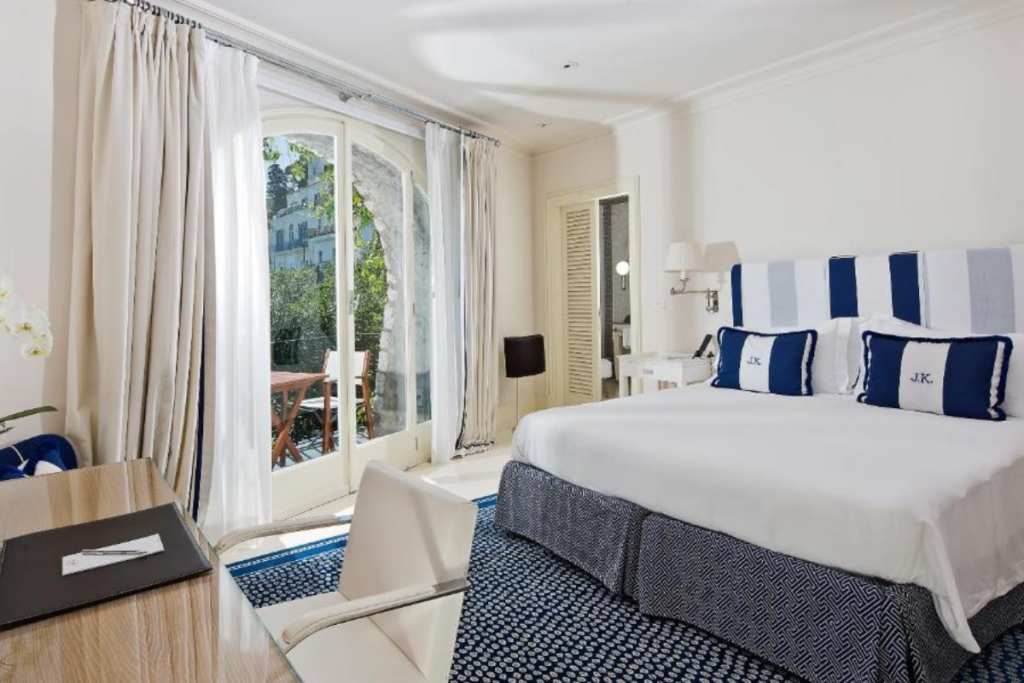 J.K PLACE is one of the hotels in Capri with beach access. Their key philosophy of them is providing the comfort of feeling at home whilst focusing on tiny precious details. The style of the hotel perfectly resembles Capri. J.K Place rooms have the color of the sea, mixed with white resembling the sunlight. It also features an outdoor pool with panoramic views of the Bay of Naples.
The rooms are spacious, all designed in a classical style with long sunny curtains and crispy white and navy furnishing. One of the greatest features of this hotel is its restaurant, JKitchen, which is special for its organic and seasonal Mediterranean dishes. You can enjoy these delicious dishes in the guest room or outdoors on the panoramic terrace.
Another great feature of J.K Place is its wellness center, which is equipped with a swimming pool, gym Turkish bath and sauna, tennis court, and even a hot tub. Close to the hotel is the Capri Port, which is only a 5 minute walk away. The hotel received a fabulous rating of 9.7 on Booking.com.
J.K. Place location: Via Provinciale Marina Grande, 225, Capri
6. Casa Morgano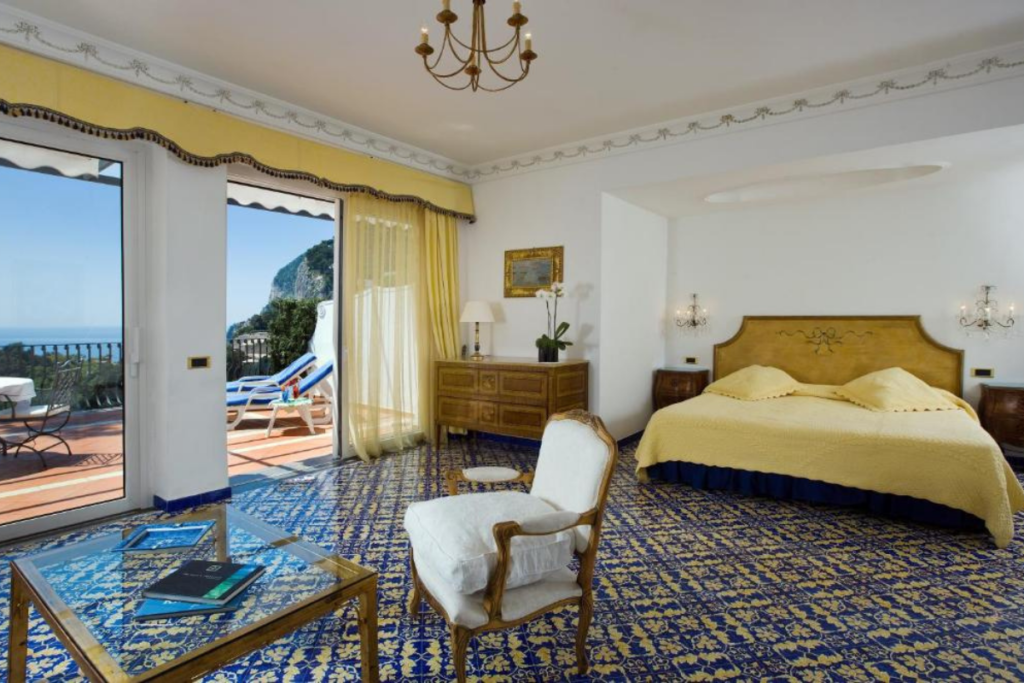 If you are looking for the best luxury hotel in Capri Italy, which is secluded and intimate, yet close to the Piazzetta, then Casa Morgano is a perfect choice. This 5-star hotel is a typical example of the architecture in Capri. It's also one of the hotels in Capri with beach access.
The bedrooms and suites of this luxury hotel all have a lovely feature: a large French window with a view over the sea. Also, a number of rooms have bathrooms with hydromassage tubs for extra relaxation. Casa Morgano has a number of facilities at your disposal.
Some of the most popular ones are the infinity swimming pool, fitness center, and bar. Casa Morgano provides a sweet and savory breakfast each morning. The restaurant serves local dishes each day which you can enjoy while looking at the sea. Ratings are at 9.2 on Booking.com.
Casa Morgano location: Via Tragara, 6, Capri
7. La Scalinatella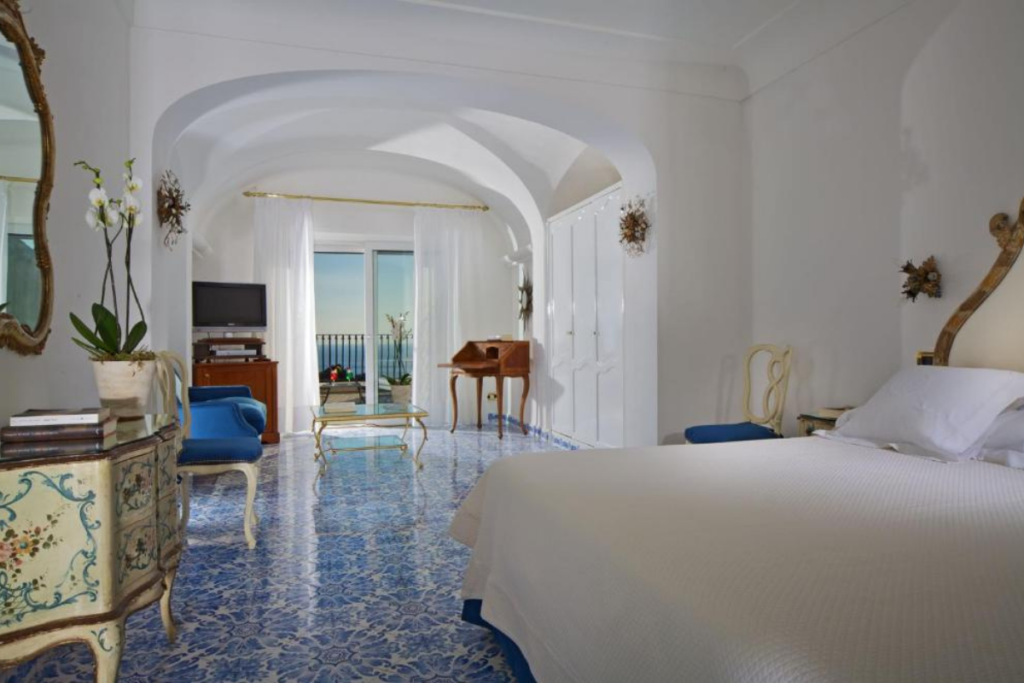 La Scalinatella is an intimate boutique hotel, which was voted as the 'Best Hotel in the World' in 2010 by Condé Nast Travel magazine. Since its opening in the '50s, the aim was to provide a luxurious and unforgettable experience for the guests. It is only 450 yards from Piazzetta square and the Marina Grande is less than a mile away.
La Scalinatella has stunning architecture. Not to mention the outdoors the whitewashed walls and lemon trees. These features make the Italian dream holiday complete. Indoors, the rooms have the classic Capri-style décor with cool tiled floors. Moreover, some of the rooms come with a furnished terrace and a separate lounge.
The hotel serves continental breakfast on a daily basis. Afterward, you will be able to choose between blissful relaxation under the Mediterranean sun by the panoramic pool or enjoying the delicious cuisine on the terrace. La Scalinatella received a 9.2 rating as it's one of the great hotels in Capri with beach access.
La Scalinatella location: Via Tragara, 8, 80073 Capri
8. LuSi Capri House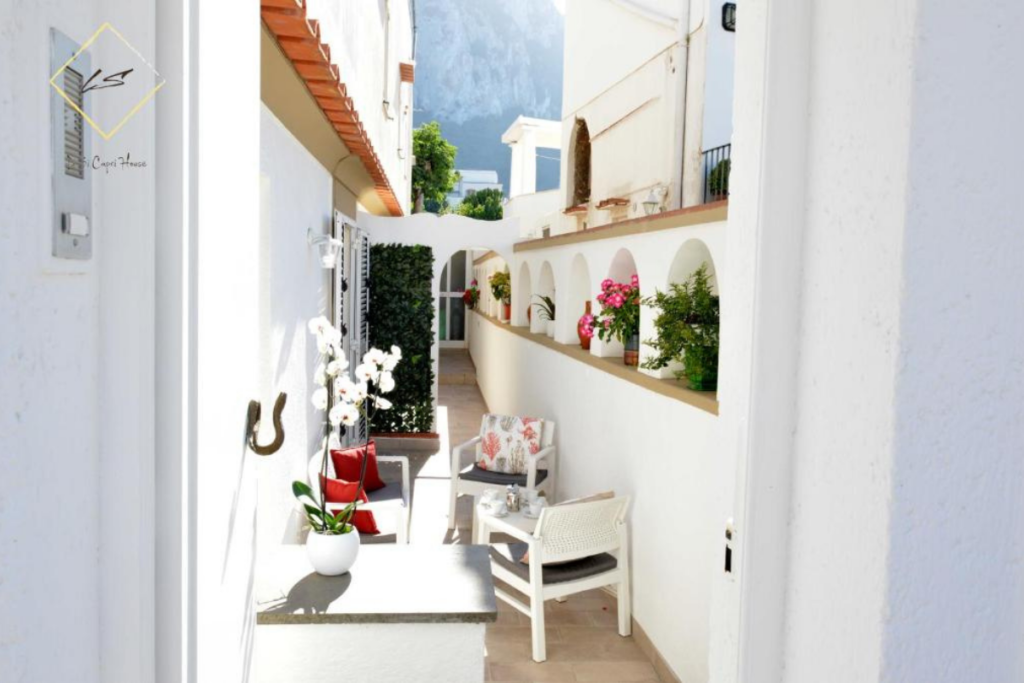 If you're wondering where to stay in Capri on a budget, LuSi Capri House is a great choice. We have been talking about 5-star hotels, but there are other beautiful places that are affordable. These holiday homes have the best location, just 0.6 miles from Marina Piccola Bay and Fontelina Beach.
The apartments come with one bedroom, one bedroom, bed linen, towels, a TV with channels, a fully equipped kitchen, and a terrace featuring city views. We love the decor this house offers. It's located on the cutest street, with an all-white wall.
The rooms are very simple, everything looks open and white. You feel like you are home, yet you're in paradise. The nearest restaurant is Capri's Ristorante or Caffee Caso. LuSi Capri House received a 10 rating within the Apartments section.
LuSi Capri House location: Via Acquaviva, 19/B, 80073 Capri
9. Casa Maddy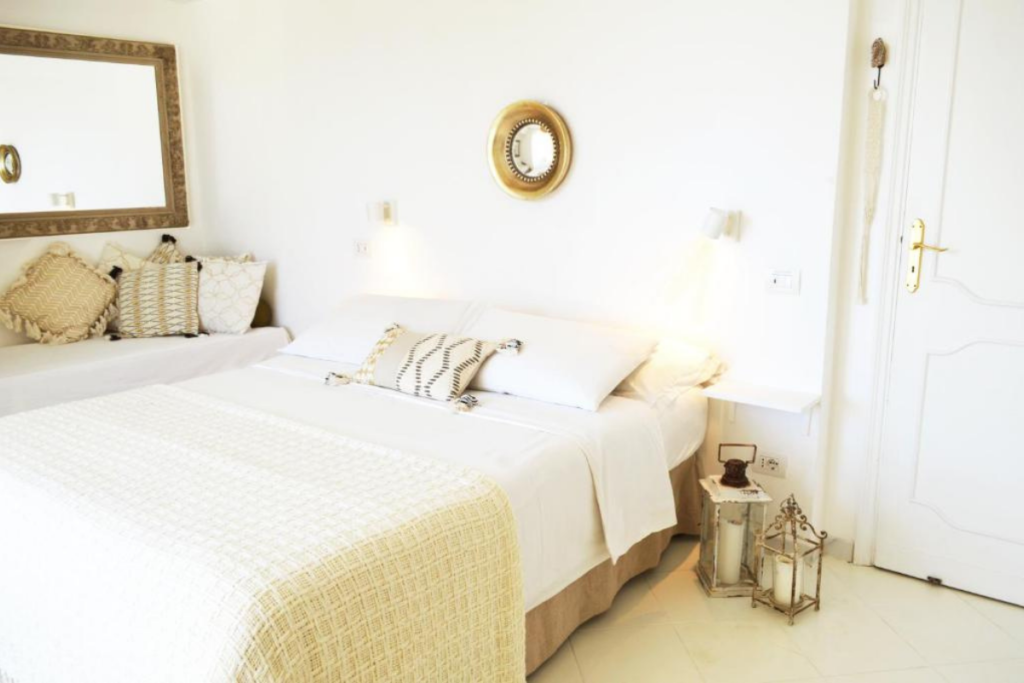 If you're still wondering where to stay in Capri on a budget, Casa Maddy is amazing. You can thank us later. The design of this Apartment just caught our eye and we know you'll love it too. It's usually fully booked, so you'll have to be quick to book! It is located nearby the Piazzetta di Capri.
Casa Maddy also offers breakfast, continental, buffet, or Italian. There's a 24/7 front desk service to help with everything and guide you through Capri. The rooms are just beautiful, all equipped with a private bathroom and free toiletries. Some rooms even have a balcony.
Besides the Piazzetta, you have Marina Piccola Bay and Marina Grande Beach quite close. As far as restaurants, Capri's ristorante is 200 yards from the property. Due Golfi or Caffee Caso is perfect for coffee, although Casa Maddy also serves it. Exceptional rating at 9.6.
Casa Maddy location: Via Castello, 29, 80076 Capri
10. Villa Calypso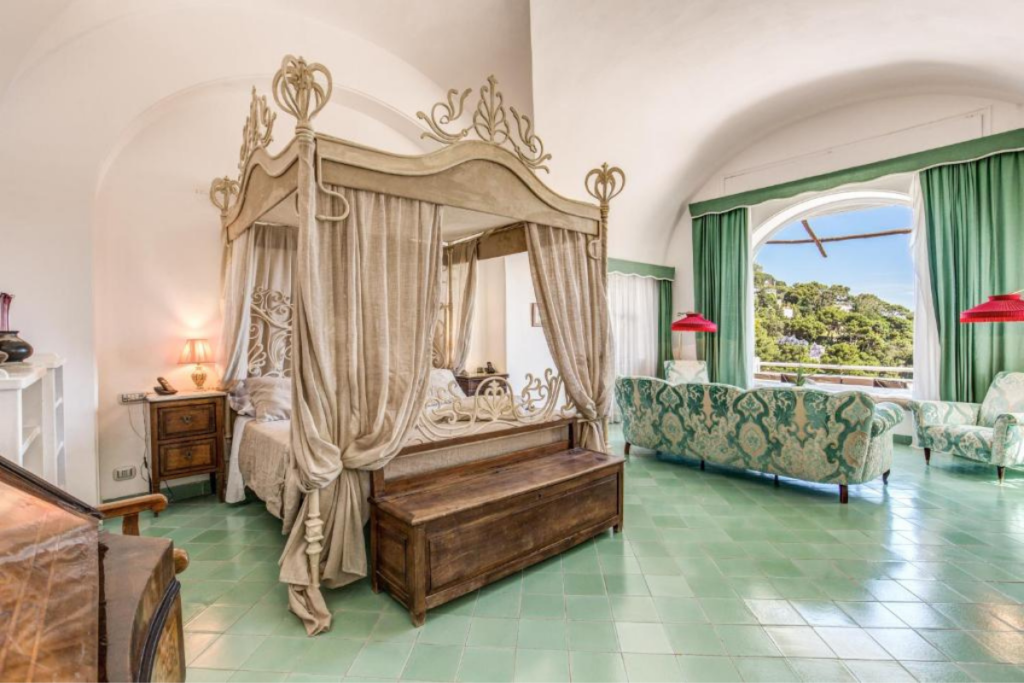 We had to feature Villa Calypso for the best views and design. The famous hotel in Capri is only 5 minutes away from the Piazzetta. It offers a classic and elegant style with Mediterranean features and gorgeous sea views. The rooms all come with private bathrooms, bathrobes, and free toiletries.
If you wish to stay in a suite, these also have a seating area. The bathrooms are an absolute dream. Another beautiful feature of Villa Calypso is the terrace. You get to see the Faraglioni rocks as well. Breakfast is served in Italian-style every morning.
The closest restaurant is Regina Cristina and a traditional Italian one is Le Camerelle. Caffee Morgano or La Pompeiana is perfect for a coffee date. La Fontelina beach or Marina Piccola Bay is a mile away from the property. The 4-star hotel received a rating of 9 on Booking.com.
Villa Calypso location: Via Ignazio Cerio 11, Capri
Bonus: La Terrazza sul Mare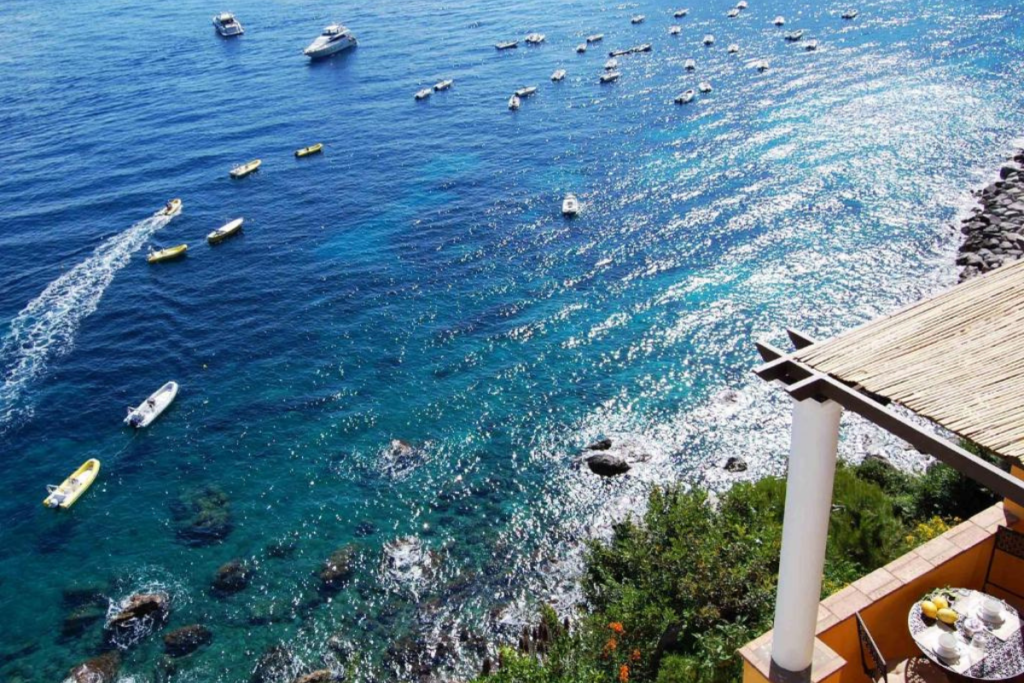 La Terrazza sul Mare bed and breakfast is a famous hotel in Capri. Located only 100 yards from Marina Grande Beach and not too far from Bagni di Tiberio Beach. We chose this place to feature on our list due to the spectacular views. Some of the rooms have a sea view, where you can see all the boats at Marina Grande.
The rooms come with a private shower, slippers, a hairdryer, and free toiletries. We know you'll love the design of the rooms as they are cute, stylish, and cozy. As it's a bed and breakfast, you'll be able to choose between a buffet or an Italian breakfast.
If you wish to eat out, the Bar Grotta Azzur or Bar Polanda are nearby. Cafe Casa Oliv is perfect for an evening coffee. The nearest attractions are Villa San Michele or Axel Munthe House. Marina Piccola Bay is less than a mile away from the property. It's rated at 9.5 on Booking.com
La Terrazza sul Mare location: Via Palazzo a Mare 12, Capri
Best hotels in Capri – Conclusion
This is our wrap-up of the hotels in Capri with beach access and the rest of the best hotels in Capri. Which famous hotel in Capri sounds the best for your needs? We are absolutely in love with the design of these hotels, all of the facilities, and their location. Capri is a beautiful island to get lost on. Let us know in the comments if you have visited any of them.
Pin it: 10 Best Places to Stay in Capri