10 Best Denim Italian Jeans Brands
Italian jeans brands enjoy a notorious reputation all over the world because of their high quality. The world's jeans capital, after all, is Genova, an Italian city where the best denim brands stem from. Since the jeans' creation in 1873, more than one jeans brand made in Italy has dressed us up. With style and elegance leading the way, we are lucky to have a handful of options for quality.
Some of the top Italian jeans brands are actually underdogs in the jeans market, and what a shame that is. If you're looking for jeans that really hold up in time, now's the time to be on the lookout. I'm about to tell you of the best jeans manufacturers in Italy, and they're packing on big time.
10 Best Italian Jeans Brands
Some of these Italian jeans brands you probably already know, like Diesel or Replay. Others are classified as high-end jeans companies, like Brunello Cucinelli, while the rest like Miss Sixty caters to a trendy, young fashion-loving crowd. Pretty easily, you'll understand why I have included all of these brands in my list, curated to help you design your own style.
1. Diesel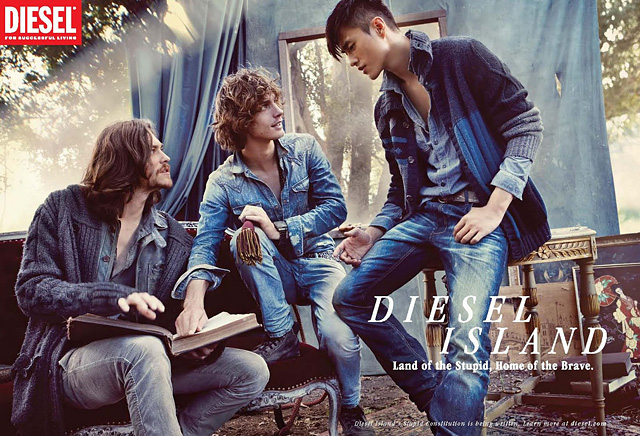 Diesel is internationally recognized as one of the best Italian jeans brands. Founded at the end of the 1970s, the company offers premium jeans. The prices follow the quality, with a cost that goes from $100 to several hundreds of dollars. Each of the designs from this jeans brand made in Italy is carefully crafted following innovative, creative, and nonconformist processes. While Diesel's style is laidback, it ranks as one of the top Italian jeans brands. Why? Thanks to strict high-quality materials and production, the denim is long-lasting and sturdy.
To affirm and empower, that's Diesel's mission. Today, with over 5.000 stores in more than 80 countries, it still sets trends of casual cool as it did in 1978. With a tad of irreverence, Diesel is your go-to for durable jeans to express who you truly are.
2. Liu-Jo – Denim Italian Brands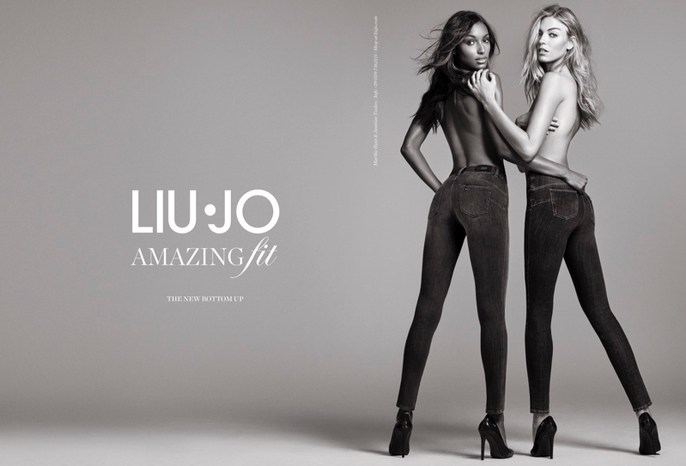 Liu Jo is a jeans brand based in Italy that sells pret-a-porter in over 6.000 stores across Italy, Europe, and Asia. Unlike some of the best Italian denim brands that focus solely on denim production, Liu Jo has quickly expanded. Whether you're looking for baby clothes, underwear, jeans, eyewear, or home accessories, Liu Jo has something in store for you.
Very present on Italian soil, Liu Jo has partnered up more than once with famous fashion faces. As such, models Kate Moss and Dree Hemingway have been the face of the brand in the past years. Since its first line in 1995, Liu Jo has set itself as one of the best denim Italian brands in record time. Its recipe? Sober yet playful advertisements, high-quality fabrics, and picture-perfect jeans, shoes, and bags.
3. The Attico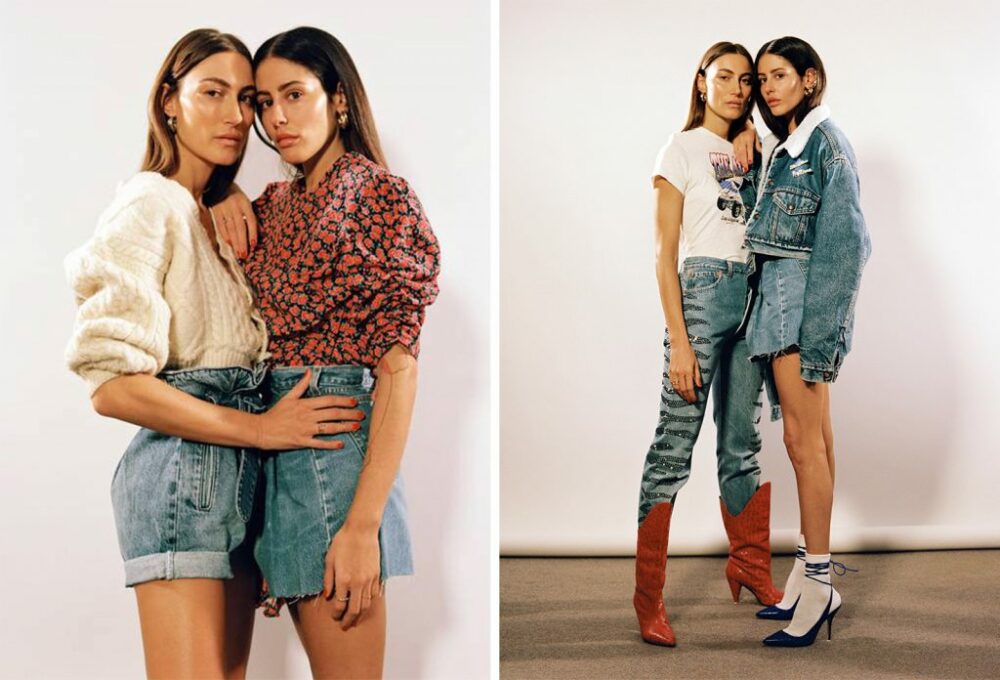 Denim Italian brands are not all about classic Italian sobriety. Founders Giorgia Tordini and Gilda Ambrosio launched The Attico in 2016. The young jeans brand based in Italy sets the pace for inclusive fashion while focusing on bold and unique pieces. It's not just denim that The Attico has turned upside down. It's the whole of minimalism and audacity that Giorgia and Gilda redesign with every passing collection.
The result is timeless pieces that range from their bestselling kimono dresses, jeans, and bags. The Milan-born brand has become one of the best Italian denim brands in just five years. You can shop The Attico from some of the top online websites, such as Net-a-Porter and Joyce Hong Kong. However, they sell out pretty fast, so you'd better snatch your favorites while they're hot!
4. Gas – Best Italian Denim Brands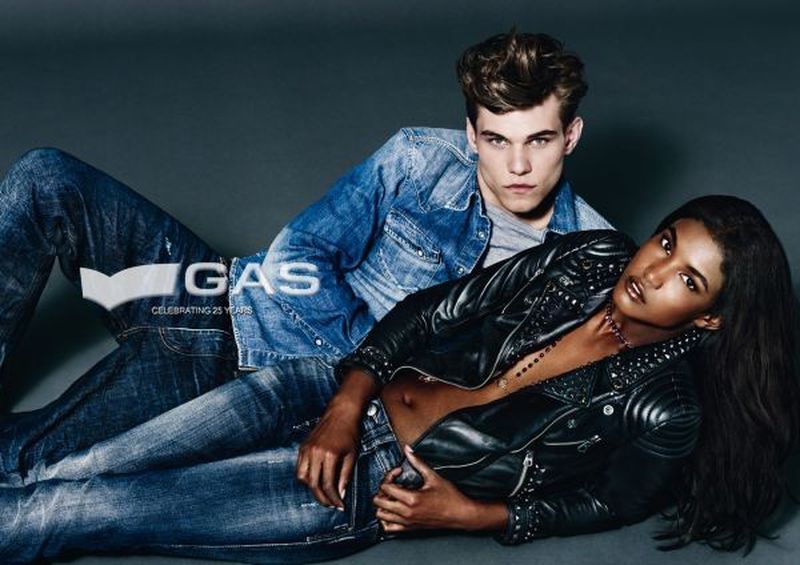 A list of the best denim Italian brands would not be complete without Gas. I remember coming across a Gas store for the first time. It was back in Paris, and they carried the most beautiful yellow jeans I'd ever seen. Founded at the beginning of the 1970s near Vicenza, Gas is currently a family-run company.
The goal of this jeans brand based in Italy is to empower as much as possible. When you wear Gas jeans, you can rest assured that a team has put all their efforts into innovative fabrics and quality designs. The experimentations Gas makes on their jeans are meant for you to reach your goals comfortable and with optimism. With over 3.000 stores in more than 56 countries, I'd say they've won the bet.
5. Benetton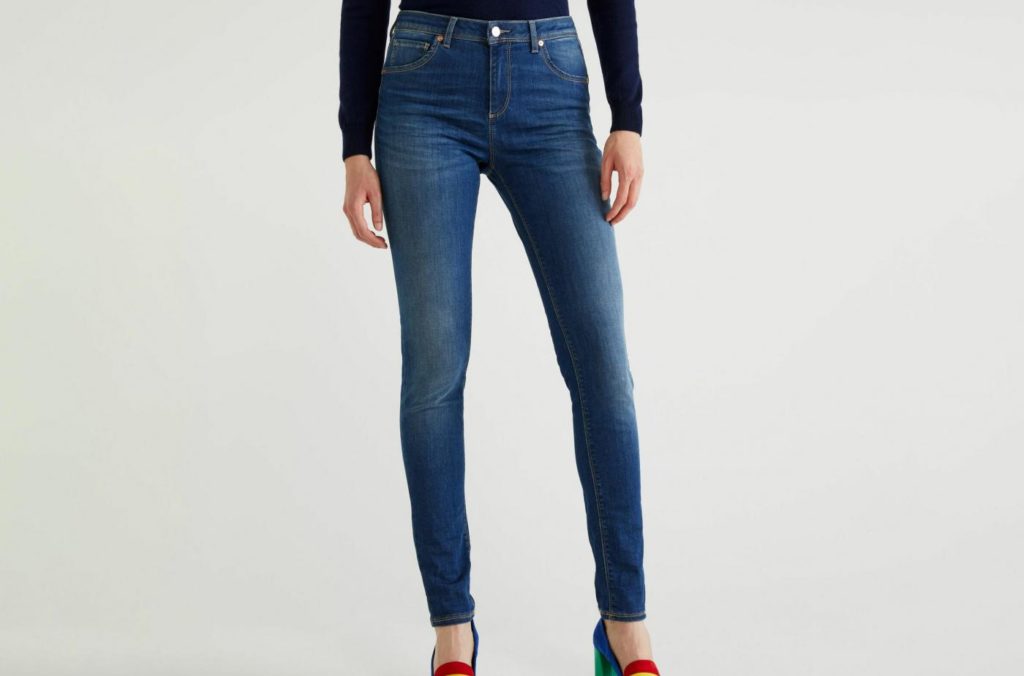 I've always felt that even though Benetton is one of the top Italian jeans brands, it's remained a fashion underdog. The colorful jeans brand made in Italy is most famous for its color-block pieces. From shoes to soft cardigans, Benetton has its finger on the pulse. From the opening of their first store in 1965, it's offered stunning colorful clothes. The fashion industry has split into countless companies, yet, Benetton is still one of the most international brands and a name that lingers in the mind.
Benetton owns several companies; United Colors of Benetton, Undercolors of Benetton, as well as the famous beauty brand Sisley. In the 80s and 90s, Benetton was a name that everyone was mentioning, and it's lost a bit of its shine as other brands popped up. Still, the company has over 5.000 stores across the world retailing designs that go with the trends.
The colors, the high-quality fabrics, and the overall playful atmosphere have helped maintain Benetton's impact on style. If you're looking for a sustainable Italian fashion brand, Benetton is rated one of the most sustainable companies in the world by Greenpeace. Time to do some good deeds, then.
6. Miss Sixty – Italian Jeans Brand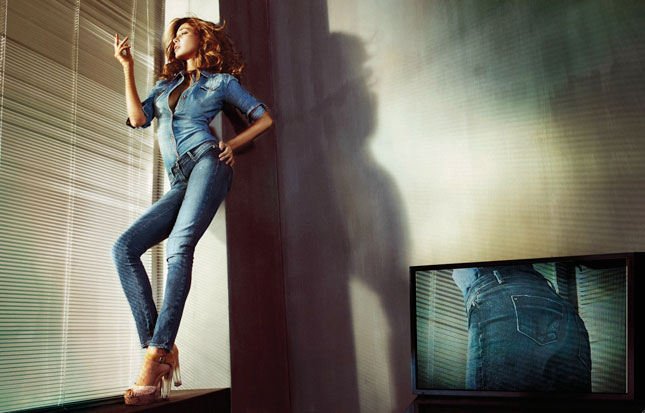 The 1991-founded Miss Sixty brand has always made it clear: the target consumer is a teenage girl. In just 20 years, Miss Sixty has grown into dozens of stores internationally. Since Head Designer Wichy Hassan studied in Milan before creating Miss Sixty, the collections feature elements of the Milanese fashion. That's why you can spot ultra-stylish jeans in their collections, although the bulk of them is very cute and feminine.
The denim jeans ($100 to $400 apiece) have garnered all the necessary popularity for Miss Sixty to develop in other areas. At the beginning of the 2000s, the collection was extended to footwear, eyewear, and kids' clothes. Now owned by the Chinese Trendy International Group, Miss Sixty still revolves around a young, playful spirit.
7. Replay – Best Italian Denim Brands
Founded in 1981 along with Replay&Sons, We Are Replay, Red Seal and White Seal, Replay is a super modern jeans brand based in Italy, in Treviso. Along with their amazing denim line, Replay designs casual men's, women and kidswear. If you're looking for a laidback yet structured look, Replay is where you should look. The pieces are simple and beautifully crafted – definitely a high-quality brand for looks that last years.
Replay's premium designs are always innovative, with shapes that are "molded by the body in an indissoluble whole, becoming one with the wearer in a sublime symbiosis". Unique, body-hugging, and superbly high quality, Replay's jeans are now present in over 5.000 stores.
8. Shaft Jeans – Top Italian Jeans Brands
A consumer-centric and sustainable jeans brand made in Italy, Shaft Jeans was actually born in Montpellier, France, in 1964. However, it's worth mentioning as one of the best Italian jeans brands since it's been crafted exclusively in Italy ever since. Denim is not just denim for Shaft Jeans. Rather, it's a way of living that requires strict research and development.
Since denim production is one of the most polluting processes in the fashion industry in terms of water wastage, Shaft Jeans has taken its own measures. With new washing processes and the idea of organic jeans, the company proposes a Made in Italy wardrobe that strives towards environmental positivity.
9. Brunello Cucinelli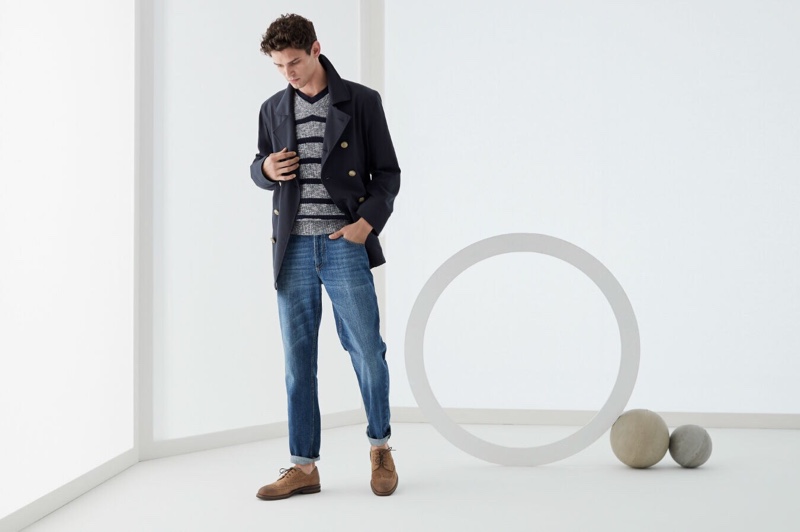 Brunello Cucinelli is one of the Italian jeans brands that show how one idea can lead to international success. In 1978, Brunello Cucinelli fell in love with his fiancée's village, Solomeo, and took the first step in building a knitwear company. Colored cashmere for women was the core idea, and it was luckily popular very well from the get-go. In addition to the durability of the goat-sourced cashmere yarn, the transparency and honesty of the brand are finished to convince the audience.
Today, Brunello Cucinelli is well-set as a luxury brand, now present at the Milan Stock Market with millions coming in every year. When in 2000, the brand decided to broaden its offer, Brunello Cucinelli started expanding collections with denim. The couture brand focuses on a classic style that adds sobriety and maturity to any outfit.
10. Patrizia Pepe – Best Italian Jeans Brands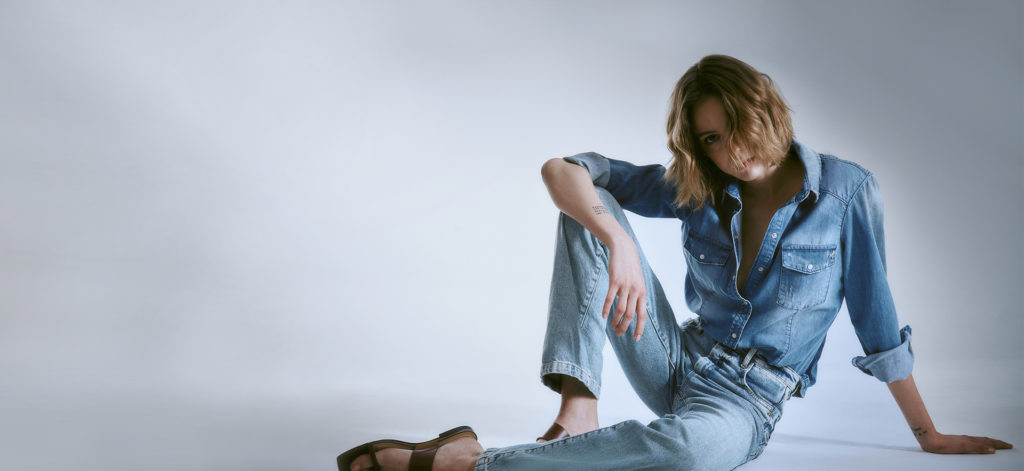 The Patrizia Pepe jeans brand made in Italy was founded in 1993 in Florence. The very feminine and structured silhouettes took the world by storm. Soon enough, Patrizia Pepe managed to rank among the top Italian jeans brands, with a seamless urban experience in all of their jeans. Fashion is, after all, a true game of personal expression.
The couple behind Patrizia Pepe, one of the best Italian jeans brands today, aims at combining classic Italian style with a fun twist. Well-being and inspiration make up the core of the brand, which strives to create a positive experience for both workers and customers.
Wrapping Up the 10 Best Italian Jeans Brands
There you have them, the best Italian denim brands, from high-end options like Liu Jo and Brunello Cucinelli to trendy brands like Gas. Seeing as denim was born in Italy, it only makes sense that the best Italian jeans brands continue to uphold the famous fabric tradition. There is way more than just one good jeans brand based in Italy, and actually, far more than the ten I've mentioned here today.
Still, those are the manufacturers of the highest quality jeans, that cover our bodies from one end of the planet to the next. However, Italy's craft doesn't stop at jeans. Did you know that some of the best Italian shoe brands are famous all across the world? The Italian fashion industry also comprises some of the best jewelry brands, and trust me, they're worth more than a glance!
Pin It: 10 Best Italian Jeans Brands