Ravello is a remarkable town sitting on a beautiful verdant hill on Amalfi Coast, and the best hotels in Ravello Italy offer jaw-dropping experiences. Set upon a beautiful rocky cliff that overlooks the sea, this resort town is home to iconic cliffside gardens and Ravello hotels with epic views. When visiting Ravello, making the right decision regarding where to stay is crucial. Below, we have listed the ten best places to stay in Ravello Italy.
10 Best Ravello hotels
Ravello for international travelers is reachable from Naples. If you are looking for a Ravello hotel that offers an unbeatable experience but are asking yourself: Is Ravello a good place to stay? Ravello is undoubtedly the jewel in the striking coastal crown. Our experts have chosen the best hotels to help you know where to stay in Ravello to make your trip to this town memorable. You should also see things to do in Ravello, Capri, Sorrento, and Positano too! One of the most magical destinations in Italy, the Amalfi Coast offers dreamy holidays!
Before we delve into the list of the top Ravello Italy hotels, be sure to get up to date with the Amalfi Coast beaches and Positano restaurants that are worth checking out. Let's see what this resort town offers with its exquisite accommodations. If you're in the area, you might want to check where to stay in Positano, hotels in Naples, but also the best places to stay in Capri, and Sorrento too! Also, if you're already in the area, you might want to know the best restaurants in Capri, restaurants in Positano, and Sorrento too!
1. Hotel Villa Cimbrone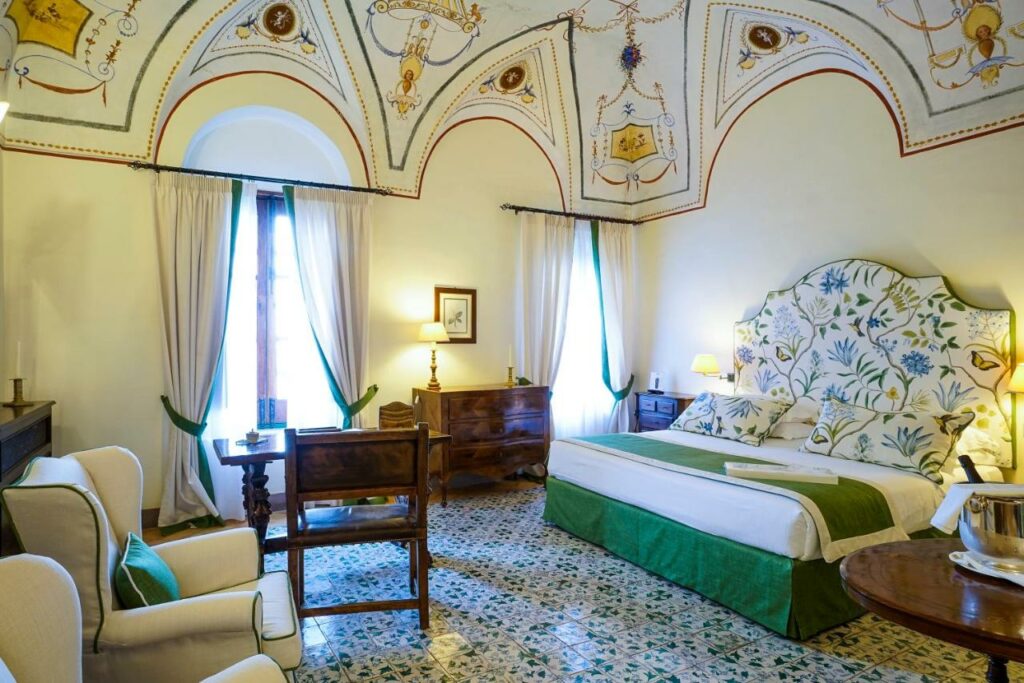 Set on expansive grounds on the edge of Ravello, Hotel Villa Cimbrone is one of the sparkling, sophisticated Ravello hotels. Located ten minutes walk from the central square of Ravello, this historic villa-turned-hotel stands in a romantic garden and enjoys an extraordinarily privileged position. 
Although it has eleventh-century origins, the villa dates from the 1900s, when designer Lord Grimthorpe bought and rebuilt it. It enjoyed its heyday in the 20s when the villa was a Bloomsbury Group favored retreat. It later became the love nest of conductor Leopold Stokowski and Greta Garbo. The hotel opened in the Sixties, and it retains a whiff of those days.
If you are looking for where to stay in Ravello, Hotel Villa Cimbrone is a quiet, elegant retreat filled with paintings, antiques, and frescoes. You can relax on the terrace while sitting in deck chairs and enjoy the Amalfi landscape. The private garden sets this hotel apart from the competition. It has loads of corners to retreat to, a gym, a spa, and a lovely pool with views of the Amalfi Coast. The bedrooms and suites have striking views, antique furnishings, and majolica-tiled floors.
Hotel Villa Cimbrone address: Via Santa Chiara 26, 84010 Ravello, Italy
2. Casa Dolce Casa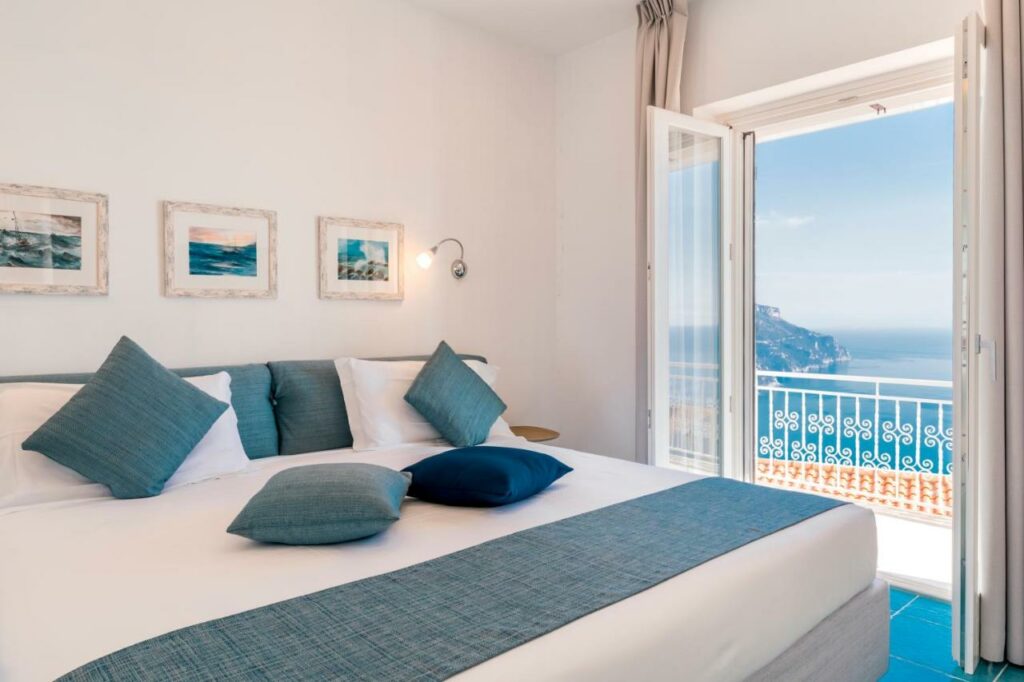 If you love wellness holidays, Casa Dolce Casa is one of the best hotels in Ravello Italy where you can stay. Situated in the Campania region, the rooms of this paradise on earth are tastefully furnished and embellished with handcrafted majolica. From sunrise to sunset, stunning views overlooking the magnificent Amalfi Coast and the Gulf of Salerno are the backdrop for entertaining evening concerts in the Villa Rufolo gardens. 
The hotel has a relaxation area with an emotional shower, a Turkish bath, and a scenic roof terrace with a solarium. You can enjoy an Italian breakfast made with local products in their splendid lounge. The Spiaggia di Castiglion and Atrani Beach are also nearby, and they offer tranquility and stunning waters.
Casa Dolce Casa is among the best Ravello Italy hotels with the perfect scenery for a unique event, a romantic holiday, or a place to forget the smog and chaos of the big city. This hotel also puts you close to exciting dining options and attractions.
Casa Dolce Casa address: Via Della Repubblica n. 9, 84010 Ravello, Italy
3. Villa Piedimonte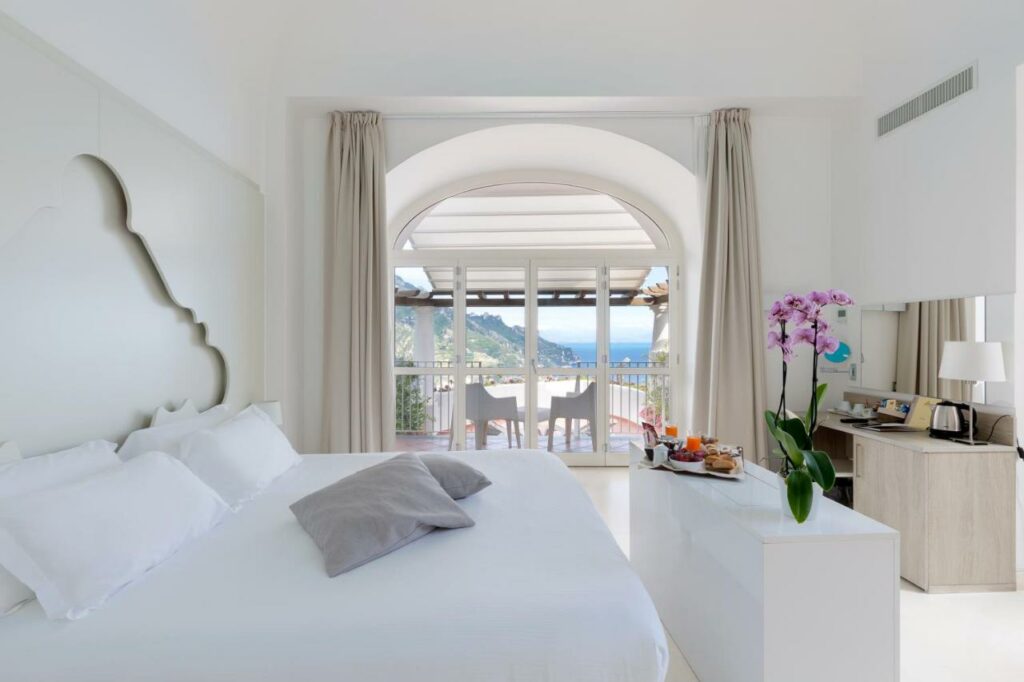 This Ravello hotel has a magical setting that guarantees unforgettable moments. It offers a sun terrace with scenic views of the Amalfi Coast and romantic sunsets overlooking the sea. Situated in the heart of Ravello and within a few-minute walk from Piazza Duomo, Villa Piedimonte is nestled between the luxuriant green vegetation of the coast and the vast blue sea. The town of Amalfi and the closest beach are only a 20-minute drive from this hotel. 
Thanks to its unique location, this hotel is the perfect choice for those who want to enjoy the magical stay that Ravello and Amalfi Coast offer. The villa combines modern attention to detail and ancient charm. It was converted from a 12th-century residence. The rooms feature contemporary decor and offer picturesque views of the coastline. A hearty sweet, savory continental breakfast awaits you in the Bistro Room in the morning. You can enjoy your light dinner or lunch on the terrace.
Villa Piedimonte address: Via della Repubblica 1, 84010 Ravello, Italy
4. Hotel Villa Maria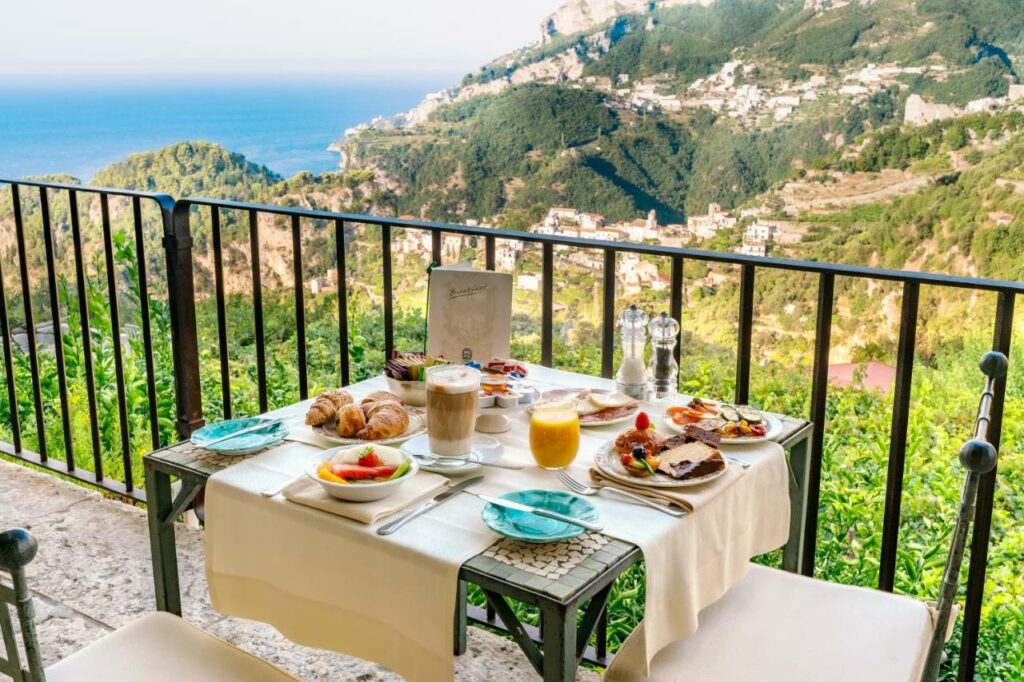 As one of the most popular and authentic Ravello hotels, Hotel Villa Maria was first opened in the 1930s by the current owner's grandparents. Since it first opened, the hotel feels like it has changed little. The structure preserves the lavish forms of a lordly mansion, and it has undergone noteworthy redecorations to fashion its splendor.
You'll find a charming medley of potted palms, inlaid furniture, busts, potted palms, and silver nicely arranged on wooden shelves that give the old villa a markedly Edwardian feel. If you are seeking where to stay in Ravello, this gentle, charming place offers breathtaking views of the Amalfi coast.
Situated 500m from the main square of Ravello, Hotel Villa Maria consists of an annex and the main building. The rooms offer full or partial sea views. You can sit in the sunshine at a table in Orsola's, Hotel Villa Maria's beautiful garden restaurant, and sip chilled white wine, eat pasta, and enjoy the mesmerizing view.
Hotel Villa Maria address: Via S. Chiara, 2, 84010 Ravello, Italy
5. Giuliana's View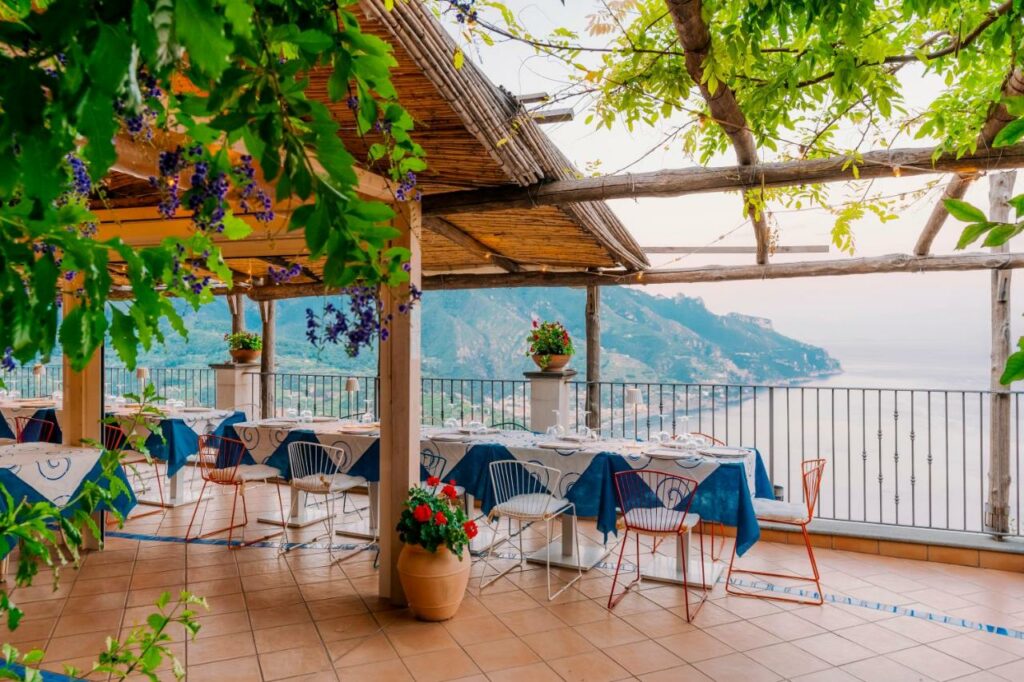 Situated a few steps from Ravello's main square, Giuliana's View is one of the best hotels in Ravello Italy that provide an ideal mix of value, convenience, and comfort. Shared barbecue facilities are available, and this hotel is popular among couples looking for a quiet and peaceful location with panoramic sea views. 
The hotel has a restaurant on-site, and you can enjoy a sweet Italian breakfast made with gluten-free ingredients. Breakfast includes cereals, croissants, jams, cappuccino, and coffee. This is one of the best places to stay in Ravello Italy with a romantic setting and a terrace that offers breathtaking sea views.
Given the proximity of landmarks like Villa La Rondinaia and Monastero Santissima Trinita, you can easily experience some of the most well-known attractions in Ravello. You will find Villa Rufolo and Sorrento Peninsula within a five-minute walk of the townhouse. This townhouse accommodation is 3.9 mi from Atrani Beach and 3.8 mi from Castiglione Beach.
Giuliana's View address: Via della Repubblica 13, 84010 Ravello, Italy
6. Villa Amore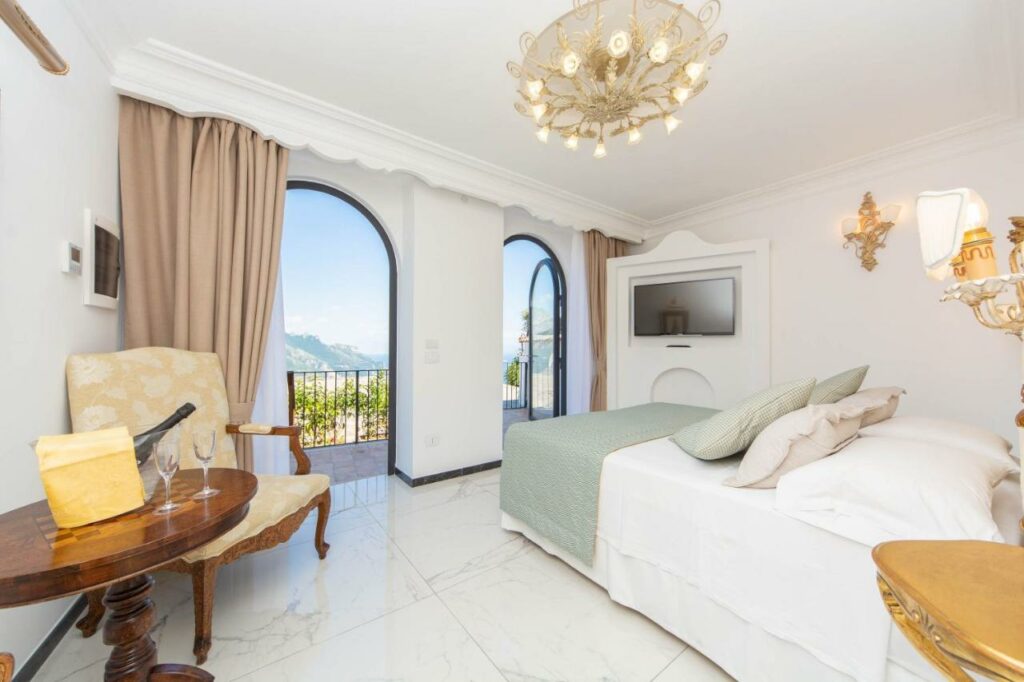 If you are still asking yourself: Is Ravello a good place to stay? Villa Amore is 700m from the main square and the road, and it is one of the best intimate hotels that overlooks the sea of the Amalfi Coast. It represents a happy oasis for a relaxing vacation. 
The best attribute of this hotel is that it gives you the feeling of being far away from the heart of a busy town with all the convenience its location brings. It's close enough to the action and distant enough for people looking for a place to relax. You'll find traditional decorations from Madeira and Equator paintings in this hotel. The decorative style is simple, unpretentious, and elegant.
Villa Amore is among the Ravello Italy hotels that offer top-flight and charming service. You can have croissants and cappuccino for breakfast, which is beautifully presented and impeccably served. The desirable beaches of the Amalfi Coast and Minori are 1.9 miles away. Sit on the terrace and enjoy the breeze with a bottle of wine and soft music in the background.
Villa Amore address: Via De Fusco 5, 84010 Ravello, Italy
7. Garden Hotel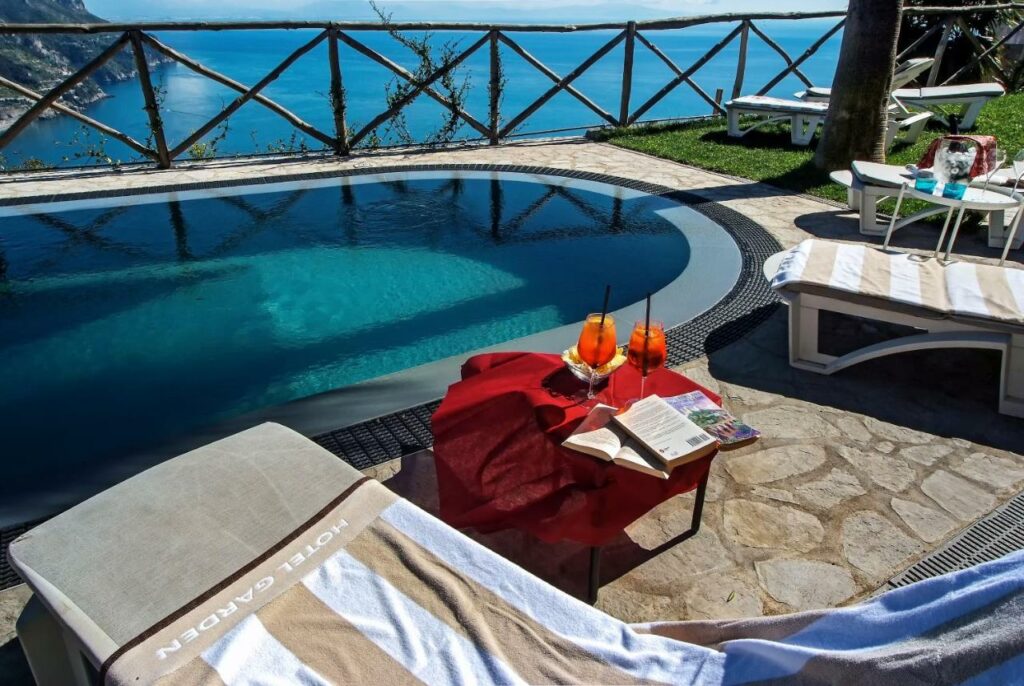 Garden Hotel is one of the top Ravello hotels located within five minutes walk from the main square and cathedral. It offers continental breakfast, a restaurant with a terrace, and panoramic sea views from its balconied rooms and terraces.
If you are still wondering where to stay in Ravello, Garden Hotel is the ideal option. With an enviable location and top-notch service, this chic hotel is the go-to place for many people who visit this town.
Breakfast is buffet-style, and the restaurant serves homemade desserts, pasta, and specialties from southern Italy. Snacks, drinks, and light lunches are available from the bar. The hotel also has cooking lessons offered by chef Marco Man in the superb setting of the Garden.
Additionally, there is a swimming pool with an unbeatable view overlooking the Amalfi coast. Here, you can enjoy memorable moments of relaxation and well-being while their staff serves you cocktails.
Garden Hotel address: Via Boccaccio 4, 84010 Ravello, Italy
8. Palazzo Confalone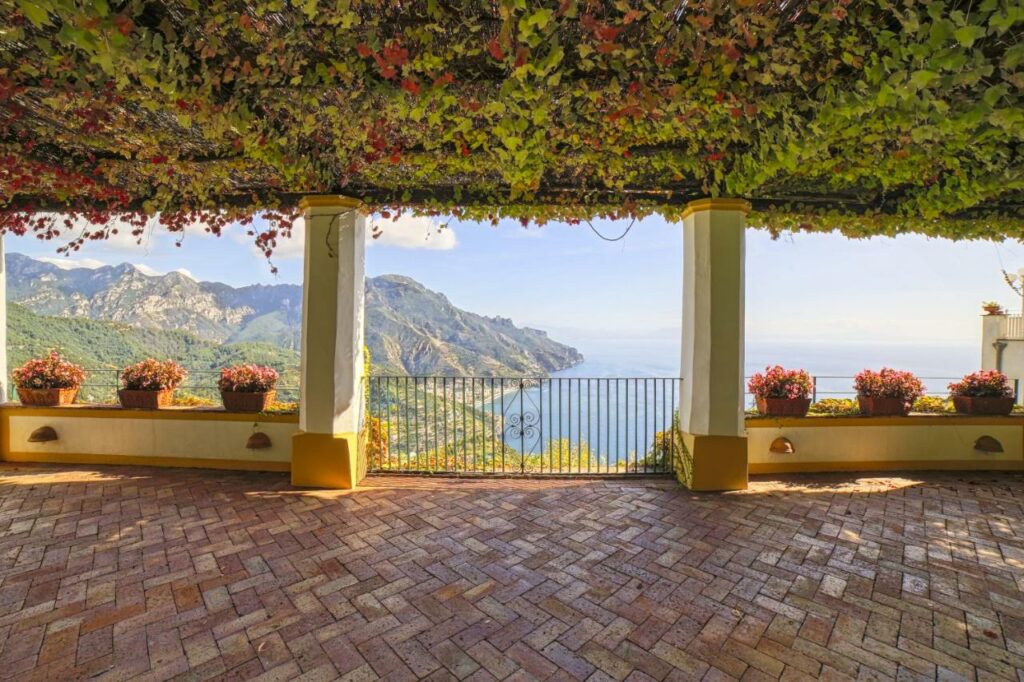 Palazzo Confalone is one of the Ravello Italy hotels that used to be the residence of an ancient noble family. It consists of Palazzo Confalone, a historic building, and Villa Confalone, a design annex. The two buildings are 20 meters apart, and the hotel features a relaxing garden. 
You will find rooms in both buildings, and they feature modern designs or antiques from the 18th, 17th, and 16th centuries. Palazzo Confalone has preserved reminiscences of the 12th-century medieval structure. The hall managed to keep the original characteristics of the courtyard, with Roman marble columns, precious ancient Greek, and ogival arches of Moorish influence.
The hotel has a restaurant where guests can delight their palate with traditional Italian dishes under a frescoed ceiling. Their menu includes risotto, vegetables, fish, pasta, and other finger-licking dishes.
This Ravello hotel is located close to famous places of interest, including the beaches of Villa Rufolo, Maiori, and Atrani. You can also go to its solarium to improve your blood circulation and feel more attractive. The rooftop garden allows you to enjoy the direct sun while relaxing.
Palazzo Confalone address: Via San Giovanni Del Toro, 16, 84010 Ravello, Italy
9. La Dolce Vita Ravello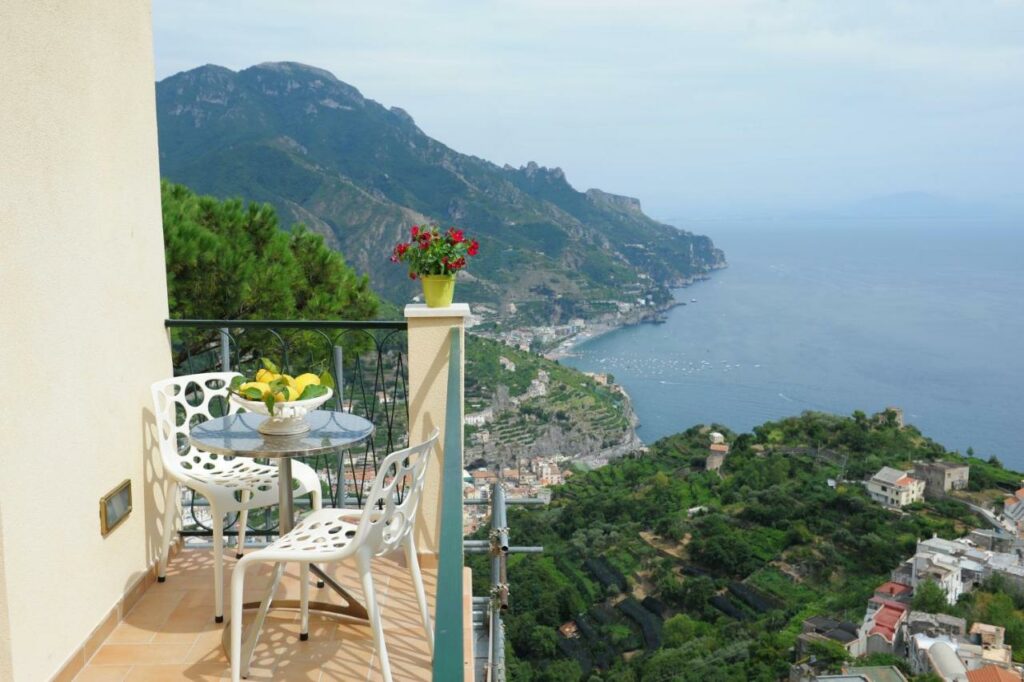 Located around 1.7 miles from Amalfi Coast, it's not a surprise that La Dolce Vita Ravello made it to our list of the best places to stay in Ravello Italy. This restored, antique villa offers scenic views of the Amalfi coast and includes gardens, landscaped terraces, a barbecue area, and a solarium. 
If you are looking for a relaxing vacation dedicated to well-being, this is one of the best hotels in Ravello Italy. It has stylish modern apartments and studios with a great atmosphere and views. The beach at Castiglione is 4.9 miles away for those who want to get exposure to the sun while enjoying the sea air, and Dolce Vita is a ten-minute walk from the central square of Ravello.
You can also relax on the sunny terrace and soak up some vitamin D to build strong and healthy bones while enjoying the panoramic views of the coastline. The Oscar Niemeyer Auditorium is just opposite La Dolce Vita Ravello, and you'll find restaurants and mini-markets in the area.
La Dolce Vita Ravello address: Via Crocelle 23/25, 84010 Ravello, Italy
10. Hotel Giordano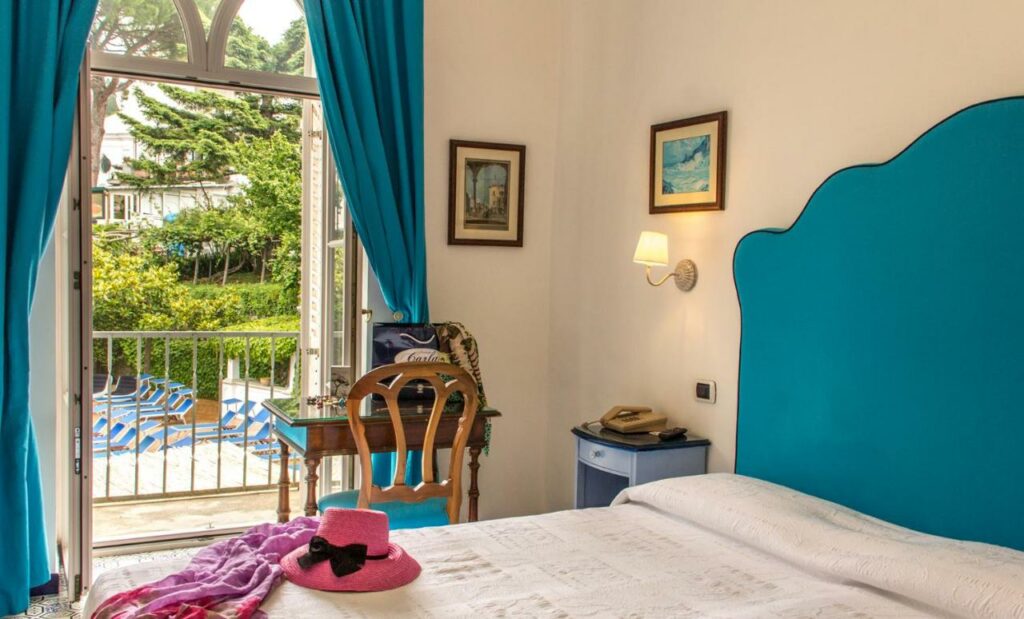 Hotel Giordano is one of the most elegant yet relaxed boutique Ravello hotels. It's a gracious 19th-century villa, and it features a reception that's draped with climbing bougainvillea. Service is relaxed and warm, and the staff offers suggestions for concerts, tours, and trekking. 
If you are asking yourself: Is Ravello a good place to stay? The answer is yes. Situated in a pedestrianized area in the hidden treasure of the Amalfi Coast, Hotel Giordano enjoys hill views and has an inviting swimming pool surrounded by magnolia-shaded terraces.
Décor is breezy, bright, and slightly exotic with its arabesques and arches. Gilt mirrors, period paintings, and antiques deck the halls and reflect Hotel Giordano's 'fancy but not glitzy' style. The rooms have patterned majolica floors in 'Amalfitana style, vibrant fabrics, and chalk-white walls that beautifully offset dark-wood antiques. 
Some rooms have a terrace and feature stunning views of the Tyrrhenian Sea, while others come with a shared balcony area separated by potted plants. The airy, arched breakfast room is swathed in white drapes, and it overlooks the pool and terrace – where you will find a pizzeria and bar. The hotel also offers an ample buffet breakfast that includes caramelized ricotta, smoked salmon, and grilled vegetables.
Hotel Giordano address: Via Trinità, 14, 84010 Ravello, Italy
Wrapping up the Ravello hotels
Now that you know the best places to stay in Ravello Italy, you can choose the right one that suits your preferences and taste. Booking accommodation at one of these Ravello Italy hotels will ensure you have a memorable experience in this romantic, charming, and beautiful town. Keep in mind that the best hotels in Ravello Italy offer outstanding accommodations with mesmerizing views of the Amalfi Coast.
Pin it: 10 best hotels in Ravello Italy