15 Most Famous Italian Fashion Designers
Italian fashion designers are known all around the world. Starting from Italian fashion designer Gianni Versace to his sister, Donatella, Valentino, Armani, Dolce & Gabbana, all the way to those who are the creative directors/designers of some major French fashion brands, like Louis Vuitton or Dior.
Italian fashion brands are leaders in the world fashion industry, and luxury fashion mainly. As a tribute, and admiration for their impeccable taste, and the fabulous work they do (or did), we decided to write an article that brings together some of the most important names not only among Italian brands but in the fashion industry around the world. We'll get to know more about some designers that create trends and iconic products every single day.
15 most famous Italian fashion designers
Within this article about the most famous fashion designers from Italy, we aim to bring together the past and the present. Some of the designers on our list are no longer with us, but what they created does keep them alive, and remembered forever.
Others on the list are some of today's most outstanding people in the fashion industry, who own brands that are worth even billions of dollars. The third category we added is for those designers, who are either not so famous just yet on the world's scene, or are designers of some major fashion brands but they don't own them.
All these people are admired for their style, creativity, and hard work. You'll find designers who created some of the most clothing brands, who also offer sunglasses, bags, perfumes, shoes for women or men, and jewelry even. Let's discover who they are!
1. Giorgio Armani – Italian fashion designer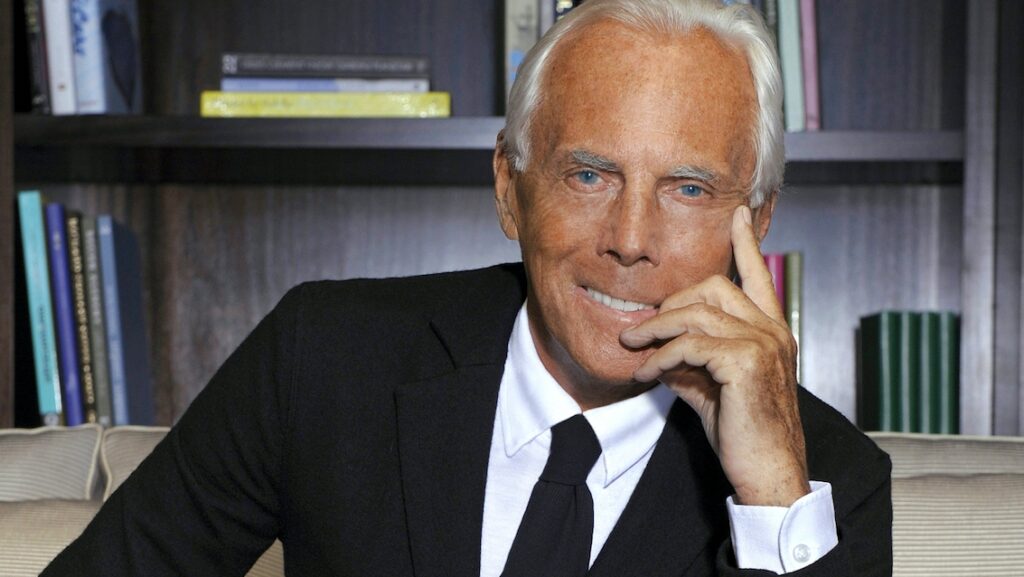 Out of all Italian fashion designers, Giorgio Armani is probably the most outstanding. The 89 years old designer is still actively working, designing, taking care of his store in Milan, signing books, and participating in Armani events and fashion shows.
I believe this is already outstanding, given his age, but beyond that, Mr. Armani built an empire that's one of the most prestigious, most respected brands in the world. Armani's menswear clothing brand, and not only, but his suits, and women's ready-to-wear and couture are particular, and easy to recognise.
The Armani designs are just like Giorgio Armani himself. Simple, flawless, elegant. Materials are always clean, restrained, elegant, and mysterious. The main colors are always black, beige, white, coral, and sand.
These are spiced up sometimes, but usually speaking, especially the quality black, white, and coral are the Armani colors. Also, these colors dominate in his hotel too, in the interior design. Giorgio Armani designed costumes for the world of cinema and celebrities as well. Mr. Armani also wrote a book called 'con Amore', which he was kind to sign for me at his book's event in Milan.
The Armani Group includes: Giorgio Armani, Emporio Armani, Armani Exchange, Giorgio Armani Privé, Armani Junior, Armani Jeans, and he also owns two hotels in Milan and Dubai, restaurants, cafes, a spa, and nightclubs. Giorgio Armani's net worth is 12.5 billion $ according to Forbes.
2. Valentino Garavani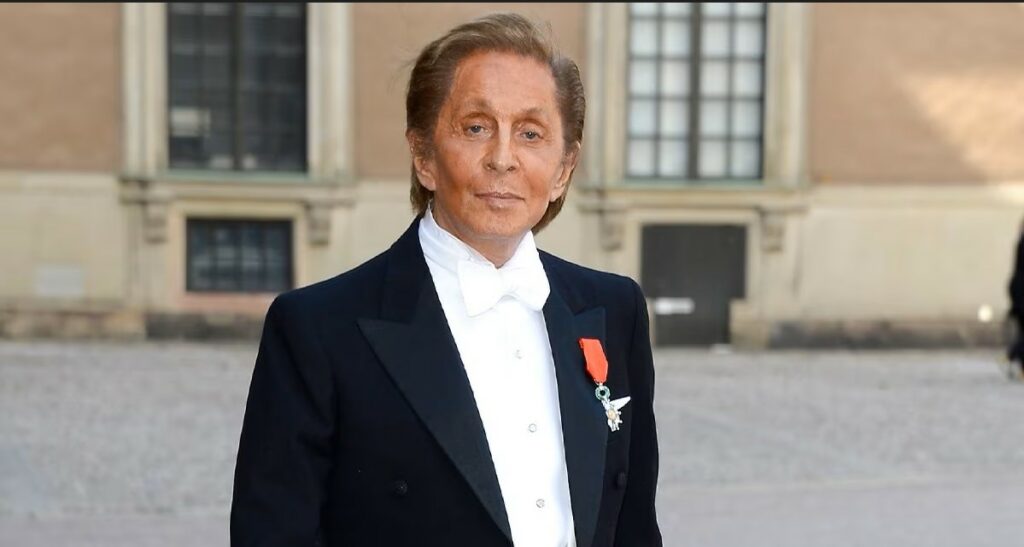 We couldn't speak about Italian fashion without one of the most famous Italian fashion designers on this list, Valentino Garavani. He was born in 1932 in northern Italy, and he's known in the world mononymously as Valentino. After school, he studied fashion in Paris where then he worked with Balenciaga, Jean Dessès, and many more.
In 1960 he left Paris and opened his atelier in Rome on the famous shopping street, Via dei Condotti. This was actually more than an atelier. It was a real maison of haute couture. Valentino became famous for his red dresses, using a specific shade that later become known in the fashion industry as the "Valentino red".
His international debut took place in Florence in 1962. At the time, Florence was the Italian fashion capital, not Milan. In 1964 Jacky Kennedy became interested in Valentino's designs, and she purchased 6 of them for her first presentation. She later became a main customer and a friend of Valentino.
In the 70s he spent a lot of time in New York, and the next coming years he worked on growing his brand, and his name. In 1990 the Accademia Valentino opened, that's a cultural place for art exhibitions. The Valentino brand was first sold in 1998 by Valentino and his partner. This was resold two more times until it ended up in Mayhoola for Investments S.P.C., a holding company sustained by a group of private investors from Qatar.
3. Miuccia Prada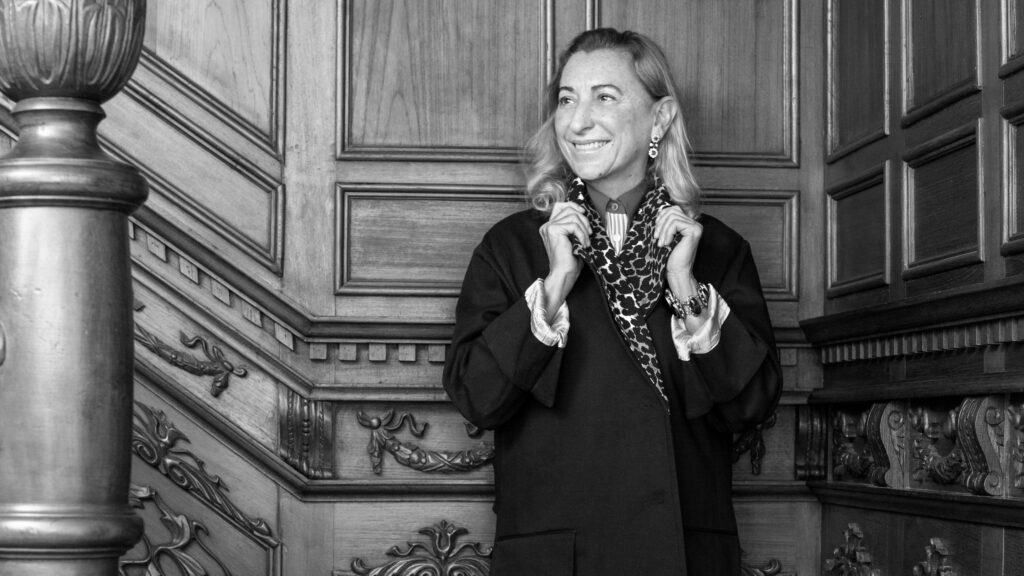 One of the most famous fashion designers from Italy is the magnificent Miuccia Prada. She was born in 1949, and she's an Italian billionaire female fashion designer. Miuccia is the head designer of Prada and the founder of the Miu Miu brand.
Forbes estimated Miuccia Prada at 11.1 billion $ net worth, as a leader as one of the most famous luxury Italian clothing brands in the world. Miuccia was listed as the 75th most powerful woman in the world.
Beyond being one of the most successful women in the world of fashion, the beauty of her is that she does each step along the way with her husband on her side. With Prada being so famous for decades, Miu Miu launched quickly and became a leading brand within a few years.
4. Domenico Dolce
When it comes to famous fashion designers from Italy, Domenico Dolce, co-founder (and owner) of Dolce & Gabbana is someone we must speak about! Domenico (on the right) was born in 1958 in Sicily, and he founded D&G with Stefano Gabbana in 1985, which has since become one of the world's most iconic fashion brands.
After founding the brand, this continued quickly to expand, holding the first fashion shows in Tokyo in 1989, and New York in 1990. They quickly released lines for lingerie and beachwear too, and they opened the first New York City showroom in 1990 on Broadway in Soho, Manhattan. The first Dolce & Gabbana perfume was released in 1992.
By 2003 Domenico and Stefano's company overcame Gucci, Prada, Armani, and even Versace in Italy's domestic market. Domenico wasn't only a business partner with Stefano, but they were a couple for many years. They came out in 1999, and they broke up in 2003. However, they stayed business partners and friends ever since.
He (they) has quite a real-estate portfolio, while Domenico's net worth is above 1.74 billion dollars according to Forbes. He is also the 27th richest person in Italy.
5. Stefano Gabbana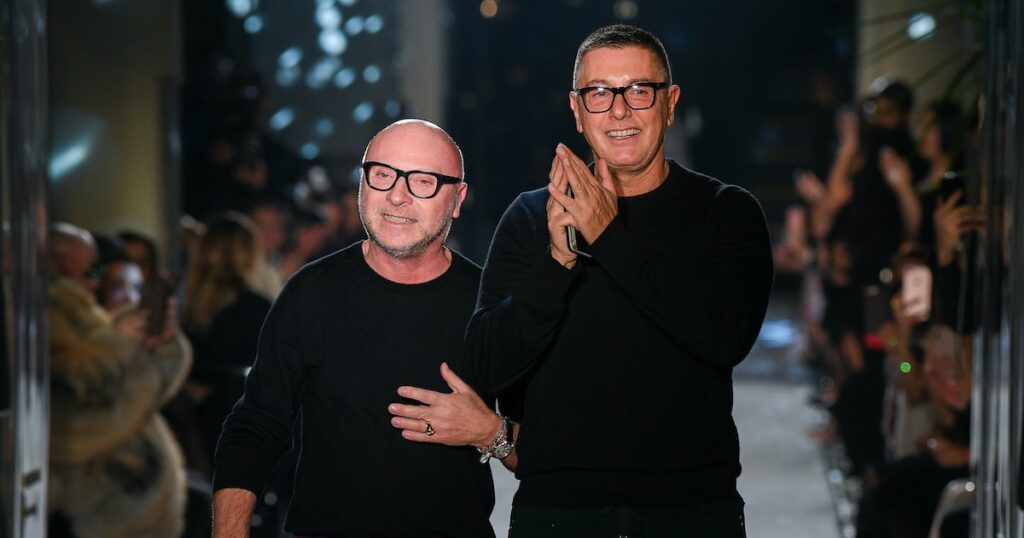 We wanted to speak about the two designers separately, so let's see now one of the most outstanding Italian fashion designers, Stefano Gabbana. He was born in 1962 in Milan, and as you already know, he's co-founder of Dolce & Gabbana.
The Italian fashion designer achieved worldwide fame in 1993 when for the Girlie Show World Tour Madonna chose a D&G design. They have then made designs for Monica Bellucci, Kylie Minogue, Angelina Jolie, and so many others in the past few years. Their latest collaboration is with Kim Kardashian, with whom they also made a collection together.
Nearly 25 years after D&G opened, the company had 113 stores and 21 factory outlets, a staff of 3,500 people, and an annual turnover of more than €1 billion. According to Forbes, Stefano Gabbana's net worth is 1.56 billion $.
6. Gianni Versace – iconic Italian designers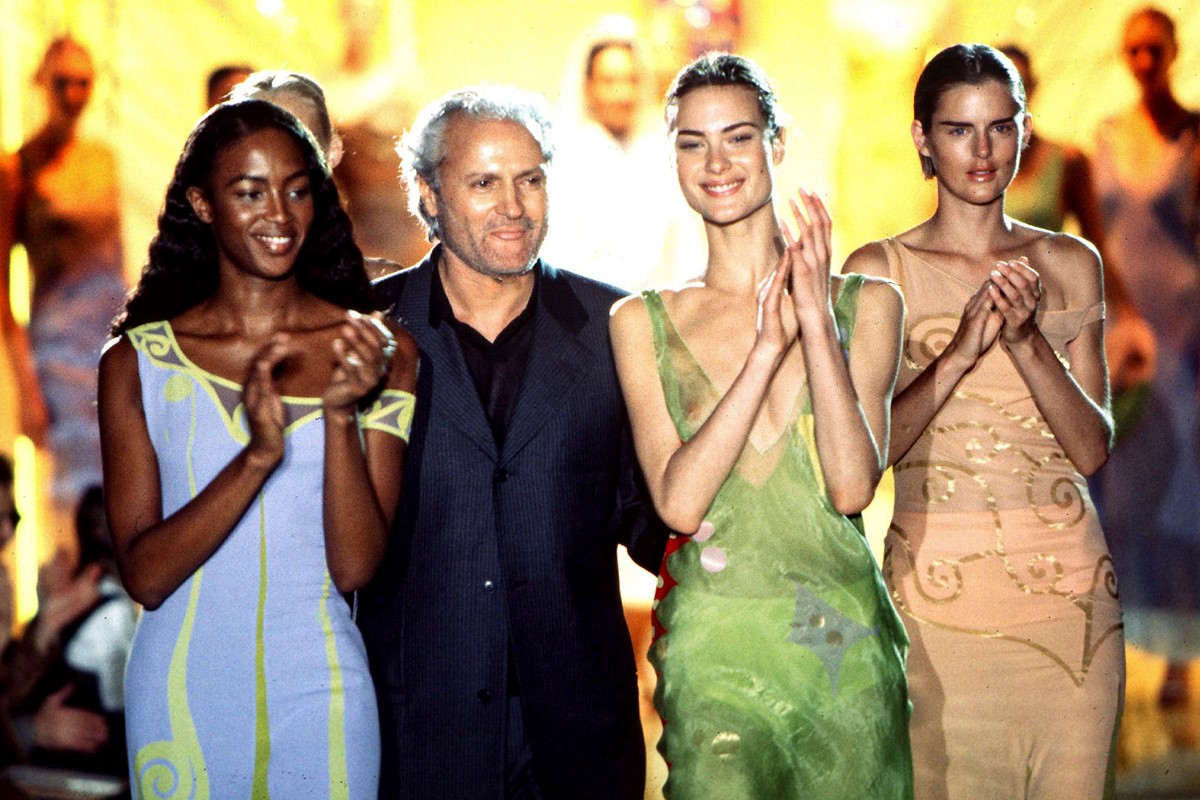 Gianni Versace is probably the most famous of all Italian fashion designers, not only for his life, his work, and his brand, but also for the way he was murdered. Giovanni Maria Versace is his full name, and he was born in 1946 and died in 1997. Gianni was the founder of Versace, one of the internationally most famous luxury fashion houses in the world.
He designed many costumes for theatre and films. He was friends with Princess Diana, Clapton, Naomi Campbell, Madonna, Kate Moss, Tupac Shakur, and even Elton John. These great connections made him one of the first fashion designers to link fashion to the music world.
Gianni Versace was strongly influenced by ancient Greek history and culture. This reveals itself in the Greek prints and the famous Medusa logo too. Versace was always famous for vivid colors, the combination of black and gold, and all that wrapped up in a creation of mystery.
Versace "combines luxurious classicism with overt sexuality". There was also a saying in Italy about Versace's rivalry with Giorgio Armani: "Armani dresses the wife, Versace dresses the mistress."
On the 15th of July in 1997, Gianni Versace was murdered outside his Miami Beach mansion, Casa Casuarina (which you can still pass by).
There's also a series now about this on Netflix! At the time of his death, the Versace empire was valued 807 million $, and they had 130 boutiques across the world. The Versace empire was taken over later by his sister, Donatella, who was vice president already for many years.
7. Donatella Versace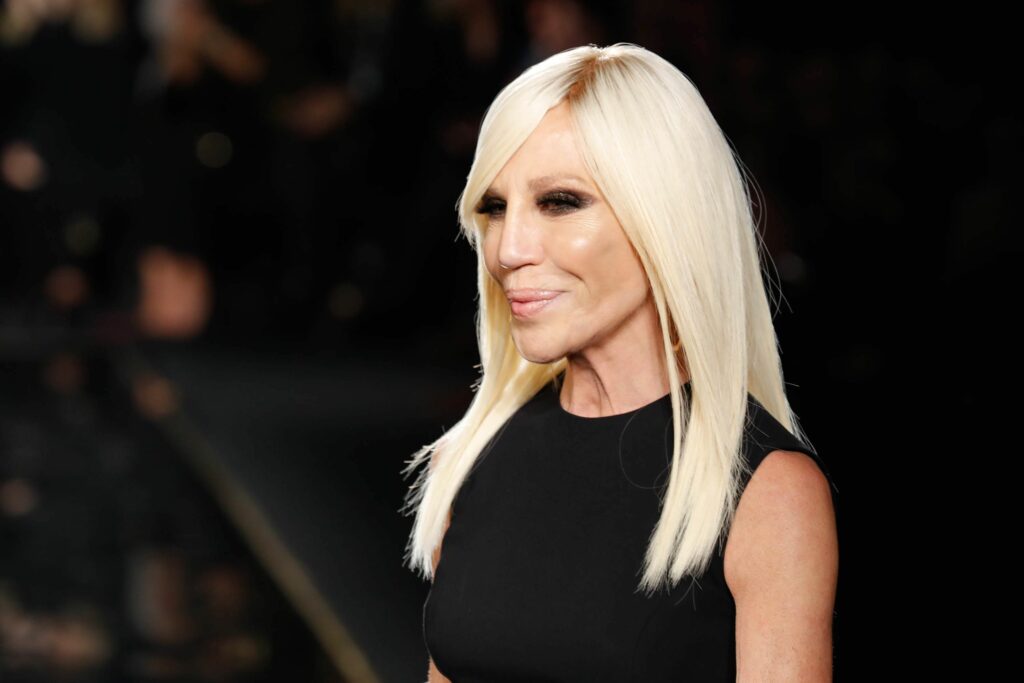 When it comes to the most fascinating Italian fashion designer, I always say Donatella Versace! She's Gianni's younger sister, born in 1955. In the 70s she studied in Florence literature and languages, which was followed by the journey with Gianni in Milan. Donatella worked closely with Gianni in the development and growth of the Versace brand.
Upon his death, Donatella became the creative director of the brand. Up until today, she's the CCO of the company. In her work, Donatella always stayed true to Gianni's style. Not only because they shared the same style, but because they were very close. She was only interested in the fashion industry truly, which made her the perfect creative director.
Some of Donatella Versace's Awards
2005: World Fashion Award as Designer of the Year, at the Women's World Awards
2010: Woman of the Year by Glamour
2012, 2016: Fashion Designer of the Year by Glamour
2017: Fashion Icon of the Year award by the British Fashion Council
2018: International CFDA Award
In 1998 Donatella mounted her first haute couture show at Hotel Ritz Paris. She has built the runway over the pool just as her brother did every season. Gianni and Donatella's best-known Versace clothing was exhibited in London, in the Victoria and Albert Museum too.
Donatella designed clothes for everyone from Anna Hathaway, Madonna, Christina Aguilera, Demi Moore, Nicki Minaj, Lady Gaga, Jennifer Lopez, Beyonce, and more. She also designed the Palazzo Versace Australia resort, and the Palazzo Versace in Dubai. Moreover, she designed a Mini Cooper too. As for her personal life, she has two children with her ex-husband. Donatella Versace's net worth is around $400 million.
8. Elisabeta Franchi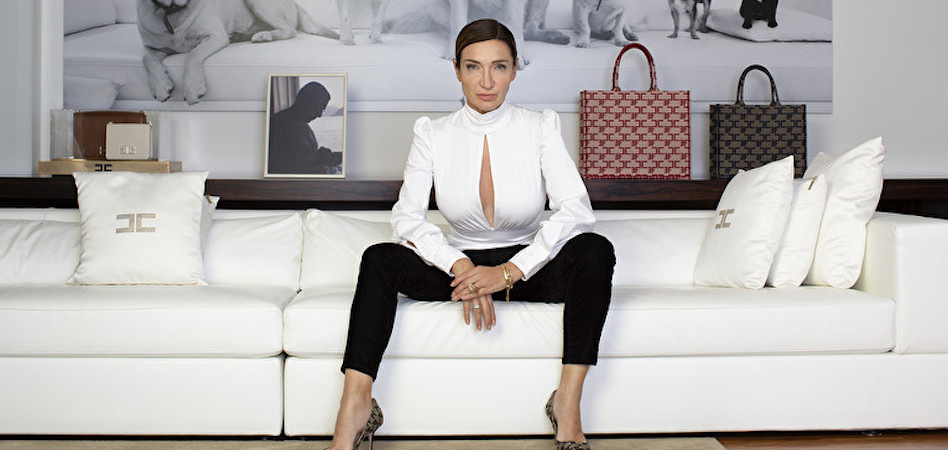 An Italian fashion designer I discovered only in 2021, but since, she has become my favorite designer. Elisabetta Franchi is the designer and the brand where every single piece is beautiful, feminine, and elegant. She basically rewrote the rule of ready-to-wear by mixing elegance and pragmatism with seductiveness and inclusivity.
Elisabetta Franchi opened her first atelier in 1995 which in a few years became a full-fledging company, Betty Blue SpA, with an ultrafeminine ready-to-wear line, all made in Italy. In 2012 she set up the Elisabetta Franchi Brand. The monogram is visible on the prints of many clothes, and accessories.
Elisabetta Franchi debuted in 2015 at Milan Fashion Week. She is an inspiration when it comes to a self-made successful businesswoman. Today, Elisabetta Franchi, the brand has two headquarters in Bologna and Milan, over 100 flagship boutiques in the world, and over 100 multi-brand stores. Their turnover in 2022 was € 160M.
She has two kids and many dogs. Actually, she has a foundation for dogs called the Elisabetta Franchi Foundation. If you're interested in donating, check this out!
9. Maria Cristina Chiuri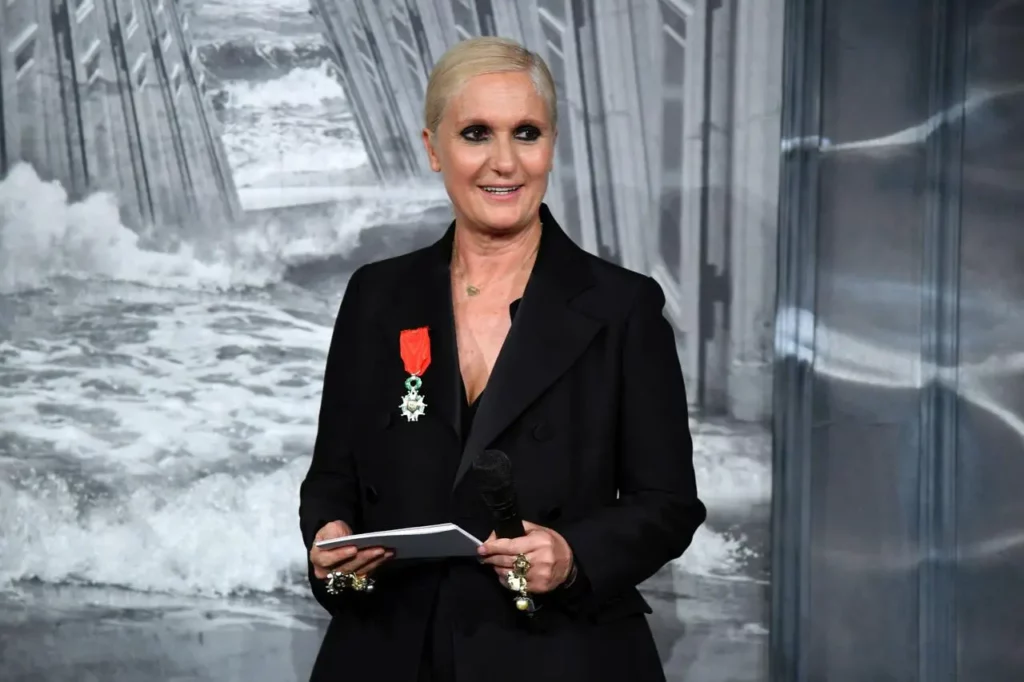 When it comes to Italian fashion designers, we often don't speak enough of those who don't own the company, but they are the creative directors of it. Maria Grazia Chiusi is the creative director of Dior, and she's one of the most outstanding designers today for sure! She was born in 1964 in Italy.
She joined Fendi in 1989, where she helped develop the famous Baguette bag, and she recruited Pierpaolo Piccioli, of whom we'll also speak. Maria Grazia Chiuri joined Valentino in 1999. When Valentino Garavani retired, she was promoted to co-artistic director along with Pierpaolo Piccioli. She received more than one offer from Dior, but to the one in 2016, she couldn't say no. She got the role of artistic director at Christian Dor women's collections.
This included haute couture and ready-to-wear lines, a total of six collections every year. We must point out about Maria Grazia Chiuri, that she was the first woman in this position since the foundation of the brand in 1946. And I must personally say, that I've never seen so many beautiful designs from Dior than since she's the creative director.
10. Guccio Gucci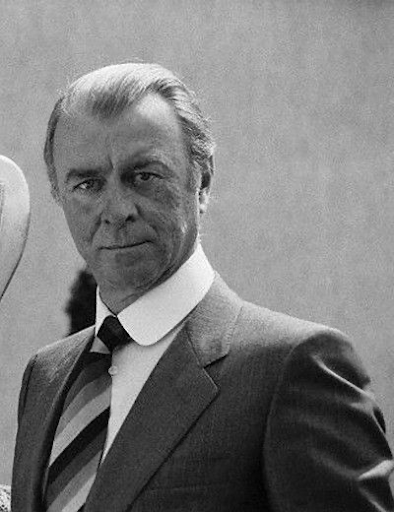 We end our selection with the great founder of the fashion house called Gucci. Guccio Gucci is one of the most known Italian fashion designers names. He has become known for the best leather and accessories craftsmanship of high-end fashion products. Moreover, he is known as being among the Italian men's fashion designers.
The Gucci signature spreads Italy's fashion heritage all around the world through Guccio Gucci's creations. Also, It got famous and notable through its most innovative creation, the handle of the Bamboo bag.
Even after his death, his fashion legacy was continued by his sons, by opening the 1st Gucci boutique in New York. Furthermore, his brand is known and spread internationally and receives the tag of "high-end products made in Italy". There's a movie with Lady Gaga about the story of Gucci. Worth watching!
11. Pierpaolo Piccioli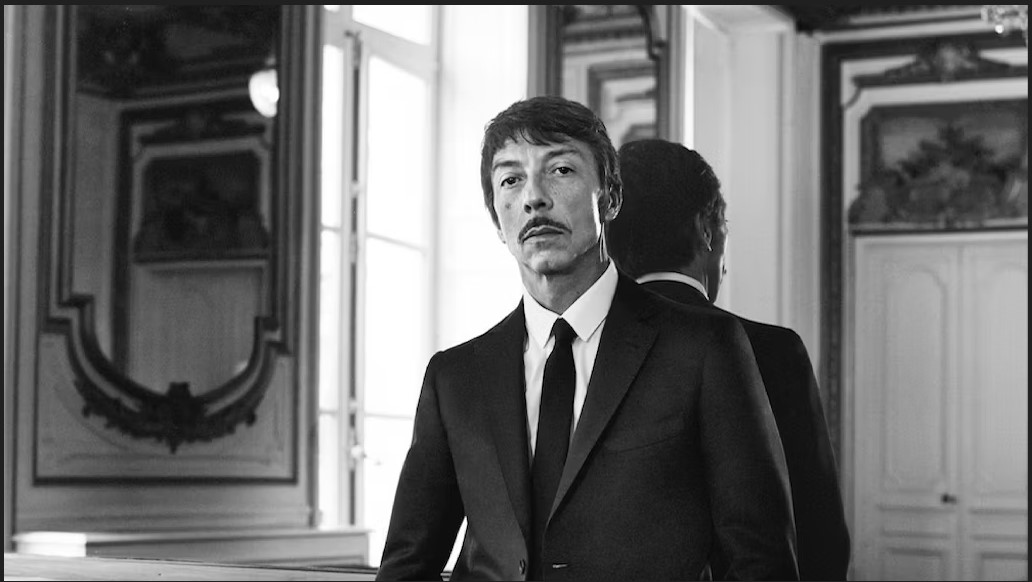 When it comes to famous fashion designers from Italy, we can't avoid Pierpaolo Piccioli (born in 1967) anymore! Before joining Valentino in 1999, he was working at Fendi since 1990 for 9 years. He's been overseeing Valentino's creative direction for eight years.
Since Pierpaolo is the creative director at Valentino, they boosted annual revenue to $1 billion in 2015. He became the sole director in 2016 when Maria Grazia Chiuri left for Dior.
Valentino was struggling to earn back its international attention, which Chiuri and Piccioli brought back through their unique style and hard work. Since Piccioli became sole director, the brand has seen lots of growth and success. His Autumn/Winter 2018 Haute couture collection for Valentino received a standing ovation.
12. Salvatore Ferragamo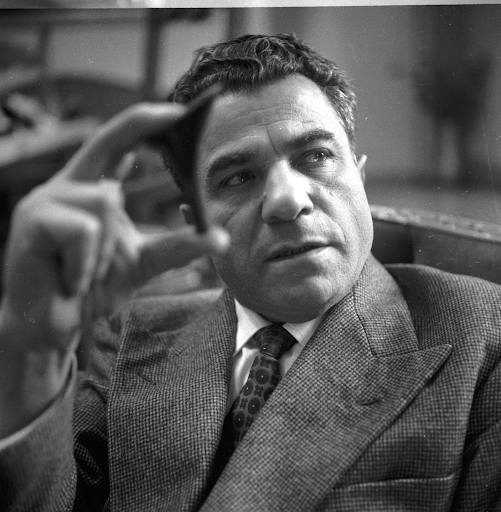 Salvatore Ferragamo can't miss this list when it comes to famous fashion designers from Italy. He started his career in the fashion industry by opening a shoe-making company. Nowadays it has become one of the leading Italian brands for shoes, timepieces, clothing, eyewear, and fragrance lines as well.
Also, Salvatore Ferragamo combined creativity, unique style, and innovative approaches. All those into the Salvatore Ferragamo brand that can be distinguished from any other brand, He made the Italian tag be recognized all around the world. Moreover, following his death in 1960, the brand carries his vision and legacy.
13. Emilio Pucci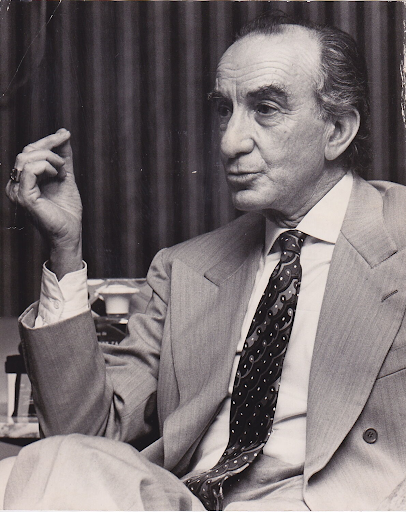 One of the most famous Italian fashion designers, Emilio Pucci amazed the fashion world through colorful prints that become icon pieces for everyone who wanted to wear signature prints. He developed abstract designs, following a kaleidoscope of colors, while using natural and Mediterranean colors as inspiration.
He made himself remarked through his original ski outfit and was asked to design more designs starting from it. Also, even after his death, at only 78 years old his colored prints continue to make the Emilio Pucci fashion empire spread the Italian tag worldwide.
14. Roberto Cavalli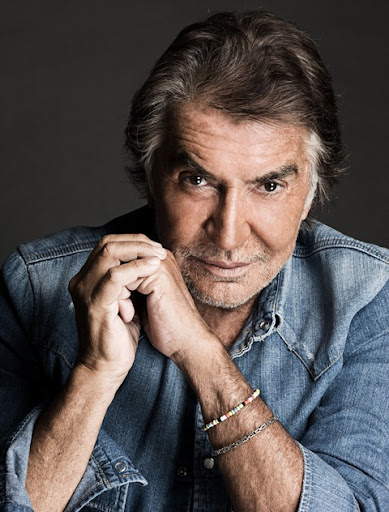 Our Italian fashion designer list wouldn't be complete without Roberto Cavalli. He was born in 1940 in Florence, and he's one of the most famous designers of the last century. His grandfather, Giuseppe Rossi's art piece, the Macchiaioli Movement was exhibited in the Uffizi Gallery, so that probably explains Roberto's creativity too.
Roberto Cavalli invented a printing procedure on leather, which got him his first commissions from Pierre Cardin and Hermès too. He debuted with his first collections at the age of 43 in 1972 in Florence, Milan, and Saint-Tropez where he also opened boutiques. Cavalli's main line is sold in over fifty countries worldwide, and he also launched in 2000 his youth line.
Beyond that, the brand offers jewelry, underwear, beachwear, perfumes, and even eyewear. Today, the Roberto Cavalli fashion house sells luxury clothing, leather, and perfumes. The brand's creative director since 2017 is Paul Surridge, the former creative consultant at Acne Studios. Roberto Cavalli's net worth is estimated at $500 million.
15. Riccardo Tisci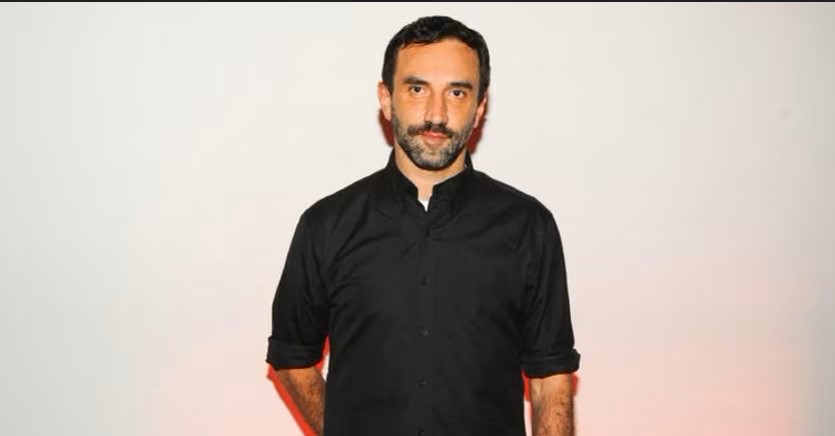 Another one of the Italian fashion designers who we don't speak about enough is Riccardo Tisci. He was born in 1974 in Taranto and was raised in Como. Then, he graduated from Lond's Central Saint Martins College of Art and Design in 1999.
Tisci debuted in 2004 at Milan Fashion Week, and that's when he started to gain more attention internationally. In 2005 Riccardo Tisci became the creative director for Givenchy's women's ready-to-wear and haute couture lines. Then in 2008, he took over the menswear and accessories creative design at Givenchy men's line.
He then left Givenchy and became chief creative officer of Burberry for 5 years. He left Burberry in 2022 and was replaced by a British designer. Apparently, he signed his new contract now with UTA.
Final words about the 15 best Italian fashion designers
The Italian fashion designers mentioned above are some of the biggest contributors to fashion in the past 60+ years. Some outstanding people with immense creativity, style, and taste, who worked hard, and work hard still, to design clothes, and build fashion empires. If you are interested in their lives individually, we started publishing Portrait articles about some of them. Make sure you check that out too!
Pin it: 15 Ultimate Best Italian Designers