15 Best Italian Luxury Fashion House
We spoke about the best Italian luxury fashion brands already, but a brand being luxurious doesn't mean it's also big. If you want to know which is the biggest Italian luxury fashion house, and which ones follow them, keep reading!
Italy is famous for its fashion brands, quality, elegant clothes, and timeless fashion pieces. There are almost hundreds of luxury brands in the fashion, accessories, and beauty industry. And what makes things interesting is that they are all great!
15 Italian Luxury Fashion House
We will speak about the oldest, the largest, the most famous, and the unknown but worthy Italian fashion house. Italy is known for its perfectionism when it comes to clothes, accessories, leather, and jewelry too. The Made in Italy label has become famous worldwide for a reason!
Now, we will discover together the 15 most important Italian luxury fashion houses, that are basically the creators of the world's fashion. Italy is providing a great deal of influential fashion houses, that are very popular worldwide, and this also explains why Milan is one of the fashion capitals of the world.
1. Gucci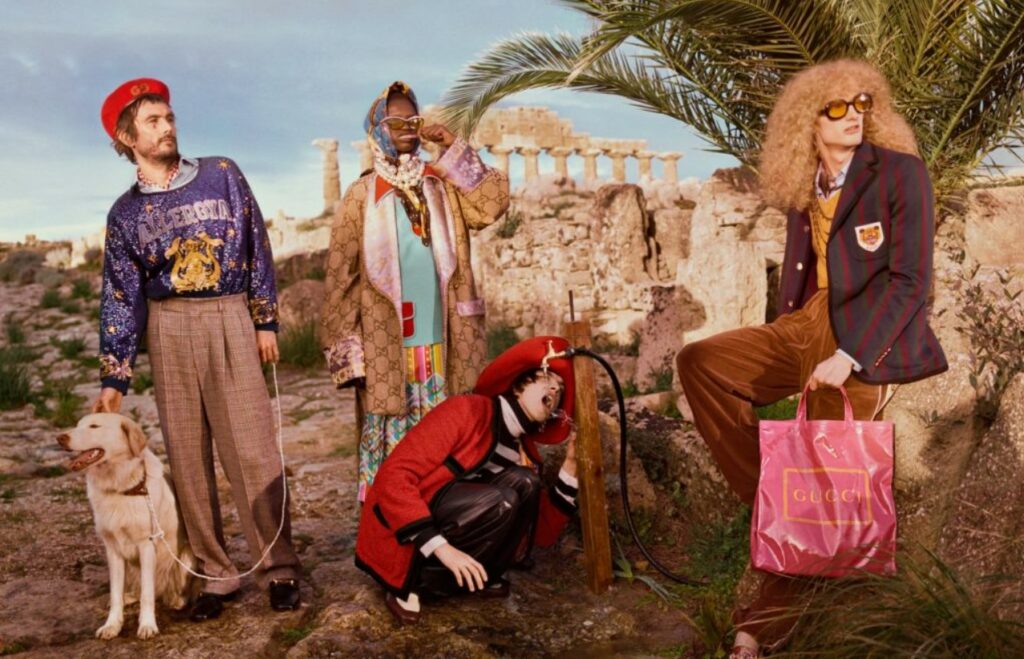 Founder: Guccio Gucci
Worth: $18.1 billion
Year/Place: 1921, Florence
Right, so when it comes to an Italian luxury fashion house that can't miss the top 10, that's definitely Gucci. While the history of Gucci as one of the most important Italian luxury brands is interesting, their today's designs are mindblowing too!
As I mentioned before, there are a few brands that must always be at the top of the best Italian fashion brands list, and Gucci is one of these. It's one of the oldest Italian high street fashion brands, yet remains one of the biggest sellers too. Gucci was founded in 1921 by Guccio Gucci. Recently an amazing movie came out about Gucci with Lady Gaga that's worth watching by the way!
Gucci began as a modest leather store that has grown for its appealing aesthetics. As for the style, Gucci was influenced by British and French colleagues but settled his voice and style by gaining inspiration from Tuscany. We always recognize a Gucci bag from the green and red stripe, horse-bit leather, and the GG monogram.
2. Giorgio Armani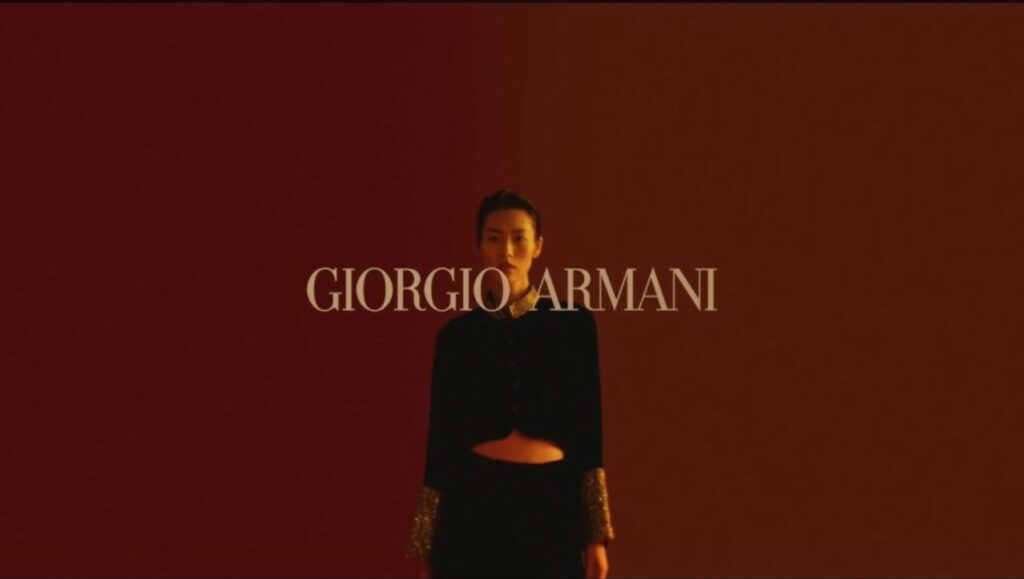 Founder: Giorgio Armani
Net Worth: US$9.53 billion
Year/Place: 1975, Milan
Let's start with the biggest luxury Italian fashion house! Armani is a major Italian fashion house, one of the most famous Italian fashion houses, and the man behind it, Giorgio Armani is surely iconic! When we hear Armani, we right away imagine razor-sharp quality black suits and that tasteful, simple yet elegant, extravagant style that only Italian designers can create.
Giorgio Armani, the brand was founded in 1975, and since we became one, if not the most famous man fashion icons in the world. Just like Versace, Armani is also owned by its founder. Well, in Versace's case, it's the sister of the founder, but still one family. The Armani fashion house since the 70s' grew and expanded, and it now has different brands and activities.
For instance, the small brother, the Emporio Armani, is a less luxurious, more playful, and more affordable version of the elegant big brother. The group also includes EA7, Armani Jeans, Armani Exchange, and the Armani Hotels and restaurants as well. That original Armani style is reflected however in each of the brands.
When you see from inside the Armani Hotel, it feels like you are inside an Armani suite world. Classy, simple, with black and white always dominating. Elegant, effortlessly cool, yet still creating a strong impression and making a statement. Armani is no question, for us, the number one of the Italian designer brands.
3. Prada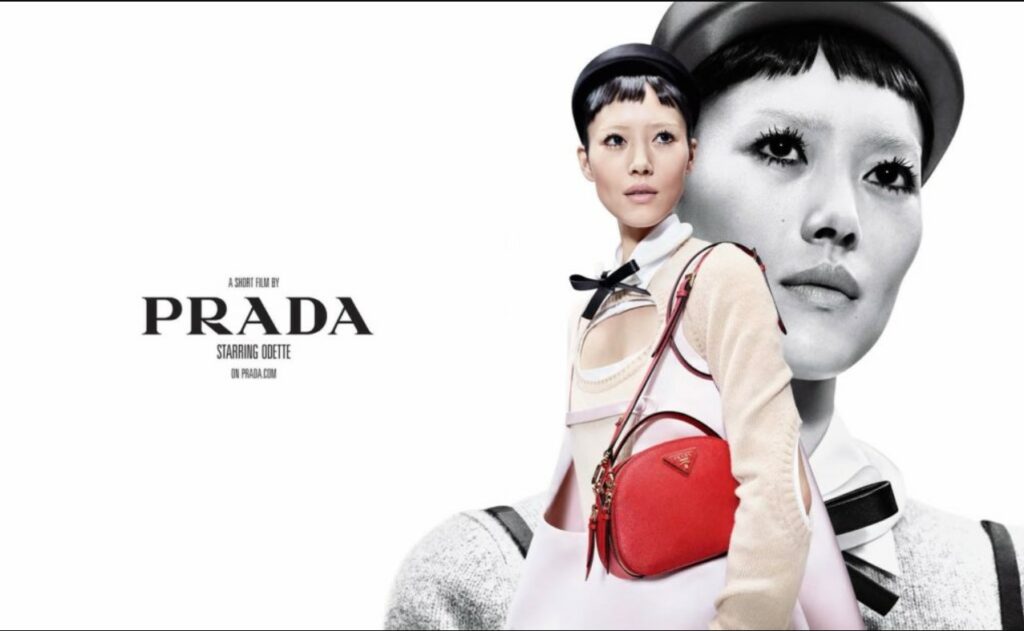 Founder: Mario Prada
Worth: $6.55 billion
Year/Place: 1913, Milano
An Italian fashion house that's somewhat similar in style to Armani, it's Prada. Prada is the female version of what the Armani brand represents. At least, that's what these two brands make me think of when I see them near each other. Prada is one of the most famous, and a major Italian fashion house, that if not from other places, but from the movie Devil Wears Prada you must have already known from!
Prada is one of those Italian luxury brands everyone knows! When it comes to expensive clothing brands, we can't ignore Prada. But, as for all the other Italian high-street fashion brands, Prada presented something unique which made it iconic. The brand's roots start with luxury leather bags and luggage goods.
Prada was founded in 1913 by Mario Prada, and today, it's still under the rule of the Prada family. Today the iconic designer, Mario Prada's granddaughter Miuccia Prada is the creative director of the brand as she inherited the label from her grandfather.
Prada has an incredible, stylish clothing line that the past years were oozing with color, flashy design, and interesting patterns. The little sister of Prada, Miuccia Prada's brand the Miu Miu is the same as the Emporio Armani to Giorgio Armani. A less luxurious, more affordable, more free-spirit version of Prada.
4. Fendi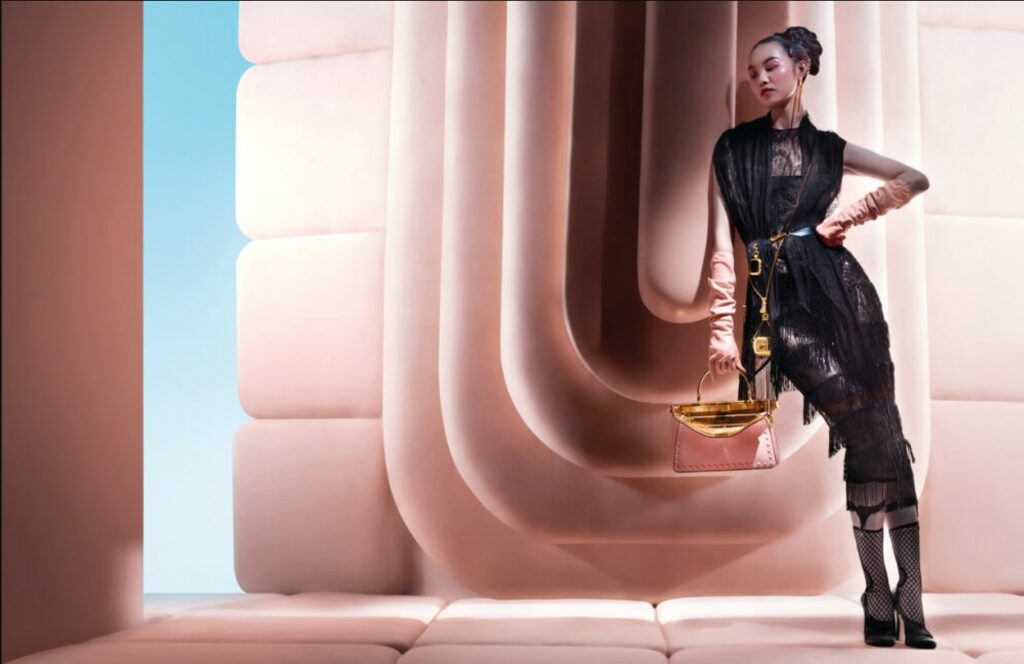 Founder: Edoardo Fendi & Adele Fendi
Worth: $6.3 billion
Year/Place: 1925, Rome
Fendi was founded in 1925 by Adele and Edoardo Fendi and the Italian fashion house experienced immediate success with its flawless designs and impeccable taste. It fast became one of the most expensive clothing brands, and in the past period, it started gaining even bigger attention around the world.
Fendi made his debut in Via del Plebescito in Rome, where Adele and Edoardo opened their small shop that was specializing in fur and leather goods. The success that lead them to be part of this Italian luxury fashion houses list started in 1925 when later the couple's five daughters joined too. Later, in 1965 Karl Lagerfeld, a German designer joined and started leading Fendi.
He's still an active member of one of the biggest Italian fashion brands, together with the founder's granddaughter Silvia Venturini Fendi. Lately, especially their collections of 2020 and 2021 really caught the attention and more and more people want Fendi. And when it comes to Fendi, it's not only one of the Italian designer brands, but they also have a hotel.
5. Dolce & Gabbana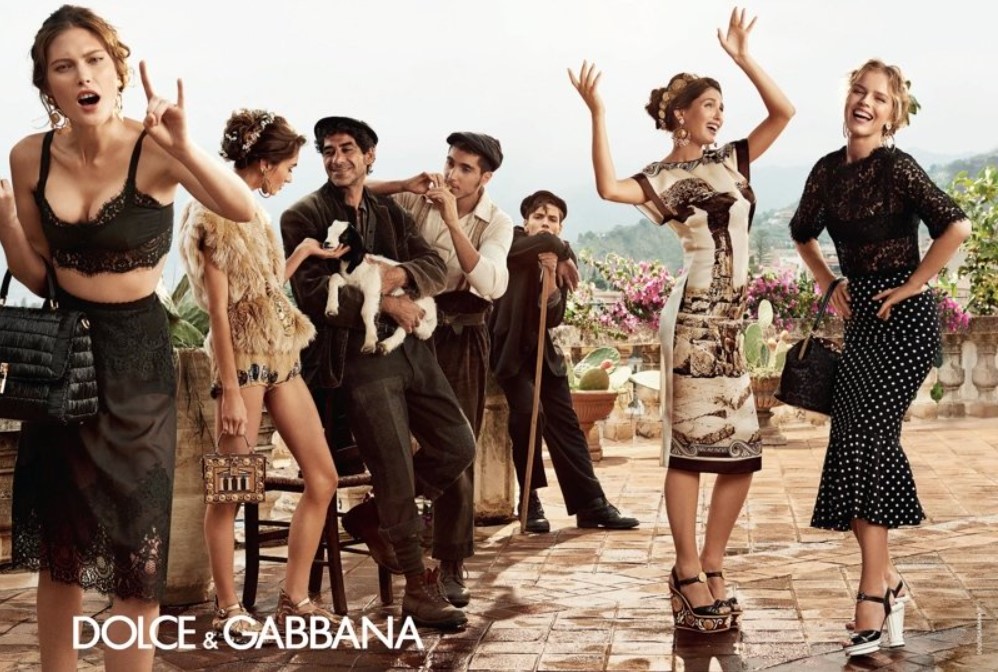 Founder: Domenico Dolce & Stefano Gabbana
Worth: $5.3 billion
Year/Place: 1985, Legnano
The fashion designer duo's Italian luxury fashion house everyone knows! There are 9 Italian fashion brands with billions in net worth. Dolce&Gabbana is a major Italian fashion house that's among them! While we were planning the best Italian fashion brands list it was really challenging to choose which brand to come after which one! The only reason is, that each of these fashion brands is unique, and each of them is uniquely amazing.
Dolce and Gabbana was the second choice for Italian high-street fashion brands mostly because of the past 10 years the brand continuously came out with collections that we find absolutely amazing! Just think about the Sicilian-style painting prints or the iconic lemon dresses from a few years ago or their latest collections that combine traditional Italian dress with elegance, glamour, and luxury.
D&G was founded by the Milanese Stefano Gabbana and the Sicilian Domenico Dolce who is not just a designer duo but were also a couple for many years. They started their career among the most classy Italian designer brands in 1985. The uniqueness of their designs is that they have always chosen different narratives of the Mediterranean inspired by different places or parts of history. Elegant, yet much more relaxed than Armani, colorful yet classy and glamorous.
6. Bottega Veneta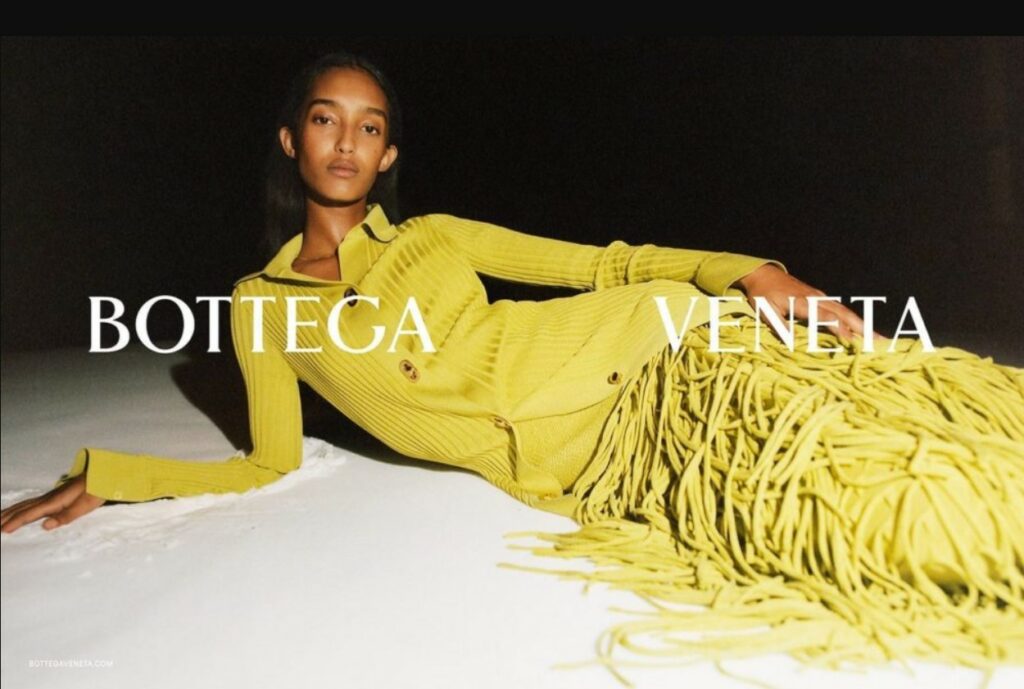 Founder: Renzo Zengiaro & Michele Taddei
Worth: + $4.96 billion
Year/Place: 1966, Vicenza
Let's talk about another Italian luxury fashion house and the brand Bottega Veneta. When it comes to Italian clothing brands and specifically high-end brands, Bottega Veneta must be the next on our list. There are just a few labels that can balance prestige and class as perfectly as Bottega Veneta does. As per this luxury brand, they don't need a big loud logo for you to know you're wearing luxury on you.
The technique can be identified easily when it comes to Bottega Veneta designs. After some experiments, the intracciato became the symbol of unmatched craftmanship with leather. Bottega Veneta was founded by Renzo Zengiaro and Michele Taddei in 1966. Besides the impeccable leather goods, they've got clothing, shoes, and accessories collections as well, and they remain one of the most important Italian designer clothing brands.
7. Valentino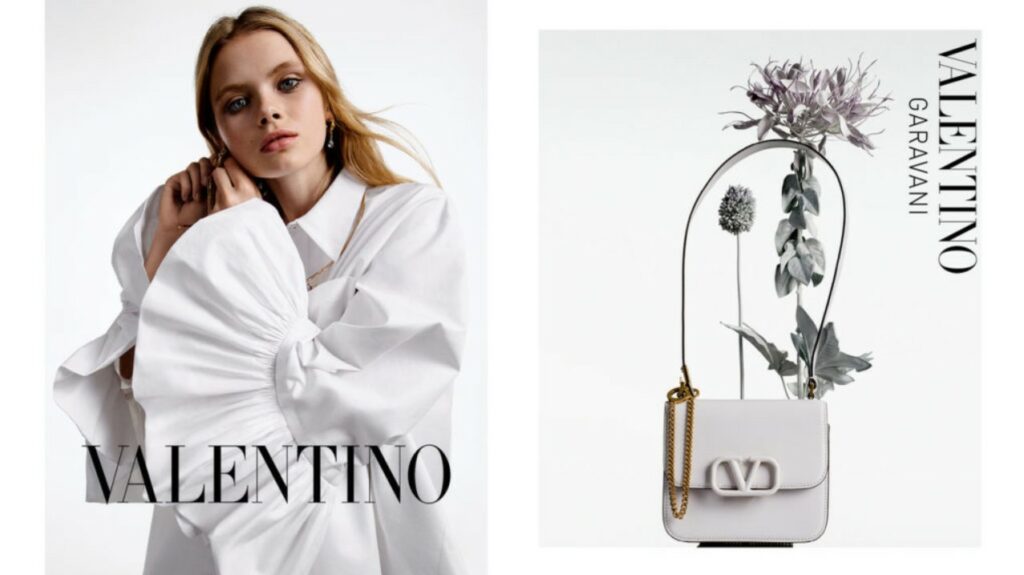 Founder: Valentino Garavani
Worth: + $4 billion
Year/Place: 1959, Rome
Another luxury Italian fashion house everybody heard about! When it comes to sparkling clean elegance, we say Valentino. A major Italian fashion house, a luxury brand with a really diversified collection of products from bags, clothing, fragrances, and footwear, all the way to accessories. If you're looking for luxurious, expensive clothing brands in Italy, Valentino must be among your top picks!
Valentino was founded in 1960 by Valentino Garavani and since then, it became one of the most famous Italian designer brands. This is one of those high-end brands that set the stage for feminine looks that celebrate female forms with exquisite floor-length gowns and skirts. Lately, Valentino started to become a statement not only as one of the best luxury Italian clothing brands but with their new logo-highlighted designer handbags.
8. Max Mara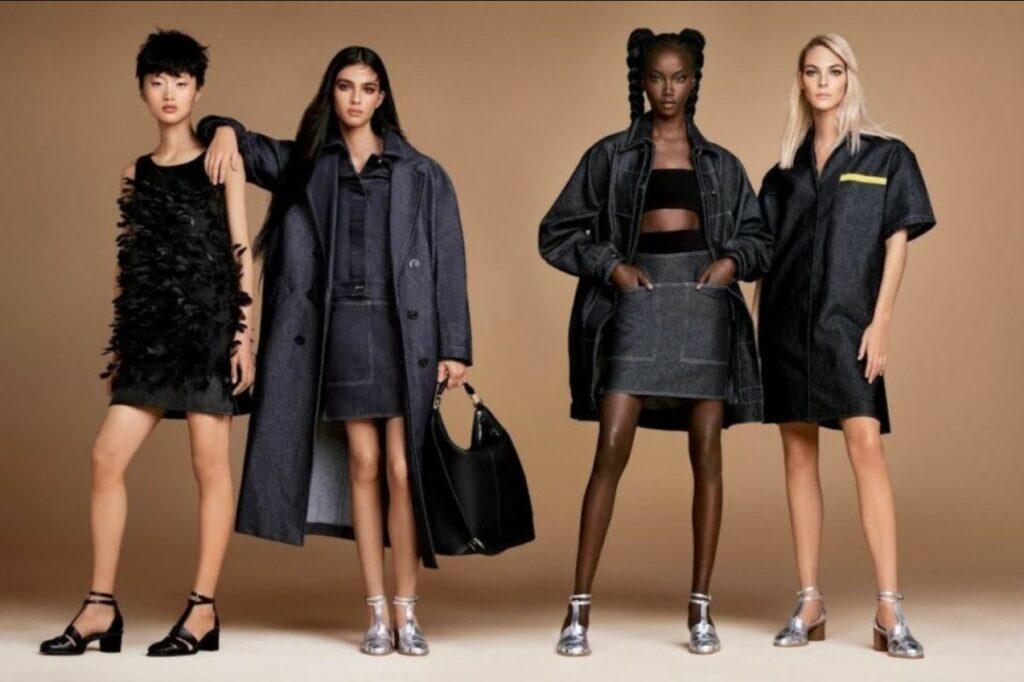 Founder: Achille Maramotti
Worth: $1.6 billion
Year/Place: 1951, Reggio Emilia
Max Mara is an Italian fashion house we discovered recently, though it's very famous! The history of Max Mara starts with the founder's grandmother who in 1850 was owning a major workshop in the center of Reggio Emilia. The passion for fabrics and tailoring was passed down to the granddaughter, Giulia Fontanesi Maramotti who started learning sewing and patternmaking in 1925 from her grandmother.
Cavaliere Achille Maramotti founded the first company of the Max Mara Group in 1951, which today is one of the most prestigious Italian fashion houses. Max Mara has sophisticated brand stores, and they are present in some of the most famous shopping houses from Paris to New York, and from Tokyo to South Africa, and of course in Milan too. They have some beautiful designs, but their bags and shoes are also fabulous!
9. Versace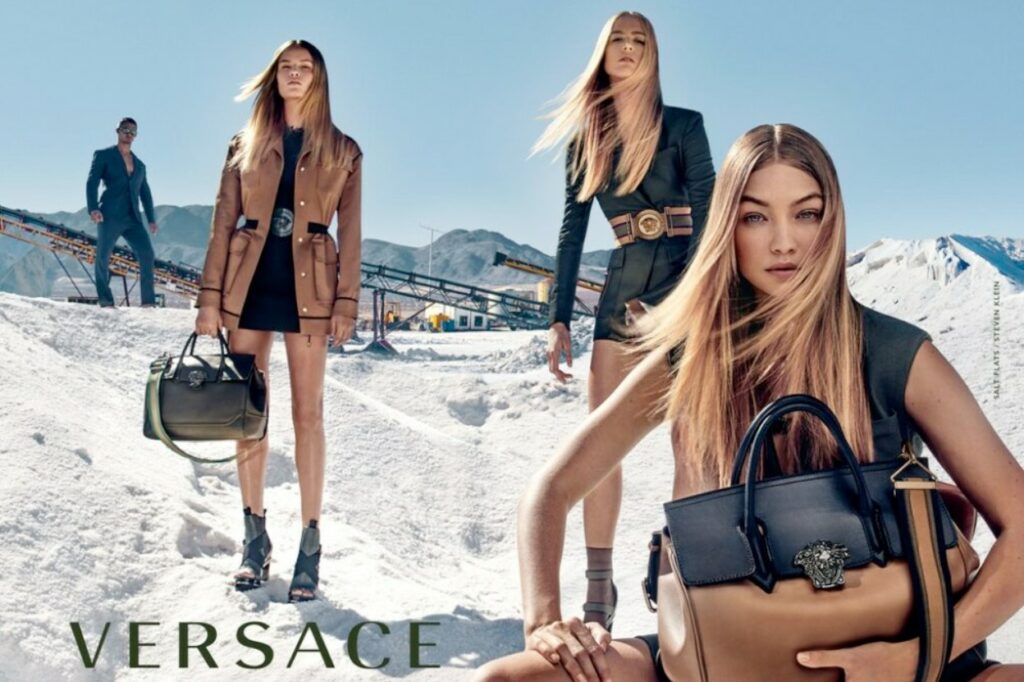 Founder: Gianni Versace
Worth: $1.4 billion
Year/Place: 1979, Milan
Which is the Italian fashion house founded by Gianni? The Italian luxury fashion house, Versace. I think Versace has an amazing, yet painful story, that created a label and a brand that we can't walk away from without having a good look at least.
Versace is one of the biggest Italian fashion brands founded in Milan by Gianni Versace in 1978. After Gianni was murdered in Miami, his sister, the incredible Donatella Versace took over the business completely, and she brought Versace to fame that it never was before.
Extreme elegance, eye-catching prints that are reflecting the Italian style that just Italian designer clothing brands can create… When it comes to the Italian fashion brand names list, Prada, as well as the previous me is number one.
Just like Armani, D&G, and Prada, Versace has a story behind the designs, a story that keeps the world enchanted. Donatella is not holding back, never. She wants women to stand out, and that's reflected in the collections. I really believe that there's no such an incredible designer with such a powerful story as hers.
10. Ferragamo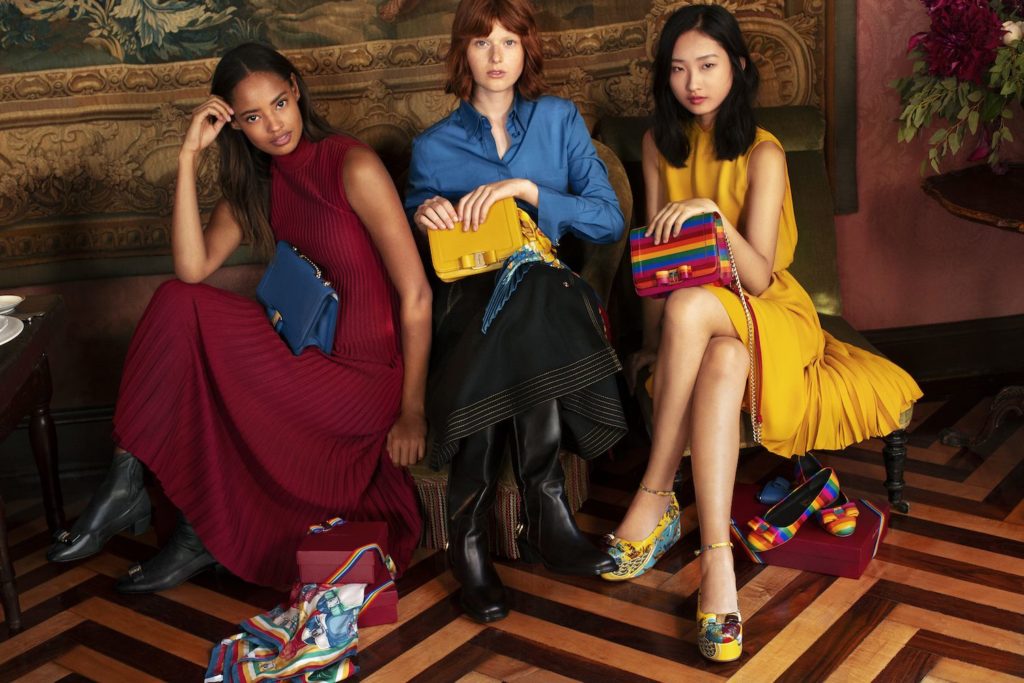 Founder: Salvatore Ferragamo
Worth: + $674 million
Year/Place: 1927, Florence
When it comes to a luxury Italian fashion house specializing in shoes, the Salvatore Ferragamo pieces are definitely something you should look out for! Especially if you're looking for trendy high-end shoe brands. When it comes to both Italian designer shoes for men and women, Salvatore Ferragamo is a real gem.
The fame of Salvatore Ferragamo started in Naples Italy, and then after moving to the United States, the designer opened his shop, Hollywood Boot Shop in 1923. Salvatore Ferragamo ignited the world with luxury Italian shoe brands since then, and he became famous by creating the popular wedge shoes, or platforms if you like.
While his design became famous, he started collaborating with Hollywood which brought his name around the world. Salvatore Ferragamo is an amazing, one of the best Italian leather shoes brand, offering timeless, creative, and elegant pieces that you will simply fall in love with. Also, beyond shoes, Salvatore Ferragamo now offers small leather goods, accessories, and clothing lines as well.
11. Etro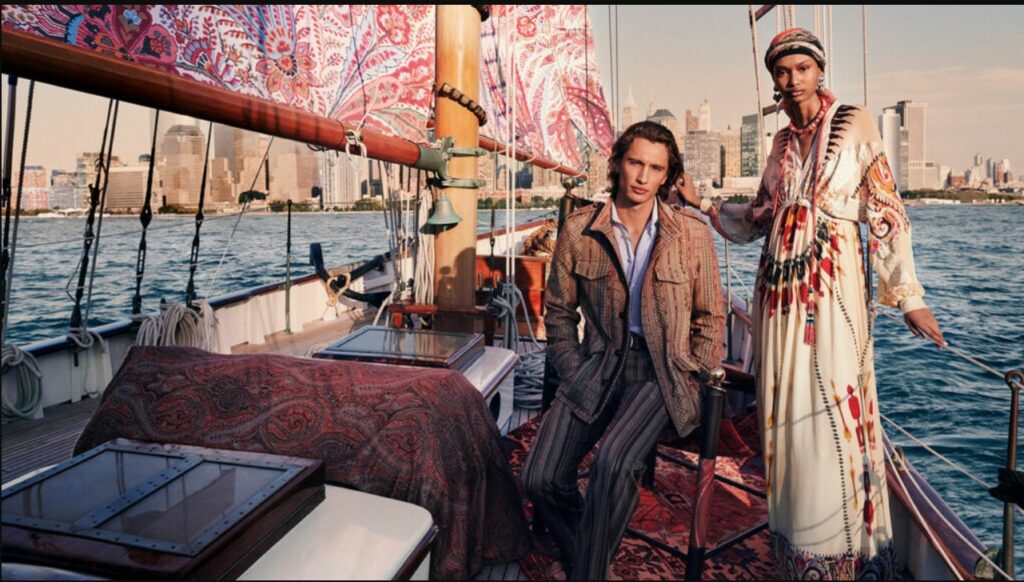 Founder: Gerolamo Etro
Worth: $590 million
Year/Place: 1968, Milan
One of the most outstanding family-owned Italian clothing brands is Etro. Founded by Gimmo Etro as a textile company in Milan in 1968, Etro became famous in a really short period of time thanks to their refined prints. Then, in 1981 Gerolamo Etro introduced the Paisley pattern made in all color variations. This Paisley became later Etro's signature design too. Today ETRO is based at Via Spartaco in Milan, in a beautifully restored building.
While becoming one of the most important Italian luxury fashion houses, Etro also represents the Made in Italy label. Their logo is a proud Pegaso, a winged horse that is sometimes also printed or embroidered on clothes, bags, and belts too. The family company, Etro continues to transmit its distinctive features of curiosity, innovation, travel, nature, art, and sustainability, as well as the community. They have some stunning places that all fashion enthusiasts should keep an eye on!
12. Roberto Cavalli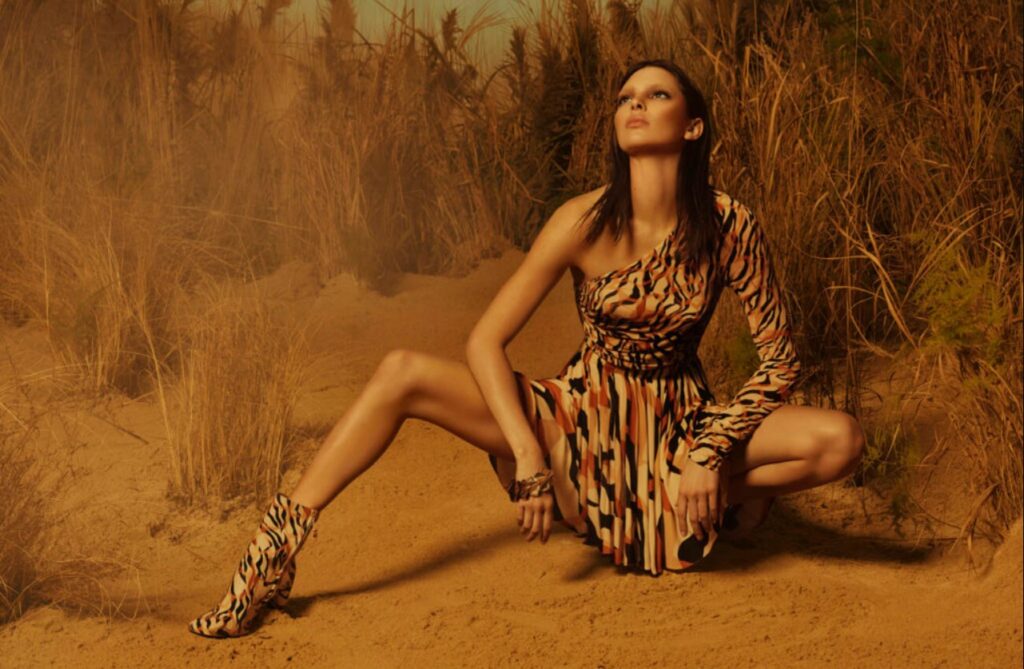 Founder: Roberto Cavalli
Worth: $ 550 million
Year/Place: 1972, Florence
The next one on our Italian luxury fashion houses list must be Robert Cavalli. Among the Italian designer brands, Roberto Cavalli is the one known for wild prints and exotic elegance. Many celebrities like Jennifer Lopez too wore Roberto Cavalli on the red carpet, and the glamorous silhouettes and seductive cuts made them just stand out.
When it comes to traditional Italian clothing, there are some colors and prints that Italians love to wear. Outstanding yet elegant, simple yet eye-catching is always what Italians are looking for when it comes to fashion.
Robert Cavalli was born in an artistic family in Florence Italy in 1940. His natural artistic skills lead him to revolutionize the fashion industry in 1970 by printing on leather. The very first Robert Cavalli shop was opened in 1972 in Saint Tropez, France. Since the brand made some amazing developments while it became one of the greatest brands.
13. Alberta Ferretti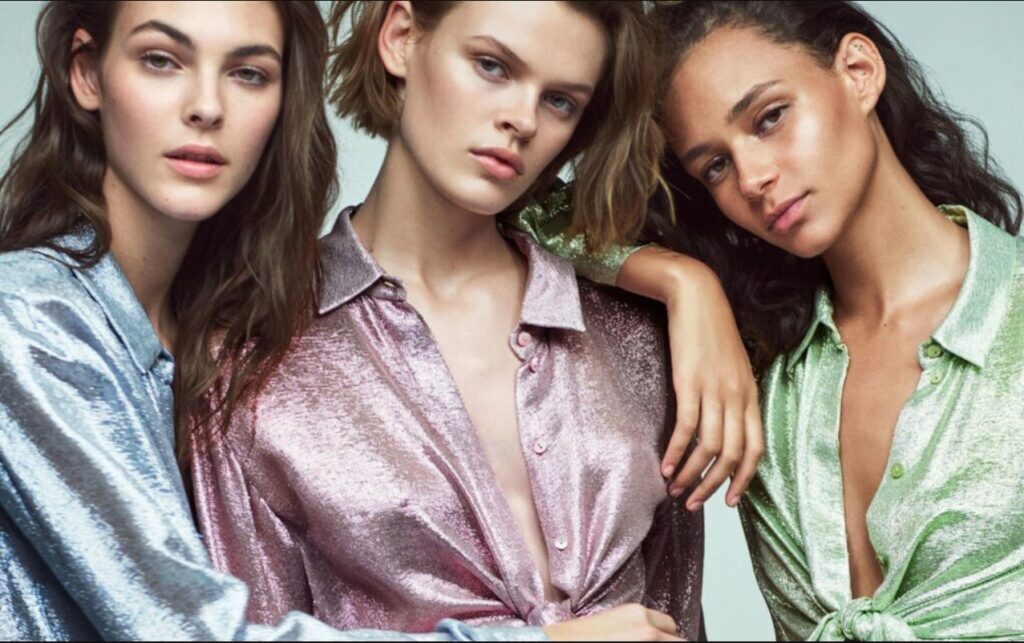 Founder: Alberta Ferretti
Worth: $100 million
Year/Place: 1984 
Alberta Ferretti is another gem of an Italian fashion house. She founded the prestigious Italian fashion brand in 1981 with her brother Massimo. Now, Alberta Ferretti made a brand with highly converted and successful womenswear, and she has a dedicated international following for her ultra-feminine and ethereal cocktail dresses and gowns. Honestly, worth checking them out!
The beauty of this brand is, that over the decades Alberta Ferretti has become influential in different clothing fields from bridal to childrenswear, and sportswear too. Thanks to her beautiful work, and the fact that is played a significant role in promoting Italian culture and business, she has been awarded many exceptional awards over the years, like the Lifetime Achievement Award in Rome.
14. Moschino
Founder: Franco Moschino
Worth: + $70.58 million
Year/Place: 1983, Milan
Moschino has a fantastic clothing line, but why we had to add it to our Italian luxury fashion brands because we just adore their bags! When it comes to designer clothing brands and beautiful Italian dresses, we say Moschino, but we say ALWAYS Moschino when it comes to small handbags especially.
Moschino is the brand of those girls who like to shock people around them, and who want to stand out. The brand was founded by Franco Moschino in 1983. Moschino is famous for everyday iconography, corporate logos, and even comic book characters used for their designs. Later, in 2013 Jeremy Scott, a British designer joined the Moschino team as creative director, and he brought a new set of flair that has placed Moschino in the spotlight.
15. Elisabetta Franchi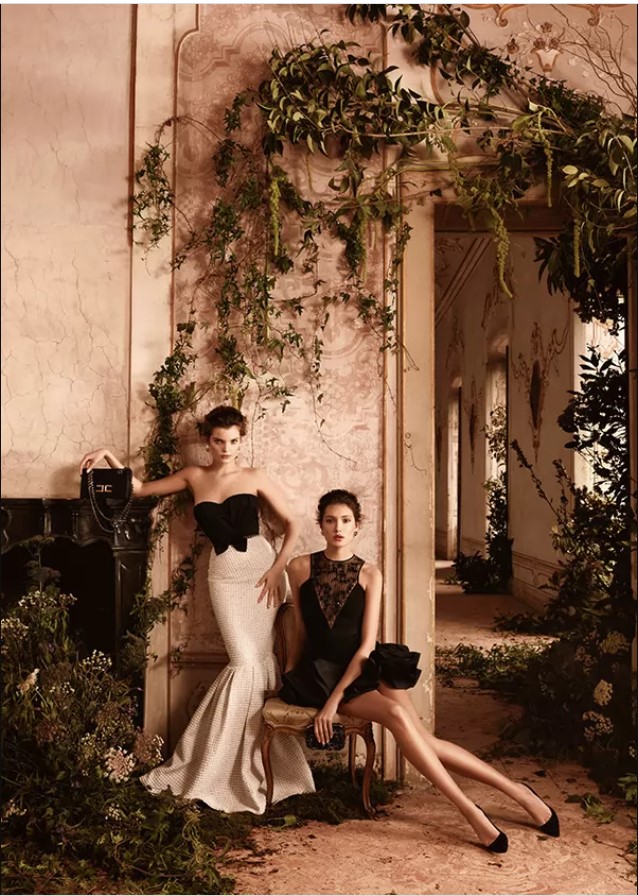 Founder: Elisabetta Franchi
Net Worth: $9.73 million
Year/Place: 1996, Bologna
Elisabetta Franchi just got on our list of the best luxury Italian fashion house. If you're looking for feminine, tasteful, chic, and elegant dresses, for clothing and accessories that highlight your beauty and feminity, you want to check out the latest Elisabetta Franchi collection! The collections speak for themselves, and they definitely speak buy me, since Elisabetta Franchi is the first brand where we loved literally every piece!
Elisabetta opened her first studio in 1995 when the company grew into one of the best Italian designer brands, featuring stunning pieces not only of clothing, but bags, accessories, and shoes as well. The official Elisabetta Franchi headquarters was founded in 2008, and they've got over 300 employees now. Her success is up for no doubt why, Elisabetta Franchi is not only one of the best Italian luxury brands, but Elisabetta herself is really inspiring as a woman too!
A brand that is flawlessly getting through the competition, and becoming one of the best Italian fashion brands out there. And when you'll check the collection, you'll find that there are plenty of more affordable pieces as well, so if you're not into luxury, but you want all eyes in the office, or events to be on you, the Elisabetta Franchi dresses will be for your like! One of those Italian clothing brands that need more attention!
Wrapping up the Italian luxury fashion house
Now that you know based on their worth too, which is the biggest Italian fashion house, and we discussed in detail the Italian luxury fashion houses, make sure you check out our other fashion-related articles. We speak about everything from designers to different fashion and beauty brands, models, and much more!
Pin: Italian luxury fashion house