Choosing your destination wedding photography Italy can prove a bit of a challenge. But honestly, we think it is more fun than a hassle, given just how many talented Italy wedding photographer you can find in the country. Whether you choose a wedding photography Tuscany Italy as your backdrop or something even more natural near Abruzzo, with this list you are sure to make the right choice for your big day.
10 best places for wedding photography in Italy
Wedding photography, Italy is very famous around the world. The scenery in all in every region of the country is absolutely magnificent and lends itself perfectly to weddings. There are many Italian wedding photographers, Tuscany that you can reach out to for unforgettable snapshots.
But that's not the only place where you can have a magical moment. Napoli, Capri, and Florence are only a few options where you can have a stunning pre-wedding photoshoot, and even a grand ceremony.
Since we're speaking about weddings in Italy, if you're in need of tips for wedding dress shops in Italy, wedding location ideas, or even Italian honeymoon ideas, we've got you covered with all that!
1. Wedding Photography Tuscany Italy: Certaldo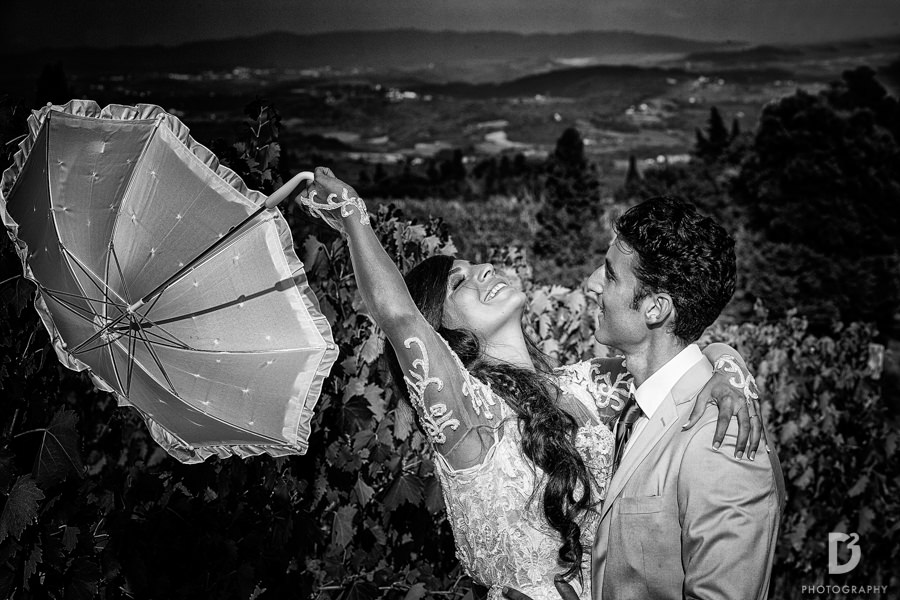 We have found a master of Italian wedding photography in Certaldo. Actually not one but two, a duo that performs under the name D2 Photography. Damiano and Donatella focus a great part of their art on wedding photography Tuscany, Italy.
The town of Certaldo is a small one that dates back from the 12th century, and it is said to have been built on a hill with Etruscan history. With those two photographers, husband and wife, you are sure to get the best medieval-tinted photographs for your wedding.
2. Gabriele Fani, Florence countryside, Tuscany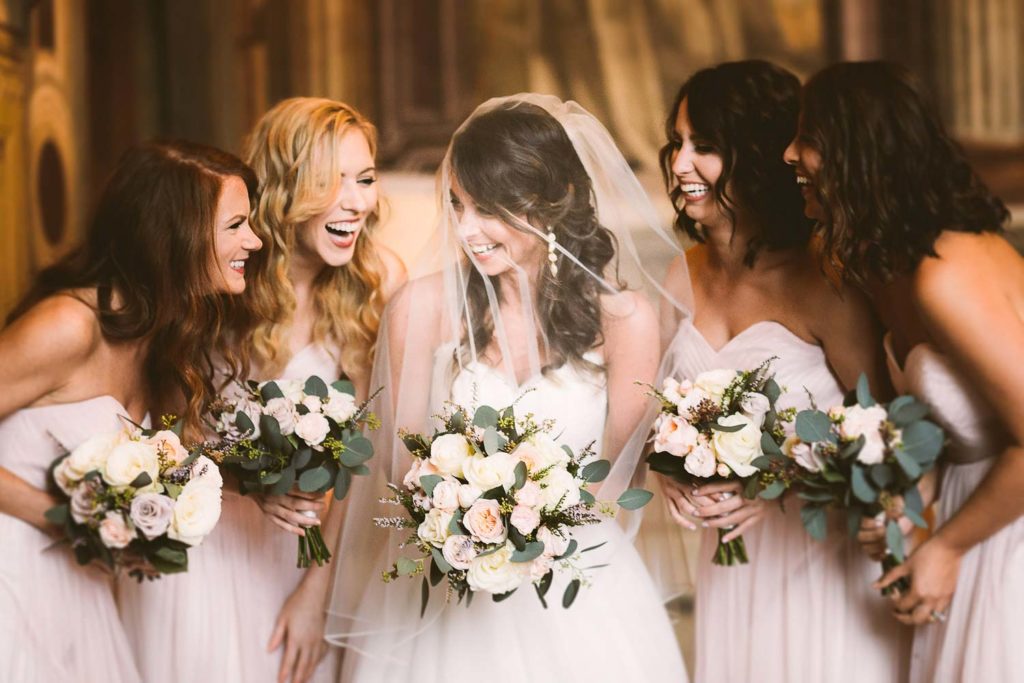 As far as wedding photography Tuscany, Italy goes, we think that Gabriele Fani is a top professional. He is based in the countryside of Florence and specializes in everything at weddings.
So, if you're looking for the top Italian wedding photographers for an elopement, a proposal, a honeymoon, an engagement, or a pre-wedding photoshoot, that's the photographer for you. Because he really has a different vision of photography, he truly encompasses the vision and core of every relationship to create the best photographs.
3. Wedding Photography Tuscany Italy: Florence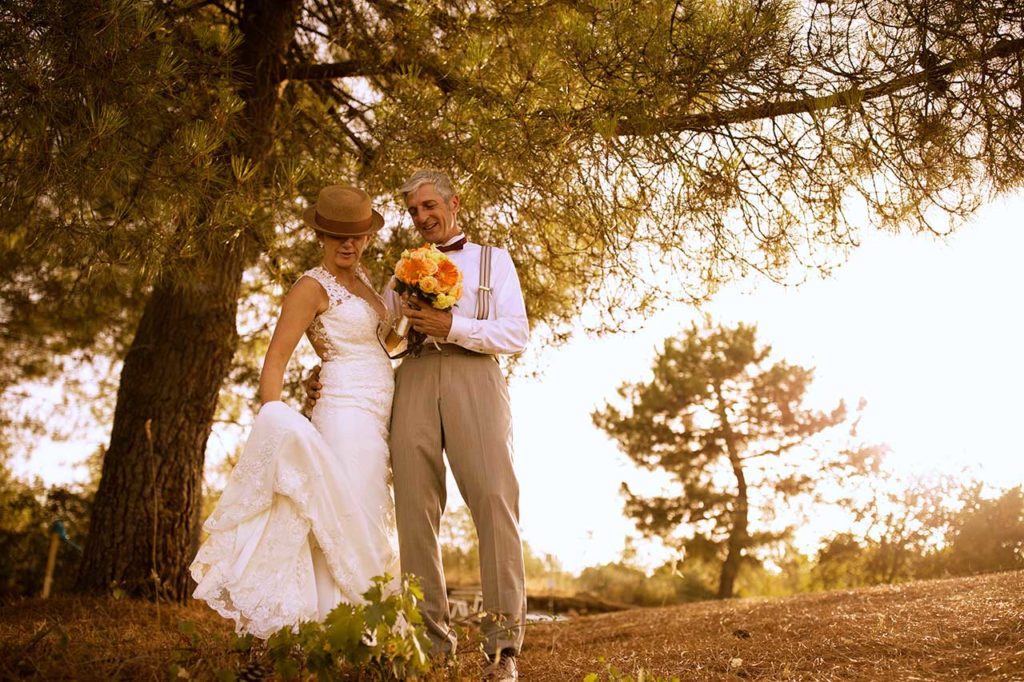 Another master of Italian wedding photography is Duccio Argentini. The famous photographer is based in Tuscany. His wedding photographs are among the most human that you will find in Italy. As a simple result, Duccio is famous for destination weddings at top venues for wedding photography Tuscany, Italy.
His offer is very transparent, with half-day or full-day packages. In addition, his portfolio is so full that it makes him one of the top Italian wedding photographers, Tuscany.
4. Wedding Photography Tuscany Italy: Livorno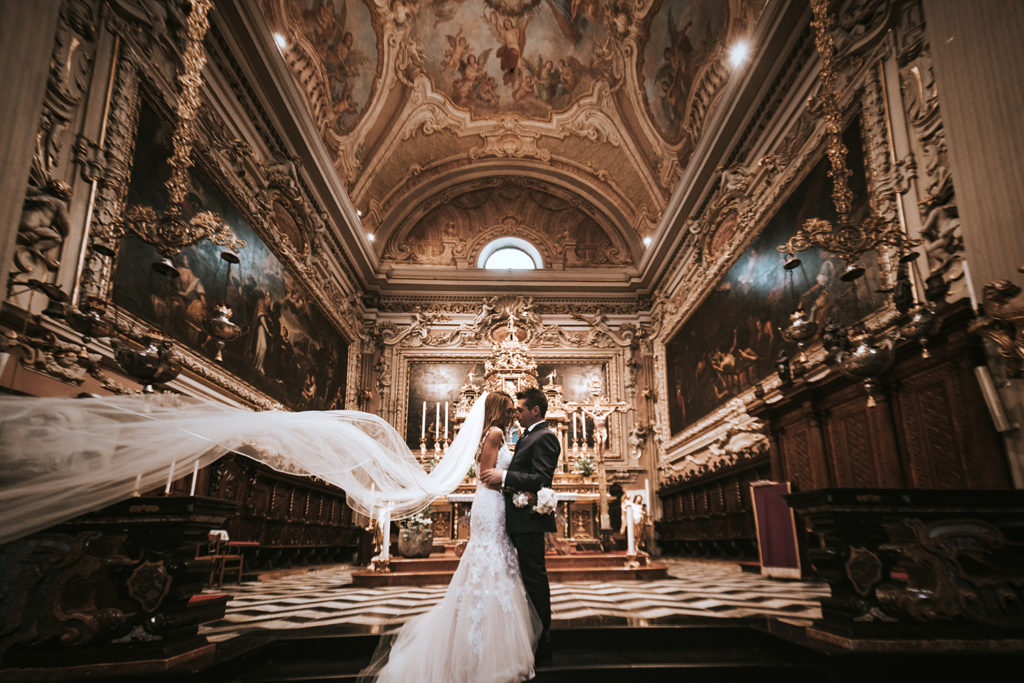 For a Catholic destination wedding, Livorno is a top choice. Why? Because the city is ancient and breathtaking. Isn't it what we would all be looking for in our wedding pictures – for them to be breathtaking? There is a very fine artist for wedding photography Tuscany, Italy and his name is Raul Gori.
His art is absolutely indescribable, almost surreal. The original Cathedral of Livorno was completed in 1606 and it is filled with history where the photographer can immortalize your moment. For beautiful wedding photography, Italy, if you are near Livorno or Assisi, that might very well be the photographer you have been waiting for.
► Read: 10 Best Italian Wedding Dress Designers
5. Pisa, Italy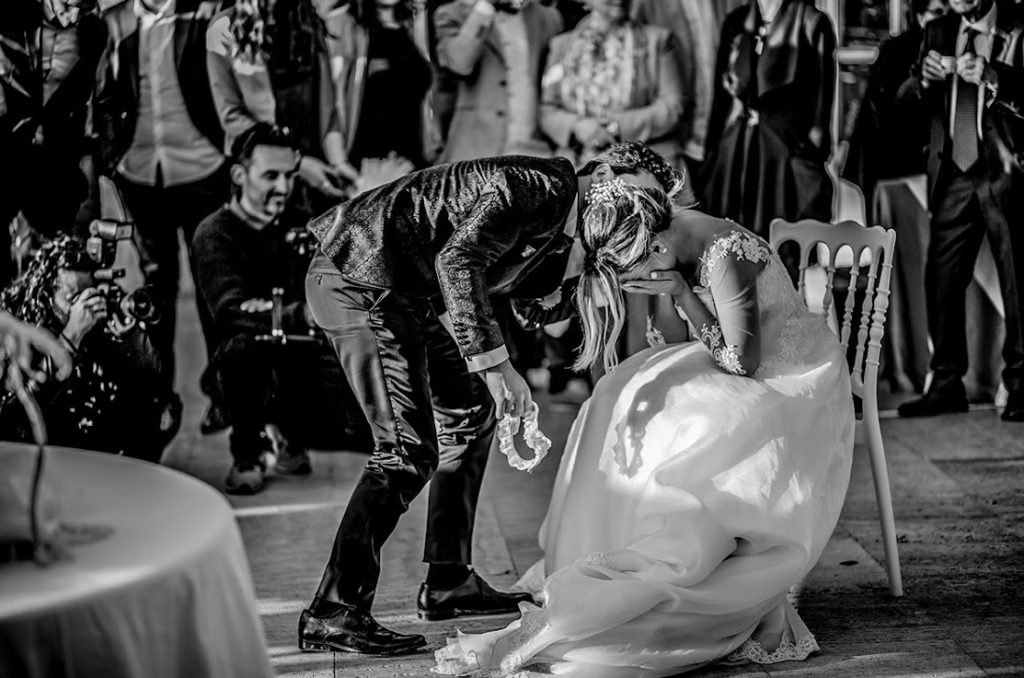 The Field of Miracles in Pisa encompasses the world-famous Leaning Tower, a Dome, a Baptistry as well as striking gardens. It is a true destination wedding photography, Italy. Samantha Pennini is most certainly the photographer you will want if you choose to shoot around Pisa.
Her pictures are filled with emotion and her work of light and shade is more than we can take. You can hop on a train from Florence, one of the most romantic cities in Italy, and get the most beautiful pictures of your life.
6. Venice, Italy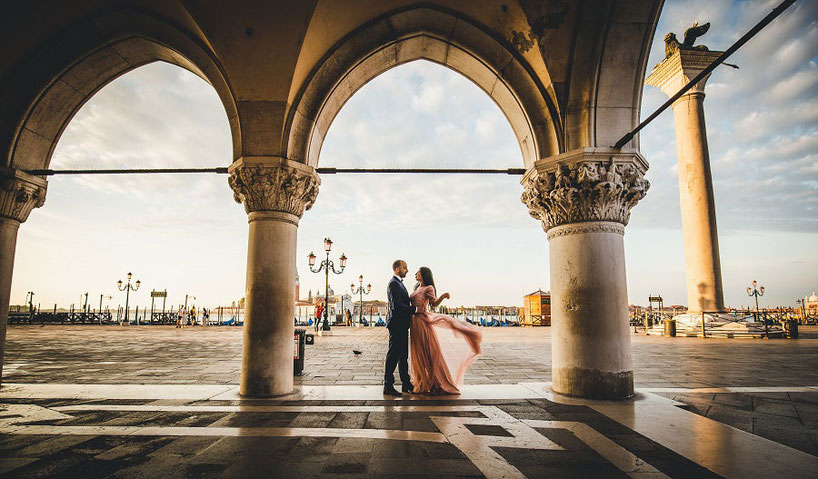 Venice is more certainly a Catholic destination wedding spot. The city offers various churches and basilicas like the Santa Fosca Church on Torcello Island, or the Basilica di Santa Maria Gloriosa Dei Frari. The perfect Venice Italy wedding photographer is CB photographer.
The duo works as wedding photographers all around Italy but specializes in local spots in Venice. Their goal is to provide elegant and luxurious photographs that tell an actual love story. What more could we want?
7. Abruzzo, Italy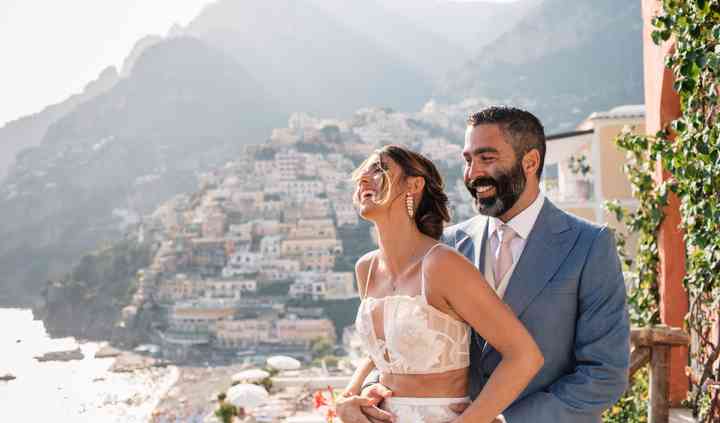 One of the best spots for Italy destination wedding Abruzzo is the old villages and the sea surrounding the region. For instance, you can choose to get photographed in nature at Majella National Park. Or maybe Gran Sasso, filled with unique history and flora.
Paolo Ceritano is an Italy wedding photographer who seizes the moment without a second thought. His goal is to constitute a visual heritage for you by creating something uniquely personal and sincere. That is there a vision we would all love for our wedding photography!
8. Wedding photographer Capri, Italy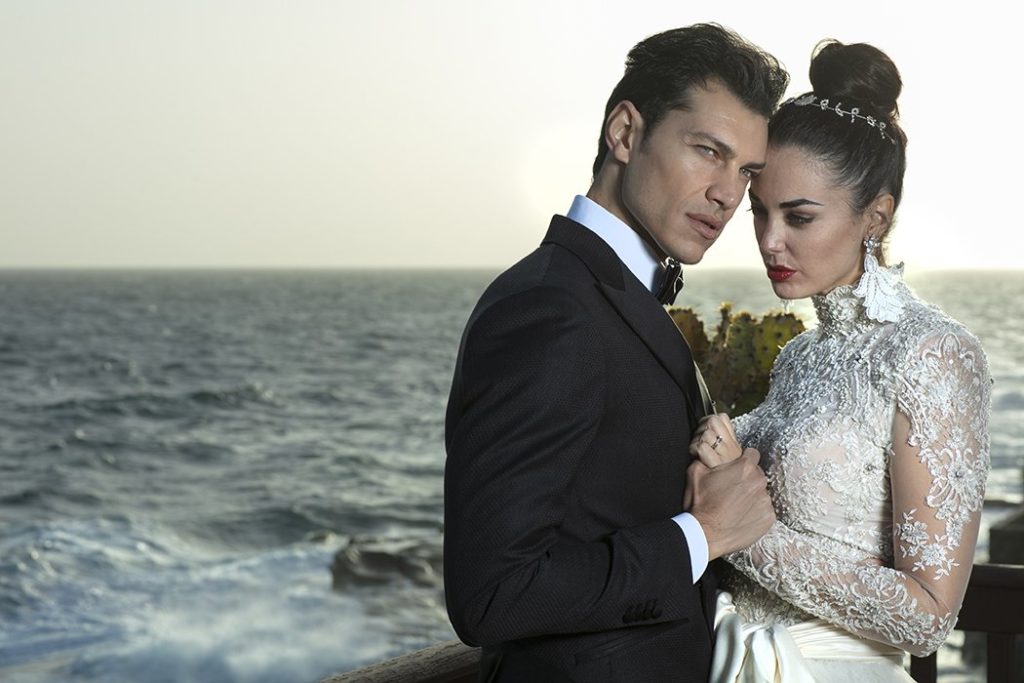 Andra Costa is one of the top Italian wedding photographers in Italy. He works in Capri, and he seizes says the perfect shots and landscapes wedding after wedding. Working with him also allows you to have a Catholic destination wedding photographer Capri, Italy. His art is luxurious, incredible, and romantic.
If you want the perfect romantic moment captured, Andrea Costa is your ideal partner for the day. If you're looking for wedding photo destinations, and wedding photographer Capri, Italy, definitely check him and the venue!
► Read: 10 Best Wedding Locations In Italy
9. Naples, Italy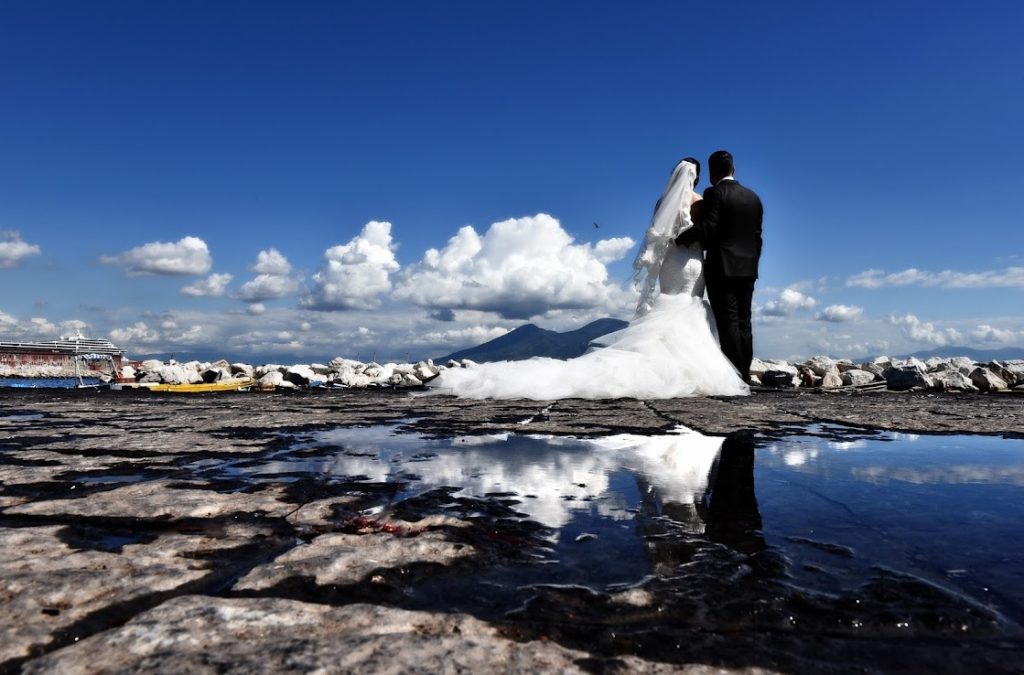 If you're looking for the perfect destination wedding photography Italy, Naples is the place for you. The hustling and bustling city offers every kind of landscape you could dream of. Nature, popular food, and high-end couture all melt into each other.
If you would like to find a wedding photographer Naples, Italy Rosario Caramiello is the perfect professional for you. That is if you want the most beautiful photos to cherish for years! If you're looking for wedding photographer Naples Italy, check his work!
10. Ravello, Italy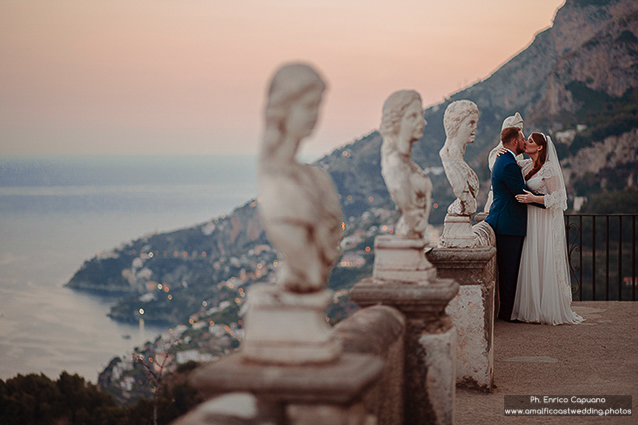 If you're looking for a wedding photographer Ravello, Italy, look no more. This charming town neighbors Positano on the Amalfi Coast, and is the setting for some stunning wedding photography, Italy. You might want to choose a luxurious hotel or a private villa to enjoy the best backdrop for your photos.
If you need help with technicalities in terms of photography, Enrico Capuano is a professional, famous photographer in the region. He specializes in wedding reportages and ceremonies and has now over 400 weddings in his portfolio. Make sure to check out some of the best hotels in Ravello too!
Wrapping up the 10 Best Places for Wedding Photography in Italy
There you have them, the 10 top Italian wedding photographers. Once you get the snapshots of your pre-wedding or the ceremony, why not leave for a honeymoon in the best medieval cities in Italy? Whether you are looking for a Venice, Italy wedding photographer or a wedding photographer Naples, Italy, think well.
What style or theme would you like to give your wedding? Each photographer has their own style and their own techniques. Most importantly, they really give a touch of uniqueness to your result pictures. In short, we still think that wedding photography Tuscany Italy gives some incredible shots – let us know what would be your favorite region to get photographed in!
Pin It: The 10 Best Places for Wedding Photography in Italy