10 Best Water Parks in Italy
As the quite usual information about Italy is around all the interesting things that make this country one of the best travel destinations, now we're adding one more attraction. Italy has, indeed everything in a matter of culture, art, cuisine, and travel destinations. You've all seen the beaches in Italy, the Italian architecture, the Italian cuisine, and the beautiful Italian Cities. What you haven't seen yet, are maybe some of the coolest attractions in Italy, the water parks in Italy. Hop on to the most exciting aqua journey in Italy!
Which are the best water parks in Italy? Water parks in Italy map
The famous water parks in Italy lie around all the country. They are categorized into indoor water park Italy and outdoor water park Italy. Only a search of water parks in Italy map would be enough to find the multitude of water parks in Italy.
Today, I'd made your choice simpler and you'll be presented with the 10 best water parks in Italy map list, with the best selection of water fun!
1. Valle Dell'Orso Naples water park Italy
The Valle Dell'Orso Naples water park Italy is the first water park in Italy that should be selected. It can be categorized as a mix between wellness and fun, all set in a nice natural environment. Not only a water park but also an adventure park and event center. The adrenaline does is offered by the swimming pool waves, toboggans, water eruptions. The chill zone provides picnic areas and hot tubs with hydromassage.
Moreover, all those together make Valle Dell' Orso Naples water park in Italy one of the best choices for the whole family who wants to enjoy their summer in Italy.
2. Carribe Bay water park Italy, Venice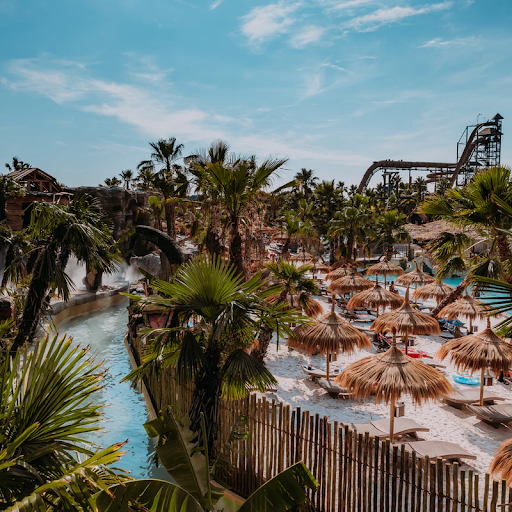 Our second selection is not other but the Caribe Bay water park Italy. Be ready to be amazed by all the water attractions that you will encounter there. Caribe Bay Venice offers tobocanes, a pirates-themed bay, battlegrounds, scary falls and jumps, and many more attractions.
You can even do bungee jumping and climbing there. Furthermore, Caribe Bay seems the best place to go for a full pack of attractions and experiences, no matter your age.
3. Castelnuovo del Garda water park Italy
The Gardaland resort Verona has its own water park, Legoland water park Italy. You can enter the water park only by purchasing a combo ticket for both Gardaland and Legoland. It is one of the best water parks in Italy for families.
At Legoland, you'll face a fully themed interactive park, along with slides, toboggans, adventures, games, and even parties. Moreover, the whole area benefits from shops, restaurants, and bars, and lounge areas for adults.
4. Aqualandia, Benidorm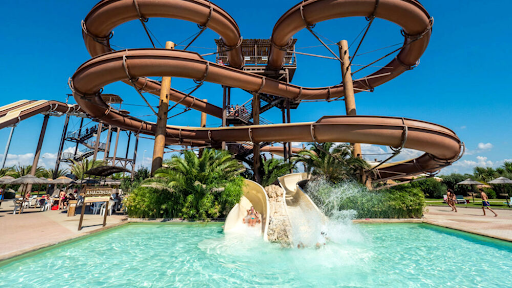 At Aqualandia, your only concern has to be which route you're gonna hop on. You can either choose the family route, friends route, or the extreme route. All of those roots make your experience at Aqualandie Benidorm Italy unforgettable, and above all, funny.
It's the best place for all ages to gather and choose between entertainment, relaxation, laughter, and pure adrenalin. Moreover, the Aqualandia water park has the woods' highest capsule slide and Europe's highest standing slide.
5. Caneva Aqua park Verona Italy – One of the best water parks in Italy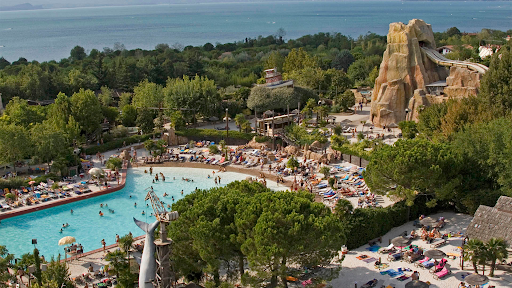 Another very popular water park destination in Italy is Caneva Aqua Park Verona Italy. It is a great place for all those who want to experience both fun water rides, slides, and jumps, and also relaxing areas. This water park Italy Lake Garda is also called the Caribbean Island of Lake Garda.
Whether you are in search of family time, adventure, or some adrenaline-action, Caneva Aqua Park Verona is the answer. Moreover, the resort has everything you need, as restaurants and shops.
6. Hydromania Aqua Park Rome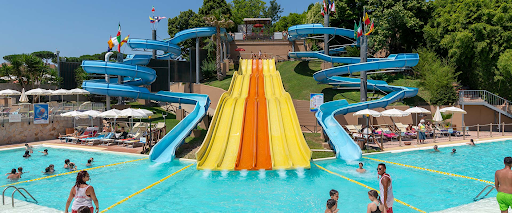 The water park Hydromania Rome is situated in a very good location, making it easy to be reached by public transportation. If you want to spend some unforgettable days in a tropical island alike location, Hydromania makes it happen.
You can have lots of entertainment sessions, multiple types of water slides, rides, or thrilling underwater quests, as well as dance or aerobics classes. Moreover, This water park offers dining services, shops, and bars as the best water parks in Italy.
7. Parco Cavour Verona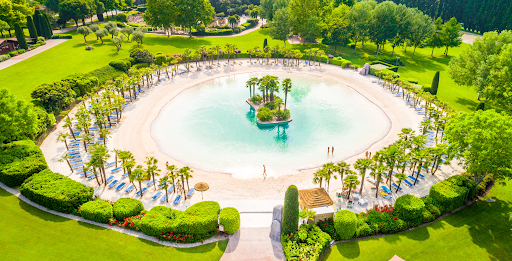 Have you ever thought of having everything you might wish for in a matter of leisure and fun in a green oasis? Parco Cavour Verona is one of the best places for those in search of animation events, wellness, sports, and fun.
It exist for more than 40 years and yet become one of Italy's biggest attractions, surrounded by rolling hills and blooming vineyards. It is known as one of the best water parks in Italy. Moreover, every natural approach around this water park makes it have the appearance of a natural pond, full of peacefulness.
8. Aqua Park Odissea 2000, Cosenza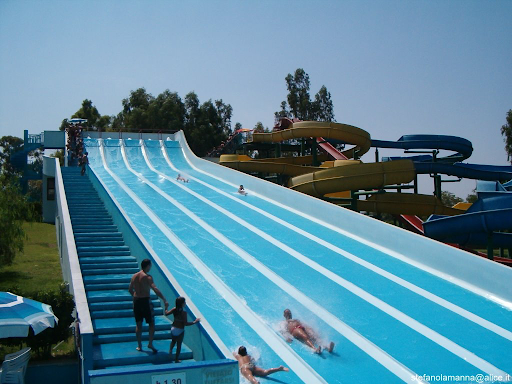 This Aqua Park Odiseea water park in Italy is famous around the world for its long breathtaking slides of more than 22 meters high and more than 200 meters long. It is also known for the unmissable attractions that it has, swimming pools, waterfalls, and temples.
Be sure to not miss one of the involving animations for both kids and adults. Furthermore, you can also take advantage of the picnic area, shops, bars, and restaurants. It is definitely one of the best water parks in Italy.
9. Aquantica Park, Milan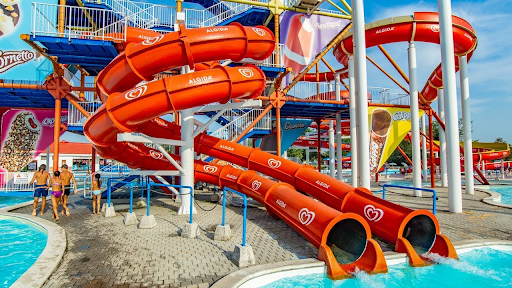 The Aquantica Park Milan is one of the best water parks in Italy. It's the place where you'll find a beach, playgrounds, pools, solarium, and more than 15 slides.
One more interesting thing about this water park in Italy is the fact that it also has two nightclubs for those who want to experience the Italian nightlife. Moreover, this water park will make you feel that even if you are in Milan, you are on a weekend holiday outside the city.
10. Aqua Village Follonica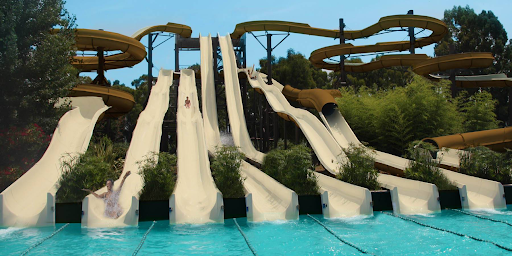 Here we are with our last destination on the 10 best water parks in Italy. The Aqua Village Fallonica is also known as the amusement source of Fallonica. This Aquatic fun Village directly immerses you into the Hawaiian vibe, with slides, moving water, surfing hills, and three thousand square meters of swimming pools.
Furthermore, the Hawaiian setting, along with the waterfalls, water games, sensory and energizing showers and whirlpools make offer the best experience for the adults in search of retreat.
Wrapping up our 10 best water parks in Italy
Our selection of the 10 best water parks in Italy map is right here, ready to be explored. You have all the information you need about the Aqualandia water park Italy, about Naples water park Italy, about the indoor water park Italy and also about water park Italy lake Garda. Also, this 10 best water parks in Italy list is full of structures that offer different facilities, either for children, families, adults, or adrenaline enthusiasts.
Moreover, we had added one more useful article for those who want to discover everything that makes Italy worth visiting and the best place to try every one of our fun desires. Enjoy the rides and slides, and also the retreats!
Pin it: Water parks in Italy – Water parks in Italy map