10 Best Things to do in Ravenna Italy
Are you planning a trip to Ravenna and looking for the best things to do in Ravenna Italy? Thanks to the impressive ancient history this city welcomes you with, you should really buckle up for some truly memorable experiences! Looking back, Ravenna served as the capital of the Western Roman Empire and the capital of the Kingdom of Ostrogoths. Today, Ravenna is one of the biggest cities in the Emilia-Romagna region with beautiful historical buildings, several UNESCO World Heritage Sites, and scenic coastal areas. If you are looking for fun things to do in Ravenna, you won't be disappointed, as this city has so much to offer travelers with all types of interests. To help you find the best Ravenna things to do, we selected 10 landmarks and attractions you shouldn't hesitate to include in your Ravenna itinerary!
10 best things to do in Ravenna Italy
There are so many things to see in Ravenna, so we advise you to spend some time on research and plan ahead before you arrive. The architecture will leave you speechless, not to mention the rich cultural heritage you will come across all the time while walking in the city. Also, in case you are passionate about Italian gastronomy, in Ravenna, you simply cannot go wrong trying out some local delicacies typical of the Emilia-Romagna region.
If you are after the best things to do in Ravenna to create your travel plan, you couldn't have landed on a better page. Below, you will find a collection of the most amazing Ravenna Italy things to do. These are all must-visit places and attractions that you should definitely check out during your time in Ravenna. But now, without further ado, let's take a close look at each and see what makes these stops worth visiting.
1. Basilica di San Vitale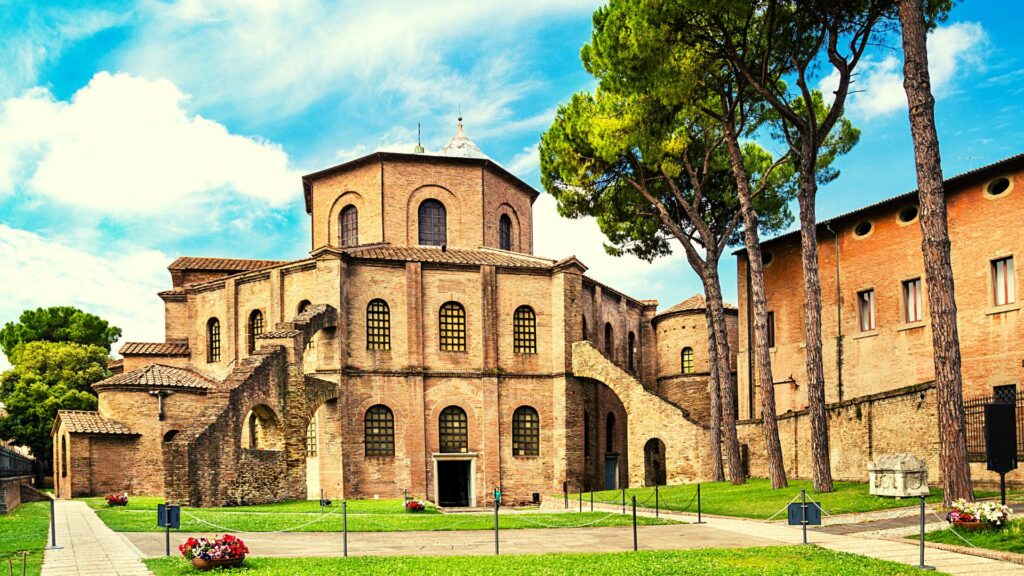 First on our list of the best things to do in Ravenna Italy is Basilica di San Vitale. This landmark is a UNESCO World Heritage Site, and needless to say, one of the most important things to see in Ravenna. The plain exterior of this 6th-century octagonal church hides real treasures. Once you step inside, get ready to be amazed by one of the most beautiful mosaics you have ever seen during your travels.
Looking around, you will quickly notice how the entire church is covered by intricate decorations and incredibly detailed mosaics. On the walls, you will see religious figures and biblical scenes, including the ceiling which will surely leave you breathless. Without any doubt, these are one of the finest examples of Italian art masterpieces from the Byzantine Era, so make sure to take your time and appreciate them.
2. Neonian Baptistery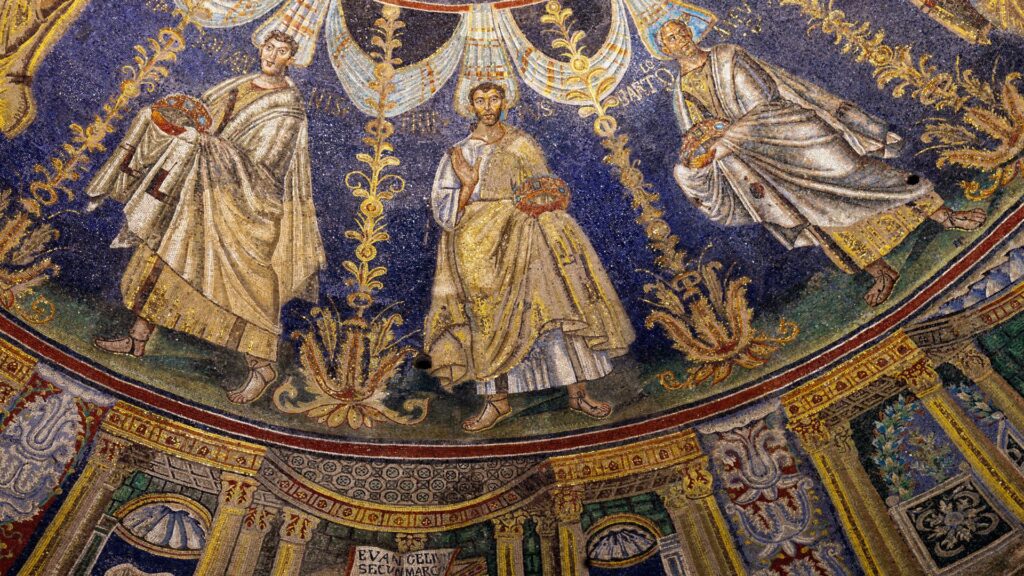 Visiting the Neonian Baptistery is another example of the many fun things to do in Ravenna. During your time in the city, you will see how typical the octagonal, plain buildings are, and yet, how exciting interiors they have. The history of the Neonian Baptistery goes back to the end of the 4th or the beginning of the 5th century when it was erected on the site of a Roman bath. Today, it is the most ancient monument in the city and is considered an extremely important religious place site. In addition, the Neonian Baptistery is also listed as a UNESCO World Heritage Site.
Inside you will find magnificent artworks. Stepping inside, you will be welcomed by beautifully detailed colorful mosaics and paintings. Among these, you locate some of the most famous religious scenes. For instance, when you look up, you will see the medallion mosaic of John baptizing Jesus and the 12 apostles around them. Regardless churches are your thing or not, seeing the interior of the Baptistery is a truly amazing experience that will leave you stunned.
3. Mausoleum of Galla Placidia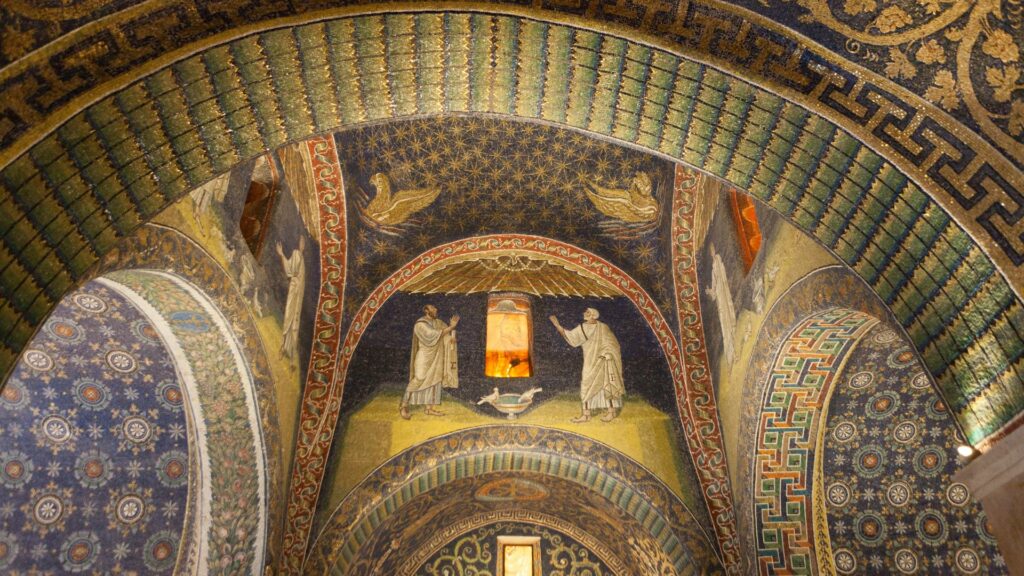 When it comes to Ravenna Italy things to do, there are many UNESCO World Heritage Sites you can visit. Another important landmark you should put on your list is the Mausoleum of Galla Placidia, built thousands of years ago. This ancient building is dedicated to Galla Placidia, daughter of the Roman Emperor Theodosius I. Despite being built between 425 and 450, the structure is in extremely good condition and is one of the best preserved Early Christian Monuments of Ravenna.
To be able to fully appreciate all the elements of this amazing architecture, you should definitely step inside to see the interior. The Mausoleum of Galla Placidia welcomes visitors with breathtaking artworks. Here you can see exceptional 5th-century mosaics of religious scenes in vivid colors. It feels like the whole interior vibrates. One highlight is the iconic mosaic of Jesus being surrounded by a herd of sheep or the ceiling that represents the Garden of Eden.
4. Old town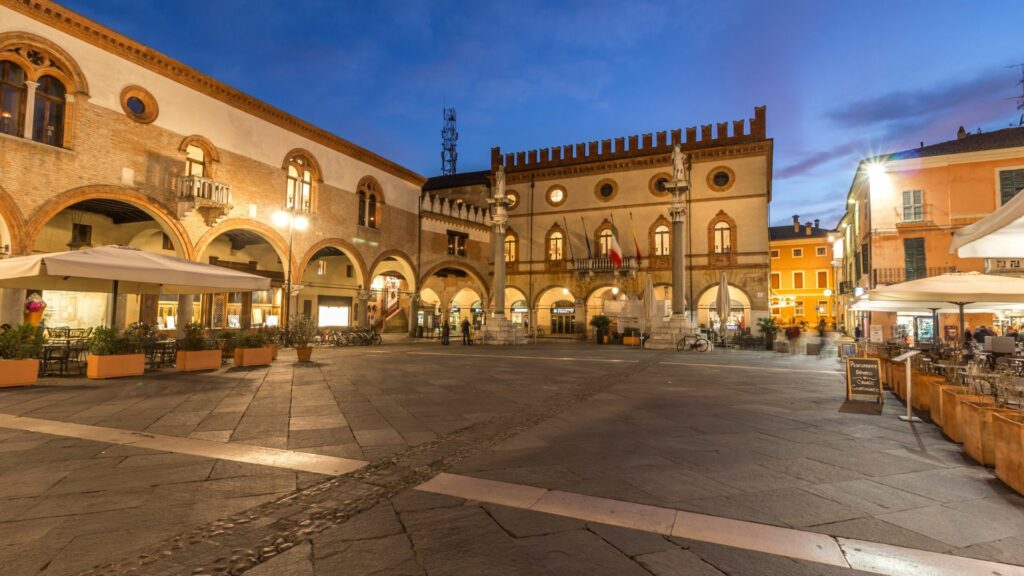 In case you want to take a break from visiting religious sites, there are so many other exciting Ravenna things to do. Among the many things to see in Ravenna, one of the best things is to walk through the charming streets of the old town. This part of the city welcomes you with picturesque squares surrounded by breathtaking architecture. And the best thing is that from here you can easily walk from one landmark to another, and even come across some hidden gems.
Take your time to walk under the colorful umbrellas on Via Mentana and feel the cozy and welcoming vibe of the city. If you're after souvenirs, this is the best place to do some shopping. Ravenna's shopping street, Via Camillo Benso Cavour is full of nice stores that are worth your attention. Also, there's hardly a better place for a traditional Italian gelato or enjoying the best of the Italian gastronomy in Ravenna, than the old town.
5. Museo Nazionale Di Ravenna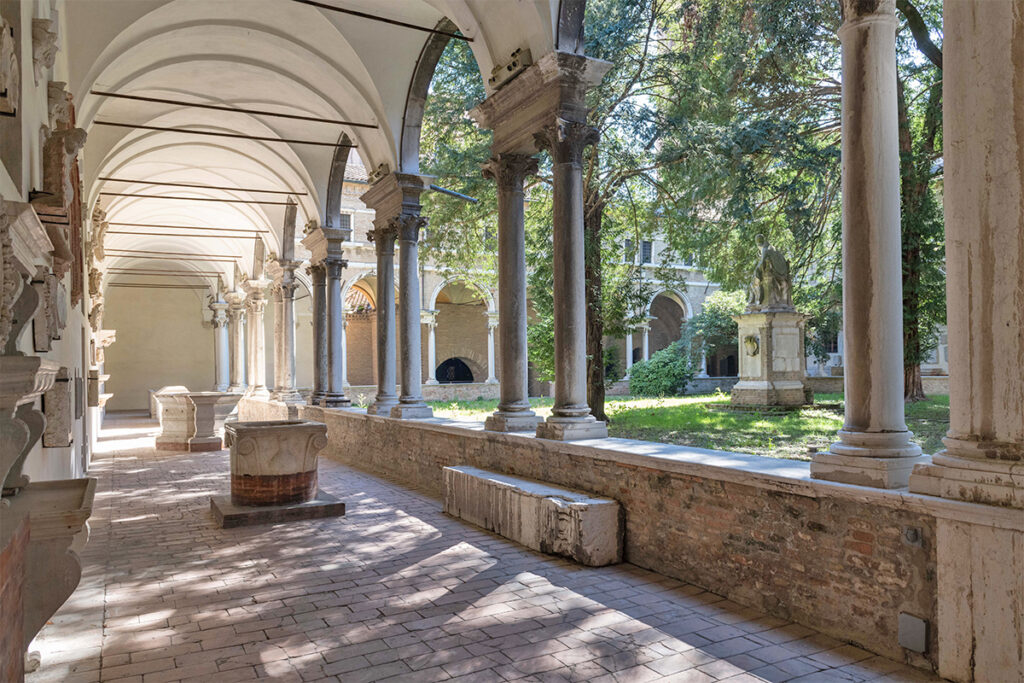 Next on our Ravenna what to do list is Museo Nazionale Di Ravenna, a place you should visit, especially if you are into culture and history. You will find the national museum located within the Benedictine Monastery. What is important to keep in mind, is that the museum is open daily except for Mondays, so make sure to schedule your visit accordingly. Museo Nazionale Di Ravenna has an extensive collection of exhibits from the 18th century onwards, so there's a lot to see.
Walking through the museum, you will see weaponry, ivories, textiles, and decorated tombs. But what is even more interesting is the collection of various artifacts from the city's UNESCO World Heritage Sites. For instance, you can appreciate a collection of frescoes dating back to the 14th century or the original drawing created for the mosaic of Sant' Apollinare in Classe.
6. Piazza del Popolo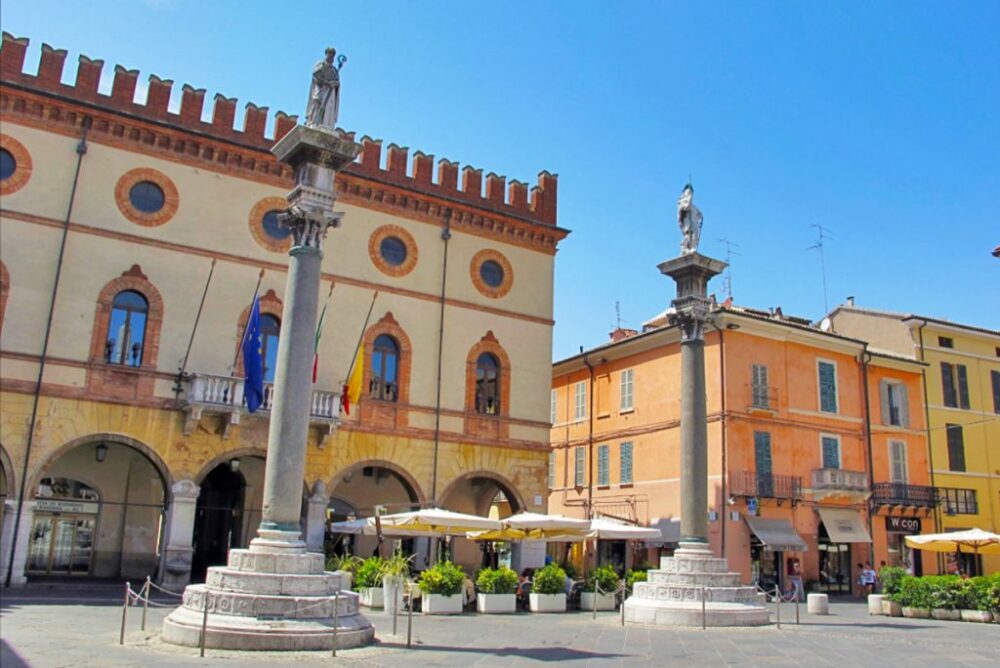 Among all the fun things to do in Ravenna, exploring the delightful and lively squares of the city is a must. Piazza del Popolo is located right in the heart of the old town, ringed by some of the most significant buildings of Ravenna. The square's name translates to "The People's Square", and for a very good reason. This place is one of the busiest spots in the city, with lots of restaurants and charming coffee shops. We really recommend starting your city tour from here with a nice cappuccino and a delicious breakfast.
Some of the most important buildings on Piazza del Popolo are Ravenna territorial governmental building and the Comune di Ravenna. If you want to walk from here and explore some of the best spots of the city, the Basilica di Sant' Apollinare or the Basilica di San Francesco is only a few minutes walk from the square. You can also dive deep into the shopping street of Ravenna from here.
7. Tomb of Dante Alighieri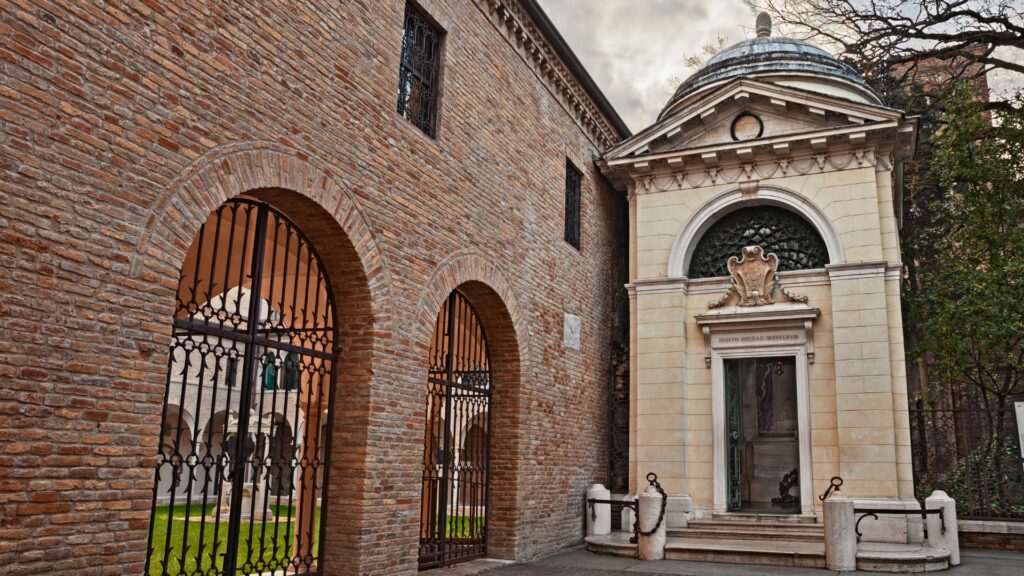 Continuing our list of the most exciting Ravenna Italy things to do, here's another must-see landmark, the Tomb of Dante Alighieri. At this point you might be surprised, but here's the thing: the real tomb of Dante can be found in Ravenna, right where his funeral was held. The world-famous poet and author Dante was born in Florence. However, later he chose to live in Ravenna, where he spent the last years of his life.
The story of the tomb is quite interesting though. After the death of Dante in 1321, Pope Leo X ordered that the remains of Dante be returned to Florence. The locals decided to deny the pope's request. They removed Dante's bones and hid them in the city. Hundreds of years later, in 1865 the bones were found during renovation work. In the same year, they were moved to Dante's final resting place that you can visit in Ravenna.
8. Museo Dantesco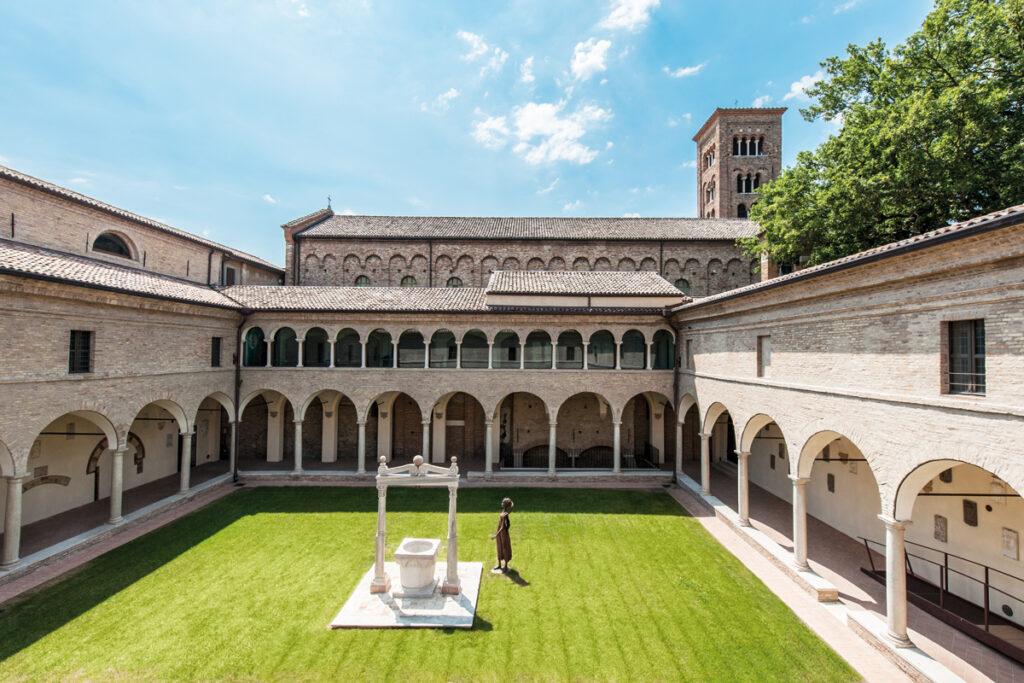 If you're passionate about Dante, visiting Museo Dantesco will be one of the best things to see in Ravenna for you. There are many Ravenna things to do, but this one really deserved its place on your itinerary. Once you arrive, you can watch a short introductory video about the life of Dante and the significance of his work. During your visit, you will learn a lot about the personal life and artistic work of Dante. So buckle up for a very intriguing few hours.
Once inside you will see the exhibition of drawings, sculptures, artifacts, and so many other things connected to the poet. You can even see the original box used to hide Dante's bones. Chiostro Dante, the gated garden of the museum is also worth your time. Here you will see a large vine-covered mound. This is where Dante's remains were kept safe during World War II.
9. Marina Di Ravenna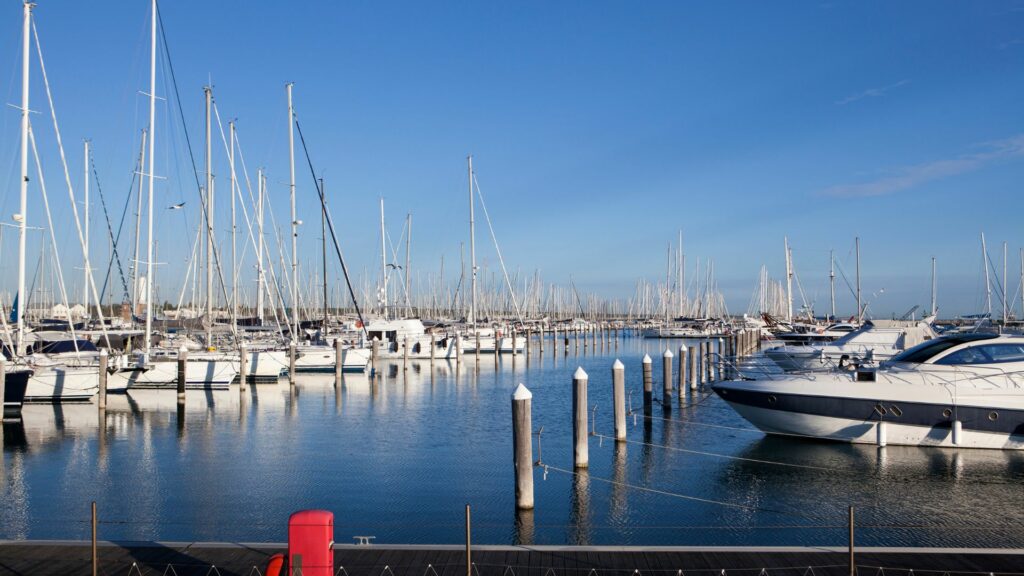 Getting close to the end of our collection of the best things to do in Ravenna Italy, we must mention Marina Di Ravenna. This place is a perfect go-to destination if you want to get away a bit from the crowd and enjoy the coast. The city of Ravenna is very close to the Adriatic coast, so you can easily get to some of the most beautiful beaches. Marina Di Ravenna is only a 15-minute drive from the city center. The good news is that if you don't have a car, you can take public transportation, call a cab or even rent a bike.
Once at the coast, you can swim in the sea or enjoy a walk on the beach. There are many restaurants, bars, and coffee shops along the coastline. Day or night, you will surely find a place that suits your taste. Being so close to the city, the Marina Di Ravenna is a great place to see the sunset and have a delicious dinner. The lively atmosphere here is lively and vibrant, ideal for couples, groups of friends, or even families.
10. Mirabilandia Theme Park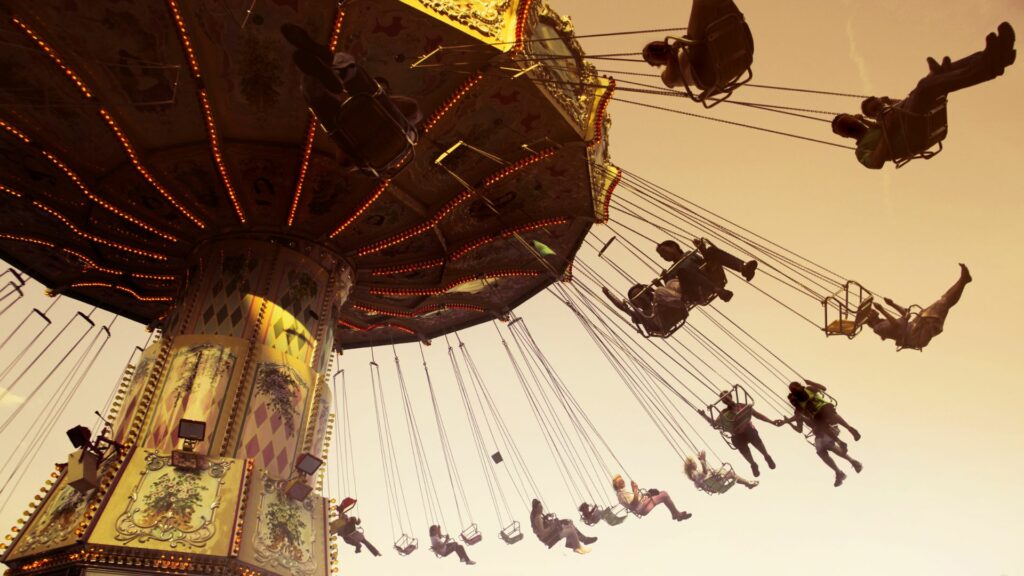 As you can see mentioned above, there are many fun things to do in Ravenna. Last, but not least, our Ravenna what to do list couldn't be complete without Mirabilandia Theme Park. This spot is ideal if you visit Ravenna with children, but teens and even adults can enjoy it as well. This theme park is the perfect destination to create unforgettable fun memories together as a family. Located to the southeast of the city, Mirabilandia Theme Park is the most visited theme park in Italy.
The park welcomes visitors with lots of attractions and amazing rides, so buckle up for some exciting adventure. For instance, you can hop on rides such as the Eurowheel, which is the second tallest rollercoaster in Europe. It is 90 meters high. Another you should try is the Ispeed rollercoaster. This one features a series of unexpected twists and turns and launches you at 70 mpg. Screams of fun are guaranteed!
Wrapping up the 10 best things to do in Ravenna Italy
We hope that our collection of Ravenna Italy things to do can give you some insight into what is there to see in this beautiful coastal city. As you could see, there is ancient history, rich culture, and even lots of fun Ravenna things to do to experience the vibe of this place. And there is always more to see and explore. More UNESCO World Heritage Sites, more cultural attractions, and countless landmarks to visit. You can take walks in from Old Town, stroll through the charming streets and find the hidden gems along the way. One thing is sure, your time in Ravenna will be unforgettable and a lovely experience to remember with a heart full of beautiful memories!
Pin it: Best Things to do in Ravenna Italy