Every now and then, tourists or travelers wonder if there is an amusement park in Italy, or if they can find some theme parks in Italy while they travel. Italy is considered one of the best holiday destinations for the long list of facilities ready to be discovered. It's practically the place where you can do everything you wish for. Try the food, do a hike, chill on the beach, and admire the beautiful cities, along with their cultural history. Or, for those who love adrenaline, there are the best amusement parks in Italy, and the best theme parks, as well as water parks in Italy.
Discover the best amusement parks in Italy – The best theme parks in Italy
Let's focus on one of the coolest activities one could do while traveling around Italy. Now It's not only about visiting, but adding plenty of adrenaline through fun attractions. Moreover, The amusement parks in Italy are what bring fun to everyone's holiday, so the 40+ facilities never stop amazing thousands of people every year.
In today's article, we will focus on the best theme parks in Italy, and the ten best amusement parks in Italy. You will find out which one suits you best for what they offer!
1. Gardaland amusement park Italy – The best theme parks in Italy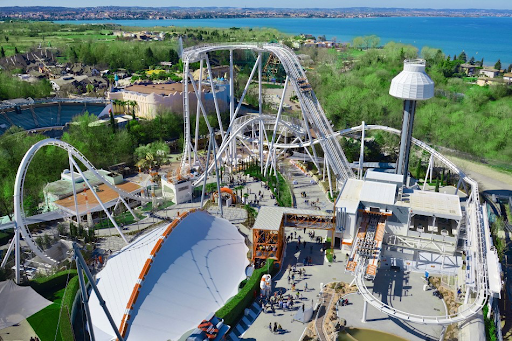 We start our amusement park Italy list with the No. 1 of all the theme parks in Italy. Gardaland amusement park Italy is the best place to go if you are an adrenaline lover. This enormous park and resort have everything to satisfy people of all ages. Starting from +20 types and levels of rides, treasure hunt challenges, and exciting entertainment shows. Moreover, it has its themed restaurants and even its own hotel.
As ranked as the 5th best amusement park in the world, Gardaland amusement park Italy is definitely worth experiencing for high thriller rides, family experiences, shows, and different other attractions. Moreover, Gardaland is situated in Verona.
2. Mirabilandia theme park Italy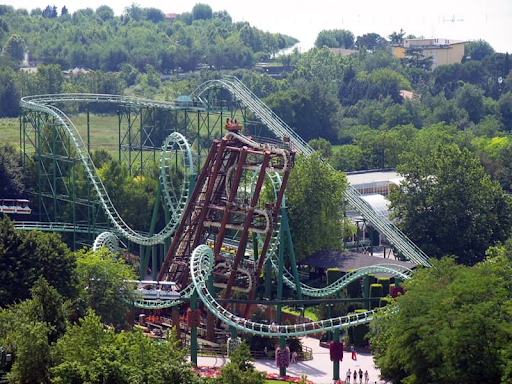 Our second amusement park Italy is Mirabilandia theme park Italy. Mirabilandia theme park Italy is known as the largest amusement park in Italy. Basically, it is divided into two main areas, the theme park, and the water park. Thanks to this two-sided park, one or a group could experience a full pack of adrenaline, enjoy crazy rides, and return home with loads of experiences to talk about.
Furthermore, Such as the Gardaland, Mirabilandia can be found in the north of Italy, but ten km away from Cervia.
3. Movieland Studios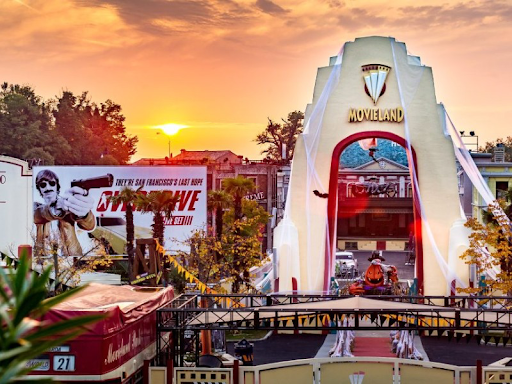 Another cool amusement park in Italy lies some km away from Lake Garda. The Movieland studios are something different from any other amusement park you have seen before. Be ready for rollercoasters, haunted houses, drop towers, and speedboat rides. This place is dedicated to the world of cinema. Spread around 100 thousand square meters, Movieland studios are the reproduction of Hollywood. It offers amazing attractions and rides, as well as festivals, Pop culture, live music, and dance shows.
Furthermore, Movieland is one of the best amusement parks in Italy for the multitude of activities and representatives that you might experience here.
4. Rainbow magic land – A magic destination among theme parks in Italy
Here we are with one of the best amusement parks near Rome Italy. Rainbow magic land Italy is exactly what the name shows. Also, Nature, vegetation, unexplored wild areas, playgrounds, rollercoasters, and water jets make Rainbow magic land the ideal place for the whole family, not just for kids or adrenaline lovers.
Moreover, It is very easy to get to it, as is situated in Rome. You can have a great time all year round, no matter the weather difficulties. Adventures, adrenaline, fun, and thematic atmosphere at Rainbow magic land are one of a kind.
5. Zoosafari Fasanolandia, Fasano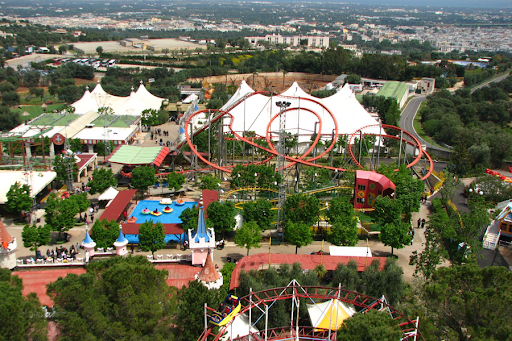 We continue our list of the best amusement parks in Italy with Zoosafari Fasanolandia Fasano Italy. This is the best animal attraction and theme park in Italy, which you can visit in your own car. You can as well walk around the areas. Moreover, It is the second biggest animal park in Europe, situated at only 40 minutes' distance from Bari Italy.
Roller coaster rides, ghost trains, safari parks, tropical rooms, and the occasion to see a significant variety of animals such as elephants, mammals, and dolphins make it one of the best amusement park Italy.
6. Etnaland, Belpassp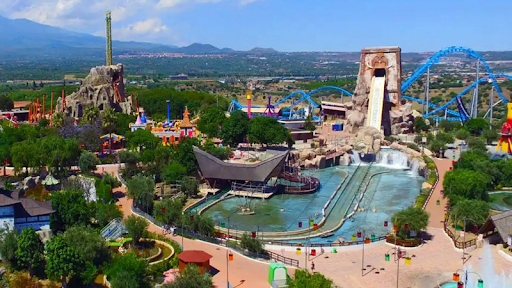 The Etnaland amusement park Italy can satisfy literally every desire. Split into a Theme Park, Aqua Park, Prehistoric Parkland. Also, If you are into spinning or flying, or you are a dreamer in search of exploration, Etnaland amusement Park Italy is the best to explore. It is definitely the best tourist attraction to try once you get to Italy.
Moreover, This is the best theme park in Southern Italy, situated in one of Unesco's world heritage lists, the Etna Volcano in Sicily.
7. Pinocchio Park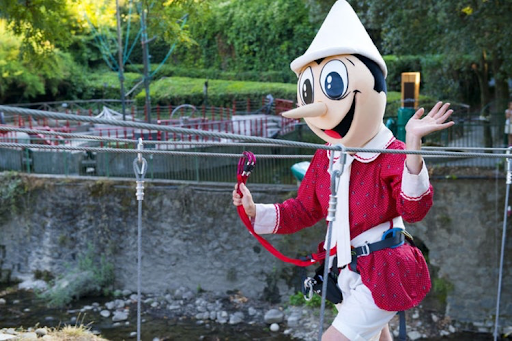 Surely, you should indeed visit a classic amusement park in Italy built in the 50s. Pinocchio Park, It's the best attraction for families that come to Italy with their children, looking for a lot of divertissement opportunities. Also, It can be described as the best source of magic and art for the little ones. Pinocchio parks It's the place where they can be disguised, painted, and play in a garden full of statues, fountains, figures, and plants.
Moreover, the activities take place in a beautiful environment ready to explore. Pinocchio Park lies in Colladi, and it's reached very easily, even by walking.
8. Cinecitta World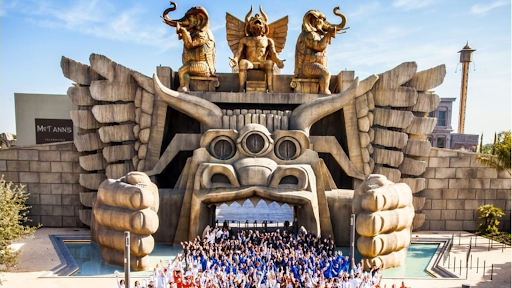 During your trip to Italy, you and the whole family or group of friends can enjoy one of the best theme parks in Italy, Cinecitta world. It is one of the many amusement parks near Rome Italy, and an extraordinary adventure of discovery. Also, The attractions topic include adrenaline, discovery, family, kids, and also indoors and outdoor rides.
Moreover, Roller coasters, toboggans, laser tags, skating, or horror quests are the main attractions that you find at Cinecitta World amusement park Italy.
9. Genoa Aquarium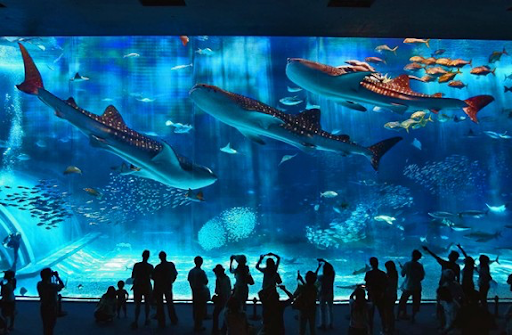 Explore the largest Aquarium in Europe at Aquatico di Genoa Italy. Genoa Aquarium is one of the best theme parks in Italy. That is where you can go through the largest ecosystems and biodiversity in Europe. Also, Be ready to embark on a sea exploration journey in the Aquarium, Aquario Village, and the Pineta aquarium. All those to discover the wonders of nature and immerse yourself in the marine world.
Moreover, At Aquatico di Genoa you can enjoy a tropical forest on the sea, and admire the fragile beauty of species and their survival.
10. Cavalinno Matto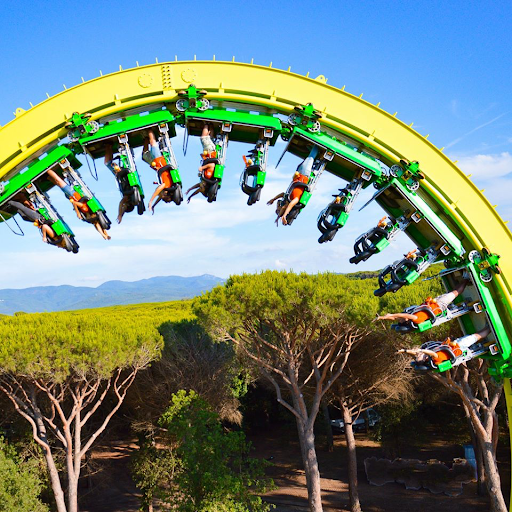 Here we are with our last amusement park Italy from our 10 best list, Cavallino Matto. Cavallino Matto is famous for all the 26 amazing attractions that you can book on 100,000 square meters of land. It has also many shows and events for the young or the ones in look for a youth escape. Families, singles, and those who want to feel alive through some adrenaline sessions should definitely have an escape in Cavallino Matto.
Cavallino Matto, along with the thrilling rollercoasters, wheels, towers, and a bunch of fun adventures is situated in Carducci Italy.
Wrapping up the best amusement parks in Italy
It becomes no more surprising that Italy has everything in a matter of holiday activities. Like you, we're fed with all those necessary details to make your holiday experience in Italy unforgettable. Also, now you have a list of the best theme parks in Italy Milan. Of course, the best amusement parks Italy created, and what does an amusement park Italy mean.
Moreover, I hope you will enjoy each of those amusement parks that you will visit in the future. Tip: Start with Gardaland amusement park Italy and finish your amusement park crawl in Italy with Mirabilandia theme park Italy. Enjoy the Italian journey filled with adrenaline!
Pin It: 10 best amusement parks in Italy – Best theme parks in Italy