10 Best Hotels in Taormina Sicily
If you're visiting Sicily, Taormina is one of the must-visit cities and not just for a day. For you to fully enjoy your stay and check out the area, it's worth going for at least 2-3 days. That's when the Taormina hotels will come to your rescue. We have gathered the 10 best hotels in Taormina Sicily and added a bonus one at the end of the list. You'll find Taormina five star hotels but also 4 star and affordable ones.
So why is it worth visiting Taormina? As you may know, Sicily is a famous region and the biggest island in Southern Italy. The beaches and Mount Etna will take your breath away. And its towns are small, picturesque, full of lovely people and restaurants serving delicious Sicilian dishes. Of course, you can enjoy the food in one of the restaurants of Taormina Italy hotels. Among the Sicilian dishes, we can talk about Cannoli, Arancini, or Pasta alla Norma.
10 Best Hotels in Taormina Sicily – Taormina Italy Hotels
There are many things to do in Taormina. We'll mention that some of the best hotels in Taormina are close to the famous shopping street Corso Umberto. It is the main street of the city filled with luxury stores, boutiques, and souvenirs. You mustn't leave out the Greek Theatre of Taormina, which dates back to the 3rd century BC and to this day it's beautifully preserved. If we convinced you to visit the beautiful city of Taormina, then make sure to check out this list of Taormina Sicily hotels for your next stay!
1. San Domenico Palace, Taormina, A Four Seasons Hotel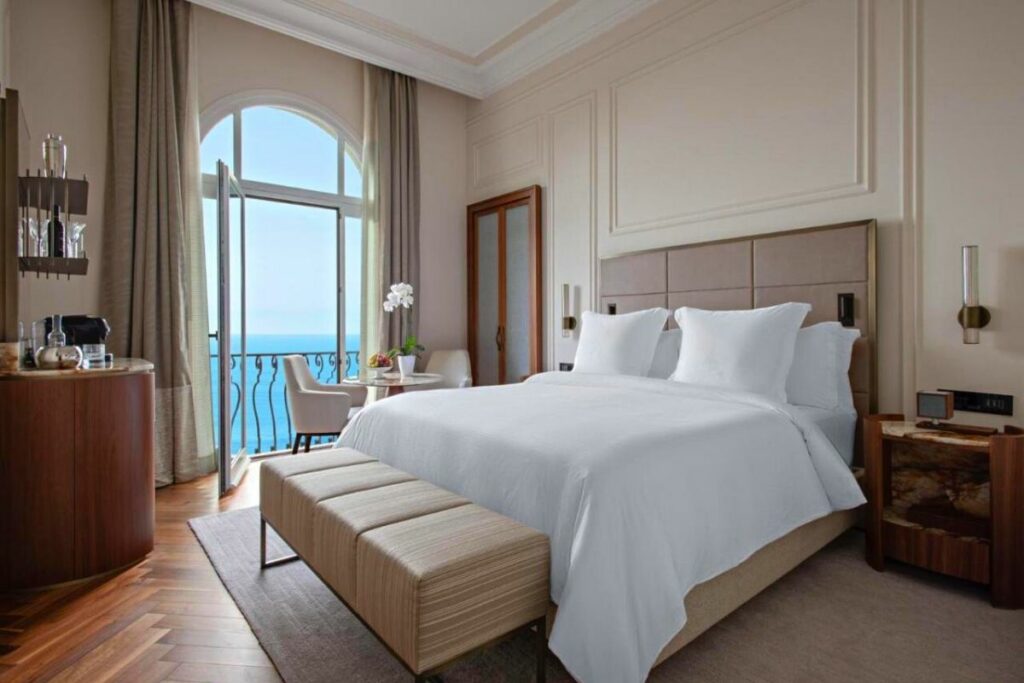 We all know that Four Seasons Hotels are beautiful wherever you go around the world, but they just hit differently when you're in Italy. Among the Taormina five star hotels we can count the San Domenic Palace, as a true beauty. Besides the decor and building, the location is excellent. You get views of Mount Etna and the Bay of Taormina.
Speaking of the buildings, the San Domenico Palace is set into two historic buildings. One of the Garden Wing is a "15th-century convent with cloister" and the second wing is called Grand Hotel Wing is from 1896. The decor is simply stunning. It's a mix of neutral colors, and modern furniture and you just feel the luxury of the Four Seasons Hotel.
The facilities of the hotel are the best among the Taormina hotels. You have a large swimming pool featuring terraces. There's a fitness center and even a beauty center. Let's not forget the spa and wellness center. San Domenico Palace serves a buffet breakfast and their restaurants serve traditional Sicilian cuisine. If all of these didn't convince you, guests rate the hotel 9.4 stars on Booking.com.
San Domenico Palace, Taormina, A Four Seasons Hotel location: Piazza San Domenico 5, Taormina, 98039 Taormina, Italy
2. UNAHOTELS Capotaormina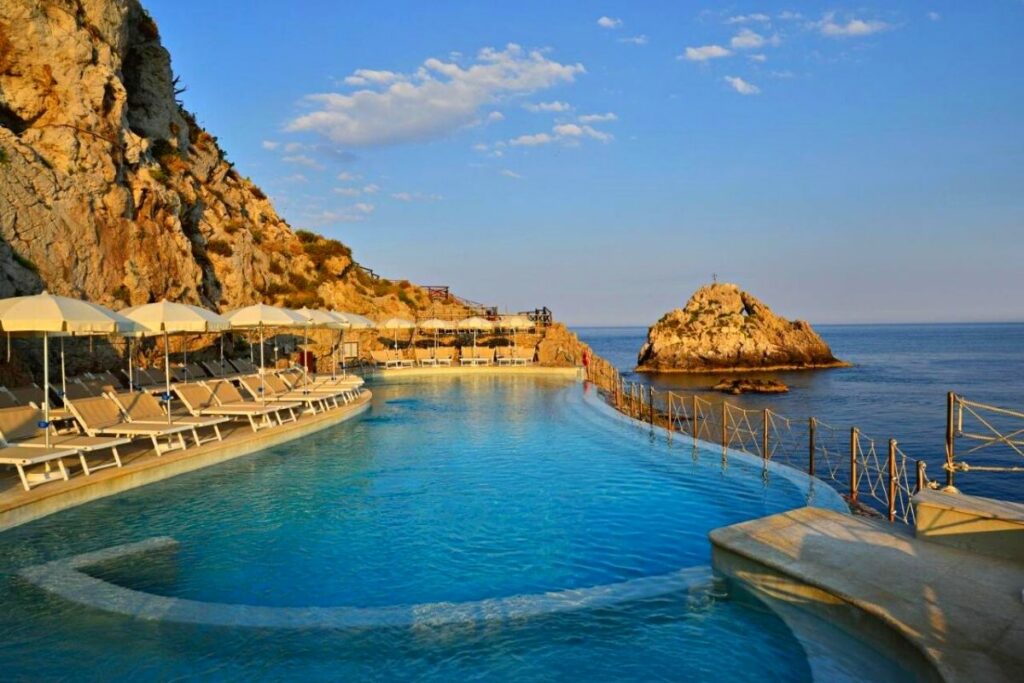 The best hotels in Taormina Sicily have amazing views and beautiful pools where you and your family can relax during your stay. UNAHOTELS Capotaormina is only 5 minutes away from the beach. It was built on a rock and all around there's a sea, plus you get to enjoy the stunning views of Giardini Naxos and Isola Bella.
All of their rooms have garden views, while the superior rooms have a full sea view. UNAHOTELS offers a private beach to all of its guests, but if you don't want to swim in the sea, there's a sea-water swimming pool equipped with loungers, sun beds, and beach towels. Enjoy a workout at their gym and get a treatment at the beauty salon for more relaxation.
In case you're worried about food, have no fear. The property has 3 Restaraunt on-site serving Sicilian and Mediterranean cuisine. Alcantara Restaurant is the one open for breakfast, either buffet or order from the menu. Le Gran Bleu restaurants serve Mediterranean and international dishes during lunch and dinner. Lastly, Naxos is only open for dinner and you can taste Mediterranean cuisine. Taormina Sicily hotels like UNAHOTELS are great accommodations to book!
 UNAHOTELS Capotaormina location: Via Nazionale 105, 98039 Taormina
3. Grand Hotel Timeo, A Belmond Hotel, Taormina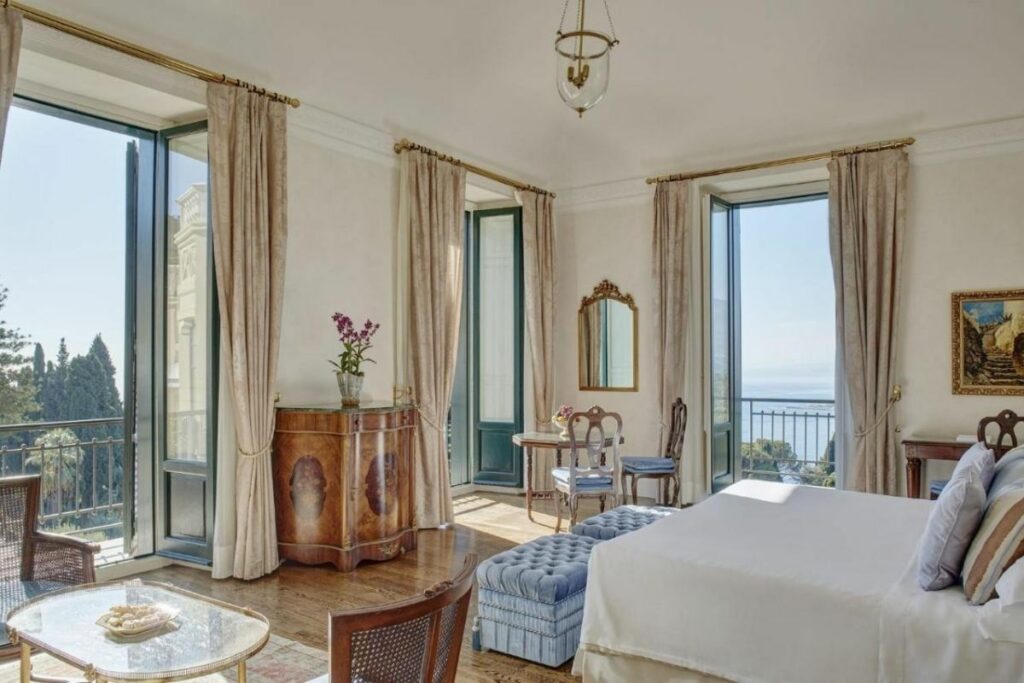 Among the most stunning Taormina Sicily hotels we have to include Grand Hotel Timeo. The building, the rooms, and the views are breathtaking. This Belmond Hotel has views over Mount Etna and the Sicilian Coast. To make it even better, there's an outdoor pool and spa at the hotel where get to enjoy your morning or evenings.
Grand Hotel Timeo offers stylish rooms with antique furniture. Some of the rooms have views of the sea or the hotel gardens. Either way, you will not be disappointed with the views. After all, it is among the best hotels in Taormina. Interestingly, Grand Hotel Timeo serves an American buffet breakfast.
Thankfully, there's also a Michelin-starred restaurant that serves Sicilian and Mediterranean dishes. You'll also find the Literary Terrace & Bar which has views of the sea and offers delicious drinks. Last but not least, the facilities include Sauna, Turkish bath, gym, and massage services. If you prefer the sea, Grand Hotel Timeo has a free shuttle bus that will take you down to the private beach!
Grand Hotel Timeo, A Belmond Hotel, Taormina location: Via Teatro Greco, 59, 98039 Taormina
4. Hotel Metropole Taormina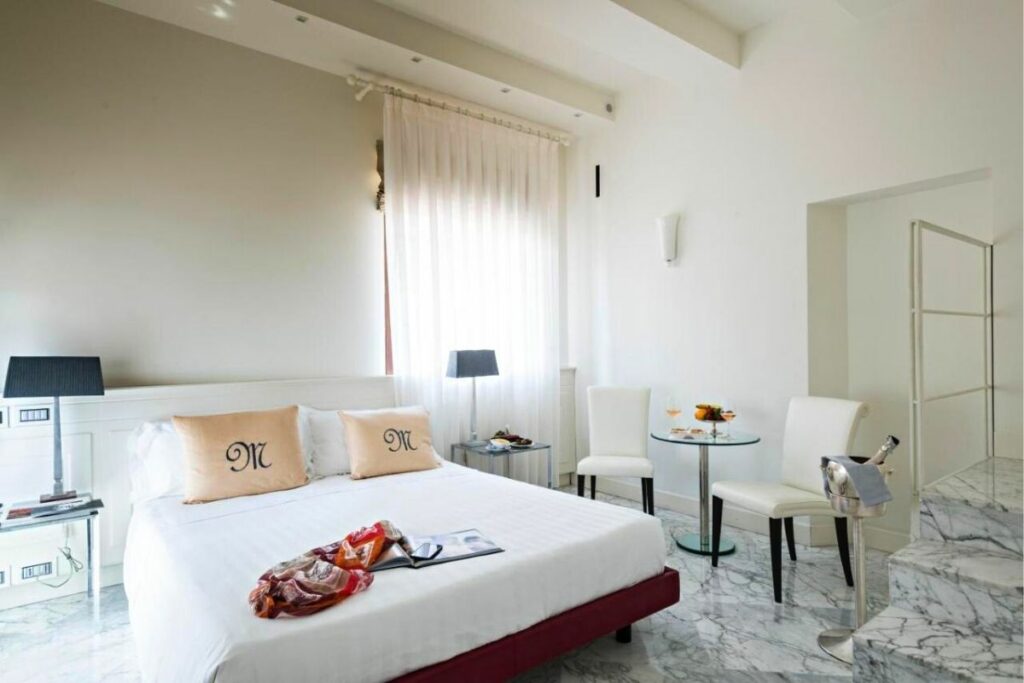 In case you want to spoil yourself in Taormina five star hotels, booking the Hotel Metropole Taormina is a great option. It is only about 6 minute's walk from the beach and it is set in a stunning 18th-century noble residence. The hotel is located in the city center, however, the views it offers are of the coast.
Hotel Metropole Taormina features large rooms for complete relaxation. All of them have their own en suites with showers or baths. The bathrooms are stunning and have marble tiles and amazing lighting. If you're wishing to try out Sicilian cuisine, the Metropole NeoBistrot, the hotel's restaurant offers a selection of dishes for lunch and dinner. It also serves delicious cocktails.
Like the rest of the Taormina hotels so far, Hotel Metropole has an outdoor swimming pool where guests can cool down during hot summer days. The wellness center is a bit smaller, but you can book massages and there's a hammam with a hot tub available. Guests rate it 9.1 on Booking.com!
 Hotel Metropole Taormina location: Corso Umberto, 154, 98039 Taormina
5. NH Collection Taormina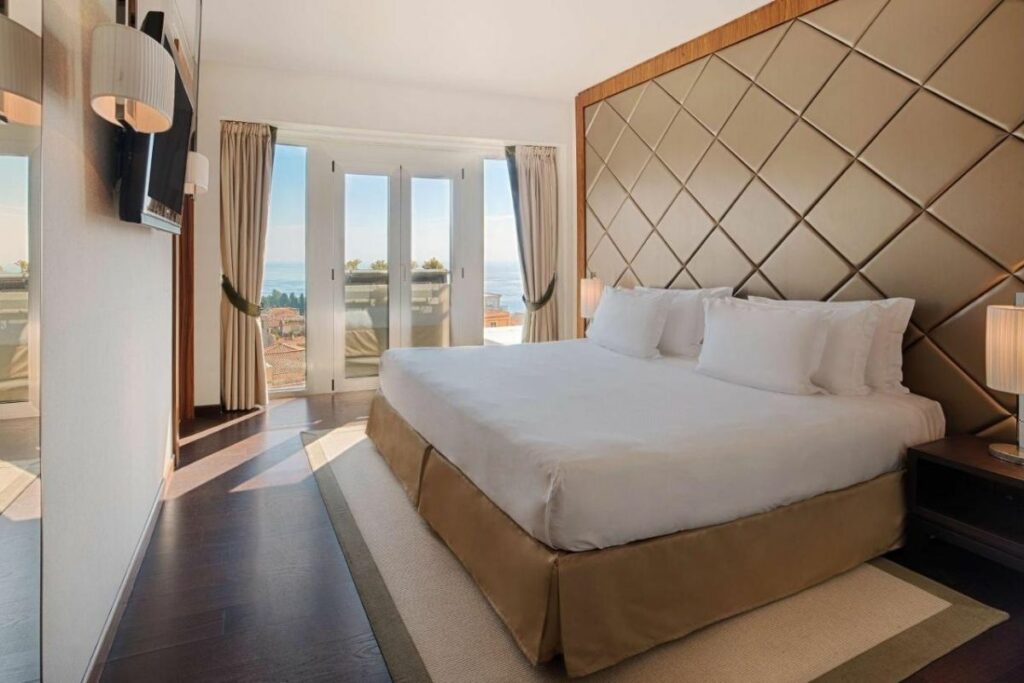 Don't be surprised as there are a lot of Taormina five star hotels. It's a popular destination, so it's only natural that some of the hotels are luxurious. NH Collection Taormina is a great hotel to visit as it features panoramic views of the bay. There's a super cool infinity pool with sun loungers and tables, chairs, and sofas as well as a bar.
All of the rooms feature gorgeous bathrooms, you'll get your own bathrobes and slippers. Inside the room the furniture is modern and some rooms have pops of colors like orange or green. But the best part is the hotel's wellness facilities. Sauna, Turkish bath, and therapy showers. There's also a tea room in the wellness center!
As far as meals, NH Collection Taormina serves organic products like yogurt, jams, and homemade juices. The on-site restaurant called Zefiro serves Sicilian cuisine. The Corso Umberto, a vibrant street in Taormina is nearby. You'll be visiting this surely as it's a popular attraction in Taormina. If you book the NH Collection hotel then it will be nearby.
Maison D'Hôtes location: Via Circonvallazione 11, 98040 Taormina
6. Atlantis Bay – VRetreats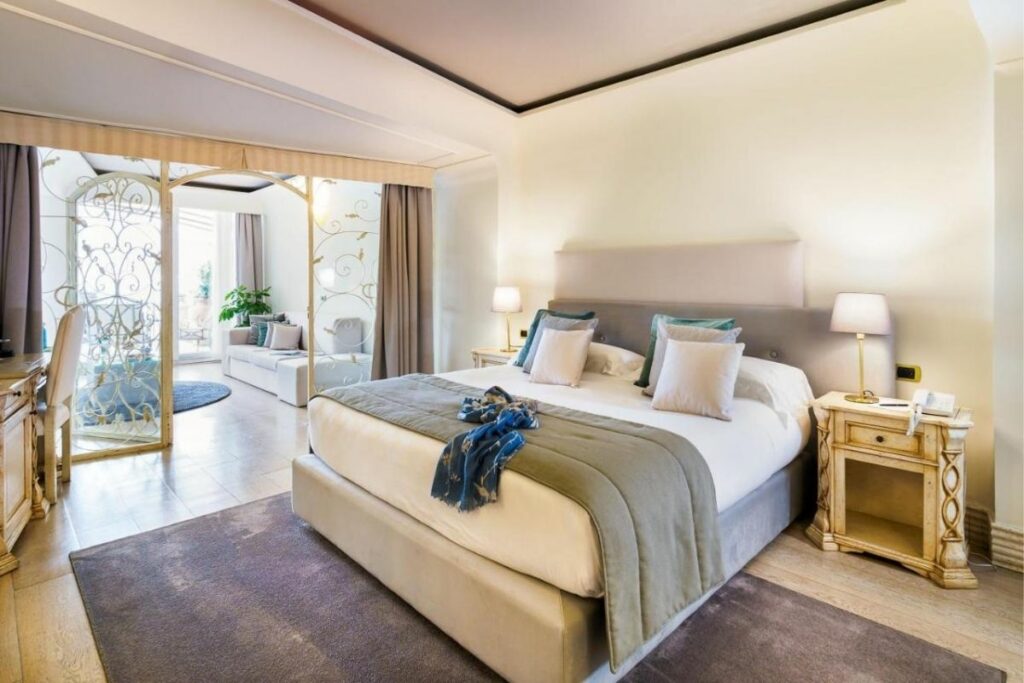 This has to be one of my favorite Taormina five star hotels. The inside decor is so stunning, it's modern and elegant. Atlantis Bay – VRetreats is a luxurious hotel that's located in Baia Delle Sirene Bay on a cliff. Whether you're at the restaurant or the pool, you'll experience the breathtaking views of the bay. There's also a private floating sea platform and a large pool.
Atlantis Bay is one of the Taormina hotels that will offer you complete peace and the best views of the bay. Another thing to try out at the hotel is the restaurant. You can enjoy a delicious breakfast and book the tables for romantic dinners. They serve Sicilian cuisine and classic Mediterranean dishes.
Now, Atlantis Bay's facilities are over the top. Besides the swimming pool that features the best views of the bay, you can also take advantage of the relaxing area. There's a Hyd'Or Wellness Center where you can book exclusive treatments. And if you love working out, try their gym which features a sea view. It's open 24 hours a day and has the best equipment!
 Atlantis Bay – VRetreats location: Via Nazionale 161, 98030 Taormina
7. Mazzarò Sea Palace – VRetreats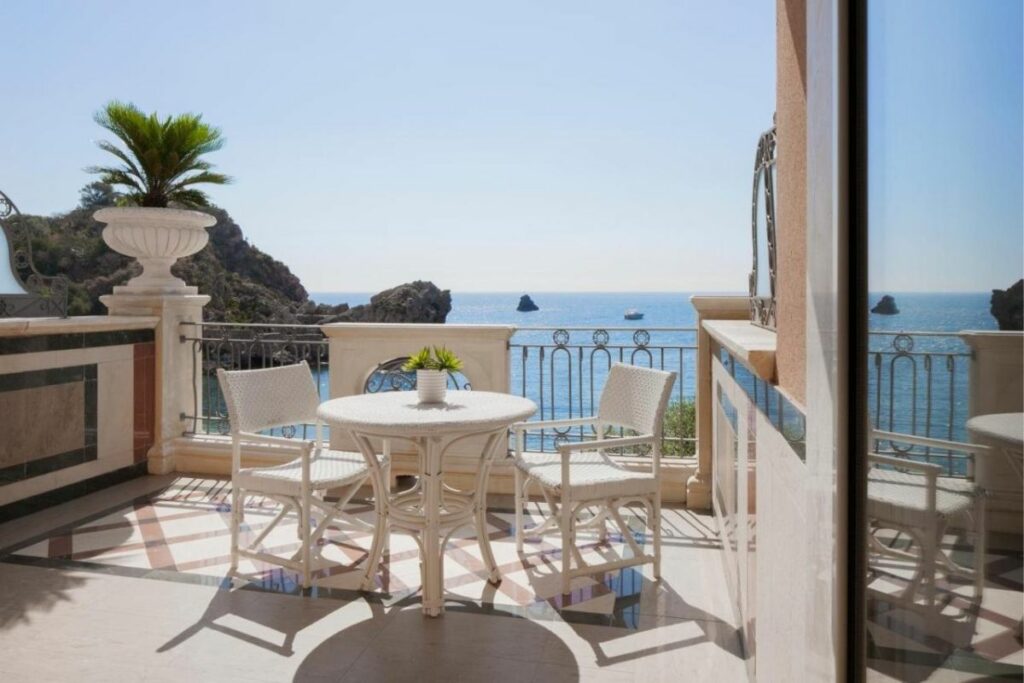 If you love Atlantis Bay, then Mazzarò Sea Palace will make you fall in love with Taormina and its hotels even more. This too is nearby the beach and has the best views of the bay and the beach. In fact, you can use the private beach with its sun loungers for free. The hotel also has the best sea-view pools.
The rooms are elegant and spacious, some feature balconies with beautiful views. Inside the property, everything is refurbished. You'll be guaranteed to have a great stay. Room service is also available 24 hours a day. Besides the swimming pool, there's also a wellness center with the possibility to book massages. The gym is free to use, as well as some of the spa facilities.
In case you get hungry, head over to Gattopardo restaurant, the hotel's on-site dining area. They'll be serving breakfast, lunch, and dinner featuring authentic Italian, local, and Mediterranean cuisine. If you wish to reach the center, there are cable cars from the Mazzarò Sea Palace and tours available to visit Etna. This property is one of the Taormina Italy hotels that received a 9.2 rating from guests!
 Mazzarò Sea Palace – VRetreats location: Via Nazionale 147, 98039 Taormina
8. Hotel Villa Sant'Andrea, A Belmond Hotel, Taormina Mare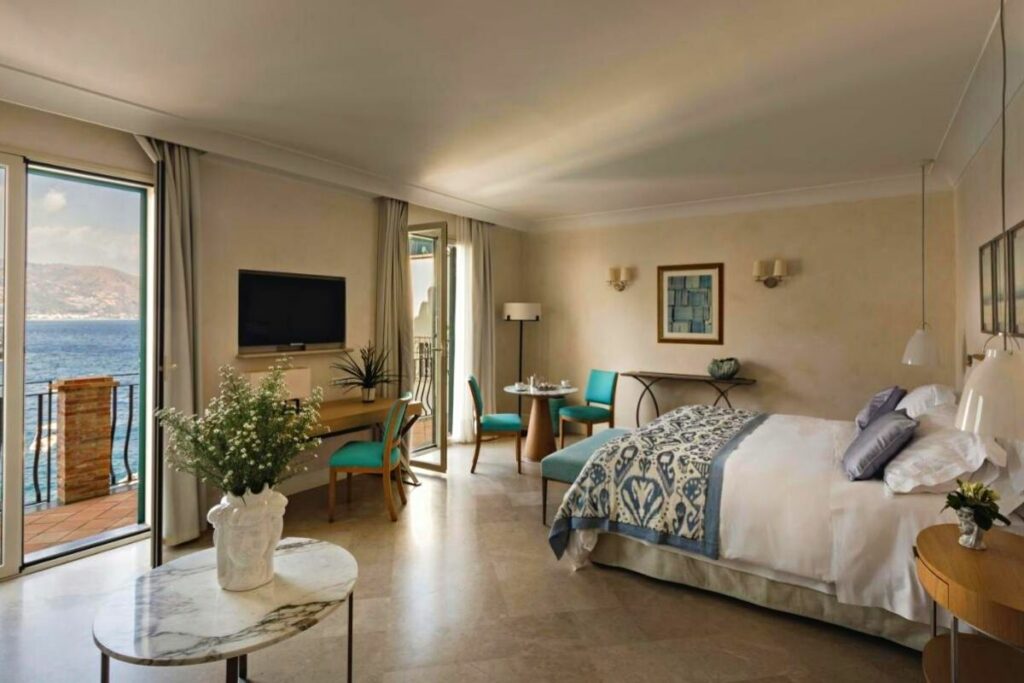 From the previous Belmond hotel, you already know that Hotel Villa Sant'Andrea will be nothing less than stunning. If you've been asking yourself where to stay in Taormina Italy, we would definitely recommend this hotel. Besides being a fabulous 5-star property, it's also very close to a private beach which only gives access to its guests. The views are amazing, as always.
Inside the hotel, you'll be welcomed with antique furnishing, which is elegant and simple. Some of the rooms come with balconies where you can drink your morning coffee and enjoy the sea view. In the morning, enjoy a delicious breakfast on the terrace. Throughout the day, restaurant Oliviero serves the best Sicilian cuisine and fresh seafood. Hotels in Taormina Sicily all have great restaurants to dine at!
Last but not least, Villa Sant'Andrea also has its own wellness center in a tropical garden. Furthermore, you get to work out with brand new Technogym equipment. If you need some extra boost to feel good, book yourself massage treatments at the hotel. Another amazing facility is that the hotel organizes free boat cruises along the coast. You should take advantage of that!
 Villa Sant'Andrea, A Belmond Hotel, Taormina Mare location: Via Nazionale 137, 98039 Taormina
9. Villa Fiorita Boutique Hotel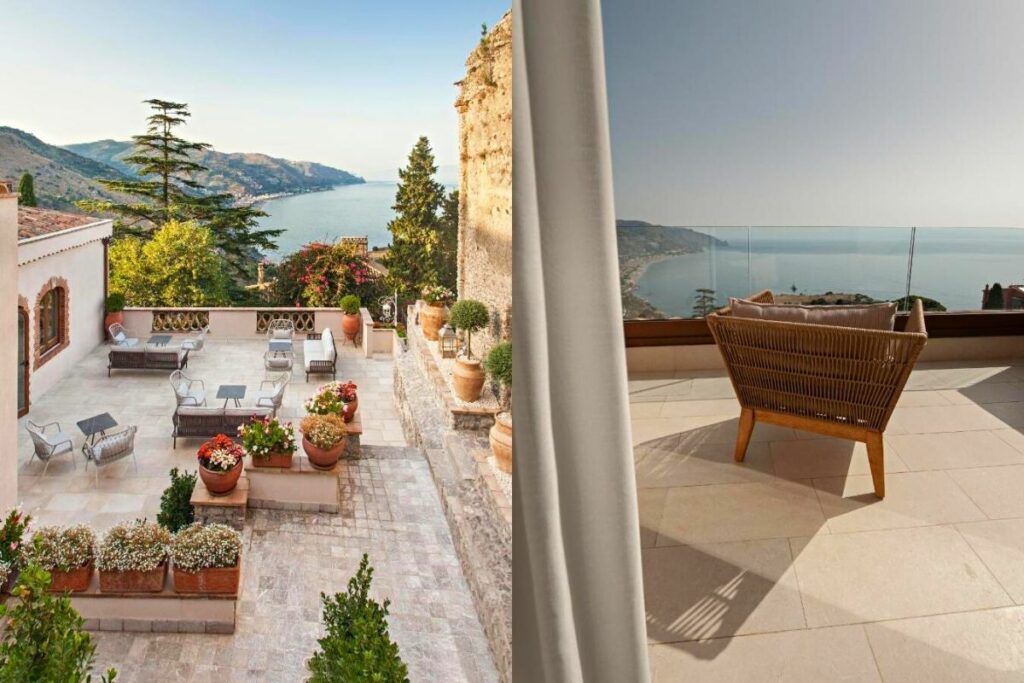 Villa Fiorita Boutique Hotel Taormina is among the 4 stars Taormina hotels one has to visit. The building is stunning, it's antique and located in the center of Taormina. There's a large pool with a spacious terrace where guests can relax in the water while looking at the beautiful views. But if you do want to go down to the beach, take advantage of the Cable car that takes you to the beaches of Mazzarò and Isola Bella island.
The hotel offers modern rooms with en suite bathrooms. Guests have access to the garden and enjoy the sun loungers and parasols. There is no spa center at this hotel. In the morning, Villa Fiorita Boutique Hotel Taormina serves breakfast that includes sweet cakes, eggs, ham, and fresh fruit. You'll be closest to the Corso Umberto shopping street, it's only a 5-minute walk! Let's check out the last two Taormina Italy hotels.
 Villa Fiorita Boutique Hotel location: Via Pirandello, 39, 98039 Taormina
10. Hotel Villa Taormina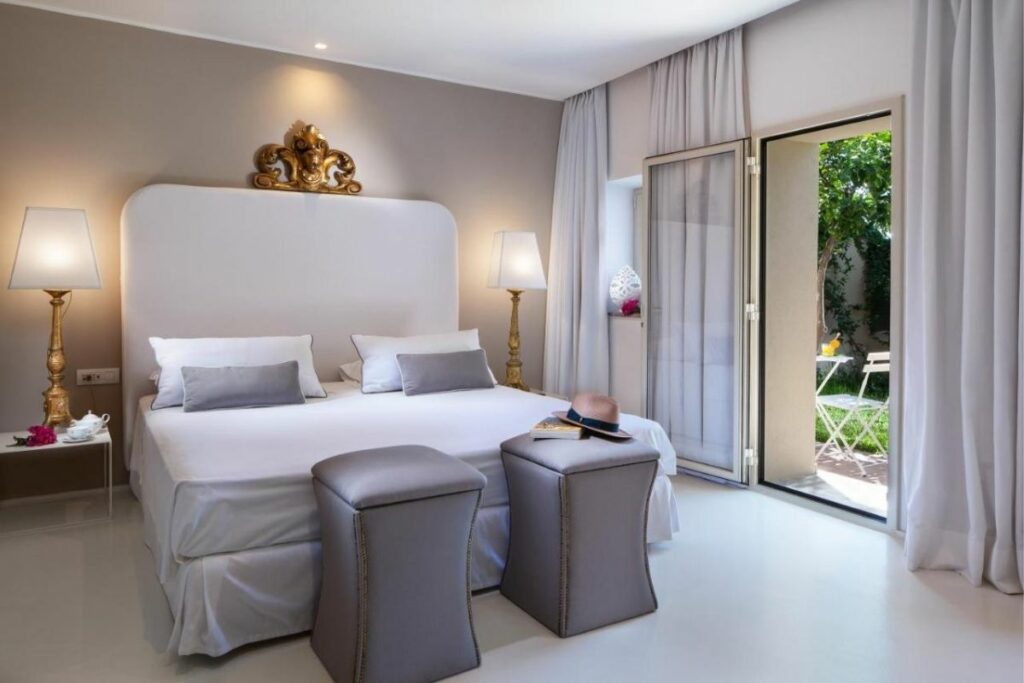 Are you looking for cheap hotels in Taormina? Well, Hotel Villa Taormina might not be the cheapest but it's a more affordable option than the rest of the five star hotels in Taormina. It's situated in an 1800s villa which has a beautiful garden. Inside the rooms are beautifully decorated and some of them overlook Mount Etna, the sea, or Taormina center.
The breakfast is amazing at this hotel, they serve Sicilian specialties as well as homemade ingredients. During the summer you get to enjoy your breakfast outside on the terrace. There is no restaurant on-site. Once again guests can use cable cars to reach the beach or walk to the Greek amphitheater which is 10 minutes away. Travelers rate Villa Taormina as one of the best hotels in Taormina.
 Hotel Villa Taormina location: Via T. Fazzello, 98039 Taormina
Bonus: Hotel Continental Taormina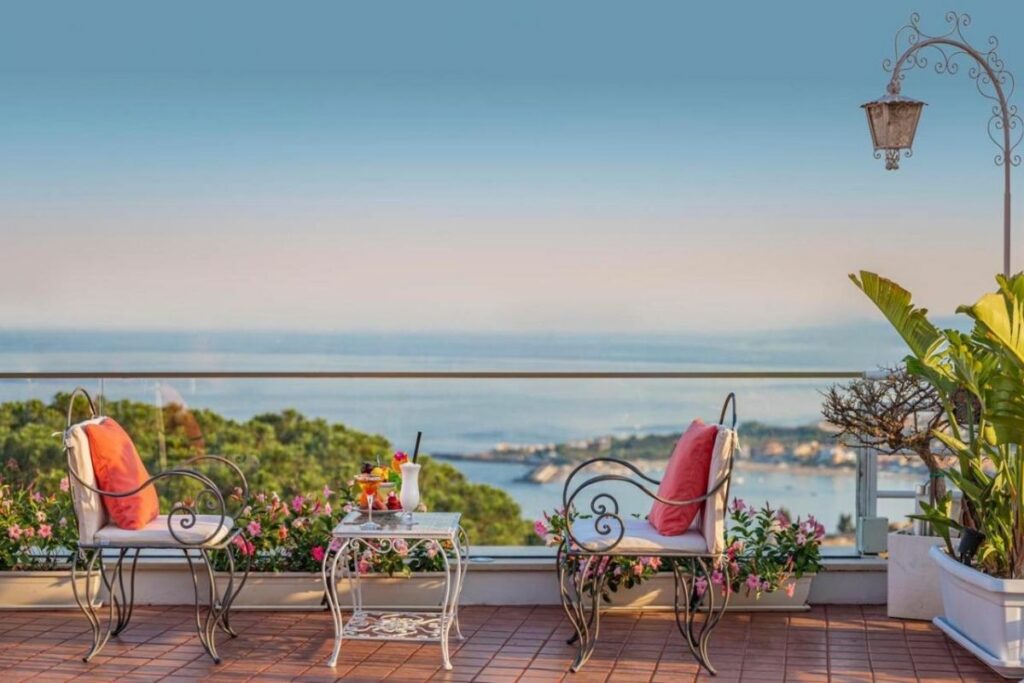 I had to add another one of the hotels in Taormina Sicily as a bonus because of its beauty. But Hotel Continental Taormina is also considered among the cheap hotels in Taormina with reasonable prices for a daily stay. The hotel is located in the heart of the city, two minutes away from the Cathedral and the famous street of Corso Umberto.
The views are dreamy, panoramic of the bay and Mount Etna. Hotel Continental Taormina has some beautiful rooms and some include private balconies or small terraces. The gardens are also something you shouldn't miss out on. While there's no possibility to have lunch or dinner, the breakfast is delicious and there's a lounge with bar offering cocktails and other drinks.
Hotel Continental Taormina location:  Via Dionisio I 2A, 98039 Taormina
Conclusion – Hotels in Taormina Sicily – Where to stay in Taormina Sicily
That concluded our list of best hotels in Taormina Sicily as well as the best boutique hotel Taormina. We have quite a few 5-star hotels on the list that are stunning both from the inside and outside. They offer luxury, comfort, relaxation, and mesmerizing views over the bay and Mount Etna. If you've been curious about where to stay in Taormina Sicily, this list should help you pick out at least one hotel!
Pin it: Hotels in Taormina Sicily – Taormina Five Star Hotels