It's not a secret: castles in Campani Italy attract people – a lot of people. Why is that so? Because the Italian countryside is charming and offers magical feelings that you can't compare to any other feeling. Castles in Campania, Italy, are some of the most beautiful ones in the country. We've listed them for you to save on your bucket list, so read on to discover wonders!
10 Most Beautiful Castles in Campania, Italy
Castles in Campania, Italy boast a strong personality and a tough exterior. We are far from aesthetics only – castles in Italy were built to protect, and it shows. In this article, we will unveil the secrets of a 16th Century castle in Italy, of the Caserta Castle and its tremendous beauty, and many others that really deserve all the attention in the world.
Let's dive in! You can also read about the most beautiful castles in Lazio and in Tuscany too! If you are already in the Campania region, don't miss to find the best things to do in Naples, beaches around Naples, and also ideas for other day trips from Naples.
1. Castello di Limatola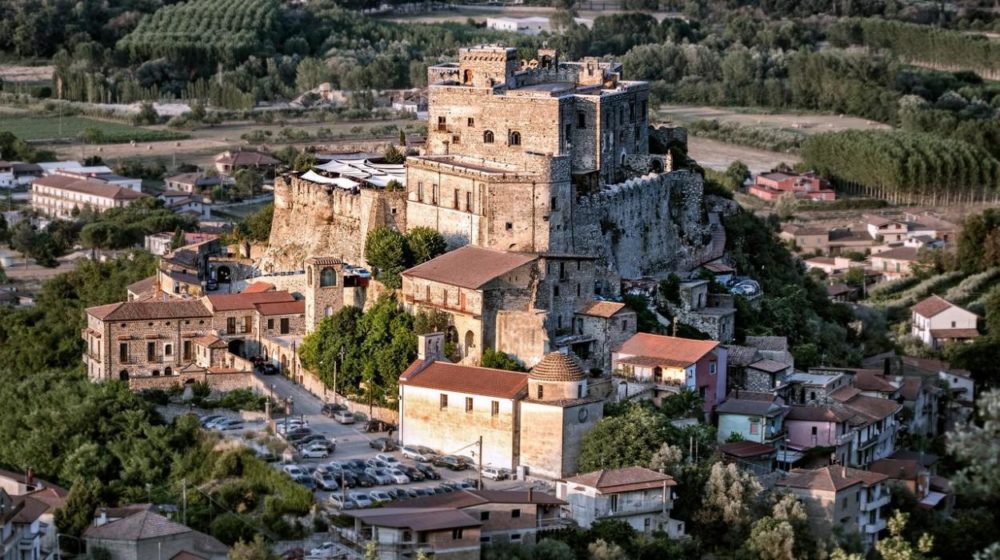 Among the most important castles in Campania, Italy, we can mention the Castello di Limatola. The beautiful medieval castle was already the scene of important figures of Italian history, like Carlo I d'Angiò. It is also a 16th-century castle that lived through religious and royal events.
During the Renaissance, renovations took place to protect the castle more efficiently, and we can still spot them today around the castle. Today, the Castello di Limatola is one of the coolest castle hotels in Campania and even has a spa for its guests to relax to the fullest.
2. Castello di Arechi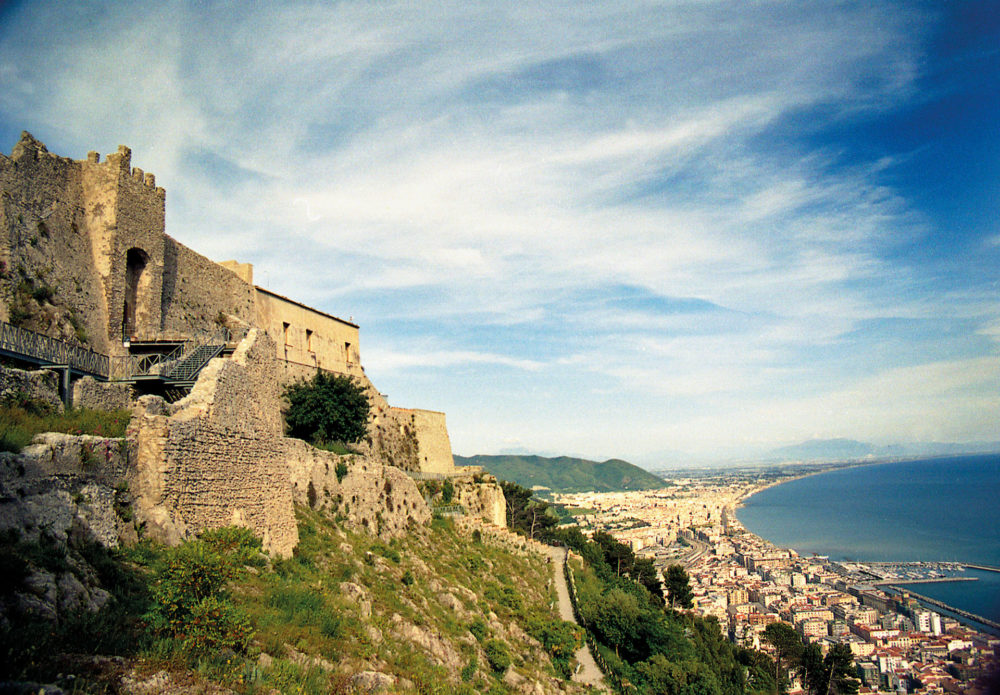 One of the most impressive castles in Campania, Italy, is the Castello di Arechi. Once a Byzantine fort, it now towers over Salerno in waves of history – you can even see the castle from the beach!
Today, you can hike up to the castle and still spot massive ruins of the rundown building. Since the castle is located around Salerno, it is a brilliant moment to admire the scenery.
3. Maschio Angioino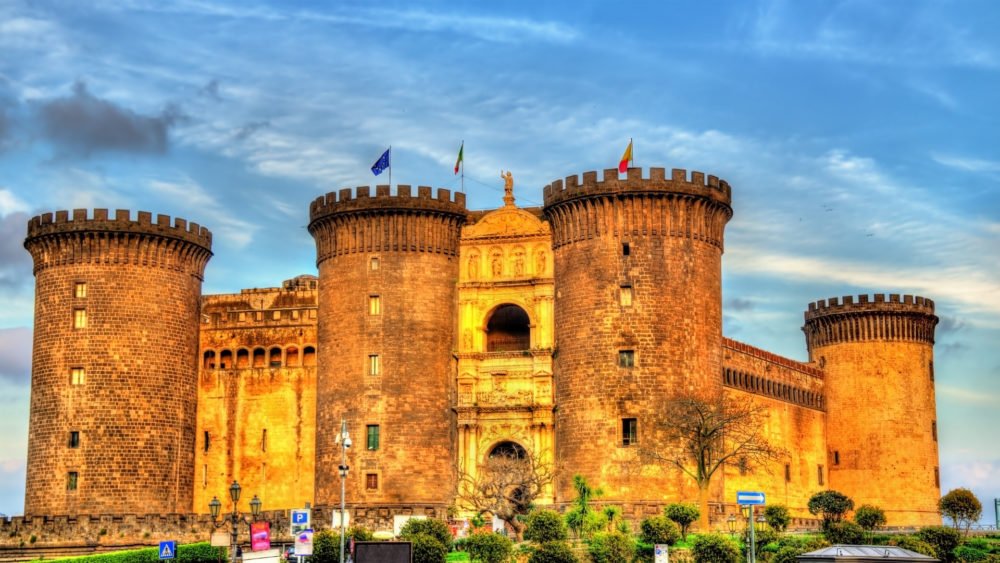 Maschio Angioino – also called Castel Nuovo – is one of the most impressive castles in Italy to this date. It dates back to the Middle Ages and is a true symbol of the city of Napoli.
The castle, ordered by the French architect Pierre de Chaule, took only three years to build at the end of the 13th century. The castle is so well preserved that it is a royal pleasure to walk its grounds!
4. Castello Giusso – Castles in Campania Italy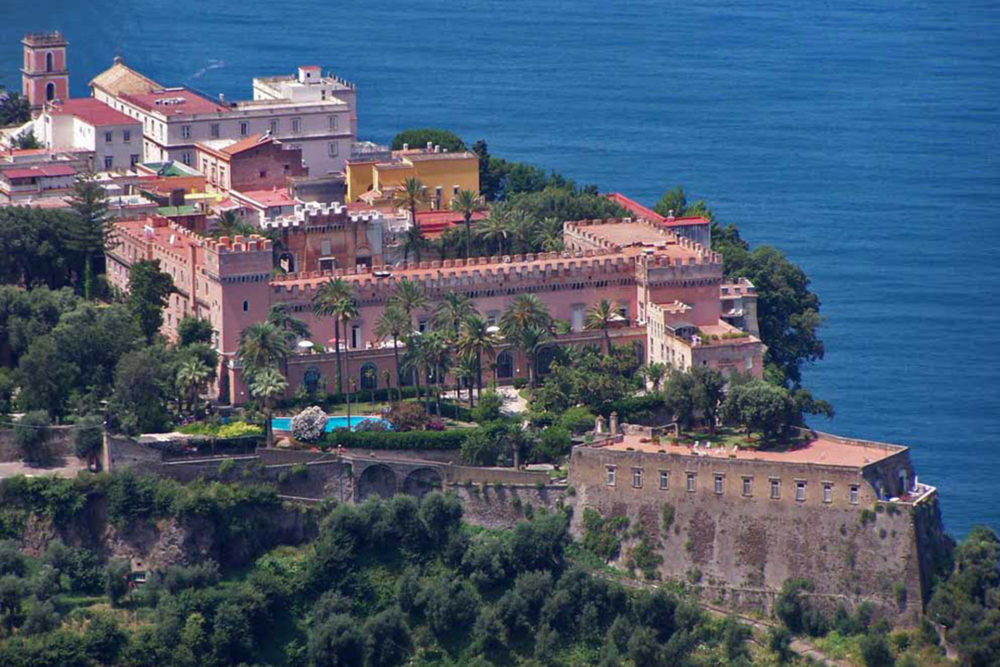 Castello Giusso also goes by the name of Vico Equense and is one of the many castles ordered by Carlo II d'Angiò. Its walls were built from 1284 and 1289 to protect the region.
Only little is left from the once huge domain, but the architecture still very much aims to please. Indeed, the walls and towers are very well preserved and even boast something of Arabic inspiration.
5. Castello Grifeo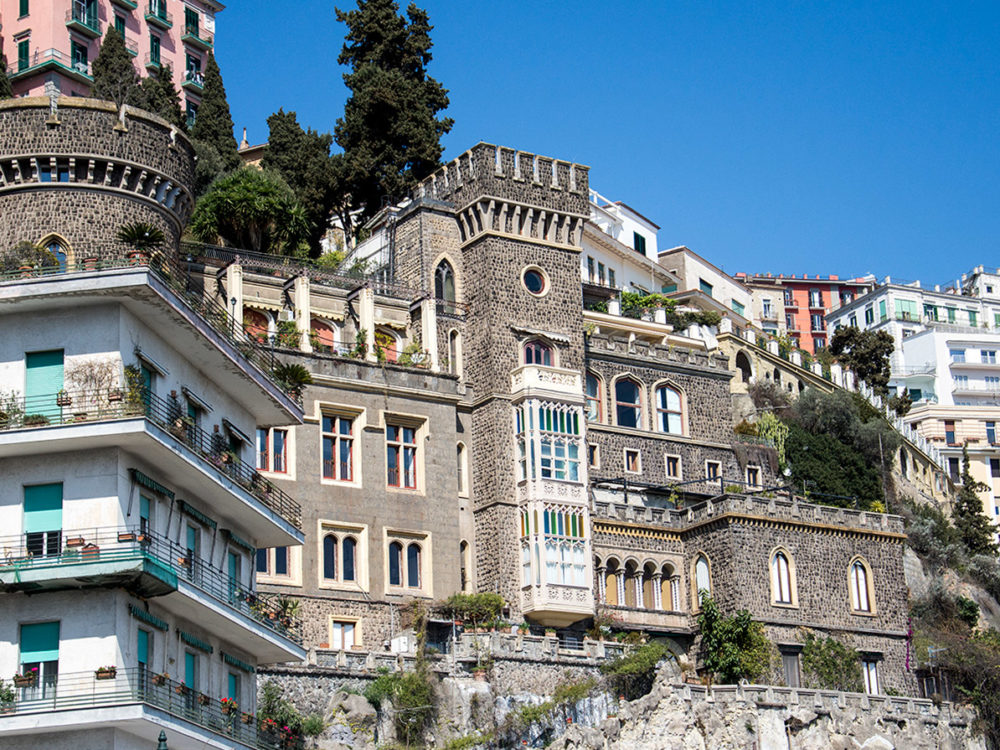 When you are walking around, minding your own business, it can be surprising to come across a castle in Naples Italy. The Castello Grifeo, also known as Castello Aselmeyer, is a stunning 19th Century castle. We can see straight away from the architecture that the structure is slightly different from the Middle Ages castles that we've shown you above, for instance.
Overall, it also looks very much modern, which was a nice touch for the building that was supposed to act as a hotel at the beginning of the 20th Century. In the end, the banker Carlo Aselmeyer purchased the castle to make it his personal residence. Today, we still think it's one of the most beautiful castles in Campania, Italy.
6. Castel dell'Ovo – Castles in Campania Italy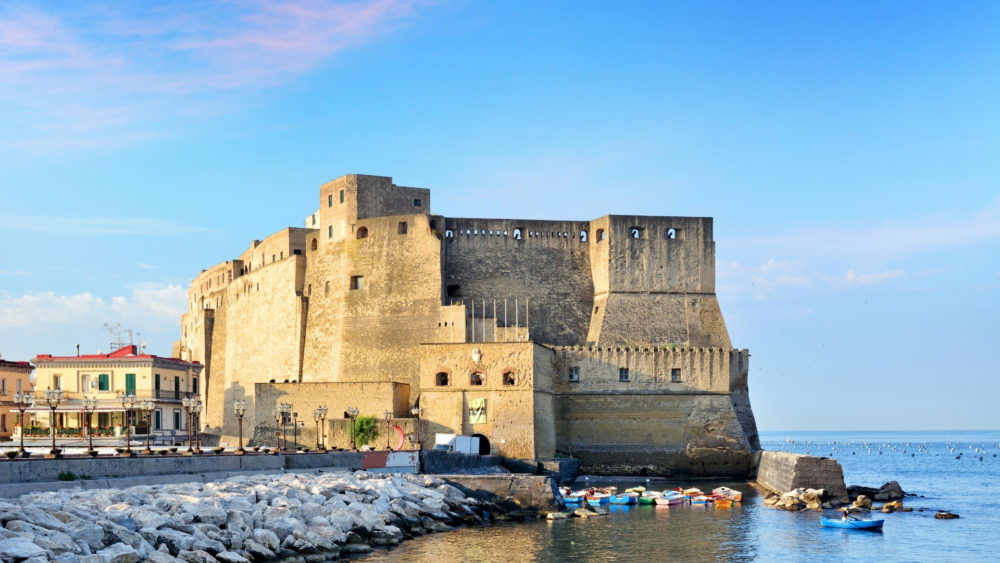 One of the most surprising castles in Campania, Italy, is actually located right in the heart of Naples. The Castel dell'Ovo, a beautiful 16th Century castle in Italy, is open for visits all year round.
The guided tour takes roughly 45 to 50 minutes, and you can enjoy a taste of the past within the castle's walls. We recommend you to visit this castle in Naples Italy, and then to keep strolling along the seashore until you can have a seat and a snack.
7. Aragonese Castle – Ischia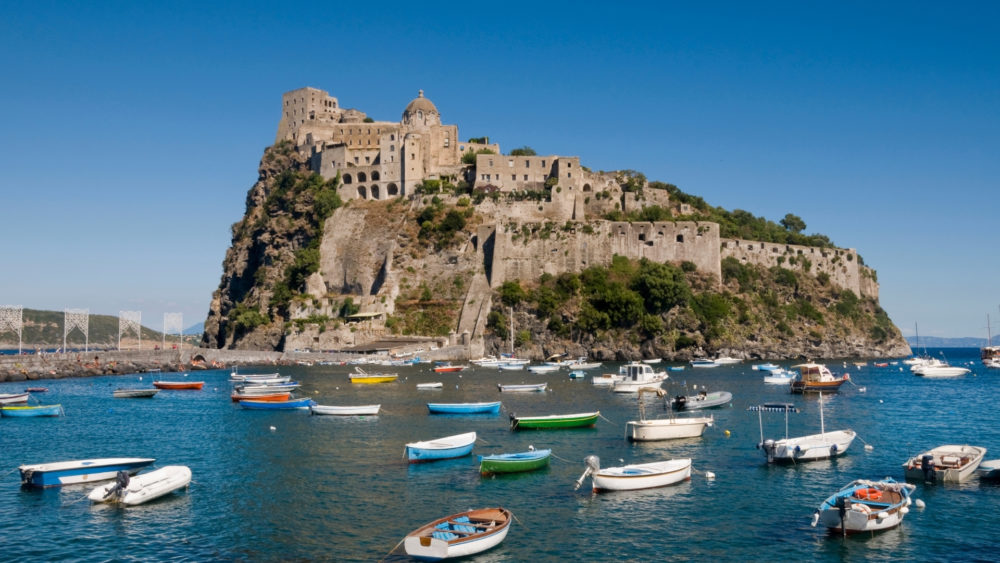 The Castello Aragonese is an impressive 16th-century castle in Italy. It is located in Ischia and is open for visits. One cool visit idea would be to enjoy this castle in Naples Italy and then to take a boat tour around the island.
The Castello Aragonese is one of the most beautiful castle hotels in Italy, fully equipped with a restaurant, a church, and even a prison! Verily an incredible historical location.
8. Castello Colonna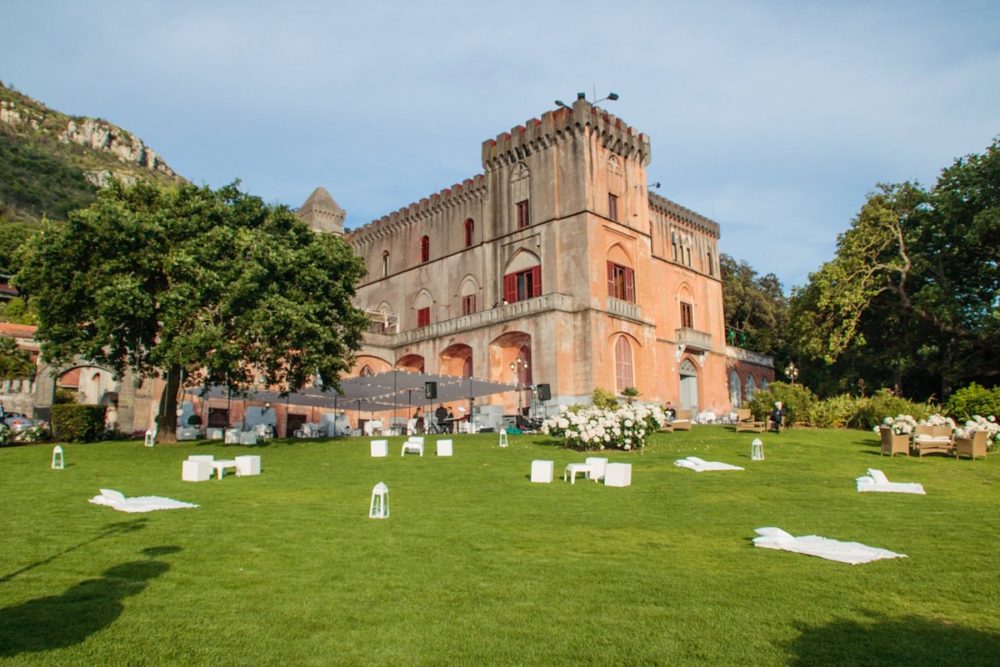 Castello Colonna is also one of the most stunning castle hotels in Italy. It has everything you need to enjoy relaxing days on end. Not all castles in Campania, Italy are castle hotels.
This one, however, offers all the quietness of the Italian countryside and a beautiful view over the valley. You can only feel your best when you're feeling the sun on your skin at Castello Colonna.
9. Castelluccio – Castles in Campania Italy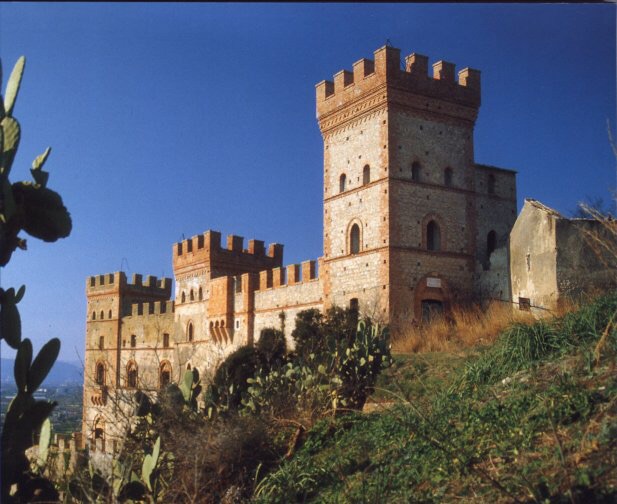 Castelluccio is a castle located in Battipaglia, not too far from Naples. You can visit the castle, and keep going to one of the beautiful churches closeby. The Chiesa Parrocchiale di Sant'Antonio di Padova is a must-see. If you want to enjoy a quiet hiking day with your family, friends, or partner – Castelluccio is your prime choice.
10. Reggia di Caserta – Caserta Castle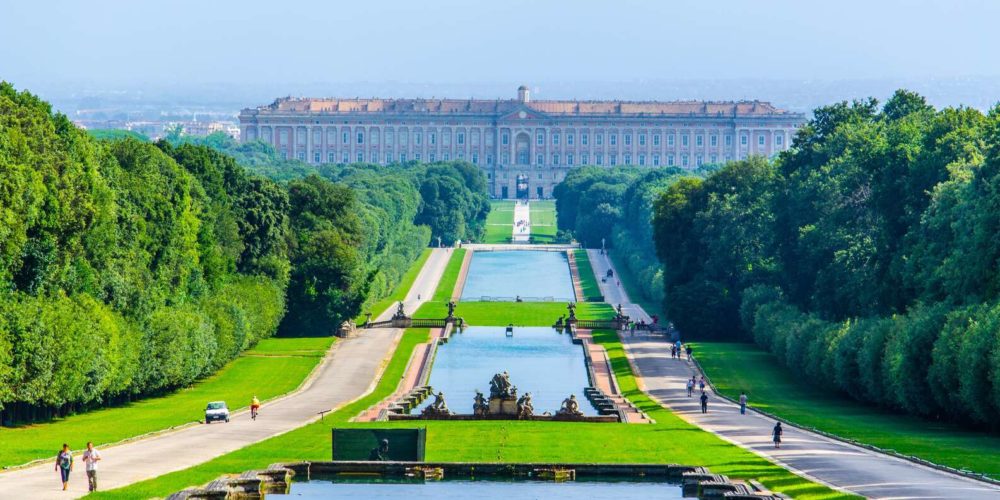 Caserta Castle or Reggia di Caserta is a castle in Naples Italy. Doesn't it remind you of Versailles or Buckingham Palace? You can visit the castle and the surrounding park that expands over 11 acres – and the castle is the largest royal castle in the world!
If you've been to the Villa d'Este in Tivoli, you might feel a vibe from all the fountains, waterfalls, and many pools of the domain. It is a clean complex, and you can also spot while walking very well-preserved statues that will blow your mind.
Wrapping Up 10 Most Beautiful Castles in Campania, Italy
No doubt about it: castles in Italy are stunning. Whether you are about to visit a castle like the Caserta Castle, or any of the many castles in Campania, Italy, you'll be breath taken. Naples is not just about Neapolitan pizza. It is also – and above all – about history, architecture, and popular art. So why not book a visit to a castle in Naples Italy, or in the depths of Campania? Let us know what you thought!
PIN IT: The 10 Most Beautiful Castles in Campania, Italy