10 Most Stunning Abandoned Places in Italy
Coming across an abandoned Italian villa for the first time brings you thrill and chills. I am a big urbex lover. Since I've moved to the country, finding the most fascinating abandoned castle Italy has been a goal of mine. I am passionate about the past, and you cannot deny that ruins and abandoned places can make you feel a certain kind of way.
I won't talk about just one abandoned place today. I've decided to put together for you a whole list of the best Italy abandoned villages, villas, castles, and mills. Mark them down so you know what your next thrilling destination is!
10 most stunning abandoned places in Italy
Are you ready to find the prettiest abandoned Italian villa? All the places I am listing here for you today boast endless history. There's always this feeling of being small in the world when you visit an abandoned Italian village.
I don't know about you, but getting out of my way to find long-abandoned places makes me feel alive. Without further ado, let's dive into the quest for the most stunning abandoned ghost towns, villas, and mills in Italy!
1. Abandoned Village Italy: Giardino di Ninfa in Lazio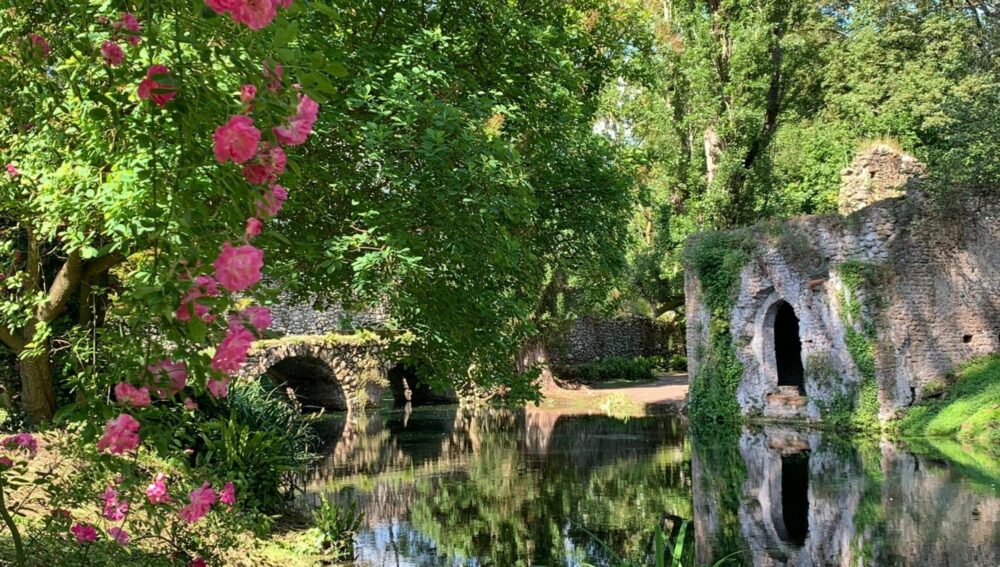 Giardino di Ninfa is one of the prettiest Italy abandoned villages you'll ever see. Located around the seaside town of Latina, Ninfa is a long-abandoned ghost town. Its beginnings date back to the 8th Century, and it lived through many difficult destructions.
In the middle ages, it was destroyed by the order of Emperor Frederick Barbarossa, rebuilt at the end of the 13th Century, and abandoned in the 16th century because of an epidemic of malaria. It was then left to nature's rights, and in the 20th century, it became a protected monument of the Italian culture.
Today, you can visit Ninfa and its fascinating medieval ruins. One of the most amazing things to do there is spending an afternoon in the beautiful English garden curated all around it, dubbed the "most romantic garden in the world". Giardino di Ninfa is also a great option for day trips from Rome!
2. Abandoned Italian Villa: Villa de Vecchi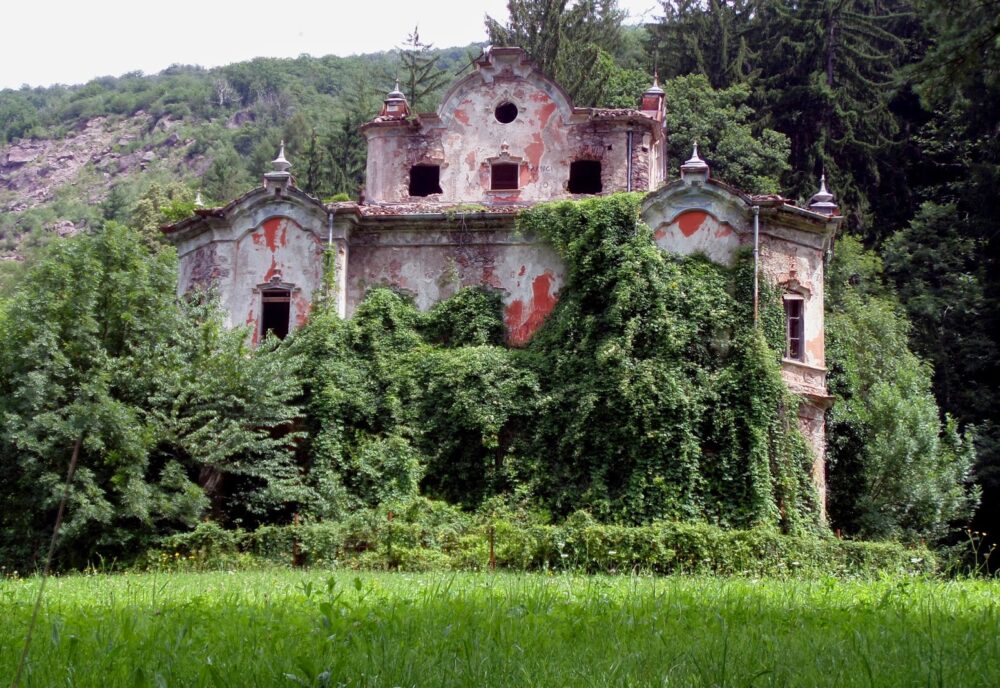 The Villa de Vecchi was built in the 1850s in the immediate east of Lake Como, in Northern Italy. Nicknamed the Ghost Mansion, or the House of Witches, the Villa de Vecchi encompasses a story of satanism, witchcraft, and human decadence. You can also include it in plans of day trips from Milan.
This abandoned villa is one of the most curious and fascinating mansions in all of Italy. An Italian count built it, and history relates countless curses and tragedies that occurred in the Villa de Vecchi. The count's suicide was only the first of them, followed by satanic rituals and ghost stories. Of course, there is no way of knowing for sure what happened in the Ghost Mansion after almost two decades. However, it is still a destination for chills lovers.
3. Abandoned Italian Village: Civita di Bagnoregio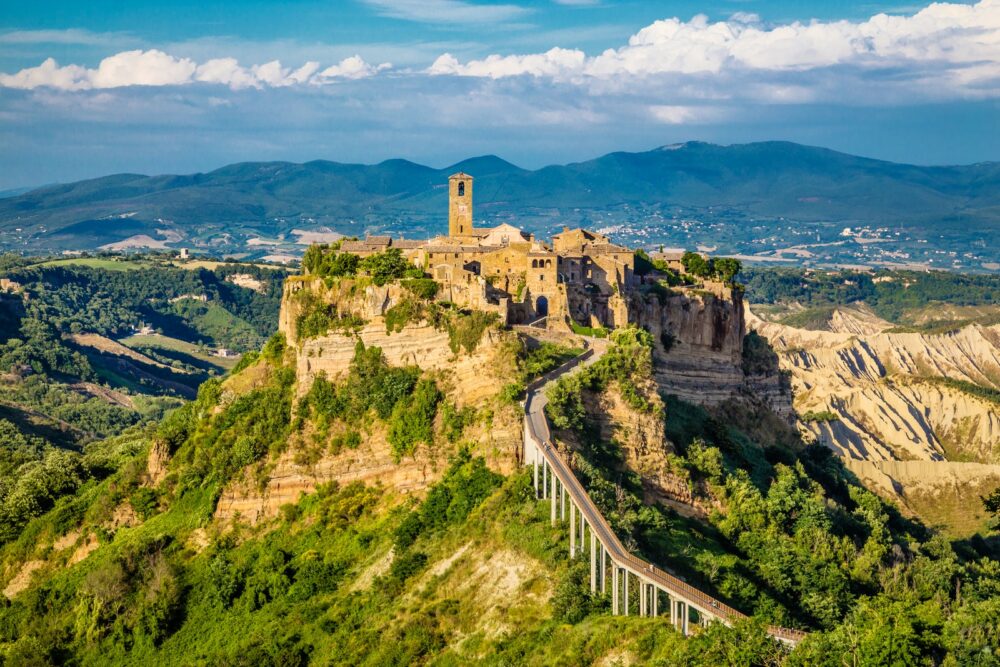 Civita di Bagnoregio is a pretty abandoned Italian village in Lazio close to Viterbo. One can understand from its nickname, "The Dying City", how inaccessible and empty it is – and has always been. The only way you can reach this abandoned village Italy is on foot on a long bridge.
Italians and foreigners alike have made Civita di Bagnoregio a hiking destination. The village is still home today to only a dozen people at most. What is most fascinating about the dying town is the beauty of the surrounding landscapes as well as the Etruscan architecture.
There are quite a few Etruscan-style villages and cemeteries in Lazio, like Cerveteri of Vulci. If you want to see what arts and history were like before the Romans made Italy theirs, pay a visit to those abandoned towns and villages. You're bound to feel… strange feelings of thrill and calm in Civita.
4. Abandoned Italian Villa: Villa del Chiosseto
The abandoned Villa del Chiosseto – also named Villa Artom after its owner Isacco Artom – is one of the best-preserved urbex villas in Italy. Located near Monferrato in Piemonte, the villa is famous for being the home of the entire Artom family. Not only were they a prosperous and important family in the region, but a smart one as well. Several members of the family contributed to scientific discoveries such as the radiogoniometer, which is the basis of the radio antennas.
Great history surrounds this villa and the family to which it belonged. Although it was built several centuries ago, everything is still the way it was in the Villa del Chiosseto. Today, the region is qualified UNESCO heritage. You can still visit the Villa Artom and discover what the furniture and decoration were like around the 17th and 18th Centuries.
5. Abandoned Mill Italy: Valley of the Mills, Sorrento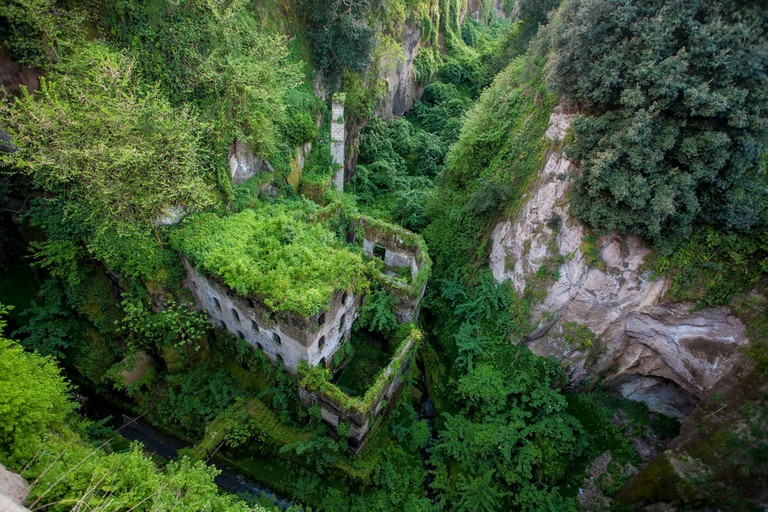 I have seen only one abandoned mill Italy before the Valley of the Mills in Sorrento, in the South of Italy. However, it came nothing close to the beauty of this old grain mill almost buried down a mountain crevasse. It's really hard to imagine how people were working in this abandoned mill.
Centuries and centuries saw humans grinding grain to make flour. The Valley of the Mills was abandoned less than a century ago. Still, nature has taken its rights quite quickly, and the greenery makes an ethereal hug around the old grain mill. Make sure to check out all the things to do in Sorrento, so you can plan an itinerary including the Valley of the Mills.
6. Abandoned Italian Villa: Motta Navas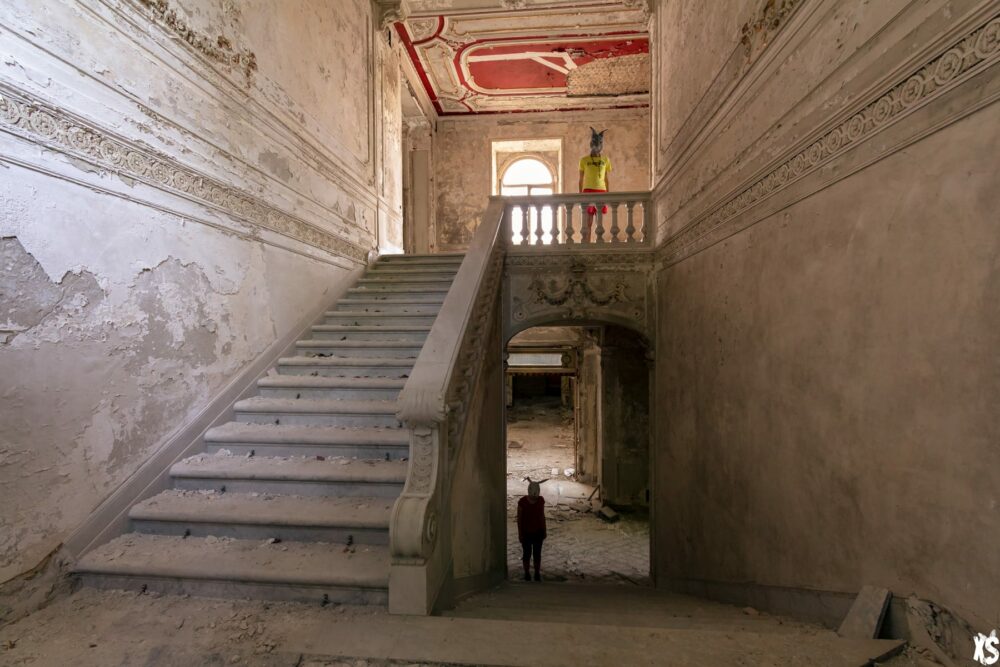 There is not that much information available about the Villa Motta Navas on the Internet. If you want to visit this abandoned villa and get the feel of its grandeur, you'll have to go firsthand.
The villa went from hand to hand since its construction in the 19th Century. Then, it emptied little by little after it notably hosted the German SS during the Second World War. When you find yourself between the thick walls, you just feel small and lost.
What I mainly love about the Villa Motta Navas are the remainders of arts and sculptures that translate the power and riches of the past centuries' architectures. As it once belonged to the richest man in Italy, you can easily imagine dressed-up people gathering there for elite soirées.
7. Abandoned Village Italy: Castelnuovo dei Sabbioni in Tuscany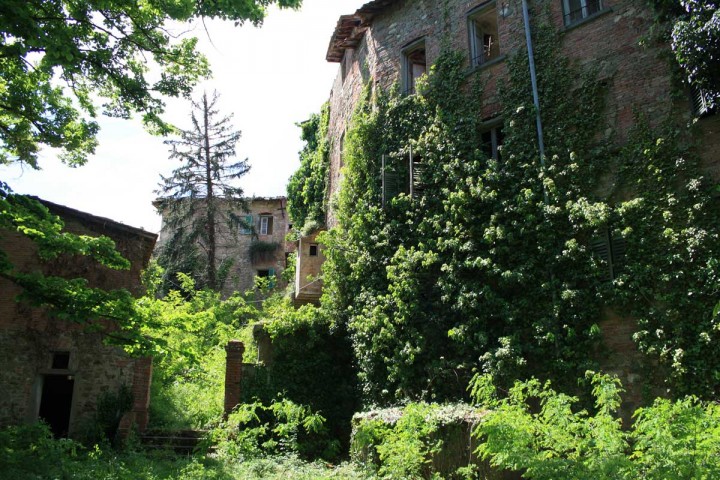 Castelnuovo dei Sabbioni is an abandoned village Italy that marks Tuscan history deeply. There are so many more ghost towns in Italy than we can imagine, and I'm pretty sure that we are far from having discovered all of them. Italy abandoned villages like Castelnuovo dei Sabbioni are rare. Even if the ghost town has since long seen no residents, there's actually a museum in its midst.
It's not too clear why or how Castelnuovo has died. My thought is that up there on its hill, the small village has been deserted by the people who wanted to build a new life in bigger cities. Since it's located in the hills of Chianti, I highly suggest a visit to Castelnuovo if you're in the area for the traditional Tuscan wines.
► Read: The 10 Most Beautiful Villas in Lazio Region
8. Abandoned Italian Villa: Cesare Serviatti House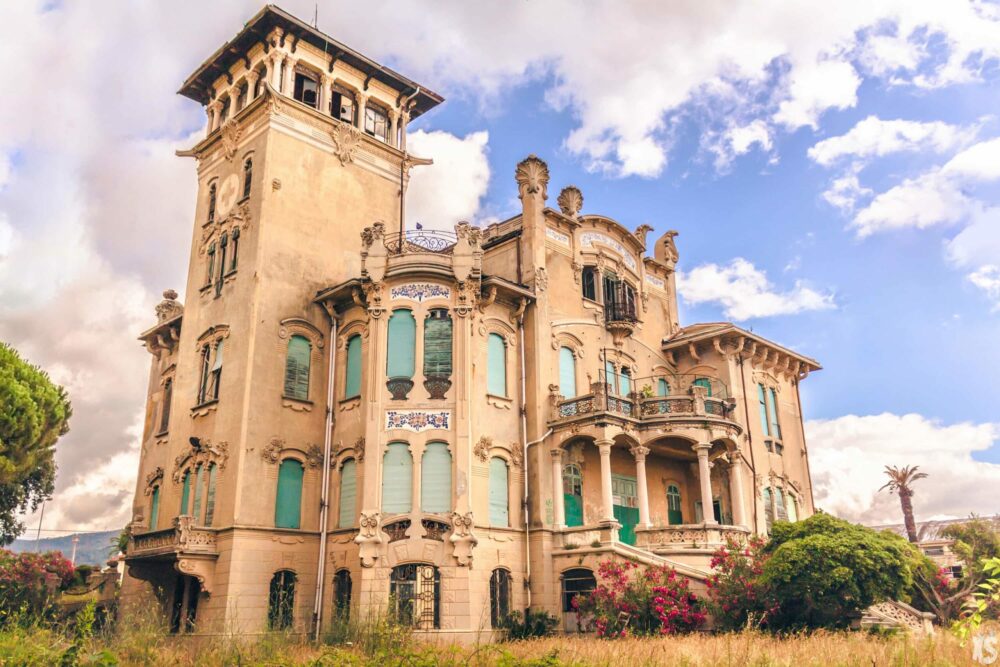 If you're one to watch murder documentaries without batting an eye, pay a visit to the Cesare Serviatti House. I am quite crazy about ancient hospitals and abandoned asylums, and we're right on point with the Cesare Serviatti House. The villa, which takes its name after the eponymous murderer, was built in 1907 and abandoned in 1998 due to a lack of money for restoration.
The Cesare Serviatti House is most famous for being the home of a serial killer who killed and dismembered three ladies between 1928 and 1932. The house is located between Rome and La Spezia. As such, if you're ever in Lazio, that's a stunning villa with an incredibly terrible story that is worth a visit.
9. Abandoned Italian Village: Craco in Basilicata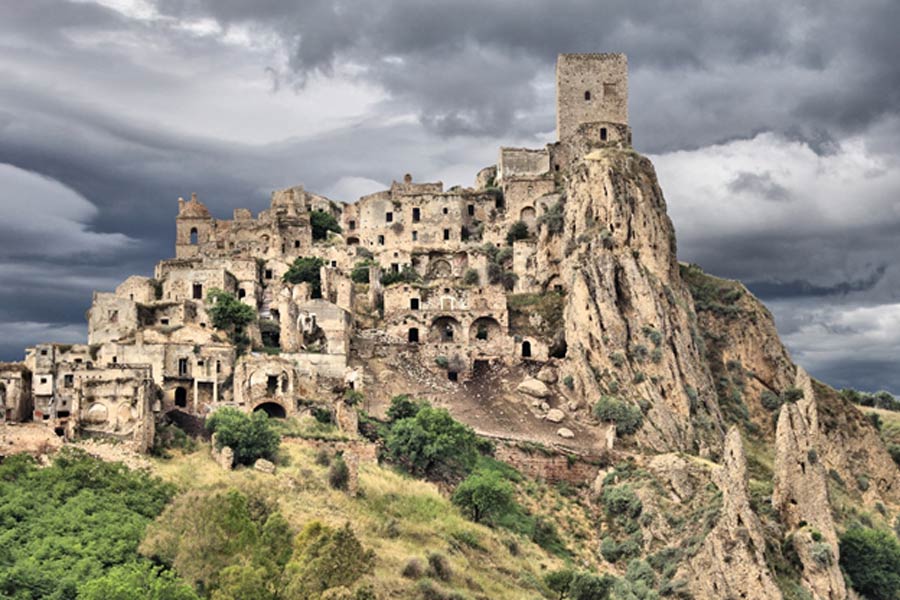 Craco in Basilicata is an abandoned Italian village located around Taranto and Matera. Like many other ghost towns in Italy, Craco stands up high on a hill. History always seems to repeat itself when it comes to ghost towns. The town witnessed a massive abandonment as its residents moved out of the village at the end of the 19th Century on the quest for a better life in the United States.
Natural causes finished killing any remainder of life in Craco, between landslides, floods, and earthquakes. As of today, Craco in Basilicata has been a ghost town for over four decades. However, it still attracts many tourists, Italian and foreigners alike. It's very much an Italian ghost town to visit as served as the background for blockbusters like the Passion of the Christ.
10. Abandoned Italian Villa: Villa del Conte d'Agliè
It's now time to talk about this absolutely stunning abandoned castle Italy that is Villa d'Agliè. Funnily, I haven't heard much about this Villa from the Italian people. Yet, this villa – or castle, as you'd like to call it – near Torino, up North, is one of the most fascinating structures still standing today.
This abandoned castle Italy was built at the beginning of the 17th Century as the property of Duke Carlo Emanuele I. As time passed, it became home to various owners, including the Duke's daughter. In 2007, the gardens of the Villa d'Agliè earned the status of historical gardens of the Piemonte region.
We can still visit this mansion, one of the few still up and dandy in the Torino province. Four centuries later, it is still in great condition and makes for an amazing Urbex outing. If you're visiting for more than a day, check out the best hotels in Torino too!
10 most stunning abandoned places in Italy
As we've seen, there's not just one abandoned Italian villa or one abandoned castle Italy. Some of the most beautiful places in Italy are to be found where you'd never expect. There are so many hidden buildings that we have yet to unveil after decades of abandonment. I personally feel very much alive and very goosebumps whenever I set out to find the prettiest Italy abandoned villages.
There's something about humans; we sometimes love getting out of our comfort zone and giving ourselves the chills. When we go back home, we've learned something new, and we feel amazing about our settled lives, don't we? Well, the trip is not over. If you are an architecture and history enthusiast like me, you should definitely take a look at the 20 most beautiful castles in Italy!
Pin It: 10 most stunning abandoned places in Italy