Living a healthy lifestyle is more important now than ever thanks to the pandemic. People started exercising more as they were restricted from going out with friends and traveling. Now that gyms are open and have been open for a while, we can truly start taking care of our bodies. We bring you the 10 best gyms in Rome so if you're in the Eternal City, you'd know where to go if you don't want to miss your workout!
These Roman gyms are not just for the purpose of strength training or weight lifting. Many of them are mixed activities, which include pilates, yoga, circuit training, martial arts, and many more. It was important to find gyms where you get to experience many forms of exercise.
10 Best Gyms in Rome
As we go through the list you will notice that 90% of the gyms have limited opening hours. There is only one gym group which is 24/7, the rest usually close before midnight. The interesting thing about gyms in Rome Italy is that they do not show the prices online.
If you wish to find out how much an entry costs or a monthly membership, you would have to access the reception or call them. Some of the gyms offer free entry to test out the equipment or free trial for classes. Now let's get into the details!
1. Very Yeah Fitness Club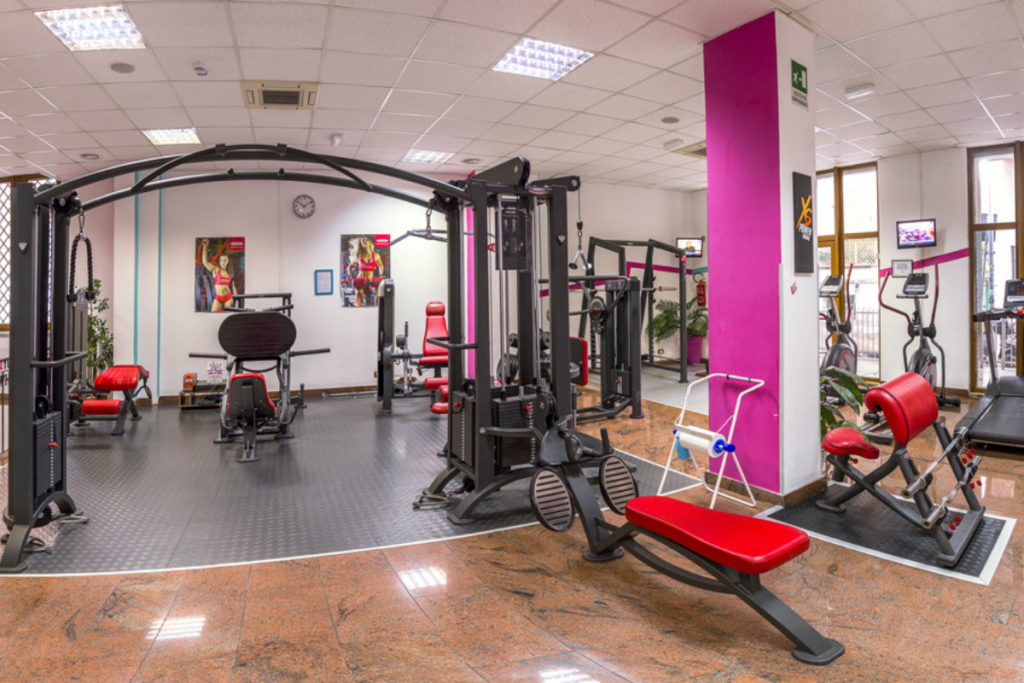 We have the very first of the 10 gyms in Rome the Very Yeah Fitness Club. This club has everything you will ever need for your fitness goals. The fitness center is located near Trastevere, so if you are visiting and staying at a hotel in the area, you will be close enough to the historical center too.
This is a 1000sqm gym and it has 3 floors, 3 rooms, and 1 terrace. On the 1st floor, you'll find a studio for functional activities and martial arts. The 2nd floor is fitness, pilates, TRX, and postural. The 3rd floor is for dance, spinning, fitness, and kids. Then you have the terrace with open space and a sitting area.
The facilities include large locker rooms, wifi coverage throughout the whole gym, fully air-conditioned, and free parking space. Very Yeah Fitness Club has some great services, such as personal training, a nutritionist on-site, and an osteopath in the building as well.
Opening hours: Mon – Fri 7.00 am to 22.30 pm, Saturday 8.30 am to 18.00 pm, and Sunday 10.00 am to 14.00 pm.
Very Yeah Fitness Club location: Via Francesco Massi 10 – 00152 Rome.
2. H2O Fitness Center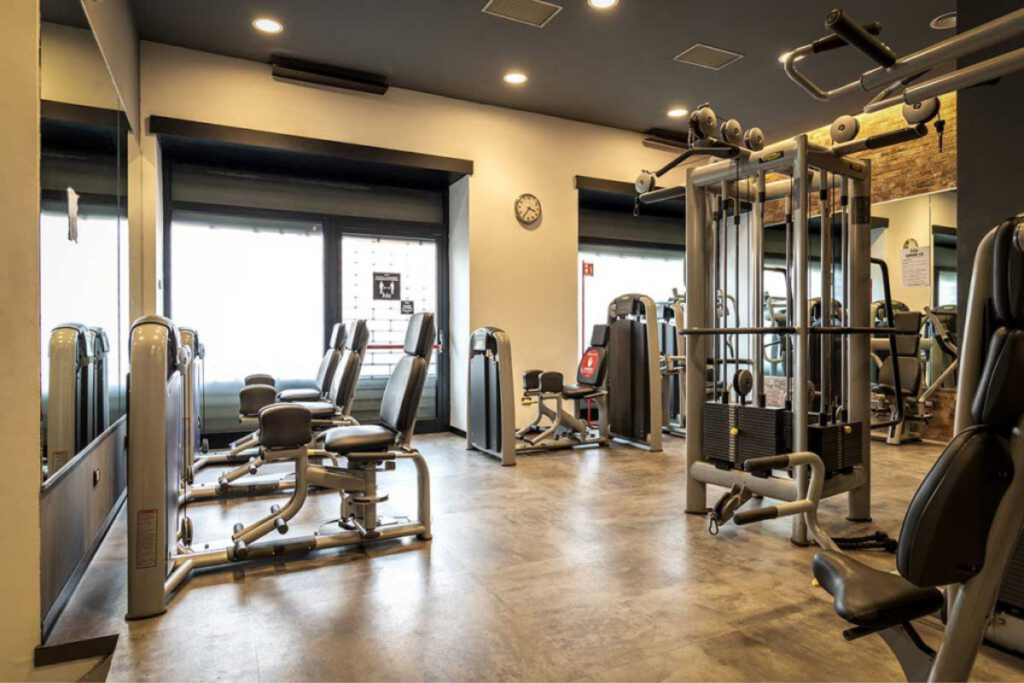 H2O Fitness Center is for people who want a little bit of luxury in their life. After all, Italy is known for its luxury hotels and clothing, so it's natural that some gyms will be the same. This fitness center is one of the highly-rated roman gyms and it's worth checking out. It is located in the heart of Pigneto. The whole gym has a modern design and it's 3000 sqm, even bigger than the previous one.
In this space, you'll find a few rooms built for different purposes. They offer step lessons, toning, postural gymnastics, pilates, karate for children, yoga, and so on. The equipment is divided into three: cardiovascular work-assisted movement machines, and another room with free-moving equipment, such as barbless and dumbbells.
A 25mt swimming pool with 6 lanes is available for you. Some of the classes include water aerobics, hydro bike, and so on. The facilities include large changing rooms with a shower, sauna, and Turkish baths. Personal training and postural balance services can be booked. And H2O also has its own beauty center.
Opening hours: Mon – Fri 7.30 am to 10 pm, Saturday 9 am to 7 pm, Sunday 10 am to 2 pm.
H2O Fitness Center location: Via del Pigneto, 108, 00176, Rome.
3. Target Urban Club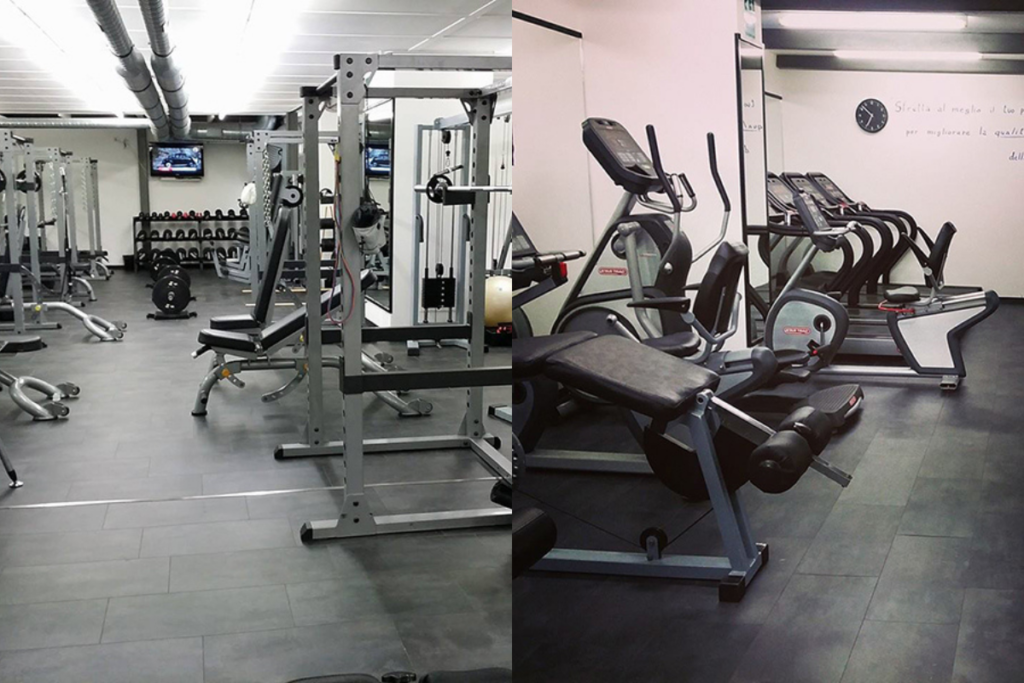 Target Urban Club should be one of your go-to gyms in Rome for weight training, but also Pilates or dancing. This club is very close to Vatican City. After researching their website, this team of trainers is passionate about their vision and the well-being of everyone who steps inside the club.
What do they offer? A high variety of gymnastics, whether that is for the lower body, pilates, or health, the instructors can help with any type of need. They also have Zumba, Latino-American dance, and pole dance! How cool is that? If you are not interested in weights, you can keep yourself active with all of these classes.
Target Urban Club also has a well-equipped gym with plenty of machines, free weights, and space to train at. If you are a bodybuilder or wish to be one, the instructors can also help with that. You'll find spartan training, circuit training, and postural gymnastics instructors as well.
Opening hours: Mon-Fri 9 am to 10 pm, Saturday 9 am to 6 pm, Sunday is closed.
Target Urban Club location: Via Baldo degli Ubaldi, 184, 00167, Rome.
4. Agora Gym Rome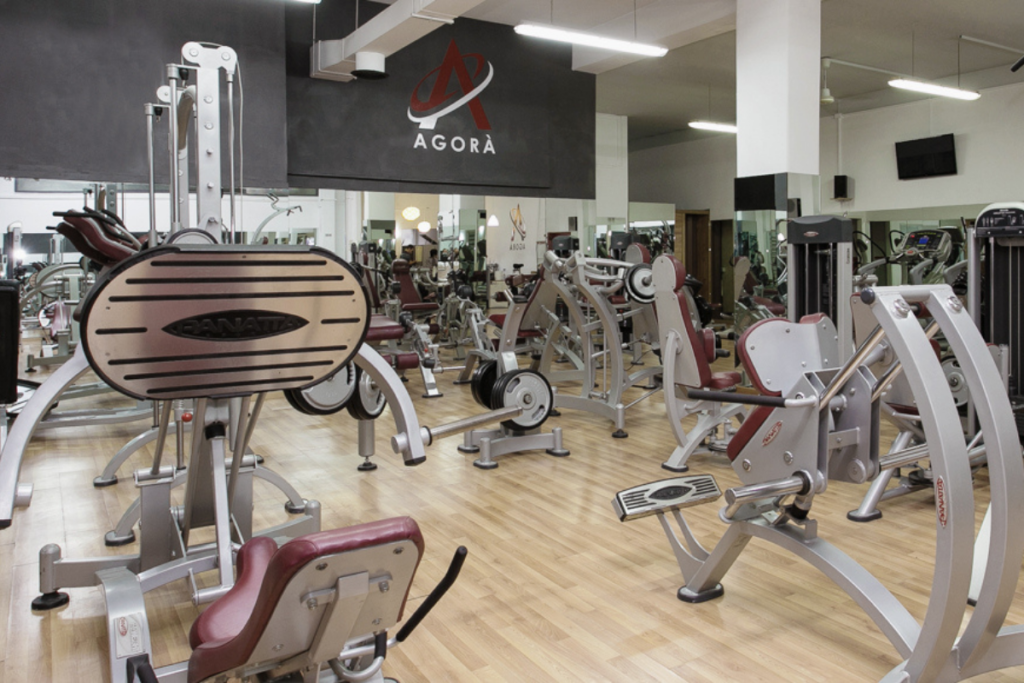 Are you looking for gyms in Rome Italy that have martial arts? Agora Gym is the perfect one for you. Although the prices are not displayed on the website, it does mention that reduced rates are offered for anyone under 25 or over 60. It is located in the Portuense neighborhood.
The gym looks very modern with high-quality machines. It does seem to be a little bit overpacked, so if you want to train with free weights, you will have to find a corner for that. The machines all have burgundy color seating, just like the Agora logo.
What can you do in Agora Gym? Well, you have cardio training, choreographic fitness, martial arts, combat sports, and strength training. They also offer classes and training for kids. On their Facebook, Agora arranges outdoor classes so keep an eye out if you wish to train with them! Let's see the rest of the Roman gyms.
Opening hours: Mon-Fri 8 am to 10.30 pm, Saturday 9 am to 6.30 pm, Sunday is closed.
Agora Gym Rome location: Via Francesco Valagussa, 45, 00151 Rome.
5. Trastevere Fitness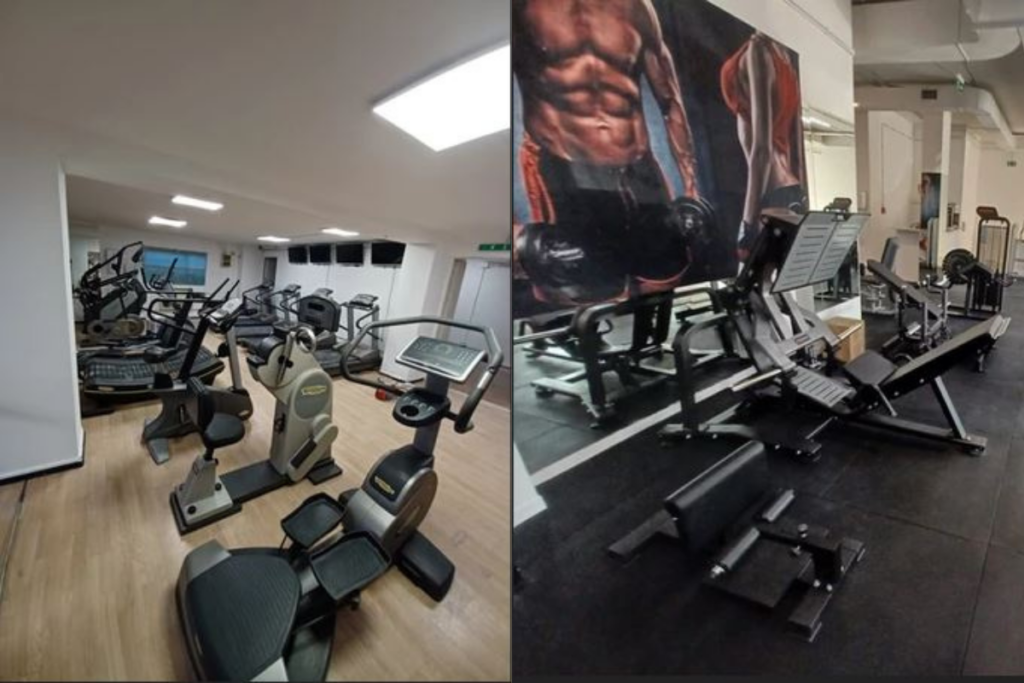 Trastevere Fitness is highly rated online and you'll soon understand why it's one of the best gyms in Rome. As the name suggests, you can find it in Trastevere. The variety of classes is amazing. First of all the strength training room is large and it has high-quality equipment for all the fitness fanatics.
Now comes the fun part. The classes include: Postural gymnastics, Pilates, Yoga, Tai Chi, Zumba, Salsa, Combat Fitness and the list goes on. Not only that, but they also have a sauna, Turkish bath, chromotherapy, and a relaxation area.
Other facilities include a beauty center, where you can get face and body massages and other beauty treatments. Trastevere Fitness also has its own nutritionist so you can receive personalized meal plans. Last but not least, there are seminar and conference rooms.
Opening hours: Mon-Fri 5 am to 11 pm, Saturday 8 am to 7.30 pm, Sunday 8 am to 1 pm.
Trastevere Fitness location: Via degli Orti di Trastevere, 60/66, 00153, Rome.
6. Anytime Fitness Rome Tuscolana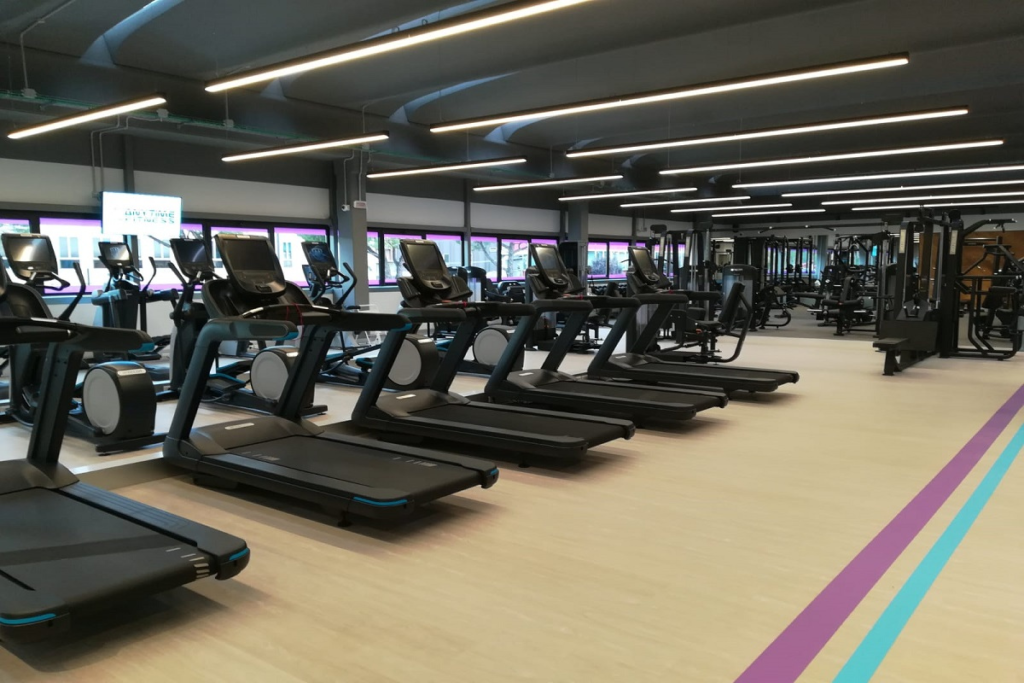 Anytime Fitness is one of those gym groups that have 24/7 service and they also have 5 gyms in total in Rome. We are only naming Tuscolana gym, however, all of them are equipped the same way. Inside the gym, you have strength, functional training, and cardio.
The weights and machine area is beautifully designed and you'll have all of the important equipment you need for your training sessions. They also have TRX, skipping ropes, rubber bands, and so on. Anytime Fitness also offers personal training, group training, or different classes.
The facilities are private showers, 24/7 access and security, virtual lessons and you can purchase supplements too. If you want to try it out they even offer a free entry which you can book on their website!
Anytime Fitness Tuscolana location: Via Tuscolana, 892, 00174, Rome.
7. Alpha & Fenix Functional Gym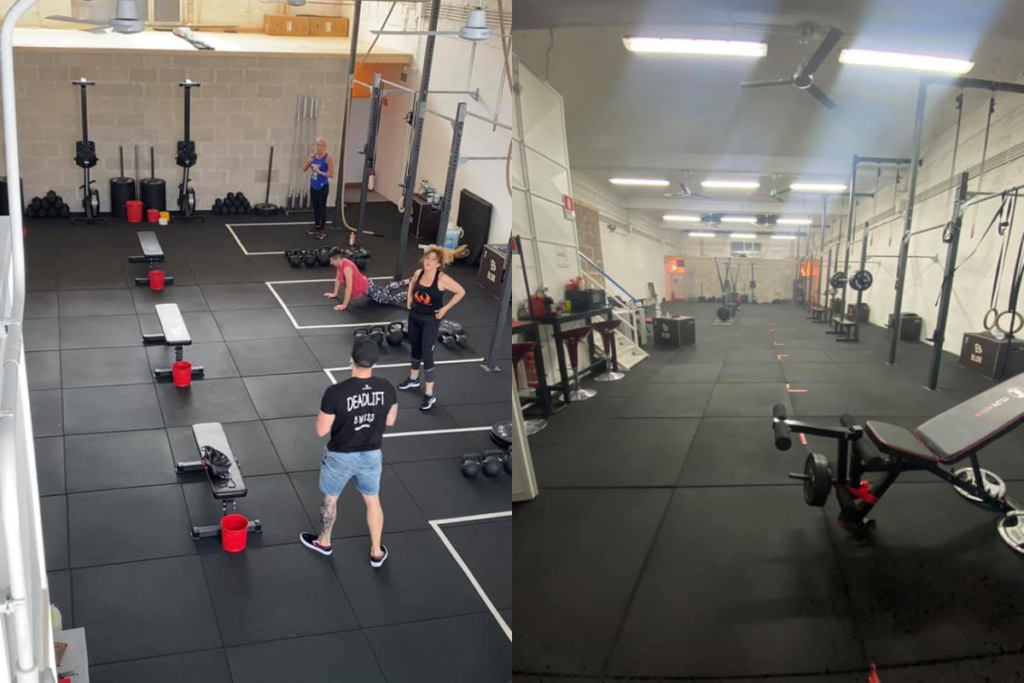 We wanted to include it on our list of gyms in Rome places for functional training. This place does not have a regular gym room with machines, instead, you can train in groups or individually, but not with machines. It is located in the Furio Camillo neighborhood.
The trainers at Alpha & Fenix created the workouts to help you tone, firm, and increase muscle mass. They offer courses for all levels and ages. All of the trainers have years of experience and they are recognized internationally. Alpha & Fenix also has an osteopathic studio.
Some of the training styles are Cross-training, Pilates, Postural dynamics, HIIT Training, Self-defense, Fit Dance, and so on. As you can see there is a class for everyone! Facilities include free parking, changing, and shower rooms.
Opening hours: Mon-Fri 10 am to 23 pm, Saturday 14 pm to 20 pm, Sunday by reservation only.
Alpha & Fenix location: Via del Mandrione, 103, 00181 Rome 
8. 11K Crossfit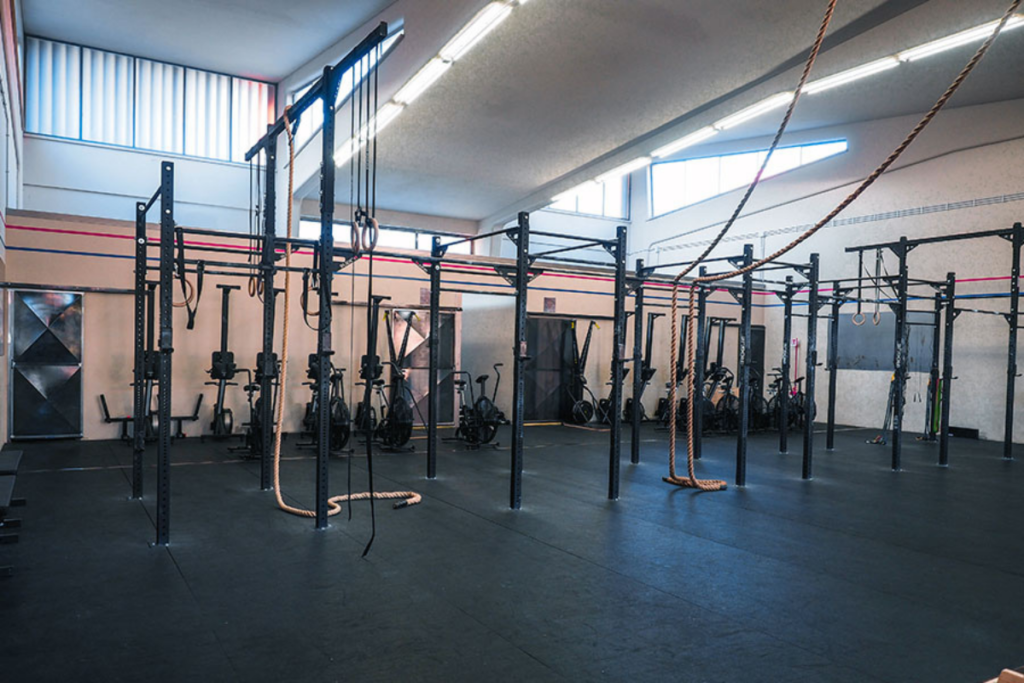 We wanted to bring you a gym that concentrates on Crossfit only. So far these gyms in Rome Italy have been mixed, most of them with strength training and functional training areas, or even dancing. 11K Crossfit is just for this purpose.
What is Crossfit? It is a form of high-intensity interval training. It concentrates both on strength and conditioning but is made up of functional movement. You'll concentrate on more than just one body part at a time. If you are unsure of this, book a trial lesson.
11k Crossfit has a large space to help you achieve your fitness goals. With the help of the two coaches, Renato and Gianluca, we're sure you'll fall in love with this functional sport. They can also help with personalized workouts for better results.
Opening hours: Mon – Fri 7 am to 8 pm, Saturday 10 am to 4 pm, Sunday is closed.
11K Crossfit location: Via Aurelia, 748, 00165 Rome.
9. Swim & Fitness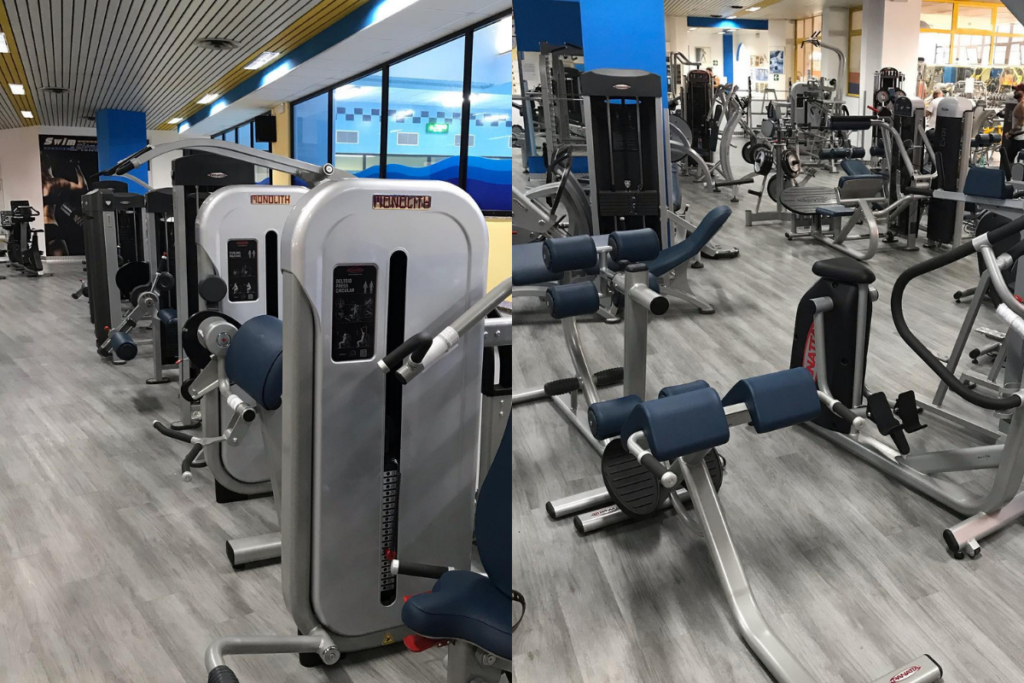 As we get to the last of the Rome gyms, we wanted to bring another one with a pool. It seems like it's not too common for gyms to already have a pool. Swim & Fitness is a great option if you wish to do multiple activities in one place. It's in the Quadraro neighborhood.
At Swim & Fitness, you can choose to do aerobics, martial arts, dance, swimming, weights, postural gymnastics, and yoga and they even have an aqua gym. The equipment is versatile and you'll find multiple machines so you don't have to wait much for anyone.
If you are interested in group classes, they hold pilates, power yoga, core training, and HIIT throughout the week, so you'll just have to check their timetable. It does not mention whether they have shower rooms or parking, although changing and shower rooms are present in every gym.
Opening hours: Mon – Fri 7.30 am to 10 pm, Saturday 9 am to 6 pm, Sunday 9 am to 14 pm.
Swim & Fitness location: Via dei Mamili, 6a, 00175 Rome
10. KB Gym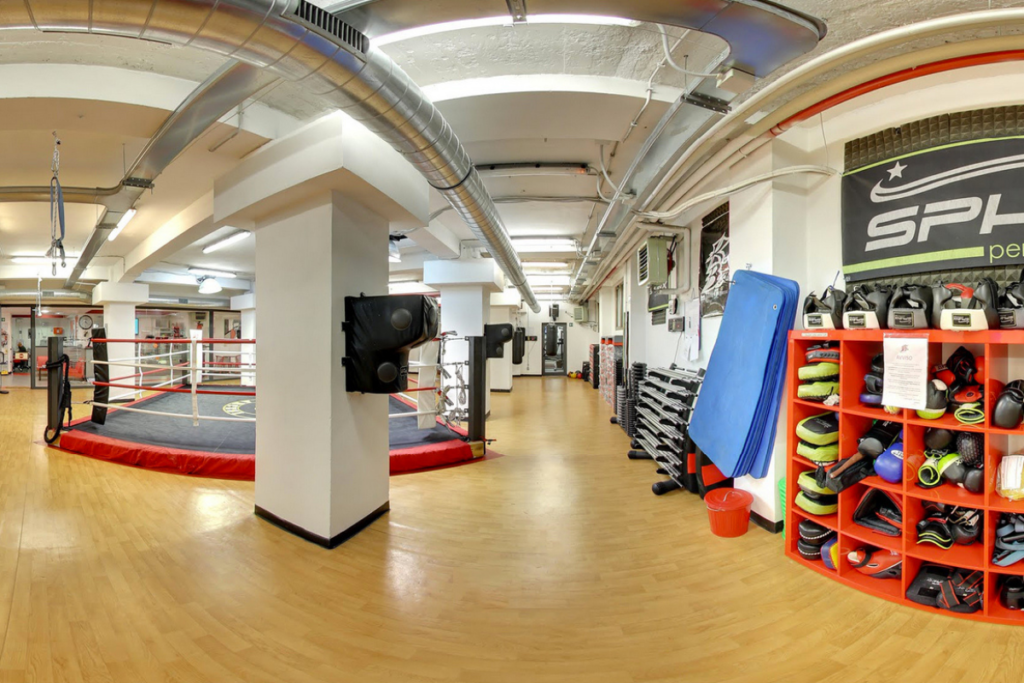 Are you looking for Rome gyms where you can do boxing? KB Gym can help with that. KB Gym is in the center of Rome and their services are so versatile, but they also focus on different types of boxing.
These include boxing/kickbox, junior boxing, junior kickboxing, and Thai boxing. If you're not a fan of hitting the weights room, these options are perfect. KB Gym has other courses like circuit training, body-mind, body stability, powerlifting, and pilates.
KB Gym has spacious locker rooms, and showers and the rooms are divided to fit each type of training. There is a big room for the weights area, boxing rings, room for martial arts, and rooms to do pilates or yoga. The staff is friendly and they are highly rated online, so it's worth checking out!
Opening hours: Mon-Fri 7 am to 10 pm, Saturday 9 am to 5 pm, Sunday 9 am to 2 pm.
KB Gym location: Via Crescenzio, 21, 00193, Rome.
10 Best gyms in Rome – Rome gyms conclusion
So there you have the 10 best Rome gyms. Suitable for kids, adults, the elderly, there is an activity for everyone. What we love about these Roman gyms is really the variety of courses offered in each of them. Or if you want just a specific type of training, there's a gym for that too!
Italian translation: Migliori palestre a Roma
Pin It: 10 Best Gyms in Rome